Word Count: Information not available
Summary: In one night, change comes with the strike of a match as Leo Riley loses everything. Giacomo Bianco's hitmen burned his home to the ground with his family inside. Leo will pay any price for his revenge. He will need power. Oguina, the mythical woman turned monster, can give it to him. But at what cost? Bianco gazes into an abyss that stares back. His fall to madness is a one-way trip Leo aims to stop at all costs before Bianco kills again. In his quest for vengeance, Leo teeters over that same cliff. Monster and Mafioso fight for dominance over Fall River's streets. Bianco's got more up his sleeve than anyone suspects, including the means to make his power absolute. Even new powers and strange allies might not be enough to ensure Leo's victory. Who is the real monster? Bianco, Oguina, or Leo himself?
A Change In Crime
Word Count: Information not available
Summary: **Also available in "Guardians of a Giant's Treasure" anthology** For three years, Jeth and Kodie and their soldiers have guarded a hostile mountain pass against the invading Dathians in a war that has waged for decades. Jeth has the blood of giants running through his veins, and it has caused bigotry and death to dog his steps his entire life. After a childhood tragedy shatters his world, it takes the courage and loyalty of his best friend, Kodie, to protect him from himself. Jeth knows he's a danger to everyone around him and joins the army to control and focus the black rage inherited from his bestial bloodline. Kodie follows his friend into the army, determined to stay close to the one he loves most. He has never revealed his deeper feelings for Jeth, and is ignorant of Jeth's own feelings. Their bond is too precious for either of them to risk rejection. Yet they might have to take the chance when Kodie's life is threatened, and their enemy forges an alliance with a giant clan. Jeth must call upon his darker heritage to brave the hostile environment to make an alliance of his own—with a giant clan that knows more about him than he does himself.
A Giant's Friend
December 14, 2021
Word Count: Information not available
Summary: NOMINATED FOR BEST NOVELLA OR SHORT STORY IN THE 2020 PARANORMAL ROMANCE GUILD REVIEWER'S CHOICE AWARDS Taken from the arms of her mother, a girl is raised by a family so alien that she hardly knows how to describe them. They are incredibly feral. She is anything but. As life with them becomes more and more bizarre, she has no choice but to incur the wrath of the pack and plead for her release--risking her life to ask it. Much to her surprise, but even more to his, her chosen mate devises a plan to get her home. It involves considerable deception but if ultimately successful, makes it possible for her to return to the mother and the home she so desperately misses. The plan succeeds. It has, however, unintended consequences since his actions cause her to question his motives and what it is to be his mate. She leaves him, nevertheless, returning home with her faithful dog as her travelling companion. Once there, she has a chance encounter with someone--a man who has a surprising connection to her past. But their joyful and unexpected reunion is short-lived. And in the aftermath of the tragedy that occurs, they learn family is what you make it, the people who love you most are the ones who make the greatest sacrifices, and home is where you belong.
A Girl and Her Dog
August 30, 2018
Word Count: Information not available
Summary:
When two sky pirates survive an attempt on their lives, they must ask themselves, who can they trust?
Magda keeps her emotions in check and her life in order. Beneath her cool exterior she battles with personal loss that has her questioning everything and everyone. Ascara's enthusiasm and passion cannot be contained by the army she once trained with. They became pirates to help people who have no one else, and now, the stakes are much higher. This is a mission they cannot refuse. A notorious slaver has acquired the latest in airship design, an Imperial Condor Class airliner. A ship designed to change the world, and if the slaver transforms it into an advanced warship then no one will be safe, anywhere. Magda and Ascara promise one more mission to free hundreds of slaves and prevent a world at war. Can they rescue the slaves and stop the creation of a super warship?
A Hint of Hope
is the second prequel in the fantasy adventure Towers of the Earth series. If you like exciting adventures that have you hooked from the start, then you'll love this imaginative, enthralling story from Nita Round.
A HInt of Hope
January 31, 2020
Word Count:
24000
Summary: A HISTORY OF TROUBLE A Beacon Hill Sorcerer Collection A collection of brand-new short stories, featuring characters from The Beacon Hill Sorcerer Series by bestselling author SJ Himes. Red Wine and Blood The Blood Wars raged for centuries across Boston. Witness a brief glimpse into the brutal history of the Wars with Ignacio Salvatore and the vampire he loves, Ashwin Metcalfe, in 1897. A History of Trouble Angel was joking when he asked O'Malley if someone resurrected a mammoth. Little did he know that was exactly what someone did. Experience the untold story of what happened that unfortunate night at the Boston Public Museum. A Dragon in the City What happens when Eroch goes adventuring in Beacon Hill without Angel? Chaos, pure chaos. Fae's Gold Daniel is helping the newly-resurrected fae Ruairi Brennan become accustomed to modern-day living. A boring trip to the bank quickly escalates, and Daniel calls Angel for help. The day goes downhill from there but ends in a comfy meal in a pub for an ancient fae warrior and a necromancer's apprentice. This is an collection, featuring vignettes and short stories from the universe of The Beacon Hill Sorcerer series. For full enjoyment, the Beacon Hill Sorcerer Series Books 1 through 3 should be read before reading this collection.
A History of Trouble
February 25, 2019
Word Count:
93700
Summary:
Keola is a mermaid – and bound for marriage to a foreign human prince. Unable to face a life cut off from the ocean with a man she despises, she chooses freedom at a terrible cost. Posing as a human wavesinger to remain hidden from her pursuers, she finds work on the ship of the dashing captain Anaar Kahlani. Anaar is searching for a mythical treasure and believes that Keola is the key to finding it. Amidst the hunt for fame and fortune, Anaar begins to fall for the mysterious wavesinger. Confronted with a secret and a dangerous revelation, she must decide what price she is willing to pay for untold riches – and for love. When Keola's past catches up with her, can they survive the oncoming storm together, or will the trials ahead demand more of them than they are willing to sacrifice?
A Melody in the Deep
July 20, 2021
Word Count:
66000
Summary: Sarah Wright woke up a few times after parties in strange places―but the morgue's a first. At eighteen, she's eager for a taste of independence, moving out of state to attend college. A change of scenery is extra-needed due to a bad breakup with her boyfriend, Scott. However, soon after escaping the body cooler, she makes two startling realizations: vampires are real, and she is one. There's nothing quite like an untimely death to ruin plans. California's sunny beaches aren't the best place for vampires to chill, and worse, not only does she wind up stuck in Seattle, she's still living (figuratively) with her parents. They take the news surprisingly well―after all, it's better than burying her―even helping move her bedroom to the basement. A disinterested sire, distraught friends, nosy Men in Black, and awestruck younger siblings complicate her adjustment to the new normal of being an immortal still subject to her parents' rules. Undeath has its perks, but it also brings enemies. Without a copy of 'Fangs for Dummies,' Sarah's left scrambling for answers when one such new enemy attacks her siblings and friends. If she can't figure out how to vampire, her attempt to spare her family the grief of losing her may wind up killing them.
A Nighttime of Forever
February 20, 2018
Word Count:
108000
Summary: Now what? As Kendra recovers from her wounds, Artemis is planning their next strike. But so are others. Artemis has been too corrupt for too long; their own people are ready to take control. It's just going to take a little encouragement...
A Quiet Revolution
April 16, 2021
Word Count:
115000
Summary: Aaron Okonkwo, a Nigerian scientist, travels with a crew in the 24th century to evaluate Viridis, which proves to be a beautiful and fabulous world. There, Aaron discovers a strange, alien species and amazing machines and technology left in a vast underground complex by a mysterious race called the Creators. Aaron soon falls under the irresistible, seductive spell of Nightsong, a green alien female with ominous and bewitching powers. However, an even greater danger rises. He will be forced to fight for the planet's survival against a ruthless invasion of many ships to conquer and enslave the planet – just as Africa itself was once enslaved. Aaron knows it's A Senseless Act of Beauty to try to reclaim his ancient warrior heritage and fight back against such overwhelming odds, but he knows he must try.
A Senseless Act of Beauty - John B. Rosenman
April 13, 2018
Word Count:
4500
Summary: In love, time is relative, until they run out… Regulations limit time digger Ish and time cop Kabal, born years and worlds apart, to two dates a year, making every date precious. But when Kabal announces his retirement at their tenth anniversary, what should have been a happy occasion might be their last night together. Previously appeared in Storm Moon Press' Sweethearts & Seduction anthology
A Time Traveler's Valentine
February 14, 2017
Word Count: Information not available
Summary: In the shadows, treachery and betrayal grow unseen. The state funeral of Princess Olivia at Port Ruth marks the end of the Queen of the Desert's reign of terror. As Lucinda, Magda and Ascara attend this grand ceremony, all is not as it seems. A storm of secrets and lies emerge from the shadows and the darkness threatens to destroy them all. No matter where Magda goes, her heritage calls to her. Even when they make their way home, peace and safety are still not theirs. Malice and betrayal, hidden and out of sight, finds the three women and threatens to pull them under the waves of death and pain once more. For the Trinity of Truth: Raven, Fire and Ice, there can be only one way forward, but at what price? This is the third in the Towers of the Earth fantasy adventure series.
A Touch of Darkness
April 2, 2020
Word Count: Information not available
Summary: As foretold, the Trinity of Truth must finally face the Mistress of the Night. Lucinda, Ascara, and Magda have survived several dangerous encounters with the various agents of Sh'Na. It is time for them to brave the beast herself in the pyramid from Lucinda's dreams. Magda, however, has met this Queen of the Desert before. Now her past history has risen to confront her with the evidence of her mistakes, and brings new dangers to the trinity. Although she can draw strength from her bonds with Lucinda and Ascara, she fears that even the power of the three of them will not be enough to withstand Sh'Na's evil. But there is more to face than just the desert beast. There are other dangers directed at the three women, and they must act with care and forethought, or be caught in the traps of others. From the city of Port Ruth, their troop travels into the burning lands of sand and sun, where they will face Sh'Na in a battle for more than their lives. Failure will mean the end of the world as they know it. Success will bring a new truth, and the revelation of a new path for all three of them. The trinity must continue to work together, not only to save the world, but also the very nature of time itself. "When the Hours are true, the gates of time will open". In the end, will the trinity prevail? Or will darkness rise again? This is the second in the Towers of the Earth fantasy adventure series.
A Touch of Rage
March 2, 2020
Word Count: Information not available
Summary:
Three women. One bloody mystery, and a prophesy that transcends time.  People have gone missing and no one knows where they've gone. The only clue left behind is blood, lots of blood, and a single silver brooch. Magda Stoner, captain of the airship Verity, has questions, and the Order for which she works has no answers to give. She has been directed to enlist assistance from Lucinda Ravensburgh, a tower witch and truthsayer. Lucinda sees truth in everything she touches, a gift, or curse, enhanced by the magic of the tower in which she resides. It's a gift that comes with great responsibility and a duty to those she serves. When Magda asks for aid, Lucinda cannot refuse. Whilst Magda and Lucinda seek the evil behind the disappearances, all manner of threats imperil their lives. Ascara is the warrior who must protect them as their search becomes more and more dangerous. At the moment Lucinda touches the silver brooch, all three lives are changed forever.  Three must become one if these strong women are to succeed when traversing the path of justice. But the path they tread is littered with lies, deception, betrayal, and dark forces. No matter what, the Trinity of Truth must form and hold strong. "Wise birds whisper, Rage of Fire, Strength of Ice". This is the first in the Towers of the Earth fantasy adventure series. (Note previously released as Raven, Fire and Ice in 2018)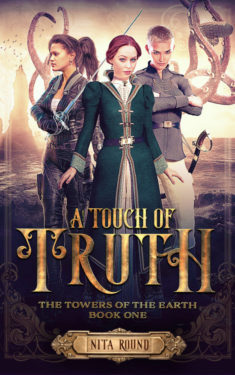 A Touch of Truth
March 2, 2020
Word Count:
95900
Summary: "There is always a way." Kelnaht, Taruif, and Ianys are meant to be together, but old promises and the decree of the elders prevent them from claiming each other openly at Solstice. Kelnaht can investigate murder and foul play, but he can't see how he can keep both his lovers without breaking the rules. But if he believes in the guide's words and trusts his faith in Ma'terra, they will find a way to clear the fog and puddles from their paths. The Forester Kelnaht, a cloud elf, is a truth seeker caught between love and faith, when a murder reveals an illicit affair between two tree elves he desires more than he can admit. Kelnaht's former lover Ianys once betrayed him, and the shunned forester Taruif is not allowed to talk to anyone but the guide, their spiritual pathfinder. Lost and Found A stripling goes missing from the tribe, and heavy rainfall hides all traces of his whereabouts. With days creeping by without a lead, it's hard to keep the tribe's spirits up, more so when Kelnaht's own future depends on the elders. Taruif has been shunned for almost twenty turns, but now that a possible forester's apprentice is coming of age, the elders consider reducing his sentence. Taruif could be set free. Full Circle When several children fall ill with more than a summer bug, truth seeker Kelnaht is assigned to investigate. What he finds is deadly and threatens the life of every underage child in the tribe, including Ianys' daughter Atèn. Then a wounded traveller is found in the forest, left to die after a vicious attack.
A Triad in Three Acts
August 15, 2016
Word Count:
3800
Summary: I'm chasing him from world to world, to stop him before he kills again. Before he destroys another of the beacons and releases the agents of chaos. This time, I'm early. This time, I'll get to the beacon first. Too bad I landed in you.
Across the Transom
February 10, 2021
Word Count:
128,000
Summary: Alien Bonds is about two people, a human woman and a Wakanrean man, who meet on his world, Wakanreo, and instantly mate from a  biological reaction that occurs only in Wakanreans. But even though Dina goes home with Kuaron that night, she does not love him. You cannot love someone you don't know.  Over the next several months her feelings for him change, as do his for her. On one level, this is simply a love story. But the story also explores the culture and history of Wakanreo. It shows what a world would be like if looks didn't matter—if people had no choice in who they paired off with. and thus sex had nothing to do with morality.  How would this uncontrollable mating affect the societies that formed on this unique world? In human history, much of the stratification of society was achieved by people only marrying within their own social order. What if it wasn't possible to enforce that kind of discrimination?
Alien Bonds
January 23, 2018
Word Count:
73900
Summary: "It's not all about serving coffee and typing reports." Working for a secret organisation specialising in alien cover-ups, Connor Smith is no stranger to the abnormal or dangerous. His love life on the other hand… not so exciting. Until he reluctantly agrees to a blind date and meets the perfect bloke, Jason. Things are finally falling into place for Connor, so of course that's when he attracts an alien stalker. Noah Jones, ex-alien, has been stranded on Earth and forced to live as a human since 1648. Alone and detached from the world around him, Noah has spent centuries observing and recording humankind. In all that time, he's only experienced a connection with a human once… until he finds Connor. Even knowing Connor is in a relationship, Noah can't ignore their potential bond, or stay away. While dealing with missing alien artefacts, a dangerous and shadowy group of collectors, and the ever-present Noah, Connor finds his orderly life crumbling around him. At least he still has the perfect boyfriend… When Noah goes missing, Connor is forced to face the feelings growing between them and the mounting evidence that Jason isn't who he says he is…
Aliens, Smith and Jones
October 1, 2018
Word Count: Information not available
Summary: Step through a portal in time - and steal a piece of history! Iria and Madge, witches extraordinaire, have summoned Joshua Norton I, self-declared Emperor of the United States, back from the nineteenth century to help them save the city of San Francisco from a demon of greed. Mammon, their infernal adversary, is running a real estate scam to end all real estate scams, and he's got his own helping hand from the city's past: Etta Place, famous in her day as the accomplice of Butch Cassidy and partner of the Sundance Kid. As Norton dodges mafia foot soldiers alongside another of San Francisco's larger-than-life figures from yesteryear on the fog-shrouded streets of Chinatown long ago, Iria and Madge find themselves face to face with Mammon and Etta in modern day - and trapped in very different timelines. It'll take all their ingenuity, bravery, and prowess to fix time itself, steal the prize, and get these three heroes back together!
All the Pomp of Earthly Majesty
April 28, 2020
Word Count:
50655
Summary: 'Old actors never die' shouldn't be literally true. Carrington Loveless III, skim-blood vampire and senior officer of Philly's paranormal police department, has long suspected that someone's targeting his squad. The increasingly bizarre and dangerous entities invading their city can't be a coincidence. So when a walking corpse spouting Oscar Wilde attacks one of his officers, Carrington's determined to uncover the evil mind behind it all. As a rare books librarian, Erasmus Graham thought he understood some of the stranger things in life. Sharing a life with Carrington has shown him he didn't know the half of it. They've survived attack books and deadly dust bunnies together and got through mostly unscathed. Now his world and his vampire's appear ready to collide again. Books are missing from the Rare Book collection—old tomes of magic containing dangerous summonings and necromancy. He's certain whoever has been stalking the Seventy-Seventh is composing their end game. It's going to take a consolidated effort from paranormal police, librarians and some not-quite-authorized civilians to head off the impending catastrophe.
All The World's An Undead Stage
January 2, 2018
Word Count:
184000
Summary:
An unexpected romance. A space-heist gone wrong. A galactic catastrophe in the making.
At the furthest reaches of the known galaxy, cyber-thief Rowland Hale's biggest score turns into a fight for his life.  Beaten but not broken, ex-navy captain Toar Grithrawrscion can save that life, but only by risking his own. With a toothy foe hell-bent on domination, can these two unlikely heroes come together and not only save the galaxy, but each other? Their destiny is in their hands, but only if they keep their hands to themselves. A high-adventure space epic with a touch of charming romance,
Allure of Oartheca
tells the story of two men from different worlds who must face battles both from without and from deep within – an Allure that whispers promises of rapture and destruction, that dares not be risked, and cannot be refused. If our heroes give up, they fail.  If they give in, they fail too – and the fate of the universe rests in the balance.
Allure of Oartheca
May 30, 2021