Word Count:

86611
Summary: Prince Edmund of Thalassa and Prince Arden of Aither are eagerly anticipating their upcoming wedding, but the danger to their kingdom hasn't lessened. They have a plan, but they won't be able to carry it out alone: they need a strong wielder of each Element, whom they can trust implicitly, to carry out the magic. Rhys is a commoner and wielder of Earth magic. He and his sister have made a living from the use of their magic for years and have become highly respected in scholarly circles, though he prefers a more simple life with his plants. When a message from Prince Arden reaches them asking for their help, they don't hesitate. They stop only to request that Gaz, a strong Fire wielder and the man Rhys has long been enamored of, accompany them on the journey to Thalassa's royal palace. What no one knows is that Gaz was once known as Prince Gareth of Thalassa and is Edmund's younger brother, long believed dead. He fled his home after his Fire Affinity made itself known and put him in danger, and he had no intention of ever going back. But he can't keep himself from going to his brother's aid, despite the risk of discovery and of the weight of his secrets potentially crushing his fledgling relationship with Rhys. Working against time, they must find a way to come together in a magical working the likes of which none of them has ever imagined, or their homelands will surely burn.
A Harmony of Fire and Earth
Word Count:

115000
Summary: Aaron Okonkwo, a Nigerian scientist, travels with a crew in the 24th century to evaluate Viridis, which proves to be a beautiful and fabulous world. There, Aaron discovers a strange, alien species and amazing machines and technology left in a vast underground complex by a mysterious race called the Creators. Aaron soon falls under the irresistible, seductive spell of Nightsong, a green alien female with ominous and bewitching powers. However, an even greater danger rises. He will be forced to fight for the planet's survival against a ruthless invasion of many ships to conquer and enslave the planet – just as Africa itself was once enslaved. Aaron knows it's A Senseless Act of Beauty to try to reclaim his ancient warrior heritage and fight back against such overwhelming odds, but he knows he must try.
A Senseless Act of Beauty - John B. Rosenman
Word Count: Information not available
Summary: Years ago, the true king of the vampires sacrificed his throne and his fated love for the common good. But it wasn't enough… Rune knows the Adini Treasure is real, and he wants it. With the treasure, he'll have the power to crush his enemy—the Adi 'el Lumi—forever. Isaac longs for love but is sick of waiting for it.  When he witnesses the murder of a strange vampire with an even stranger map, he isn't sure what he's found. But he isn't letting it go. Not even for the swoon-worthy vampire prince who comes to claim it. When a witch's calling card leads Rune to a snarky vampire with secrets and a sassy human with a treasure map, he takes them on a perilous hunt into the forgotten vampire cities. His worst fears and darkest desires await him. With everything at stake, he'll have only one chance to either fulfill his destiny… or save Isaac, his fated love.
A Vampire's Honor
Word Count: Information not available
Summary: I sat up and focused on now, where magic was undoubtedly happening. Rowena must battle both past and present to achieve the future she craves. A WAYWARD WIND is the final volume in TALES OF ARDONNA: WOODSPELL SERIES, a fairy tale for adults.
A Wayward Wind
Word Count:

56000
Summary: New Hopeland was built to be the centre of the technological age, but like everywhere else, it has its dark side. Assassins, drug dealers and crooked businessmen form a vital part of the city's make-up, and sometimes, the police are in too deep themselves to be effective. But hey, there are always other options … For P.I. Cassie Tam, business has been slow. So, when she's hired to investigate the death of a local VR addict named Eddie Redwood, she thinks it'll be easy money. All she has to do is prove to the deceased's sister Lori that the local P.D. were right to call it an accidental overdose. The more she digs though, the more things don't seem to sit right, and soon, Cassie finds herself knee deep in a murder investigation. But that's just the start of her problems. When the case forces Cassie to make contact with her drug dealing ex-girlfriend, Charlie Goldman, she's left with a whole lot of long buried personal issues to deal with. Then there's her client. Lori Redwood is a Tech Shifter, someone who uses a metal exoskeleton to roleplay as an animal. Cassie isn't one to judge, but the Tech Shifting community has always left her a bit nervous. That wouldn't be a problem if Lori wasn't fast becoming the first person that she's been genuinely attracted to since splitting with Charlie. Oh, and then there's the small matter of the police wanting her to back off the case. Easy money, huh? Yeah, right.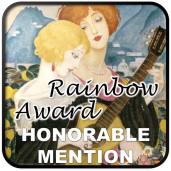 Honorable Mention: Rainbow Awards 2017 - Lesbian Sci-Fi Category
Addict
Word Count:

161705
Summary: An underground city, built centuries ago to ride out the devastating heat. A society under attack. And a young solar engineer whose skills may be the key to saving her city…if she doesn't get herself killed first. When Jossey was ten, the creatures of the aboveground took her brother and left her for dead, with horrible scars. Now, years later, she's a successful solar engineer, working to keep her underground city's power running, but she's never really recovered. After she saves dozens of people during a second attack, she is offered a top-secret assignment as a field Engineer with Patrol, but fear prevents her from taking it…until Patrol finds bones near where her brother disappeared. She signs on and finds herself catapulted into a world that is far more dangerous, and requires far more of her, than she ever imagined. The creatures and the burning heat aboveground are not the only threats facing the City, and what she learns during her assignment could cost her her life: one of the greatest threats to the City may in fact lie within. With thousands of lives at stake, can she act in time? Aestus is an adult dystopian science-fiction series set centuries after climate change has ravaged much of Earth. An epic story of vengeance, power, shifting loyalties, and survival that looks at just how far people will go to protect what they love, brought to you by science writer S.Z. Attwell, Aestus paints a picture of a world in which far too little has changed. 
Aestus, Book 1: The City
Word Count:

107000
Summary: An ancient evil in Anne's head aims to ruin her tranquil life and end humanity. It must be Tuesday. A house of her own with a white picket fence, complete with a loving partner, Anne Perrin finally has the life of her dreams — including the job she always wanted and a caring family to share it all with. But every Eden has its Pandora's Box. Anne's personal heaven is marred by a malevolent presence in her head who, if given a choice, would use her to usher in a dark age, ending humanity as she knows it. The only thing holding it at bay is an unpredictable computer implant in her chest that seems to have its own agenda. Two unexpected visitors turn Anne's delicate world upside down in completely different ways — one better than she could have ever hoped, one catastrophically terrible — pitting Anne in a nightmare battle against the very people she holds dearest: her family.
Angels Found
Word Count:

144000
Summary: Ancient evil meets modern-day waitress — and a mysterious organization known as Z-Tech. Anne Perrin is resigned to a life driven by an adolescent trauma — a strict routine, no socializing (outside of the safety of her waitressing job), and no romantic relationships. Determined to change her life before it's too late, Anne's first date in a decade turns into a struggle of life-and-death, plunging her into a world she didn't know existed, where super-science may be humanity's only hope against an ancient threat.
Angels in the Mist
Word Count:

101000
Summary: A vampire hunter has his sights on Anne Perrin, threatening to unleash the very evil she and her friends are fighting to contain. Robbing Anne of her pulse hasn't stopped her from living un-life to its fullest: she's balancing two relationships, has returned to her waitress job, and is trying her best to not eat her customers. But Calum sees through her disguise, and no amount of charm can dissuade him from eradicating Anne and everyone like her from the face of the Earth. While Charlie is out of the country seeking help from the one person who might be able to save his life, Anne is abducted, leaving the rest of the Z-Tech crew with the desperate task of finding her before the vampire hunters finish her off — or a grief-stricken Zima destroys the city looking for her lost love. But Anne's abduction could be just the first part of a larger, darker plan that may unwittingly unleash the very plague Calum seeks to prevent.
Angels Lost
Word Count:

90000
Summary: If Romeo had wings and Juliet a barbed tail, could they find happiness in the City of Angels? After their escape from the ashes of Lost Angels, the succubus Lorelei and the angel Azaziel want nothing more than to enjoy each other's company. Unfortunately, Asmodeus, the Demon Prince of LA, has threatened to devour Lorelei's new-grown soul if she doesn't bring about Azaziel's downfall. Meanwhile, Aza is keeping secrets of his own that threaten the tenuous peace between Heaven and Hell. Three archangels come to town to try to set things right, but friendships are fracturing. The demon in charge of fallen angels is sniffing around. And Los Angeles is about to catch fire between a devil and the deep blue sea.
Angelus Rose
Word Count:

121000
Summary: A child's memory. A journey's end. Lance doesn't remember the time before Ulfr found him. It's a dark pit in his mind that he avoids at all costs. And yet, despite his best efforts, pieces start to fall, and echoes from the past begin to ring. However, he has little time to comprehend their meaning, since the Captain of the Imperial Army herself has come to collect him and bring him to the capital city of the Nifdem Empire. Whisked away to the gilded streets and glittering court of the Hill of Tarran, and then to the snowy reaches of Swenen, Lance and Gust will learn the answers to questions they've had from the start. And be forced to acknowledge their roles in the survival of the empire and the ripple effects of their actions. But such knowledge can come at a steep price. As allies and enemies begin to step from the shadows, Lance will learn the truth of his past and the price of his redemption, and all the pain that comes with them. While Gust will have to decide what he's willing to sacrifice to safeguard the one he loves.
Avenging Lance
Word Count:

128000
Summary: Death isn't a big deal in the virtual world of online gaming, but after poking her nose where it doesn't belong, Dakota Marx finds herself running for her life―and reality doesn't come with a respawn. At twenty-two, she's still slinging coffee at an Amazon Cafe despite having a degree in programming. It's not because she's unlucky, unmotivated, or even that she fancies herself an underground activist crusading against evil corporations… hunting for a 'real' job would take time away from her game. Axillon99 is the world's most popular multiplayer online experience, with a universe containing billions of planets to explore. Ever since video games broke the screen barrier, plunging players fully into their characters, reality just can't compete. Cognition Systems International announces a ten million dollar prize to celebrate the release of the next generation Neurona 4 interface helmet. After her crew decides to try chasing the money, Dakota discovers a sinister intent behind the new technology. Going public threatens the lives of her friends, but keeping CSI's secret could destroy the very fabric of society.
Axillon99
Word Count: Information not available
Summary: Come, Best Beloved, and sit you by my feet. I shall tell you a tale such as sister Scheherazade could have scarce imagined... In the Nejd there is nothing at all...except secrets. A band of thieves wishes such secrets to remain hidden. In England, far from his desert home, Ali bin-Massoud serves as apprentice to the famed Charles Babbage. One night a mysterious box is delivered by a clockwork falcon and Ali's world is never the same again. Heartache, danger, and thieves mark his journey as Ali is summoned home at the death of his father. It will take faith, knowledge, and yes, love to realize his destiny, and more than a little skill with steam-driven technology. Can he unravel the mystery of the puzzle box and the clockwork djinn before it is too late? An ancient legacy and Ali's very life depend on his success. Hear you the tale of Baba Ali and the Clockwork Djinn.
Baba Ali and the Clockwork Djinn
Word Count:

78000
Summary: In the final installment in the SoulShares series, author Rory Ni Coileain weaves together the myriad threads of this compelling paranormal romance in a climax that crosses time and space. Sometimes Fae love stories aren't what you expect. The Marfach—devourer of magick, long-imprisoned mortal enemy of the Fae race—is free of its Antarctic prison. The Demesne of Purgatory—Fae, humans, a Fade-hound puppy, a Gille Dubh, and a darag—is all that stands between the monster and the power it needs to destroy both the Fae Realm and the human world. The only clue they have as to how to kill the unkillable is a cryptic note from the Loremasters: "Osclór, Nartú; Tobar, Soladán; Nidantór, Breathea; Glanadorh, Coromór, Farthor; Scian-omprór, Nachangalte; Crangaol, Síofra; Gastiór, Laoc, Caomhnór; Fánadh, Ngarradh." Opener, Strength; Wellspring, Channel; Unmaker, Judge; Cleanser, Equalizer, Sentry; Blade-bearer, Unbound; Tree-kin, Changeling; Binder, Warrior, Guardian; Wanderer, Sundered. As they rebuild Purgatory from the rubble the Marfach left behind, they have to stand together, using everything they know—everything they are to their partners, lovers, husbands. Everything SoulSharing has made them. And not everyone who enters the final battle will leave it.
Back Door Into Purgatory
Word Count:

127000
Summary: For fans of Blade Runner, Ghost in the Shell and Altered Carbon! Welcome to the year 2095. Killer cyborgs hunt down anyone who disagrees with the perfection that is society. Nephilim is the best operator in these elite death squads. Genetically and cybernetically enhanced, she and her team strike terror wherever they go. Knowing nothing besides this lifestyle, Nephilim believes that she's part of a righteous cause. Then a system glitch changes everything. Separated from the grid, for the first time, Nephilim begins doubting the world she lives in. Things get even more complicated when she meets Jake, a 100% bio-human, who opens her neon-blue eyes to the lies she had been exposed to all her life. Nephilim decides to take a stand against her creators. But in this brave new world, can one person beat an all-powerful system of oppression? Soon, Nephilim finds herself hunted by her own people... Corporate megacities, dystopian themes, cyborg assassins, badass heroines, charismatic villains - an adrenaline ride that never stops. If you love action-driven cyberpunk full of unexpected plot-twists, you don't want to miss this! "Sexy, violent and absolutely intriguing!" -Review
Behind Blue Eyes
Word Count:

100000
Summary: Raka Varoule is a second-rate investigative reporter, traveling between the twenty-seven worlds of the Galactic Empire exposing minor scandals. His big break comes when he weasels his way onto the Emperor's personal star-cruiser to report live, across the galaxy, how the Emperor is celebrating his birthday. When he exposes the biggest scandal in galactic history, he narrowly escapes with the help of a drug runner, a dominatrix, and a monkey wearing ass-less chaps. Together, they search for an escape from the Empire; a barbarian world outside Imperial control. Then things get weird. Black Swan Planet is a rare treat of a novel. A satirical science-fiction story told in a unique way, utilizing a variety of perspectives. This story will make you both laugh out loud and keep you guessing what will happen next. James Peters has woven a story you'll never forget, even if you lack mnemonic implants or prescription vibrating undergarments [audio mp3="https://www.limfic.com/wp-content/uploads/2020/06/BSP-Retail-Sample.mp3"][/audio]
Black Swan Planet
Word Count:

120000
Summary: U.S. Marshal James Creed has known loss, starting from the untimely death of his wife and daughter in a sudden fire. His work, chasing down and arresting outlaws across the Wild West, is all he has left to live for. Then one day, in 1876, the infamous killer Corwin Blake catches Creed by surprise and guns him down. Creed awakes after a mysterious young woman resurrects him in a basement laboratory beneath a brothel. Half alive, Creed feels torn between his need for justice and his desire to fall back into the peace of death. Creed's instincts drive him to protect the city of Santa Cruz, California, from the outlaws it harbors while searching for Blake. He uncovers a secret criminal organization, likely protecting Blake, determined to use resurrection technology for its own ends. The former marshal, now faster, stronger, and a more deadly shot than ever before, must work with a brothel madam, a bounty hunter, and the remaining marshals to uncover the criminal syndicate before they can misuse the machines of rebirth and create more mindless zombies. Meanwhile, he must also stop Blake, before the outlaw kills the only people he cares about. His own death can wait.
Bodacious Creed
Word Count:

55000
Summary: In a world where humans are genetically designed, altered and sold for pleasure and breeding, a young prince of the powerful Cassian Dynasty decides to take a mate and sire heirs. Not wishing to saddle himself with royal and meddlesome in-laws, and a wife he would have no desire to bed, Prince Edward goes to Heritage Breeders, and finds far more than just a warm body to carry on his lineage. Percy is the result of a master DNA architect designing himself his own personal slave and breeder. Yet when his creator and Master dies, leaving Percy alone at the mercy of the callous stable masters and the new owner of Heritage, he fears his future. Afraid he'll be bought by a wretched old man or a deviant monster, Percy is terrified when he is dragged from his cell and presented to the most prestigious client Heritage has ever welcomed...a Cassian Royal. Prince Edward is immediately infatuated with the shy, nervous and enchantingly beautiful Percy, and claims him for his own. Yet not everyone is pleased by a royal purchasing a breeder, especially one like Percy, and tensions rise both in Heritage and in the palace. Torn between need, duty, a king's command and the innermost desires of their hearts, Edward and Percy are set on path that is anything but easy. Can Percy trust Edward with his heart as he does his body? Can Edward keep an angry king and unseen enemies away from the young slave who is steadily stealing his heart? And what happens when Nature takes its course, and Percy's true purpose is fulfilled?
Bred For Love
Word Count: Information not available
Summary: Someone killed Grandfather Jefferson. Victor is sure of it. But he's the only one. Diagnosed with mirror resonance syndrome and shunned by Semiautonomous California society, Victor suffers from "blank outs," hallucinations, and vivid nightmares. He violently overreacts to even minor confrontations. Victor's grandfather devoted his life to researching and curing mentally ill Broken Mirrors like Victor, but now that he's gone, Victor must walk a narrow path between sanity and reclassification—a fate that all but guarantees he'll lose his freedom. Victor is determined to uncover the truth about his grandfather's death and grows increasingly suspicious of the medicine he must take to help manage his "symptoms." As he tries to sort his allies from his enemies, a conspiracy with global implications emerges. Can he trust his Aunt Circe, the only person in his family who's even somewhat sympathetic to his plight? His former classmate-turned-brainhacker Ozie, who wields information as damaging as any weapon and who seems intent on luring Victor away from his home? What about his old friend Elena, who reappears in his life abruptly, claiming to have miraculously overcome a devastating addiction? With its self-driving cars, global firearms ban, and a cure for cancer, the world of Broken Mirror may sound utopic, but history has taken a few wrong turns. The American Union is a weak and fractious alliance of nations in decline. Europe, a superpower, manipulates its citizens through technology. And Asia is reeling from decades of war. Amid shifting geopolitical sands, Broken Mirrors like Victor find themselves at a crossroads: evolve or go extinct. Broken Mirror is the first novel in a sci-fi cyberpunk detective saga tailor-made for fans of William Gibson, Haruki Murakami, and Neal Stephenson.
Broken Mirror
Word Count:

124,000
Summary: Journalist Will Corwin has returned from his ordeal as a captive of the hybrid alien Warlord, Nod Korvus. But even as he attempts to settle back into his life and career, he finds the experience won't let go of him. His mind becomes increasingly fractured by the trauma, to the point that he's no longer even sure what is real and what isn't. Dr. Amelia Warren wants to help him heal, but to do so means that she needs to call in a professional, which Will both resists as well as resents. Can she get through to him, before he does irreparable damage to himself and their relationship? When Will glimpses a path toward healing, it's by finishing the last work of Father Damien Morgan, the priest who befriended Will, and who Nod Korvus brutally murdered, as a way of punishing him. Will wants to complete the school Father Morgan was building, but the Church has cancelled the project. Will decides to revive the project, calling upon his family resources for assistance. And when help is offered, it means turning his life upside down. Can Will build the school without abandoning the rest of his responsibilities? And, if he does, will it provide the healing he so desperately needs? And what of Amelia, and his stepson, Jonah? Must he leave them behind for the long months that building the school will take? What form will his healing take, and will there be something left of his life when it is done? And what new dangers lurk in the village of Burden? This is Burden of the Stars, the third book in Broken Stars, the steamy romantic sci-fi series by Chad Grayson.
Burden of the Stars