Word Count:

73000
Summary: "Your bullets can't kill me. I'm already dead. Inside and out." When his fiancée is brutally murdered on Valentine's Day, Ash Corvus is unwittingly plunged into the nightmarish world of the Arpadeem, or as the movies call them… Vampires. What begins as a personal quest for revenge becomes a struggle for the fate of the city itself as Ash's search takes him into Cedar Rapids' secret criminal underworld. Ash must cast off his humanity and become a monster himself if he hopes to bring vengeance upon the monster who murdered his love… the man with the scar. A dark, violent thriller from the author of The Weller and War of the Worlds: Goliath!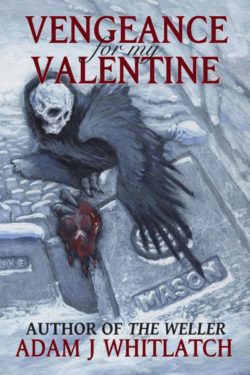 Vengeance for My Valentine
Word Count:

103,000
Summary: Humans are no longer alone; they have been joined by Arcanes, Lycans, and Vampires. It's been over a hundred years since the Earth went through The Shift. Where once almost eight billion humans lived, the population now holds at four billion. But that wasn't the only change. No one anticipated the branching of human DNA to produce new species of humans. Arcanes, Lycans, and Vampires are hidden throughout the genome, awaiting puberty before they manifest distinctly unhuman abilities. Finally, the new species of man were welcomed. No longer studied or treated as outcasts by most. People accepted these new humans and they integrated into society, albeit not easily. This allowed the UN Government to focus on colonizing space, in order to secure a future for all. Risks remain however, permitting a vampire to feed from you can cause shared memories. Tobin Corsian took such a risk. He resides in a newly reopened district of San Jose, California, where his family's old home stood. He lives there with his friend Mikel, a Lycan, and his dog Begger. Instead of making his mandatory monthly blood donation at the government blood bank for the vampire community, Tobin decides, with the help of his therapist, to visit Biter, a vampire spa. The spa allows vampires to feed from humans directly while providing spa and sexual services, granting the donor a three-month reprieve from their required donations. Tobin's encounter at Biter opens a window to his past and an experience he had as a child on the moon. Questions abound as he tries to unravel his past and make sense of his life.
Volaria
Word Count:

83000
Summary: By the end of the 21st century, the world had become a harsh place. After decades of natural and man-made catastrophes, nations fell, populations shifted, and seventy percent of the continents became uninhabitable without protective suits. Technological advancement strode forward faster than ever and it was the only thing that kept human society steady through it all. No one could have predicted the discovery of the Dream Walkers. They were people born with the ability to leave their bodies at will, unseen by the waking world. Having the potential to become ultimate spies meant the remaining government regimes wanted to study and control them. The North American government, under the leadership of General Rennet, demanded that all Dream Walkers join the military program. For any that refused to comply, they were hunted down and either brainwashed or killed. The very first Dream Walker discovered was a five year old girl named Julia. And when the soldiers came for her at the age of twenty, she was already hidden away. A decade later found Julia living a new life under the government's radar. As a secure tech courier in the capital city of Chicago, she does her job and the rest of her time avoids other people as much as she is able. The moment she agrees to help another fugitive Walker is when everything changes. Now the government wants them both and they'll stop at nothing to get what they want.
Waking the Dreamer
Word Count:

65000
Summary: "Whenever someone asks me if I believe in heaven and hell, I tell them I don't know about heaven, but on hell... I'm an expert." On the eve of World War I, the Martians from the original H.G. Wells classic have returned to finish what they started, but this time humanity is ready. Armed with steam-powered battle machines created from reverse-engineered alien technology, the global defense force A.R.E.S. prepares for the coming conflict as tensions rise in Europe. Captain Eric Wells, an orphan of the first War of the Worlds, commands Earth's newest, most formidable weapon... the colossal battle tripod GOLIATH. Includes new and deleted scenes not included in the film. Based on the award-winning animated film from director Joe Pearson and Tripod Entertainment, starring Adrian Paul, Peter Wingfield, Elizabeth Gracen, Jim Byrnes, Beau Billingslea, Mark Sheppard, and Adam Baldwin. Adapted from the screenplay by David Abramowitz. 2015 Scribe Award Finalist (Best Adapted Novel Category)
War of the Worlds: Goliath
Word Count:

91641
Summary: Johnny Smith's luck has been bad from the moment the Stock Market crashed and he'd been forced to leave an exclusive boarding school, and he sees no reason to believe it will ever change. But then he meets Church Chetwood, a dashing, devil-may-care director of motion pictures, and his life is turned topsy-turvy when Chetwood takes him along on what the man promises will be the adventure of a lifetime. Johnny doesn't care, as long as he's with his Mr. Chetwood. The year before, Church had hired Captain Johansen to take him to the mysterious island of Iwi Po'o on the tramp steamer August Moon. There he'd found and captured a sabretooth tiger and brought the animal back to the States. "Chetwood's Kitty," so dubbed by the press, is the reason he has to leave New York so precipitously -- people had died and the law is after him. The only bright spot is the kid he'd come across in a saloon. Church thinks he's had the best idea of his life when he decides to take Johnny along with him to the South Seas. He and Captain Johansen plan to make a living transporting goods from one island to another, and they have every intention of avoiding Iwi Po'o. But a treacherous stowaway has plans to take the August Moon for himself, and convinces the men to mutiny. Johnny, Church, the skipper, the ship's cook, and the wireless operator, accompanied by the little girl Johnny had rescued from prostitution, find themselves in a lifeboat, with Iwi Po'o the only spot of land. The last time Church was on this island, twelve men lost their lives to what lived there. Will Johnny, Church, and their friends somehow manage to make it our alive this time?
Whither Thou Goest
Word Count:

80000
Summary: KurtisP385XL47Ruth: Game Changer. Prodigal daughter. Spy. The Cyber entities control a peaceful but static galaxy–until they detect unsanctioned developments on the low-tech planet Poindros. They force rebellious Ruth Kurtis to leave the bright lights of Casino to return to her fundamentalist Poindran homeworld as their secret agent to investigate possible Changers. For reluctant Agent Kurtis, the Cybers' threat of the memory-erasing Steps of Healing would be less dangerous than facing the repression and simmering angers she escaped as a teenager. But Ruth won't run from this fight. The Cybers have calculated all the odds. Except they've just unleashed a wild card. "Stamey puts feeling into this tale of the Prodigal Daughter." (Publishers Weekly)
Wild Card Run
Word Count: Information not available
Summary: Mobsters, Monsters, and Magic. It's 1929 at the height of Prohibition in Plymouth, Massachusetts. Bill Chiavo and his twin sister Millie are learning Wisdom, the family magic. Wise families should take care of their own but when the stock market crashes, their Irish Uncle Finn hoards his visions. He reaps the rewards and the Chiavos head to the poor house. Now the twins are on the outs while their uncle's got the money, the power, and the connections to take over. Bill and Millie need allies and the mob-run Supper Club just might have the muscle they need. Millie wants them to skip town but Bill refuses to leave his family or friends at Finn's mercy. The twins will need to wise up if they are to thwart their uncle's conquest. But how do you defy a man who sees the future? The Wise and crime families clash in this small town for big stakes. But who will claim the prize?
Wiser Guys
Word Count:

73000
Summary: When supernatural secrets collide, it'll take more than coffee to brew the perfect love. When Ky Hernández bonded with his familiar, Zuri, his life changed forever. Their connection turned him into a practicing witch and led him to his calling as a medimagical professional. However, it totally tanked his love life—what guy would settle for eternal second place behind a parrot? So Ky keeps his witchy nature under wraps and sticks to hookups with humans, which can never go anywhere. But the mouthwatering barista at the coffee shop next door makes him thirst for more than a caffeine fix. The charms Ewan Jones uses to appear human are inconvenient, disorienting, and . . . necessary. Ewan and his siblings are achubyddion, metaphysical healers whose powers are coveted by unscrupulous supernatural beings. And let's face it: all supes are unscrupulous, given the right incentive. He's grateful for the protections that hide his little family, and for the barista job that keeps them housed and fed. He's just so lonely. And his regular, Ky, the super-hot, commitment-averse EMT, seems like the perfect candidate for a one-night shot at intimacy. After all, humans are no threat. It takes a clumsy coffee shop intern, a mysterious werewolf epidemic, and one snarky parrot to unravel their pasts—and give them a chance at a future.
Witch Under Wraps
Word Count:

60000
Summary:
Frank's family taught him that his wolf was dangerous, unwanted. Now his best friend's brother wants him in bed and on stage. But giving into his wolf's need for love could risk the quiet life Frank has created for himself—and his heart. Settled in the small town of Waycroft Falls, Frank is content to be a lone wolf among the white picket fences and dollar book bins until he finds himself sniffing his best friend's brother. Tom smells like hot apple pie and his Broadway smile has Frank lolling his tongue. But when the visiting actor learns Frank's secret and plies him with hot kisses to get him to star in his play, Frank can't help but wonder if Tom is only acting. Tom ran away from family obligations to be a Broadway star. If he could make it there, he could make it anywhere…but he didn't. Trudging home to Waycroft Falls to open his sister's new performance space brings him face to face with a werewolf—a werewolf that would be perfect for Tom's shoestring production of Beauty and the Beast. Staying in Tiny Town USA would be worth it if he can somehow convince the sexy wolf to expose his furry condition on stage and howl privately in Tom's bed. Wolf Around The Corner, a paranormal semi-finalist in Passionate Ink's 2017 Sexy Scribbles Contest, is a full-length fairytale romance with a side of wolf shifter. If you like your romance with gorgeous men, humor, and small town magic, you'll love Wolf Around the Corner! Buy your copy now and settle in to watch the drama unfold!
Wolf Around The Corner
Word Count:

87200
Summary: What do you do when you finally prove the existence of the otherworld, but the ghosts kick your ass? For Trent Pielmeyer, the answer is run like hell—away from his hostile family, away from the disbelieving cops, and far, far, far away from anything that smacks of the supernatural. After seven years' captivity in a whacked-out alternate dimension, he is so over legend tripping. When Christophe Clavret spots Trent in a Portland bar, he detects a kindred spirit—another man attempting to outrun the darkness of his own soul. But despite their sizzling chemistry, Trent's hatred of the uncanny makes Christophe hesitant to confide the truth: he's a werewolf, one of a dwindling line, the victim of a genetic curse extending back to feudal Europe. But dark forces are at work, threatening more than their growing love. If Christophe can't win Trent's trust, and if Trent can't overcome his fear of the paranormal, the cost could be Trent's freedom and Christophe's humanity. Or it might be both their lives.
Wolf's Clothing
Word Count:

113,100
Summary: Markus a wizard from a parallel Earth travels to our world in a bid to stop a blight that is destroying his own. Here he meets Alcina, a Wiccan Priestess, who is in a custody battle over her son, Tim, against Carl, the boy's sire, who abandoned her when she was pregnant eight years before. Carl has the backing of a dangerous religious cult in his bid to take Tim. Together Markus and Alcina face the forces of intolerance and hate to save a child and a world and thaw two warm harts too long trapped in the ice of betrayal. Meanwhile, Markus' best friend and his ex-fiancée, who is now a vampire, battle the authorities who are likely to hang Markus upon his return because he has done research into forbidden magics.
Worlds Apart
Word Count:

81,000
Summary: In the last surviving cities of a ruined world, the concept of "woman" has been forgotten to history. Those unfortunate enough to lack a Y chromosome live as second-class citizens in a world dominated by mascs. Ember is Y negative. He is scorned, bullied, abused by every masc he encounters, at work and at the gym. Not even his Y negative roommate cuts him any slack. He wants so desperately to be accepted as a masc that he'd rather buy black market testosterone than food. Something's gotta give—he needs a change in his life, but has no idea how to find it. Jess is a masc with a passion for studying the recovery of their devastated world. His boyfriend is pressuring him for more commitment, and his father expects him to take over the family business. He can't wait to get away from civilization for his seasonal research out in the wild. When Jess offers Ember a job, their lives collide in the isolated wasteland, and their initial attraction turns into a relationship that horrifies those around them. Soon their struggle to stay together and to be who they are turns into a fight for their lives.
Y Negative
Word Count:

84500
Summary: It's just another day in the Transdimensional Authority, with teams of investigators doing what they do best (well, after breakdancing) – investigating. Bob Blunt is en route through a Dimensional Portal™ to Earth prime 4-7-5-0-0-7 dash iota to investigate cars exhibiting most uncarlike behaviours – ribbit! (Breaking all of the Transdimensional Authority rules…number 127, he is without his partner, 'Breakfront' Balboa, who is on leave after an unfortunate incident with the Vulvar Ambassador to Earth Prime and a staple gun). Beau Beaumont and Biff Buckley have already arrived on Earth Prime 5-9-2-7-7-1 dash theta to find themselves surrounded by machines whose only intention is to serve human masters – even if it kills them! Recently recruited TA investigator Noomi Rapier, with her partner 'Crash' Chumley, is on Earth Prime 6-4-7-5-0-6 dash theta where all matter at all levels of organisation (from sub-atomic particles to the universe itself) has become conscious. Meanwhile Barack Bowens and Blabber Begbie, taking the Dimensional DeLorean™ to Earth prime 4-6-3-0-2-9 dash omicron, face multiple apocalypses (already in progress), and Bertrand Blailock and Bao Bai-Leung are having trouble travelling to their intended destination: the home of the digital gods. At first, they all appear to be looking for unauthorised and probably counterfeit Home Universe Generator™s, but could what's really happening be more sinister? (Yes. Yes, it could. We wouldn't want to leave you in suspense…)
You Can't Kill the Multiverse (But You Can Mess With its Head)
Word Count: Information not available
Summary: Grounded after a rescue attempt in Earth orbit goes bad, Commander Martin Atkins of the Confederation Navy is approached by the Interscission Project, a consortium of civilian corporations on the verge of perfecting the technology to travel to another star. Despite his misgivings, the chance to get back in the pilot's seat is too much to pass up, and he convinces his best friend and crewmate, Charles Davenport, to leave the military temporarily and join him as part of the crew of the Zenith, humanity's first starship. Edward Harlen is a brilliant young engineer, and a key player in the construction of the Zenith to take advantage of the untested technology of foldspace drive. But Edward has his own agenda in joining the project, and a bitterly personal score to settle with his boss, Trevor Sutton, a vendetta of which Trevor is entirely ignorant. But when Edward's sister Stella enters the picture and manages to secure a position on the project, all of Edward's careful plotting is upset, and she might spell the downfall not only of his plans for revenge, but of the entire Zenith mission. The spark of attraction between Edward and Martin is a complication that Edward can't afford, but of which he can't let go. For Edward knows the secret at the heart of the Interscission Project, the hidden potential of the technology that in the wrong hands could become the ultimate assassin's weapon: the ability to rewrite history, not just once, but many times. As an unseen enemy moves to destroy them, and the body count multiplies in their wake, Martin and Edward must choose whether they will allow the possibility of love to challenge their destinies, or will they instead take up arms in a war to control the most ancient and terrible power in the universe. Time, itself.
Zenith