Word Count: Information not available
Summary: How much must one sacrifice for the sake of friendship? Lady Claire Trevelyan has had to deal with betrayal before, but none is quite so painful as the belief that Gloria Meriwether-Astor deserted her and her friends and left them to die under the waters of Venice. But when she learns that Gloria has vanished, can she do the right thing and attempt to find the missing heiress? Of course she must. But this does not sit well with the gentlemen in her life, who had every reason to believe she planned to settle down at last. Suddenly Claire finds herself without a career, a fiancé, or the confidence in her own abilities that has carried her this far.  Worse, Captain Ian Hollys is suffering from the megrims and cannot seem to recover from his dreadful experience as a prisoner. Alice's dream of captaining her own ship in England is scuttled. Tigg is struggling with a revelation that has turned his life upside down—and may result in a betrayal more harrowing than any the flock has yet seen. Will the bond of friendship that has brought Claire and the flock together be the very thing that separates them for good? Or will love tip the balance and prove that what really defines a gentleman of means is none other than a lady of resources?
A Gentleman of Means
Word Count: Information not available
Summary: Will a daring rescue put a wedding and a future at risk? Lady Claire Trevelyan and renowned scientist Andrew Malvern are looking forward to domestic felicity in London—until a desperate and fugitive Alice Chalmers turns up seeking help. Her ship has been seized in the Duchy of Venice and worse, her navigator Jake has been thrown into the dreaded underwater prison from which no one ever escapes. Even the innocent. Lady Claire is about to embark on her career in Munich at the Zeppelin Airship Works. The Mopsies are beginning their final year at school. Andrew Malvern begins to despair of his fiancée ever choosing a wedding gown. But when help is denied from official quarters, the close bonds of friendship and shared adventure demand that they set sail in the airship Athena. There is a brooding evil waiting for them in Venice … an evil that would put an end to the flock's interference once and for all. With an innocent friend's unexpected return and a pair of secret agents who don't want their help … the situation clearly calls for the inner resources of a lady of integrity.
A Lady of Integrity
Word Count: Information not available
Summary: You can choose your friends, but you cannot choose your family ... or can you? Now sixteen, Lizzie and Maggie are educated young ladies who have not been called "the Mopsies" in years … except by their guardian, Lady Claire Trevelyan. With the happy prospect of choosing their own future, the girls can leave their dodgy past behind, and Lizzie can bury her deepest childhood memories where they can do no harm. But is she ready to be separated from Maggie and become the woman she believes she was meant to be? Or will old habits tempt her into defiance—like picking the wrong man's pocket—and plunge her into disaster? But sometimes disaster leads to dreams coming true—dreams of family and a place in the world. Lizzie must decide whether her true family is the one she was born to … or the one she chose long ago when the Lady of Devices steamed into their lives …
A Lady of Resources
Word Count: Information not available
Summary: You can choose your friends, but you cannot choose your family … or can you? Under normal circumstances, Maggie and Lizzie would be delighted to meet their long-lost relatives and be reunited with those who had believed them dead, but when are the Mopsies' circumstances ever normal? With her half-brother Claude Seacombe, Lizzie travels to Cornwall to meet her mother's parents. Maggie goes along, too, since she is part of the family … or so one might assume. But the more time she spends in her grandparents' clifftop mansion, the more she realizes that something is not right, and the events surrounding her own mother's death are more mysterious—and dangerous—than anyone alive suspects. For an old nemesis is preying on the weak and proud, and she cannot stand by and watch. Maggie must straighten her spine, plunge into danger for Lizzie's sake … and prove that no matter the name she bears, she is first and foremost what the Lady of Devices believes her to be … a lady of spirit.
A Lady of Spirit
Word Count:

22700
Summary: When yet another wave of colonizing Felters arrives to strengthen their fortress on the forest's edge, Velu, an indigenous hunter, knows they bring only pain and death. But with them arrives an intriguing older woman who hunts legends. When Velu learns the woman, Lady Greyback, shares his terrifying visions of the ancient scorpion god, Ajakava, she invites him to research what they mean. But the Felters grow hostile, blaming Velu and the other hunters for deaths in a doomed expedition through the forest. Meanwhile, the visions become ever more persistent, hinting the god is awakening. When a second Felter expedition seeks to extend their reach to the capital beyond the forest, only Velu and Lady Greyback know they will walk straight into Ajakava's clutches. While the lady sees new destruction, Velu sees memories of a long-forgotten massacre. What vengeance does the old god have in store, and for whom? Find out what happens in Ajakava by Chaitanya Murali
Ajakava
Word Count:

21,400
Summary: When do dreams become reality? Orin sells dandelion latex at a no-name market, barely scraping by. Mette is a princess. Maybe. What Orin does know is that for thirty seconds every night, Mette visits Orin in xir dreams. Orin has long since written the fancy ghost woman off as a recurring nightmare, but when Mette insists upon meeting in real life, Orin's inner world turns out to be more substantive than imaginary. Along with best friend Blathnaid, Orin embarks on a journey to discover the truth behind xir otherworldly connection--determined to free xir mind and finally get a good night's sleep. But it's an ancient, planetary magic that binds Orin to Mette, and Orin's dandelions may be their only chance to survive the separation. If you want a fun, queer romp through a sci-fi planet with magic and dragons (of a sort), download Awry with Dandelions today! Note: this book uses xie/xir pronouns for Orin. Genres: Space Opera / Science Fiction / Romance / LGBT Lesbian Non Binary Market: Adult and New Adult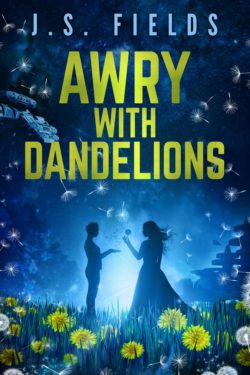 Awry With Dandelions
Word Count: Information not available
Summary: Emeline's quiet village has three important rules: Don't look at the shadows. Don't cross the river. And don't enter the forest. An illustrated fantasy filled with beauty and power, Between the Water and the Woods sweeps you into a world where forests are hungry; knights fight with whips; the king is dying; and a peasant girl's magic will decide the future of the realm . . . When Emeline's little brother breaks all three of their village's rules, she is forced to use her family's forbidden magic to rescue him from the dark things he awakens, the Ithin. Now that the Ithin are afoot in the land, she must, by law, travel to the royal court and warn the king. But the only way she and her family can make the journey to the capital is with the protection of a sour magister and a handsome, whip-wielding Lash Knight. Will Emeline survive in a city where conspiracies swirl like smoke and her magic is all but outlawed? Seven full-page black-and-white illustrations accompany Between the Water and the Woods, a lush, fairy-tale-style fantasy perfect for readers of Karen Cushman and Shannon Hale.
Between The Water and The Woods
Word Count:

73000
Summary: ::The Seignso have our own plans for the remains of Genghis Khan.:: Alien warmongers have cloned an ancient emperor to lead an unstoppable army. Gifted with superhuman powers and advanced technology, he sets his sights on his home planet, Earth, and then... the stars! However, countermeasures have already been set in place. A young Iowa farm boy, oblivious to his powers or destiny, is thrust into a battle that will decide the fate of humanity against the new and improved Genghis Khan! A thrilling, interstellar adventure from the author of The Weller and War of the Worlds: Goliath!
Birthright
Word Count:

120000
Summary: U.S. Marshal James Creed has known loss, starting from the untimely death of his wife and daughter in a sudden fire. His work, chasing down and arresting outlaws across the Wild West, is all he has left to live for. Then one day, in 1876, the infamous killer Corwin Blake catches Creed by surprise and guns him down. Creed awakes after a mysterious young woman resurrects him in a basement laboratory beneath a brothel. Half alive, Creed feels torn between his need for justice and his desire to fall back into the peace of death. Creed's instincts drive him to protect the city of Santa Cruz, California, from the outlaws it harbors while searching for Blake. He uncovers a secret criminal organization, likely protecting Blake, determined to use resurrection technology for its own ends. The former marshal, now faster, stronger, and a more deadly shot than ever before, must work with a brothel madam, a bounty hunter, and the remaining marshals to uncover the criminal syndicate before they can misuse the machines of rebirth and create more mindless zombies. Meanwhile, he must also stop Blake, before the outlaw kills the only people he cares about. His own death can wait.
Bodacious Creed
Word Count: Information not available
Summary: A lady of resources has the power to change the world—if she can stay alive long enough to do it. Lady Claire Trevelyan had been looking forward to glittering balls, congenial society, and relief from pursuit during her stay with Lord and Lady Dunsmuir in the Canadas. Though being pursued by a handsome airship captain is rather satisfying, especially when it appears Andrew Malvern is becoming distracted by a certain blond mechanic. But a shot fired in the night puts an end to such diversions, and instead plunges her and her orphaned band of children into a fight for their very survival. Between secret conversations at the highest levels of society and skullduggery in the diamond mines, Claire must discover who is behind the attempts on her friends' lives—before her mother is compelled to make funeral arrangements yet again.
Brilliant Devices
Word Count:

52,500
Summary: The cerebral interface has revolutionised society. Need a ride? With a thought, the cab is on its way. Want an adventure? Enter a VR 5 computer game nearly indistinguishable from reality. Amanda arranges for her Big Sisters Program little sister, Rachel, to spend a day gaming as a fourteenth birthday present. Amanda never suspects that her insane ex-boyfriend, Jim, will use a computer virus to trap her and her companions in the game. A pleasant diversion becomes a life and death struggle as her party seek a way to come back to the real world without triggering a program that will cause nanobots to rip their brains to shreds. To complicate matters, in the game scenario the adventurers have been transformed into cats. Will the party survive? Will Amanda admit that Rachel's older brother, Tyrell, might just be her future? Will the computer virus Jim used to trap them become a cyber plague that could kill thousands?
Cats
Word Count:

87000
Summary: The crew of the Ungovernable might have just gambled more than they can pay. Ex-smuggler pilot Jez and the crew of the Ungovernable desperately need is a way to stop the government killing them all. And they're running out of time. So when Grigory Korzhikov, the godfather of the biggest mafia organization in the System, invites them aboard his private gambling ship and tells them he can give them a way out, it's an offer they can't refuse. But accepting means dealing into Grigory's game, and he's playing with a stacked deck. He hasn't forgotten the money they cost him in their first heist, and he's notorious for holding grudges. If they don't want to end up floating in space without a space suit, they'll have to find a way to beat him at his own game, and in Grigory's ship, the odds are on the house. Firewall is the fifth book in R.M. Olson's science fiction space opera series The Ungovernable. With a crazy, close-knit crew, plenty of humour, and loads of action, Firefly meets Ocean's Eleven in this fast-paced, kick-ass, wickedly fun series.
Firewall
Word Count:

85000
Summary: ALSO AVAILABLE FROM INGRAM FOR BOOKSTORES We're a world beset by crises. Climate change, income inequality, racism, pandemics, an almost unmanageable tangle of issues. Sometimes it's hard to look ahead and see a hopeful future. We asked sci-fi writers to send us stories about ways to fix what's wrong with the world. From the sixty-five stories we received, we chose twelve most amazing (and hopefully prescient) tales. Dive in and find out how we might mitigate climate change, make war obsolete, switch to alternative forms of energy, and restructure the very foundations of our society, The future's not going to fix itself.
Fix the World Anthology
Word Count:

134000
Summary: Taste the magic of the gods! Sisters Kisare and Belili uproot an ancient box in their owner's orchard and find a miracle inside: a fifth godfruit in a society that knows only four. It is punishable by death for non-nobles to eat godfruit, so the sisters hide the discovery and plot to escape servitude for good. With the power represented in the box, they could live as nobles themselves. But Kisare finds her new freedom more difficult than she imagined, and Belili has many secrets she strives to keep hidden. With the help of a people slowly losing their culture and technology to the powerful nobles, the sisters lead an infiltration of the highest levels of noble society. While Kisare finds she cares for the captured leader of the people helping them, Belili comes to love her noble suitor's guard—a fierce woman with a similar past to her own. In the end, the fifth godfruit may bring harmony to the world, but the sisters' only hope of succeeding lies in deciphering ancient mythologies surrounding the gods' original plan for their people.
Fruits of the Gods
Word Count:

28985
Summary: A collection of the "Brassbright Kids" stories PLUS a brand-new novelette! The Steamkettle Kids Save the Day - Can Paisley Pockets and Christopher Cogan stop a crime in progress? They may be just a couple of kids, but where there's a will and some smarts, there just might be a way. The Legend of The Engineer - In a country called Industralia, children listen to a New Year's story about Frostica, the Engineer, and a magical train. A Life Invented - Gerard Liddle tinkers with his very first inventions - which sometimes work, and sometimes do unexpected things. The Steamkettle Kids and the Lucky Tentacles - After a hurricane shakes up Steamkettle Bay, Paisley Pockets, Christopher Cogan and Jimmy Cupper have an adventure as big as the sea. ~ NEW ~ The Secret of Tarragon Alley - Robin dreams of having a garden filled with flowers, just like Gramma did. When he brings home a little clay pot filled with gnarly, weird plants, he has no idea that it will take him on an amazing adventure.
Full Steam Ahead
Word Count: Information not available
Summary: Escaped lunatics, lost children, vengeful lords, and love. Really, the situation is becoming quite impossible. Left alone after the Arabian Bubble financial disaster, Lady Claire Trevelyan now leads the cleverest group of gamblers and reformed cutpurses in the London underworld. The lightning rifle she took from a rival gang contains a unique source of energy—and its inventor has been locked up in Bedlam by powerful men in order to suppress its very existence. In order for Lady Claire to understand it, she must consult with the mad scientist ... even if it means breaking her out of the most frightening institution in London. Then, in a moment of madness, she becomes engaged to Lord James Selwyn, who knows nothing of her double life. He expects her to be the perfect hostess to the rich investors interested in his and Andrew Malvern's Kinetick Carbonator. But how can Andrew stand by and watch Claire marry someone she does not love?
Her Own Devices
Word Count:

91000
Summary: The government wants them dead. They want to know why. And if they want answers, the crew will have to pull what may be their most dangerous job yet. Long before signing on with the Ungovernable, back in his university days, ex-convict and one-time-student Lev stumbled onto a secret, a secret that ended in his professor and mentor disappearing, never to be heard from again. Now he and the rest of the crew are going back to university—but this time they're breaking in, and they're bent on sabotage. They need to find out what the government thinks they know, and why they're all supposed to be dead. But the deeper they dig, the darker the secrets they find, and soon they realize that it's not just them that the government is after. What's happening in the labs and the storage rooms of the university might just destroy the entire system as they know it. Insider Threat is the fourth book in R.M. Olson's science fiction space opera series The Ungovernable. With a crazy, close-knit crew, plenty of humour, and loads of action, Firefly meets Ocean's Eleven in this fast-paced, kick-ass, wickedly fun series.
Insider Threat
Word Count:

77000
Summary: Breaking into one of the most secure prison planets in the system isn't the hard part. The hard part is going to be getting back out again. They just pulled off the heist of the century. Now ex-smuggler pilot Jez and the motley crew of the Ungovernable have a promise to keep: an extraction from a high-security political prison. But the timeline for the rescue is shorter than they ever imagined, and if they want to save their target from certain death, they'll have to go in blind—no specs, no intel, no time to prepare, and only the skeleton of a plan. And between prison gangs, murderous guards, and a vicious warden, extracting their target might be the least of their worries. Jailbreak is the second book in R.M. Olson's science fiction space opera series The Ungovernable. With a crazy, close-knit crew, plenty of humour, and loads of action, Firefly meets Ocean's Eleven in this fast-paced, kick-ass, wickedly fun series.
Jailbreak
Word Count: Information not available
Summary: An air voyage to remember turns into a disaster no one may survive. With her orphaned charges, Lady Claire Trevelyan joins Earl Dunsmuir's family on an airship voyage to the Americas. If she can stay out of Lord James Selwyn's way until her eighteenth birthday, she will be of age and cannot be forced into marriage. What she doesn't know is that Lord James is in the Americas, too, with Andrew Malvern closing in on him—and the wonderful device he stole. But when a storm cripples the airship and air pirates swoop in like carrion birds, Claire and the children must live by their wits to make their way across a harsh landscape. Will Andrew ever see her again and right the wrong he believes he has done? Will Lord James succeed in his monumental thievery? And how exactly does Rosie the chicken evade the soup pot?
Magnificent Devices
Word Count: Information not available
Summary: 1899 years after the Catastrophe, Bridges is run by the Mob. As its steam-driven infrastructure fails, a new faction rises. Can she stop them? The Red Dog Conspiracy follows the story of 22-year-old small-time private eye Jacqueline Spadros beginning from her first major case: the missing little brother of her best friend, whose murder ten years before in front of her still haunts her nightmares. The only clue? A Red Dog stamp across the alley from where the boy was last seen. Dodging the man - seemingly mad - who has publicly threatened her life, placating her brutal, sadistic father-in-law, and dealing with her feelings about her ex-lover, while being married to one of the city's biggest drug lords: Jacqui is a busy woman. Her life is about to get much busier. From the very first page, Jacqui is dragged into a web of lies, secrets, and betrayals which both endangers her life and the lives of those she loves. Dark, gritty, violent steampunk crime fiction which keeps you guessing to the very end. If you like crime fiction, noir, Victorian/historical, gritty steampunk, psychological thrillers, hardboiled mystery, hard sf, dystopian, or mafia romance you will love this set. This digital box set comprises Act 1 of a 13 part serial novel. Included in this set: The Jacq of Spades: Part 1 of the Red Dog Conspiracy The Queen of Diamonds: Part 2 of the Red Dog Conspiracy The Ace of Clubs: Part 3 of the Red Dog Conspiracy If made into movies, this set would be rated R for bad language, graphic violence, smoking and alcohol use, child kidnapping, teenagers murdered (a serial killer is on the loose), and sexual content (Jacqui is married, after all). Welcome to the Family.
Red Dog Conspiracy Act 1