Word Count:

88,000
Summary: Journalist Will Corwin and Doctor Amelia Warren have started to build a life together on the war-torn colony of Amara. They are even raising a child, Amelia's ten-year-old brother, Jonah. While Will struggles to integrate his new security detail into his work, he pursues an interview he's wanted for a long time, and makes a decision--and takes a risk--in order to get the story. When that risk backfires, and he is abducted by the hybrid alien warlord, Nod Korvus, it will be a struggle to balance his life with his integrity. Amelia wants Will back, desperately, but in order to do so, will she be willing to betray everything he stands for? And how will the arrival of the Duchess Ezri Sinclair, Will's domineering mother--who very much does not approve of Amelia--complicate the rescue effort? This is Among the Captive Stars, the sequel to All the Promised Stars, and the second installment in Broken Stars, a series of steamy romantic sci-fi novels by Chad Grayson.
Among the Captive Stars
Word Count:

71000
Summary: The thrilling Voidstrider Saga continues... Shan Taishan dedicated his life to protecting Mars as an Officer of the Fleet. But now an enemy no one can see has come to the Red Planet, and it's up to Shan to save his sister and his homeworld - or see Mars fall forever! Prominent Martians have gone missing - only to turn up again days later, seemingly changed. Government leaders forward policies they'd never have supported before, and the Fleet itself seems riddled with traitors. There's a conspiracy at work, one which threatens to turn Mars into a brutal dictatorship. With his friends gone off to Eros - glittering asteroid city of sin - in search of the enigmatic Djinn, it's up to Shan alone to unravel the mystery and save his world. And when he learns the truth at last, Shan Taishan will be forced to make a terrible sacrifice -- or see his world lost forever!
An Officer of the Fleet
Word Count:

124,000
Summary: Journalist Will Corwin has returned from his ordeal as a captive of the hybrid alien Warlord, Nod Korvus. But even as he attempts to settle back into his life and career, he finds the experience won't let go of him. His mind becomes increasingly fractured by the trauma, to the point that he's no longer even sure what is real and what isn't. Dr. Amelia Warren wants to help him heal, but to do so means that she needs to call in a professional, which Will both resists as well as resents. Can she get through to him, before he does irreparable damage to himself and their relationship? When Will glimpses a path toward healing, it's by finishing the last work of Father Damien Morgan, the priest who befriended Will, and who Nod Korvus brutally murdered, as a way of punishing him. Will wants to complete the school Father Morgan was building, but the Church has cancelled the project. Will decides to revive the project, calling upon his family resources for assistance. And when help is offered, it means turning his life upside down. Can Will build the school without abandoning the rest of his responsibilities? And, if he does, will it provide the healing he so desperately needs? And what of Amelia, and his stepson, Jonah? Must he leave them behind for the long months that building the school will take? What form will his healing take, and will there be something left of his life when it is done? And what new dangers lurk in the village of Burden? This is Burden of the Stars, the third book in Broken Stars, the steamy romantic sci-fi series by Chad Grayson.
Burden of the Stars
Word Count:

128000
Summary: In the wake of a worsening climate crisis, magic runs rampant and demons roam across the Canadian prairies. A long-dead god stirs in the Pacific Ocean, while the wilderness is choked by invasive, screaming grass. The Cascade has shattered political stability, leaving a scandal-plagued government clinging to power in Ottawa. As catastrophe looms ahead, a precognitive rainman, Ian Mallory, stands between run-of-the-mill corruption and a nightmarish, dystopian future. It is up to a diverse and unlikely band of activists, scientists, journalists, and one underpaid, emoji-spell wielding intern to save their beleaguered country from its own worst impulses
Cascade
Word Count:

97000
Summary: The seas spell freedom. Pirates and kraken, boats and submarines, deadly sirens, mermaids, and the women who face them all. These are our heroes. High seas adventure, fantasy, and magic weave together in this sapphic anthology focusing on the joy of the unbounded oceans. If you like diverse stories with lesbian and sapphic heroines exploring oceans, battling sea monsters, and seducing pirates, buy Farther Reefs today! With stories by: Sarah Day and Tim Pratt, Kim Pritekel, Kyoko M. Sara Codair, William C. Tracy, N.L. Bates, Robin C.M. Duncan, Vanessa Ricci-Thode, Margaret Adelle, and J.S. Fields Genres: Science Fiction / Fantasy / Adventure / Lesbian / LGBT and Non Binary Market: Adult
Farther Reefs
Word Count:

94000
Summary: Braxton Thorpe has discovered a threat to the entire Solar System, but he has a problem: he's dead. Frozen at death, he awakens to find himself uploaded into an electronic matrix. Exploring beyond the matrix and the larger GlobalNet, he discovers the Oort, a distributed electronic entity older than humanity, with an unnerving secret: aliens wiped out nearly all life on Earth once, and are coming back to do it again. The mathematical entity that is Thorpe has to find a way to convince humans of the threat, and in time to do something about it. But how, and what? If you've read Niven's A World Out of Time or Taylor's We Are Legion, the opening of Icicle will only seem familiar. Buckle up for a wild ride; you ain't seen nothing.
Icicle: A Tensor Matrix
Word Count:

71500
Summary:
JMS Books' Trios are themed collections of three gay romance stories by a trio of authors. Each story is available separately, but readers can get all three for a discounted bundle price.
Legendary Loves Volume 2 contains three paranormal shifter M/M romances just in time for Halloween! Contains the stories:
In My Arms Again by Nell Iris
The Murky Depths by Kassandra Lea
Weekend at Bigfoot's by Addison Albright
Legendary Loves, Volume 2
Word Count:

90000
Summary: Join an extraordinary family on a heart-pounding adventure as they face mortal danger. Telepathy creates as many problems as it solves, as everyone in the secret organization x0 would admit. Those problems become much worse when budding psychic Lola discovers another group of telepaths associated with a powerful media empire. This group is willing to destroy anyone capable of challenging them. Soon, Lola's family and friends are in danger. Fortunately, they are gifted with astonishing abilities of their own. Yet, none of them know how to fight. It will take every power they possess, and the allegiance of a helpful warrior, to bring down the arrogant adepts who do the bidding of a man hell-bent on promoting destruction. Can the talented people Lola cares about learn to trust each other and work together in order to save the world?
One of Two
Word Count:

66000
Summary: Introducing a thrilling new space opera adventure! When a Martian politician is kidnapped en route to a summit of leaders from the Asteroid Belt, events are set in motion which will change the face of the Solar System... Katia Miranova believes in a free Belt. She's lived her entire life on Vesta, and she'll be damned if she lets a bunch of Earthers tell her how to run her station. But when Earth makes its move, Katia begins to suspect there's something more sinister at work behind the scenes... On the distant edge of the system, Francis Drake is a washed-up hack drowning in a bottle. He's seen the face of the enemy and he ran from it. But Drake is about to be dragged kicking and screaming back into the middle of a war for the very future of humankind!
Revolt on Vesta
Word Count:

111,000
Summary:
New York: two years after the Third World War. Humanity is rebuilding its cities brick by brick; the damage done to the people, however, is a lot harder to repair.
Dan Hardacre is one of those people. An aspiring stage actor and experienced draft-dodger, Dan struggles to find his place within the Utopic rebuild of New York City. When he's not caught up with the duties of work, Dan lives a quiet life in mourning for his mother, Dyani, who went missing when he was a teenager.
One night, Dan experiences a vivid, terrifying nightmare that puts him right on the front lines of the war for which he dodged the draft; it ends with him facing Death itself in the form of a metallic, faceless humanoid creature that calls itself the Valkyrie. To investigate the reason behind his haunting experience, Dan seeks out a meeting with his estranged father, who reveals the startling truth about Dan's dream: it wasn't a dream.
With this newfound knowledge and the powers it brings, Dan makes it his mission to return to the scene of his nightmare. However, he soon comes to know that confronting the Valkyrie not only endangers him but the war-withstanding world he leaves behind.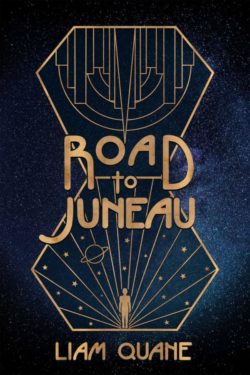 ROAD TO JUNEAU
Word Count:

119500
Summary:  Slingshot is a love story—about a man, a woman, another man, another woman, some gender bending…and a machine, the largest ever built.      Slingshot is a mystery—about a missing aviatrix, a conspiracy, a true-believer. Slingshot is an adventure—about following a dream, the ocean-deep, outer space. Slingshot is about constructing the first space launch-loop stretching 2,600 km between Baker and Jarvis Islands in the Equatorial Pacific. It's about high finance, intrigue, unlimited ambition, heroism, fanaticism, betrayal…and about opening space to the common person. With a cast of 69, Slingshot takes you from Seattle's world financial district, to the ocean bottom at 5,000 meters off Baker Island, to the edge of space 80 km above. You play with dolphins and battle sharks. You fly and sail and dive, you work and play and love across the vast panorama of an Equatorial Pacific being put to leash to serve humanity's surge into outer space. While its accurate science and precise engineering will appeal to hard science-fiction buffs, Slingshot's major focus is the grand journey, the opening of outer space to the common person by men and women who loom larger than life as they work, play, and love.
Slingshot: Building the largest Machine in Human History
Word Count:

79000
Summary: The Angel's sinister plan for humanity nears completion! Concealed in its lair, aided by the self-absorbed corporate heiress Michaela Cross, the Angel readies for ultimate victory. But that victory is not yet assured. The mysterious Djinn and her far-flung network of agents prepare to make their final, desperate stand against the alien invader. Katia Miranova has returned to Vesta. Her world is under armed occupation, but she has unlikely new allies: a hacker sent by the Djinn who just might be able to override the Angel's mind-control; and the leader of the Earth forces who helped the alien conquer Vesta in the first place! Ex-reporter Francis Drake knows he's the key to the Djinn's plans. He just doesn't know how or why. Rocketing towards Earth and a final showdown, guarded over by the irascible android Summer, Drake struggles with his conscience and fear. Five years ago, he ran from this battle. Now, he must return to save the woman he once loved ... and Humanity itself!
The Angel and the Djinn
Word Count:

130000
Summary: A Journey to the Crossroads of Science and Myth The New Leprosy plague and a geomagnetic reversal threaten earth's precarious balance. An unlikely trio may hold the key to reset the compass of the world:
"Saint Ariadne" Demodakis—a Greek bioelectricity researcher who realizes she's curing plague victims by laying on hands.
Peter Mitchell—a jaded American veteran of the latest Gulf War, now a smuggler in the Mediterranean.
Leeza Conreid—a paparazza equipped with the latest neurally-connected media implants, who wants revenge and a big story.
Peter, blackmailed into bringing Leeza along, hires on with reclusive Ariadne to secretly  transport her to sacred sites in the Greek islands. She seeks to confirm a connection between the pandemic, geologic upheavals, and ancient lore that promises healing for humans and the planet. Peter doesn't realize they'll be pursued by violent Sons of the Prophet, mercenaries, and a cult of warrior women, out to claim Ariadne's rumored powers—or kill her. He will need all his wits and weapons to protect Ariadne as she labors to control her connection to the dangerous forces that may deliver a global cure. Or destroy them all.
The Ariadne Connection
Word Count:

161800
Summary: Following the dramatic events in The Starchild Compact, the starship Starchild departs on a 185-year interstellar journey. Meanwhile, the Iapetus Federation in cooperation with the Founders, descendants of the people who originally constructed Iapetus, expands to include the Mirs Complex at L-4, the Lunar Complex, a new habitat being constructed at L-5, the growing Mars settlements, and several asteroids including Daphne and Ceres. On Earth, America turns away from its world leadership position to focus on internal matters and the idea of an all-inclusive, multicultural society. Saeed Esmail, the stowaway Jihadist who played a significant role in The Starchild Compact, becomes the guiding prophet of a new form of Islam that quickly dominates the vanquished Persian Caliphate territories, and threatens the rest of the planet. Aided by Founder Asshur, the besieged Israelis reluctantly forge a new homeland on Mars, while the United States balkanizes into a half-dozen smaller units dominated by the Lone Star Conservancy under the leadership of Texan Sam Houston, who had earlier established the Lone Star Settlement on Mars. Science does not stand still. Founder researchers develop a longevity treatment that has the potential to extend human life indefinitely. The Starchild Institute, headed by former U.S. President Marc Bowles, develops advanced spacecraft, and a new form of transportation based on artificial wormholes. As the global Jihad on Earth heats up, most of the planet falls under the domination of Saeed Esmail, with only the Lone Star Conservancy, Columbia Freehold, Australia, and New Zealand left as independent territories. The Institute opens evacuation portals between Earth and Iapetus to rescue as many people as possible. While Earth sinks into medieval barbarism, the focus of human activity shifts from Earth to the Iapetus Federation as humans settle virtually every potentially habitable spot in the Solar System and begin planning for expansion into the rest of the Galaxy.
The Iapetus Federation: Exodus From Earth
Word Count:

107000
Summary: As the Oort Federation becomes a major force in the Solar System, Braxton Thorpe passes the Federation chairmanship to former US President John Butler. Thorpe's group offers humanity virtual immortality, but Isidor Orlov and his Udachny Enterprises oppose their every move. While terraforming Mars for more living space, the Mars Reds prove formidable as resisters. If the Asterian starship fighter pilots are released, will they align with Phoenix or Udachny, and who will develop the right FTL technology? In this tense space adventure, Thorpe, his team, and Max the tabby cat travel to Proxima Centauri and beyond to the Aster system, 84 lightyears distant. Will Thorpe bring together humans and Asterians in their quest for intergalactic travel? Will long life prove more than mere humans can handle?
The Oort Federation: To the Stars
Word Count:

131000
Summary: Are we the children of starchildren? The Starchild Compact is an adventure of heroic proportions, commencing on a planet 500 lightyears distant, arriving here just a few years from now, and ending up in the far distant expanses of the Universe. Is Saturn's moon Iapetus an artifact? To find out, Jon Stock takes his international exploration team on a 1.4 billion km journey to Saturn, but will Jihadist stowaway Saeed Ismail succeed in sabotaging the mission? On Iapetus, Jon Stock and his team meet the Founders. Where are they from? How did they get here? How will they impact Earth and the Solar System? Will the Founder's presence signal the end of humanity, or will it pave the way for a joint push to the distant reaches of the Galaxy?  The Starchild Compact is hard SciFi reminiscent of Arthur C. Clarke or James P. Hogan, with a geopolitical twist worthy of Tom Clancy or Clive Cussler.
The Starchild Compact: A Novel of Interplanetary Exploration
Word Count:

366200
Summary: This is a Kindle book and Audible book of all three volumes in the set.      The Starchild Trilogy begins with building a Space Launch Loop enabling massive movement off Earth and subsequent settlement of Cislunar-Space, Mars, and beyond.      Slingshot is the story of the struggle behind constructing the largest machine ever built stretching between Baker and Jarvis Islands in the Equatorial Pacific, and how the men and women behind Slingshot overcome the project's physical, economic, and human obstacles.      In The Starchild Compact, a team exploring Saturn's moon Iapetus discovers it to be a derelict starship, and meets the Founders, remnants of an ancient, advanced race, the Ectarians, that arrived in the Solar System 150,000 years ago. Together, they create the Starchild Institute governed by a document they call the Starchild Compact to further develop and introduce Ectarian technology to the Solar System. Using Ectarian technology, they develop near lightspeed spacecraft, artificial wormholes, FTL starships, and human longevity.      As human colonies expand into the Solar System, they form a governing coalition: The Iapetus Federation. While a united Islam pursues a global Jihad that rages across the planet putting millions to the sword, the Federation enables an exodus from Earth using artificial wormholes. From hand-to-hand combat in the oceans, to battles on Earth's surface, to the challenge of living off-Earth and reaching for the stars, our heroes fight to survive and to expand humankind to the far reaches of the universe.
The Starchild Trilogy
Word Count:

90696
Summary: Marto Boxter is an optimistic journalist with a head full of implants. When we meet him, he is planning a ride into the interconnected tribes of the Northeast from his town of Reverside-on-Hudson. He plans to document his ride by posting his thoughts in real-time to his post-human followers. Before he can leave on his tour however, a runaway named Helen arrives with secret information that throws Marto's placid world into turmoil. Meanwhile, Barnabas Yoniver IV, the leader of a Luddite town to the south launches a plot to disrupt the life of all upgraded humans and bring them back to the traditional economy of markets and governments. Aware of Yoniver's plans, rival Luddite families scheme to prevent Barnabas from grabbing too much power for himself.
The Wakeful Wanderer's Guide
Word Count:

100212
Summary: The America of our near-future is divided across socio-economic and technological-philosophical lines. The Traditionalists eschew any and all post-human technologies in favor of tangible materials. They uphold strict hierarchical structures based on religion, family, and leadership. They long for the return of the global markets wiped out by a world-shaking disaster called The Great Tide. The Interconnected stand in stark opposition to their ways, living without property, family, or religion, and modifying their bodies with the help of new and invasive technologies. They speak to each other wordlessly, employing a technological telepathy they call 'thexting' to communicate mind to mind, and embrace the gifting economy of Merit to maintain their post-scarcity lifestyles. Marto, the traveling Interconnected historian, has exiled himself to protect the ones he loves from his dark secret. In his absence, Helen, a runaway Traditionalist aristocrat, struggles to find her place among the Interconnected, unwilling to return to her cruel family. Reyleena, the former head of security in the Interconnected town of Reverside, has returned to a life of quiet solitude, broken occasionally by the impositions of The Other, an omnipresent AI, who will not leave her alone. Meanwhile, Barnabas, the Traditionalist leader of New Atlantic, fights to return to his township in the wake of an attack. Nora, his sister, remains in Reverside and must come to terms with her new life in captivity.
The Wakeful Wanderer's Guide
Word Count:

29672
Summary:
It wasn't supposed to be REAL! Bigfoot doesn't actually exist. Yetis, shifters, creatures of the night…none of those exist. Right? Right?
There's nothing about perky—some might even say twinkie—Oliver Hughes that would make a skeptic like Sensational News' (Never Fake! We Swear!) reporter Wilson Banks think otherwise. But while pursuing soundbites for a tabloid story about Bigfoot, Wilson witnesses something he wasn't meant to see.
In Wilson's new reality, is there room for love with someone whose dreams are as big as his…er…feet?
This fun novella has a paranormal twist, a hint of mystery, and a flavorful dollop of romantic comedy. Mix it all together for a satisfying HEA!
Keywords: shifter, Bigfoot, comedy, fun, California, mystery, twink, reporter, tabloid
Weekend at Bigfoot's