Word Count:

125,000
Summary: For the past few years Yarroway L'Estrella has lived in exile, gathering arcane power.  But that power came at a price, and he carries the scars to prove it. Now he must do his duty: his uncle, the king, needs him to escort Prince Garith to his wedding, a union that will create an alliance between the two strongest countries in the known world. But Yarrow isn't the prince's only guard. A whole company of knights is assigned to the mission, and Yarrow's not sure he trusts their leader. Knight Duncan Purefroy isn't sure he trusts Yarrow either, but after a bizarre occurrence during their travels, they have no choice but to work together—especially since the incident also reveals a disturbing secret, one that might threaten the entire kingdom. The precarious alliance is strained further when a third member joins the cause for reasons of his own—reasons that may not be in the best interests of the prince or the kingdom. With enemies at every turn, no one left to trust, and the dark power within Yarrow pulling dangerously away from his control, the fragile bond the three of them have built may be all that stands between them and destruction.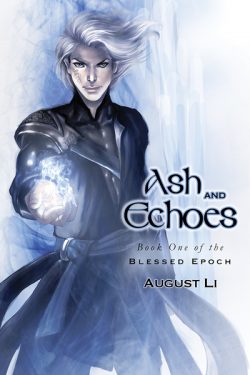 Ash and Echoes
Word Count: Information not available
Summary: Un appel de détresse mystérieux amène l'équipage de l'Hermès jusqu'à un vaisseau militaire en perdition… et désert. À l'intérieur, du sang et des viscères jonchent les couloirs, et un seul survivant, prisonnier d'une cellule de détention. Attiré par le bel homme traumatisé, l'agent de com' de l'équipage, Isaac Ozawa, prend Turk sous sa responsabilité, lui offrant la gentillesse et la chaleur dont il a besoin après les horreurs qu'il a vécues. Isaac sait d'expérience ce que c'est qu'être différent, d'être un paria, et cela renforce leur lien. Jadis pilote prometteur, il a vu son cerveau être endommagé lorsque l'implant devant servir à piloter les puissants chasseurs de la flotte n'a pas fusionné correctement. Le cerveau de Turk n'en mène pas plus large. Le résultat d'une expérience militaire ratée, ses compétences naturelles ont été augmentées à un niveau dangereux. Lorsqu'un amiral sans morale et avide de puissance kidnappe Isaac et se sert de lui pour convaincre Turk de devenir l'arme cataclysmique dont il rêve par-dessus tout, les deux hommes et leurs compagnons se lancent dans une bataille éperdue pour leur liberté…
Attraction gravitationelle
Word Count: Information not available
Summary: Jennifer Bronwen, deep-space freighter skipper, sometime smuggler, and occasional blaster-for-hire is flat broke and in desperate need of a job. With her bills mounting and her ship one unlucky micrometeorite collision away from the scrapheap, when she's offered a lucrative contract for a risky heist, well, it's an opportunity she can't afford to pass up. Keera Naraymis, a secret agent on deep-cover assignment in alien space, has just one more job to finish before her mission is complete. Getting it right means making the galaxy a safer place, and taking a trip to the Terran homeworld should be simple enough. But in the espionage game, your enemies are never quite who they appear. When their lives collide with catastrophic consequences, Jen and Keera form an unlikely alliance to find out why anyone would want to kill either one of them. What they discover runs far deeper than they could ever have anticipated, and throws them into a race against time to stop a conspiracy that threatens to unravel a thousand years of peace in the galaxy of the Burning Suns.
Burning Suns: Conflagration (Book One)
Word Count: Information not available
Summary: Thrown into an unwilling partnership by a heist gone bad and a botched assassination, mercenary captain Jennifer Bronwen and changeling intelligence agent Keera Naraymis are on the run from just about everybody. If they can learn to trust one another, maybe they can figure out exactly how their lives got turned upside down. But right now, mired as they are in a game of cat and mouse in the bowels of a criminal's lair, that seems like a big if. On the other side of the galaxy, Admiral Kiith Kohath has an even bigger problem—a corrupted cohort of cyborgs intent on pillaging the Assembly systems. Tracking the enemy to the sites of their atrocities, Kohath and his team must piece together the Reavers' plan and determine their next target, preferably before they have a chance to slaughter yet another defenceless colony. With alliances and agreements fraying at the seams, and new and old trusts being put to the test, the personal and political stakes rise ever higher as Jen, Keera, and Kohath struggle to prevent the galaxy from slipping into all-out war…
Burning Suns: Conflagration (Book Two)
Word Count:

170,000
Summary: An assassin's unexpected mercy granted Octavian Rose his life and freed him from his father's control, but it left him with little more than the clothes on his back and the determination not to waste his chance at a life of his choosing. As Octavian sets out to make a name for himself, he refuses to compromise his ideals for money or status—a decision tested as he works his way up the ranks as a mercenary fighter and novice mage. Along the way he forges friendships, takes lovers, and makes bitter enemies, all while striving for the power he feels he deserves and can wield fairly. With the advent of the Blessed Epoch and the discovery of new cultures, the world is changing. Octavian's decisions will affect not only those closest to him but will have profound worldwide consequences that he cannot begin to imagine. For twenty years, Octavian does what he must, and his choices bring him brilliant victories alongside crushing losses. Time and again, he must choose between what is right for all and what is beneficial to him, while hoping for the wisdom to tell the difference. FREE Short—A Lesson and a Favor Eight years before meeting Yarrow and Duncan in Ash and Echoes, the man now known as Sasha lived and breathed for a single purpose: to kill for gold and the glory of his cult and dark god without emotion or hesitation. In this lost tale of Sasha's early career, he's dispatched on a difficult mission—one with a surprise in store for him. FREE Short—Archer's Regret  Sylvain Damasca has seen and done it all since walking away from his wealthy family and the promise of a future title. He's had more men, money, and adventure than he can count—including a part in the founding of Rosecairn—but he's restless, and no amount of gold, wine, or casual companionship can scratch his itch. It might be time to deal with the one thing he left unfinished, if he can find the courage to face the only man who ever got underneath his skin.
Cairn and Covenant
Word Count:

120,000
Summary: Whose hand will orchestrate the change in the world? The decade-long war with Johmatra is over, but peace hangs by a thread in Garith's kingdom. Yarrow, isolated in his island realm, refuses to abide by the treaty or to follow the dictates of the priestesses. Others—Octavian Rose among them—are uneasy with the growing military power of the temples, and the mage island of Espero remains a tenuous ally. Garith knows his people cannot weather another conflict and that infighting will leave their lands vulnerable to further invasion. The arrival of a Johmatran ambassador with his own agenda calls everyone's loyalties into question. Sides will be chosen, and the consequences of those choices will have repercussions no one can foresee. Even among the turmoil, Yarrow is determined to have his vengeance against the thirteen goddesses and heal the world's magic. But how far will he go, and what lines is he willing to cross? As unlikely alliances are forged and enemies are revealed, Prince Thane seems to be the key to forgotten knowledge that will shape the future—and some will do whatever it takes to control him.
Calling and Cull
Word Count:

117,600
Summary: The Action Packed Conclusion to the Peridot Shift Trilogy Peridot is on the edge of annihilation. Once life-giving, the world's Trade Winds are transforming people into soulless monsters. The surviving Alchemist gods neglect their followers or take advantage of them. Even worse, a delicate peace has been wasted, and everything and everyone is at stake, especially Meran, the mistreated embodiment of the planet. Captain Talis and the crew of Fortune's Storm must try to do some good with what's left of Peridot in the hope that, together, they'll reclaim the hidden pieces of Meran's soul before the chaos seals her disastrous fate.
Cast Off
Word Count:

130600
Summary: Cursed with fearsome eyes and a dangerous gift, any chance of Damian Sires having an ordinary life was dashed the moment she was born. All her life, she has hidden her abnormalities and fought for acceptance behind the shadow of a veil and her respected merchant father. When Damian's power spirals out of control and casts her out alone into the world, she finds herself caught up in plots as old as the gods themselves. Bitter exiles, deposed nobility, clandestine knights, and a divine being with an ancient grudge all close in on the unstable power radiating from Damian. Desperate to keep that power contained, she sets out with mysterious allies in an attempt to find someone who can help her in a world that fears magic. Yet the source of Damian's ability is far more deadly than she imagined.
Enduring Chaos
Word Count:

120600
Summary: Captain Talis just wants to keep her airship crew from starving, and maybe scrape up enough cash for some badly needed repairs. When an anonymous client offers a small fortune to root through a pile of atmospheric wreckage, it seems like an easy payday. The job yields an ancient ring, a forbidden secret, and a host of deadly enemies. Now on the run from cultists with powerful allies, Talis needs to unload the ring as quickly as possible. Her desperate search for a buyer and the fallout from her discovery leads to a planetary battle between a secret society, alien forces, and even the gods themselves. Talis and her crew have just one desperate chance to make things right before their potential big score destroys them all.
Flotsam
Word Count:

45000
Summary: A mordant, smirking collection; rife with life in a grim future Florida, notions of Christianity and its cousin Satanism—spies, mercenaries, magic, asteroid-belt drillers, and above all else, a universe bent forever by the powers of pleasure and pain.
Forsaken, Fantastic!
Word Count:

82500
Summary: A mysterious distress call draws the crew of courier ship Hermes to what appears to be an empty, drifting troop vessel--empty except for the blood and gore spattered corridors and a lone survivor locked in a holding cell. Drawn to the handsome, traumatized man, the crew's comm officer, Isaac Ozawa, makes Turk his personal responsibility, offering him the kindness and warmth he needs after the horror he experienced. Isaac knows firsthand what it's like to be different and an outcast, and this cements their bond. Once a promising pilot, Isaac was left with a damaged body when his brain didn't meld with the high-tech implant needed to fly fighter ships. Turk's brain is no better. The result of a military experiment gone wrong, his natural abilities have been augmented to a dangerous degree. When an amoral, power-hungry admiral kidnaps Isaac and uses him to convince Turk to become the cataclysmic weapon he's hungered for, it will take Turk's strength, the ingenuity of the Hermes crew, the help of the enigmatic Drak'tar, and Isaac's own stubborn will to save them.
Gravitational Attraction
Word Count:

78600
Summary: What can you do when a computer virus starts infecting people? For years, a virus that targets cybernetics has plagued people with any sort of computerized implant in their bodies. It is untraceable, unpredictable, 100% fatal and infecting more people every day. Politics tore apart Project Requiem, a highly-funded military endeavor meant to create an antivirus to save humanity. A ragtag group of programmers and visionaries is trying to pick up where Requiem left off, but their resources are limited, they're hounded by the army and corporate mercenaries and a key engineer with the only remaining copy of the antivirus is missing. As the virus grows more powerful by the day, all they can do is hope that they can finish before it becomes powerful enough to attack the entire city at once.
Halcyon
Word Count:

140,000
Summary: Despite their disparate natures, Yarrow, Duncan, and Sasha united against overwhelming odds to save Prince Garith's life. Now Garith is king and the three friends may be facing their undoing. Distraught over Yarrow's departure to find the cure to his magical affliction, Duncan struggles with his new role as Bairn of Windwake, a realm left bankrupt and in turmoil by his predecessor. Many of Duncan's vassals conspire against him, and Sasha's unorthodox solutions to Duncan's problem have earned them the contempt of Garith's nobles. When word reaches Duncan and Sasha that Yarrow is in danger, they want nothing more than to rush to his aid. But Duncan's absence could tip Windwake into the hands of his enemies. In addition, a near-mythic order of assassins wants Sasha dead. Without Yarrow, Duncan and Sasha can't take the fight to the assassins. They are stuck, entangled in a political world they don't understand. But finding Yarrow may cause more problems, and with his court divided, King Garith must strike a balance between supporting his friends and assuaging the nobles who want Duncan punished—and Sasha executed.
Ice and Embers
Word Count:

160,000
Summary: Sasha was born to, and has always defined himself by, the secret assassins' Order of the Crimson Scythe. He chose the love of Yarrow L'Estrella and Duncan Purefroy over his duty to his clan, forfeiting his last mission and allowing Prince Garith to live. Now, the order—previously Sasha's family—has branded him a traitor. He's marked, and that means the brethren of the Crimson Scythe won't stop until Sasha is dead. Garith's twin kingdoms balance on the brink of war, and all three men have reasons to help the king, whether loyalty, duty, the interests of their own lands, or gold in their pockets. Still, Yarrow and Duncan are willing to abandon their reasons to seek out and destroy the assassins' order to keep Sasha safe. But Sasha isn't sure that's what he wants. Loyalties are strained by both foreign invaders and conspirators in their midst. It's hard to know which side to choose with threats piling up from every direction and war looming, inevitable, on the horizon. Their world teeters on the precipice of change, and Sasha, Duncan, and Yarrow can only hope the links they've forged will hold if Garith's kingdom is torn apart.
Iron and Ether
Word Count:

85500
Summary: For the past five years, Jade Darcy has not seen another human being. A computer-augmented mercenary, she lives on the planet Cablans, a stopover point for traders from hundreds of worlds -- and a good place to meet customers who need the services of a skilled warrior. She turns down what she considers a suicide assignment: traveling to an enslaved world to assassinate one of its military leaders. But then she learns there's another human being on Cablans -- a human being with the potential to expose Jade's mysterious past, with possibly fatal results. All of a sudden, a suicide mission looks positively appetizing....
Jade Darcy and the Affair of Honor
Word Count:

110100
Summary: At first, expecting her new job to be easy, Jade Darcy is oblivious to the religious strife wracking the world of Restaapa. Jade and Megan Cafferty, her employer, discover that the Restaapans are in the process of choosing a new heir to the throne. During this process, the candidates hatch plots against anyone they see as a danger to their victory. Each one of them will go to any extreme, even murder, to assure his election as Restaapa's heir. Jade and Megan are pegged as threats that must be eliminated. And Jade has the difficult task of restoring order to Restaapa as well as protecting her own life.
Jade Darcy and the Zen Pirates
Word Count:

41000
Summary: The dream of a mad scientist has evolved into a nightmare! Jennifer will do anything to be famous. She thinks she's gotten her big break after a night at the club lands her in bed with a producer, and the next morning he offers her a jungle adventure show. But instead, she and her two friends are unwittingly trafficked to the Congo for a sinister purpose. A cult lives in the jungle that worships the dark legacy of Ilya Ivanovich Ivanov as they work to accomplish his insane life's goal. Will Jennifer escape the jungle compound, or will she fulfill their twisted vision of humanity's future and become a broodmare to make an inhuman monster?
Jungle Jitters
Word Count: Information not available
Summary: Kal has always been considered too "fragile" to participate in the village activities. Her lithe stature links her to her father and distances her from everyone else. He left the village to fight in the Teristaque Wars and never returned. She meets Sarge, a strange star species of the human race who seems to know the secret of the patch from her father's uniform. Kal has always known she is different than her fellow villagers, and finally she may be closer to finding out why.
Kal's Fall
Word Count:

115000
Summary: From Cornish pit mines to Jorvik back alleys, from the Mercian Court to beyond the North Sea, the Agneson clan continues their adventures across Midgard and the 9 realms: Scheming aldermen, duplicitous monks, slave drivers, dark elves, trolls, ghosts, shapeshifting witches, the legendary Norse Wild Hunt, and… a dragon! With the fall of the Danish army at the battle of Ethandun, historical events scatter the Agneson family: Cub is enslaved in the Devonshire tin mines while Sorven stalks retribution in Jorvik; Kara is unwillingly propelled toward a convenient Saxon marriage while Karl and his crew are castaway on a mythic floating island. Separated and marooned, each is forced to tackle their challenges alone while the forerunner Thorfinn faces supernatural revenge, a battle to lift a Jarl's curse and the release of his Jotunhiem wyrm in Midgard! Can Cub escape his overseers in the tin pits of Devon? Can Kara evade her Saxon uncle's plans for her marriage? Will Sorven succeed in his bloody revenge? Can Finn save a Jarl's daughter and break a mysterious curse? Can the forerunner find and help his scattered family overcome their trials? And what can Finn do with… a pet dragon?!? Based on actual historical events and authentic legends, this epic fantasy follows the paths of the sons and daughters of Agne, Son of Ironfist in the Viking Era circa the year 880. Don't miss this grand panoramic tale!
On Viking Seas
Word Count:

78,500
Summary: In the 23rd century, spaceships just don't go missing. FBI agent Ray Volk is assigned to a task force to investigate a tragic accident: the disappearance of interplanetary passenger liner ValuTrip Cardinal, carrying 500 souls between Mars and Earth on a routine run. What looks like a cut-and-dried case of pressure loss is complicated by the arrival of a Martian Captain. A very cute Martian Captain who keeps sticking his nose in Ray's investigation. Martian exchange student Kelly Rack knows the disappearance is no accident. She survived the ships' hijacking, but learns the former cruise entertainer leading the pirates has plans for the passengers, and they don't include sightseeing. Kelly has avoided the murderous pirates, except now an off-duty Earth Commander insists on organizing resistance for the passengers. She forces Kelly to climb through service tunnels on sabotage runs, risking capture and death. Can Ray shake down the right accomplices to capture the good ship ValuTrip Cardinal before its new captain spaces everyone on board? Will Kelly discover the pirates' hidden plans for their prisoners? The race is on, because One of Our Spaceships is Missing! Genres: Space Opera / Military Sci-Fi / Science Fiction / LGBT and Non Binary Market: Adult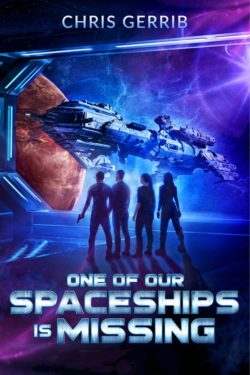 One of Our Spaceships is Missing