Word Count:

60,000
Summary: What happens when you die, but the universe isn't done with you? You might end up as the pet of a giant worm-a-pede alien and…if you survive your evolved descendants and rogue aliens of 1 million A.D…discover you have more in common with intelligent worms than you ever thought possible. Yes, all this might happen if you are Albert Rudyard Goldstein—the discoverer of the Biomic Network Algorithm—who thought his time had come. He had done his part to make the world a better place. Now he deserved—even looked forward to—a peaceful and mercifully succinct death. But the universe had other plans...
A Once-Dead Genius in the Kennel of Master Morticue Ambergrand
Word Count:

88400
Summary: On planet Earth, it's aliens against humans and humans are losing the battle. While a few brave humans are ready to fight to regain their freedom from their alien conquerors, the future of the human race falls on Khara, a woman whose sole focus is her personal fight for survival. As the human population dwindles toward extinction, will the strange and reluctant friendship that develops between Khara and an alien show them all a new way - coexistence? Or will the human race finally be eliminated once and for all? This gritty alien invasion story is told from both human and alien points of view, a la C.J. Cherryh, and puts a new twist on the idea of "first contact."
Carapace
Word Count:

128000
Summary: In the wake of a worsening climate crisis, magic runs rampant and demons roam across the Canadian prairies. A long-dead god stirs in the Pacific Ocean, while the wilderness is choked by invasive, screaming grass. The Cascade has shattered political stability, leaving a scandal-plagued government clinging to power in Ottawa. As catastrophe looms ahead, a precognitive rainman, Ian Mallory, stands between run-of-the-mill corruption and a nightmarish, dystopian future. It is up to a diverse and unlikely band of activists, scientists, journalists, and one underpaid, emoji-spell wielding intern to save their beleaguered country from its own worst impulses
Cascade
Word Count:

117,600
Summary: The Action Packed Conclusion to the Peridot Shift Trilogy Peridot is on the edge of annihilation. Once life-giving, the world's Trade Winds are transforming people into soulless monsters. The surviving Alchemist gods neglect their followers or take advantage of them. Even worse, a delicate peace has been wasted, and everything and everyone is at stake, especially Meran, the mistreated embodiment of the planet. Captain Talis and the crew of Fortune's Storm must try to do some good with what's left of Peridot in the hope that, together, they'll reclaim the hidden pieces of Meran's soul before the chaos seals her disastrous fate.
Cast Off
Word Count:

80000
Summary: Other stories will take you to Mars. This one will take you inside the boardroom, the pub, and the bedroom with the people planning the mission. Gurdeep is an engineer and a soldier. Georgie's a food scientist. One is pragmatic with a tough outer shell; the other's an optimist, a person of ideas and compassion. In the span of a single afternoon, the couple find themselves in charge of planning a self-sustaining colony on Mars. Together, they're humanity's last hope for survival. They have 160 slots to fill with experts from all over the world as they set about designing an all-new society with its own government, economy, and culture – and that's just the tip of the iceberg. Among those chosen for the mission is Devon, an autistic scientist with a unique skill set who finds life on Earth strange and alienating. Maybe a whole new planet is exactly what's needed. With 1,114 days until the launch, excitement and tensions run high. Earth's second chance hangs in the balance. Between strict genetic requirements and the dangers of the dystopian almost-present, will everyone make it to the final countdown? This is a work of neurodiverse, culturally diverse, gender-bendy, socio-politico-economic, drunken-arguments-in-the-pub science fiction – not bang-bang-pew-pew science fiction.
Devon's Island
Word Count:

85000
Summary: ALSO AVAILABLE FROM INGRAM FOR BOOKSTORES We're a world beset by crises. Climate change, income inequality, racism, pandemics, an almost unmanageable tangle of issues. Sometimes it's hard to look ahead and see a hopeful future. We asked sci-fi writers to send us stories about ways to fix what's wrong with the world. From the sixty-five stories we received, we chose twelve most amazing (and hopefully prescient) tales. Dive in and find out how we might mitigate climate change, make war obsolete, switch to alternative forms of energy, and restructure the very foundations of our society, The future's not going to fix itself.
Fix the World Anthology
Word Count:

80000
Summary: Cling to the edge of your seat in this high-finance, high-stakes adventure. What do we do with knowledge of the future? Clairvoyant Ariel has been doing her best to ignore it, finding the whole thing a nuisance. But when she comes across people using similar abilities to get extremely rich, her interest is piqued. Then she discovers a second collection of gifted people. Their cause is less about money and more about ensuring the survival of the human race. That doesn't stop them from being as dangerous and crazy as the first group, however. Soon Ariel finds herself the object in a game of tug of war as each faction fights to have her--and her particular talents--on their side. She can't possibly help both groups. Aligning with either could be a terrible idea. But how can she stay out of it when so much is at stake?
Flickers of Fortune
Word Count:

120600
Summary: Captain Talis just wants to keep her airship crew from starving, and maybe scrape up enough cash for some badly needed repairs. When an anonymous client offers a small fortune to root through a pile of atmospheric wreckage, it seems like an easy payday. The job yields an ancient ring, a forbidden secret, and a host of deadly enemies. Now on the run from cultists with powerful allies, Talis needs to unload the ring as quickly as possible. Her desperate search for a buyer and the fallout from her discovery leads to a planetary battle between a secret society, alien forces, and even the gods themselves. Talis and her crew have just one desperate chance to make things right before their potential big score destroys them all.
Flotsam
Word Count:

87400
Summary: At the end of You Can't Kill the Multiverse (But You Can Mess With its Head), Doctor Alhambra, the chief scientist of the Transdimensional Authority, set up an alarm to warn him if a universe is succumbing to the universe-killing machine that is at the heart of the story. But how would the Transdimensional Authority respond if that alarm went off? In Good Intentions, the first book in the Multiverse Refugees Trilogy, but also the sixth Transdimensional Authority novel, we find out. In the process we not only meet the most unusual refugees in fiction (probably), learn what Noomi Rapier's brother does (and with whom), revisit Dingle Dell, and finally discover what happened to chapter seventeen of The Multiverse is a Nice Place to Visit But I Wouldn't Want to Live There.
Good Intentions: The Multiverse Refugees Trilogy: First Pie in the Face
Word Count:

17000
Summary: "...an apocalyptic survival story that moves with the speed of a raging river..." This is how the world ends. For one man, this is how it begins. Donald Kerston's life up to now could only be described as a nightmare. But what he wakes up to suddenly becomes much worse. Struggling for his very survival, for the first time he finds friends and a future - only to be confronted with the one thing he didn't ever want to face.
Gutshot: The Catastrophe
Word Count: Information not available
Summary: Thirty years ago, an asteroid struck the Earth. Now killer plants hunt the last surviving humans. Ori Scott is a young junkie running from his mother's prophecy that he'd one day save the world from the killer plants. Her preaching made him a laughingstock and now he hides in his drugs. But he can't hide the change in his veins. They are turning green, and the prophecy is dragging him into a dark struggle between invisible forces. Set up on bogus drug charges, Ori is taken to a secret facility where he becomes a test subject in experiments to discover an antidote to the alien plant's sting. Jack Doll is a cop with a vendetta against the plants that killed his best friend. All he has in the world now is his old friend's lover, Rive. Together they form an unbreakable bond—or so he thought. Jack has never liked Rive's friend, Ori, but he believes in Ori's innocence and doesn't understand Rive's strange indifference to Ori's conviction.  Struggling with his suspicions, Jack can't help digging into a mystery that draws him closer to Ori than ever before—and closer to somebody who has secrets to hide. Alone and scared, Ori is grateful for Jack Doll's friendship, and his longtime crush soon blossoms into love. But Ori has no plans to accept his fate. He wants to escape, and he doesn't care if he takes the cure with him.
Jesus Kid
Word Count:

270000
Summary: Liminal Sky chronicles humankind's first journey to the stars. The first three books - the Ariadne Cycle - cover the creation and launch of Ariadne (aka Forever) as she was grown from seed on an asteroid and then launched across the interstellar void. The books are told in epic fashion, with each broken into three parts that span generations. THE STARK DIVIDE Some stories are epic. The Earth is in a state of collapse, with wars breaking out over resources and an environment pushed to the edge by human greed. Three living generation ships have been built with a combination of genetic mastery, artificial intelligence, technology, and raw materials harvested from the asteroid belt. This is the story of one of them—43 Ariadne, or Forever, as her inhabitants call her—a living world that carries the remaining hopes of humanity, and the three generations of scientists, engineers, and explorers working to colonize her. From her humble beginnings as a seedling saved from disaster to the start of her journey across the void of space toward a new home for the human race, The Stark Divide tells the tales of the world, the people who made her, and the few who will become something altogether beyond human. Humankind has just taken its first step toward the stars. THE RISING TIDE The Earth is dead. Five years after the Collapse, the remnants of humanity travel through the stars inside Forever: a living, ever-evolving, self-contained generation ship. When Eddy Tremaine and Andrissa "Andy" Hammond find a hidden world-within-a-world under the mountains, the discovery triggers a chain of events that could fundamentally alter or extinguish life as they know it, culminate in the takeover of the world mind, and end free will for humankind. Eddy, Andy, and a handful of other unlikely heroes must find the courage and ingenuity to stand against the rising tide. Otherwise they might be living through the end days of human history. THE SHORELESS SEA Rise of the Inthworld. The fight for the future isn't over yet. It could lead to a new beginning, or it might spell the end for the last vestiges of humankind. The generation ship Forever has left Earth behind, but a piece of the old civilization lives on in the Inthworld—a virtual realm that retains memories of Earth's technological wonders and vices. Lilith leads the uprising, and if she sets its inhabitants free, they could destroy Forever. But during the ship's long voyage, humanity has evolved. Liminals with the ability to connect with the world mind and the Inthworld provide a glimmer of hope as they face not only Lilith's minions, but the mistrust of their own kind as homotypicals fear what they can't understand. The invasion must be stopped, the Inthworld healed, sothe people of Forever can let go of their past and embrace their future.
Liminal Sky: Ariadne Cycle Complete Box Set
Word Count:

270000
Summary: Oberon is unique among the Common Worlds - a half-world with a strange past and an uncertain future. Jameson Havercamp and Xander Kinnson are thrust into the middle of a world-ending event and have to scramble to save the world - and themselves. Along the way, they peel back the layers of the onion to discover secrets wrapped in secrets that will eventually take them to where it all started - and may provide the key to saving Oberon and everyone on it. SKYTHANE Jameson Havercamp, a psych from a conservative religious colony, has come to Oberon—unique among the Common Worlds—in search of a rare substance called pith. He's guided through the wilds on his quest by Xander Kinnson, a handsome, cocky skythane with a troubled past. Neither knows that Oberon is facing imminent destruction. Even as the world starts to fall apart around them, they have no idea what's coming—or the bond that will develop between them as they race to avert a cataclysm. Together, they will journey to uncover the secrets of this strange and singular world, even as it takes them beyond the bounds of reality itself to discover what truly binds them. LANDER The world needs saving, again. Xander and Jameson thought they'd fulfilled their destiny when they brought the worlds of Oberon and Titania back together, but their short-lived moment of triumph is over. Reunification has thrown the world into chaos. A great storm ravaged Xander's kingdom of Gaelan, leaving the winged skythane people struggling to survive. Their old enemy, Obercorp, is biding its time, waiting to strike. And to the north, a dangerous new adversary gathers strength, while an unexpected ally awaits them. In the midst of it all, Xander's ex Alix returns, and Xander and Jameson discover that their love for each other may have been drug-induced. Are they truly destined for each other, or is what they feel artificial? And can they face an even greater challenge when their world needs them most? ITHANI Time is running out. After saving the world twice, Xander, Jameson and friends plunge headlong into a new crisis. The ithani―the aliens who broke the world―have reawakened from their hundred millennia-long slumber. When Xander and Jameson disappear in a flash, an already fractured world is thrown into chaos. The ithani plans, laid a hundred thousand years before, are finally coming to pass, and they threaten all life on Erro. Venin and Alix go on a desperate search for their missing and find more than they bargained for. And Quince, Robin and Jessa discover a secret as old as the skythane themselves. Will alien technology, unexpected help from the distant past, destiny and some good old-fashioned firepower be enough to defeat an enemy with the ability to split a world? The final battle of the epic science fiction adventure that began in Skythane will decide the fate of lander and skythane alike. And in the north, the ithani rise….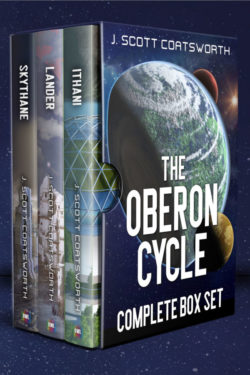 Liminal Sky: Oberon Cycle Complete Box Set
Word Count:

80000
Summary: A fresh start, a queer social liberal dream, and a planet that wants to kill you. Carving out a life on Mars is no easy feat. With Earth in the throes of a devastating pandemic, autistic scientist Devon and her fellow colonists are faced with the momentous task of establishing a new society – one that learns from the past and prioritises sustainability over short-term gain. Noble aspirations are easier said than done, though – especially when the entire planet wants to kill you. Grappling with the realities of human nature and with their batteries slowly dying, the colony's 150 women and 10 men must overcome their differences to create a lasting community. But things aren't always what they seem and maybe the colonists aren't as alone as they thought… Perfect for fans of Mary Robinette Kowal's 'Lady Astronaut' series and the writing styles of Robert J. Sawyer and Becky Chambers. This thought-provoking sci-fi novel blends classic science fiction ideas with neurodiverse and LGBTQIA+ themes.
Livid Skies
Word Count:

77241
Summary: After a terrible magical accident at Berkeley created unpredictable holes between realities, all manner of non-human creatures started popping into our world. These displacements, called Random Anomalous Reality Events or RARE, have taken magic out of fiction and relocated it firmly in reality, resulting in a great deal of chaos and confusion. Displaced elf Valerian works with AURA, the Agency of Unnatural Resettlement and Assimilation, to intercept these beings as they appear in the human world, helping the peaceful ones and subduing the violent, malevolent ones. It's good, satisfying work, and Val would be happy if he wasn't so lonely. Quinten is a young mage just trying to get by, but New York isn't the easiest city to make a living in. If his methods are sometimes morally dubious, his heart is still in the right place. Of course, for Quinn, the right place means firmly locked away, protected at all costs. Living by his wits and sometimes magically induced luck, he works as a 'freelance magic user', or unregistered mage and small-time con, according to the authorities. The last thing Quinn wants is to draw the cops' attention, but when an Event happens right on top of him, he's forced to turn to AURA for help. Valerian isn't at all what he'd expected in an AURA cop, and he certainly wasn't expecting to join forces with the sexy elf, a snarky drow and a bitter incubus, when certain individuals in power try to stop the RARE by any means necessary. Things are not all what they seem at AURA headquarters, and a greater evil lurks at the top than anyone could have imagined.
Quinn's Gambit
Word Count:

111,000
Summary:
New York: two years after the Third World War. Humanity is rebuilding its cities brick by brick; the damage done to the people, however, is a lot harder to repair.
Dan Hardacre is one of those people. An aspiring stage actor and experienced draft-dodger, Dan struggles to find his place within the Utopic rebuild of New York City. When he's not caught up with the duties of work, Dan lives a quiet life in mourning for his mother, Dyani, who went missing when he was a teenager.
One night, Dan experiences a vivid, terrifying nightmare that puts him right on the front lines of the war for which he dodged the draft; it ends with him facing Death itself in the form of a metallic, faceless humanoid creature that calls itself the Valkyrie. To investigate the reason behind his haunting experience, Dan seeks out a meeting with his estranged father, who reveals the startling truth about Dan's dream: it wasn't a dream.
With this newfound knowledge and the powers it brings, Dan makes it his mission to return to the scene of his nightmare. However, he soon comes to know that confronting the Valkyrie not only endangers him but the war-withstanding world he leaves behind.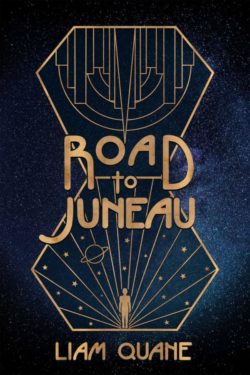 ROAD TO JUNEAU
Word Count:

92000
Summary: WELCOME TO THE ROOTS OF LOVE! Thirteen authors, fourteen stories, and lots of HEA/HFN - what more could you ask for? We went out and found the best romantic origin stories on the market today and collected them in one volume. Whether you want fantasy, urban, paranormal, contemporary, classical, or sci-fi, it's here. Straight, sapphic, gay, polyamory, we have the flavors to satisfy. Want to know more? A sci-fi short from noted sapphic author Lila Gwynn that begins at the end of the world C.R. Clark brings you a curse that might turn into a blessing AC Adams tells the tale of a djinn who is looking for the wish that will free her from bondage Award-winning author David Green takes you on a quest for love and revenge Can romance bloom in spin class? Nat Paga's going to show you how Gods and goddesses and humans, oh my! Courtesy of Lou Grimes It might be the future, but Adam Gaffen's characters still grapple with the forbidden attraction between a student and their professor A workplace romance heats up when the boss gets involved in Madilynn Dale's contribution There's love to be found in Dani Hermit & Curtis Star's Omegaverse, if you know where to look AC is back with a story in her award-winning Kalili's Temptation universe A modern retelling on the Romeo and Juliet origin story gets the full, lyrical Rose Sinclair treatment Jump into the hopepunk future of O.E. Tearmann and see what true friends do for each other Valkyries and shifters are mortal enemies, but do they have to be? Find out in Poppy Minnix's tale What could possibly happen when a fae starts reading tea leaves for humans? Sienna Swift has your answer So sit back, relax, and enjoy this journey into all the ways love can begin in the most unlikely circumstances!
Roots of Love
Word Count:

149,000
Summary: Peridot is headed for its second cataclysm. War has broken ancient alliances, sealed borders, and locked down the skies. The Five, Peridot's alchemist gods, have seen one of their number die and another fall in their efforts to protect their world from invaders beyond the stars. Defeated and diminished, they have ceased to answer the prayers of their people and have left the rapidly unraveling world to fend for itself. Talis and the orphaned crew of the lost airship Wind Sabre have a plan to set things to rights, but they're stranded on a rock far from the heart of the conflict. When an old enemy comes and offers them a ship and a path forward, it comes with strings that will pull them further from the home they are so desperate to save. Can Talis and her crew chart a course through hostile skies, shifting allegiances, and subverted governments before the true enemies of Peridot claim a power that can destroy the world once and for all?
Salvage
Word Count:

97000
Summary: Los Angeles is an apocalyptic wasteland. Without orientation, Colton stumbles through the vast, deserted city. He doesn't remember who he is and where he came from. Scavengers save his life from mutants and bring him to the only remaining inhabited area and safe Zone in former Hollywood. There he learns that after a devastating catastrophe called The Glitch, reality shifted, allowing nightmarish creatures from another dimension to enter our world. These co-called Dark Ones feed on suffering and violence, wanting nothing less than the complete annihilation of humanity. Colton discovers that he has extraordinary abilities and joins a league of unusual defenders: ex-cop Eric, female cyborg Bombshell and Vincent, a mighty entity from another world, disguised as a human soldier. But the Dark Ones are evil beyond imagination and with their ice-cold enforcer, the traitor Eurydice, they are a threat nearly impossible to overcome. Cunning and ruthless, Eurydice sets a ploy in action, which leads to the destruction of the Zone's defenses weakening the tiny community from within. It's up to Colton and his friends to take a desperate stand against the superior enemy and save what is left of humanity from extinction. Fast-paced, action-driven, and cinematic – an eternal fight of good vs. evil told in a way as never before.
Shadow City
Word Count:

70,000
Summary: Do you know what your problem is? Coral knows hers. People have been telling this tenderhearted 13th-century woman for years. So when a heroic army officer proposes, she decides she's stronger than people realize and her dreams have come true. Except, the perfect man turns out to be less than ideal. And she's gotten pregnant. And her homeland is gripped with fear of a pending Mongol invasion and she cries about everything now that she's with child. When a friend suggests the ever-caring Coral possesses a power well beyond what anyone imagines, Coral's sister decides this formidable talent is what the realm needs. Can Coral raise a baby, placate an absent military husband who thinks he's stopping the invasion, and help her sister save her homeland? This is just the sort of problem encountered by a woman who cares too much.
She's the One Who Cares Too Much