Word Count:
12000
Summary: Luella Carey isn't crazy, not really, not that anyone believes her. Sent to Barrow Haven Asylum for a melancholic nature, she's locked away at the behest of her father and his new wife. Grieving for her mother's death, Luella finds comfortable solitude in the asylum until several anonymous letters appear. Mr. Winifred Carey's new wife intends murder. She plans to claim the Carey fortune as her own. Mere days to escape the asylum and warn her father, Luella turns to a new friend, Mr. Isaac McEwen. The clock ticking down the hour, Luella fears her final decision. A grave mistake, perhaps? But who can she trust?
August 20, 2020
Word Count:
20000
Summary: A story born in the hollers of Eastern Kentucky. Elizabeth Robinson. An Elizabeth Robinson has lived in the hills of Eastern Kentucky as long as people have built permanent settlements in the lush, green forests. While the mountains recover from the War of Northern Aggression, the simple folk seek the healings of the Robinson women. Three generations, working the ways from the old country, live in isolation. The youngest Elizabeth Robinson, a healer by happenstance, despises her role in the family. She longs for freedom, the wilderness of her youth, an escape from a dark secret. Alone in the forest, she stumbles upon the ghost of a Yankee soldier, Samuel Henry. Determined to help Samuel pass beyond the veil, Elizabeth brings him back to her mountain home. Turning of the wheel of fortune, prosperity changes to misfortune for the Robinsons, and a menacing figure lingers like a thick fog. Generations, built on lies, force Elizabeth to face a bleak reality and make the ultimate sacrifice.
Apparitions of Elizabeth Robinson
December 19, 2019
Word Count: Information not available
Summary: Come, Best Beloved, and sit you by my feet. I shall tell you a tale such as sister Scheherazade could have scarce imagined... In the Nejd there is nothing at all...except secrets. A band of thieves wishes such secrets to remain hidden. In England, far from his desert home, Ali bin-Massoud serves as apprentice to the famed Charles Babbage. One night a mysterious box is delivered by a clockwork falcon and Ali's world is never the same again. Heartache, danger, and thieves mark his journey as Ali is summoned home at the death of his father. It will take faith, knowledge, and yes, love to realize his destiny, and more than a little skill with steam-driven technology. Can he unravel the mystery of the puzzle box and the clockwork djinn before it is too late? An ancient legacy and Ali's very life depend on his success. Hear you the tale of Baba Ali and the Clockwork Djinn.
Baba Ali and the Clockwork Djinn
April 7, 2020
Word Count:
120000
Summary: U.S. Marshal James Creed has known loss, starting from the untimely death of his wife and daughter in a sudden fire. His work, chasing down and arresting outlaws across the Wild West, is all he has left to live for. Then one day, in 1876, the infamous killer Corwin Blake catches Creed by surprise and guns him down. Creed awakes after a mysterious young woman resurrects him in a basement laboratory beneath a brothel. Half alive, Creed feels torn between his need for justice and his desire to fall back into the peace of death. Creed's instincts drive him to protect the city of Santa Cruz, California, from the outlaws it harbors while searching for Blake. He uncovers a secret criminal organization, likely protecting Blake, determined to use resurrection technology for its own ends. The former marshal, now faster, stronger, and a more deadly shot than ever before, must work with a brothel madam, a bounty hunter, and the remaining marshals to uncover the criminal syndicate before they can misuse the machines of rebirth and create more mindless zombies. Meanwhile, he must also stop Blake, before the outlaw kills the only people he cares about. His own death can wait.
Bodacious Creed
August 17, 2017
Word Count:
79,025
Summary: Solving mysteries is her business. Finding love is her dream. Will combining the two get her killed? Victorian Era England. Stetson revels in being unconventional. So when society shies away from her independent nature, the bold woman creates an imaginary boss and opens her own detective agency. And her keen observational skills, convincing disguises, and Holmesian methods quickly bring in a string of tough-to-crack cases. Struggling to squeeze a personal life in around a series of hazardous investigations, Stetson worries she'll never find a woman of like-passions. But with her heart set on true love despite the risk, she carries on hunting for the perfect relationship. Will her clever escapades lead to death… or delight? Daring Duplicity: The Wellington Mysteries, Vol. 1, Adventures of a Lesbian Victorian Detective is a collection of five sequential novellas, each encompassing its own exciting mystery while furthering the story of Stetson's life in London. If you enjoy crime dramas, Victorian era fiction, or a sweet lesbian romance, then you'll love award-winning author Edale Lane's Daring Duplicity. Order yours today!
Daring Duplicity
January 19, 2022
Word Count:
7300
Summary: Two brothers find misery in California's Gold Rush until a Chinese doctor promises them riches. They should have asked, at what price? Set in the Trinity Mountains, this is the first book - a single story - in a series of short reads in science fiction and fantasy.
Dragon Bones - A Fantastic Tale
October 19, 2018
Word Count:
31368
Summary:
While Shax recovers from a near fatality, his shipmates have been busy. He's rather proud of them for taking the initiative and finding them a lucrative cargo run. His pride turns to outright horror, though, when he finds out what sort of cargo. Frogs. The one thing in the universe that incites mindless panic in Shax. Unfortunately, he also soon discovers that a healthy fear of frogs doesn't prevent frog-driven disasters.
An unlikely series of overlapping mishaps hurls the Brimstone back to an even more unlikely point in history for a couple of demons and a fallen angel in a spaceship. Somehow they need to repair and refuel, and puzzle out how to get home. Time travel has never been so messy.
Fear Of Frogs: Brimstone 3
February 22, 2014
Word Count:
7000
Summary: Emma and her Aunt Agathe share a family resemblance - they can both speak to ghosts. But Agathe, rejected by her family and constantly beset by heartache, has spent her whole life fleeing her unusual gift. Emma, however, embraces it. Grave Songs for the Dead is a cycle of three interconnected short stories, gothic with a touch of magic realism, set in the late 19th century.
Grave Songs for the Dead: A Short Story Cycle
April 5, 2022
Word Count:
2600
Summary: Jake is a trapper working high in the mountains of Wyoming Territory, usually not seeing another human from one month to the next. Recently, however, he's had an unexpected guest – an Easterner named Edwin, who pitches in to ensure that Jake has enough supplies to survive the coming winter. As the evenings draw in, Jake works on knitting a blanket, adding a bit of love (and maybe even magic) into every stitch, hoping to entice Edwin to join him under its warmth…
Love in Every Stitch
December 19, 2020
Word Count: Information not available
Summary: Captain Marta Ramos, the most notorious pirate in the Duchy of Denver, has her hands full between fascinating murder mysteries, the delectable and devious Delilah Nimowitz, Colonel Geoffrey Douglas (the Duke of Denver's new head of security), a spot of airship engineering and her usual activities: piracy, banditry and burglary. Not to mention the horror of high society tea parties. In contrast, Simms, her second in command, longs only for a quiet life, filled with tasty sausages and fewer explosions. Or does he? Join Captain Ramos, Simms and their crew as they negotiate the perils of air, land and drawing room in a series of fast-paced adventures in a North America that never was. Murder on the Titania and Other Steam-Powered Adventures includes 4 novellas and a short story about piracy, banditry, burglary, jail-breaking, several brilliant bits of detective work and all manner of otherwise lawless hijinks performed by the valiant Captain Ramos and her crew. Murder on the Titania: Colonel Geoffrey Douglas, the Duke of Denver's new head of security, is drawn into a high society murder mystery on the Airship Titania. None of the passengers are quite what they seem, including the mysterious young woman who always turns up where she is least expected. The Curious Case of Clementine Nimowitz (and Her Exceedingly Tiny Dog): A simple burglary goes horribly awry when Captain Ramos and Simms stumble across a dead body, a small dog and the deceased's heirs, the noisome Morris and the rather too interesting Delilah. The Jade Tiger: A mysterious woman enlists Captain Ramos's aid in getting her revenge on her former employer and Captain Ramos finds herself doing an unintentional good deed. The Ugly Tin Orrery: Captain Ramos and her crew embark on what appears to be a perfectly ordinary train robbery, only to be drawn into the Duke of Denver's political machinations via a strange metal artifact. Throw in a spot of jail breaking and an encounter with the lovely Delilah, and it's all in a day's work for Captain Ramos and Simms. The Flying Turk: The Airship Titania is entering a new era and welcoming its first automaton pilot. Or, perhaps not. Captain Ramos and Simms are back aboard the Titania for a heady mix of murder, robbery, peeved scientists and oblivious peers, with a spot of engineering thrown in.
Murder on the Titania and Other Steam-Powered Adventures
April 1, 2018
Word Count:
30000
Summary:
A dying lover. A demonic foe. One confession could save them all...
Damon knows he shouldn't need aid to stay at his dying lover's side. But as Byrne deteriorates, Damon bolts to take solace in his friend and fellow molly, Rogers. Rogers will always be there for Damon – if Damon would ever open up. He even risks a trip home to cheer him up, only to be stalked by his old demonic foe. But when Damon invites him into their home, Rogers can't keep the skeletal demon a secret. Not when the demon threatens to steal Byrne's precious last days. Damon and Rogers must band together to stop it – if they can ever admit they need the other's help.
Necromancer Vow
is the fifth book in the gay historical fantasy Damon Snow series. If you love deep emotional tension, Regency-era London and deviant romance, then you'll love this latest story of love, hurt and comfort from Olivia Helling.
Buy Necromancer Vow to continue Damon's lessons today!
Necromancer Vow
February 3, 2017
Word Count: Information not available
Summary: "Vivid characters, carefully detailed scene setting, and delicately gilded writing."--Publishers Weekly As a firstborn son of a master craftsman, Henri Blanchard is expected to inherit the family barrel organ workshop, but he would prefer to make bobbin lace like his best friend Aimée. In an effort to put his misgivings aside and prove himself a worthy heir, he attempts dramatic feats that draw derision from the townsfolk and finally land him in jail, accused of murder. Threatened with the hangman's noose, he is forced to flee the cozy village of Mireville--and discover a world beyond that may be big enough for even the rarest bird to find a nest. Suspenseful and heartwarming by turns, Laura Stanfill's debut is a whimsical journey full of friendship, adventure, and self-discovery.
Singing Lessons for the Stylish Canary
April 19, 2021
Word Count:
106000
Summary: Baker. Wizard. God of Space and Time. Cupcake enthusiast. How long will it take to fan the flames and enrage this gentle phoenix? Start counting. What\'s a wounded and lonely little cinnamon roll to do? Stripped of his psychic powers, Calico Winghorse flees to 19th century earth via his inter-dimensional portal. As a mixed-blood phoenix trapped in human form, he opens a bakery in the San Francisco Bay Area and quietly nurses his wounds. But the unique method of his arrival has drawn the unwanted attention of Infinity Corporation. Representing this angelic-run company is Agustin Chavez de la Cruz, the Demon Lord of California. Even though Agustin is IC\'s heir, he finds himself demoted from his duties to concentrate on his new assignment: take absolute control of the portal. But Calico refuses to sell for any price. Before Agustin can formulate a more gracious avenue of acquiring Calico\'s gateway, the demanding head of IC interferes, further complicating matters. So as negotiations stumble along, Calico and Agustin realize they both wish to establish more than a mere business arrangement. In the mean time, Calico ensures that the good people of the city are getting their fill of baked goods. However, due to Calico's injuries, the portal remains vulnerable to the darker forces that want it at any cost. Agustin will have to push both his angelic heritage, as well as his own psychic power to the very limits to mend someone who not only bears celestial blood, but who is also the God of Space and Time. The Demon Lord of California book 1 is a queer slooow burn meet-cute. A queer / mm paranormal fantasy series with romantic elements. Featuring phoenix shifters, hidden world, first love, found family, hurt/comfort, and a sugar daddy grasping at his second chance.
The Demon Lord of California
January 30, 2023
Word Count:
7500
Summary: Ousting this demon has nothing to do with holy water—it's all about a steady hand on the dagger. Mary Evans' blood pooling in the cobbled streets beneath her corpse symbolizes everything DuHarren hates about his contract with the demon Tamuel. After two and a half centuries of a lucrative, but usually boring and occasionally horrifying partnership, he wants to get out of the deal, and he doesn't mind dying to do it. He fears only the prospect of Hell's fiery brimstone. When Father Michael—a beautiful but angry green-eyed priest—performs the latest in a long line of failed exorcisms, the demon is intrigued, but so is DuHarren. Would the priest make a lover? Or better, dare he hope he might at last sever his ties to the demon and escape to a cool, quiet death? Note: By Lou Sylvre writing as Loretta Sylvestre. Lou Sylvre is known for romance and happy endings. Same writer, but beware: this isn't that.
The Demon Tamuel
October 17, 2020
Word Count:
120000
Summary: A woman with the strength to rebel. A shapeshifter who wears the souls of the dead. Together, they face a lethal enemy. Em helped create it. Now she must craft its defeat. In a city owned by industrialists, Em sells her magic to make ends meet. The extraction procedure is brutal and potentially deadly. Desperate for change, she joins an underground resistance movement to weaponize her magic and stop the abuse of workers. Meanwhile, a mysterious voice wakes Ruk from a decades long slumber and compels him to become human. He wants to break free but is torn between his shapeshifter instincts and the needs of the soul that sustains him. On streets haunted by outcasts and predatory automatons, a new danger emerges – an ever-growing corruption of magic and science. Em and Ruk must put aside their differences and pursue it – each for their own reasons. What they discover will forever change their lives… Or end them. The Eternal Machine is set in a 19th Century alternative reality Australian city, where magic and science are equally valid disciplines.
The Eternal Machine
February 14, 2022
Word Count:
54000
Summary: He was the shameful cause of his sister Elena's death and he stole state papers from England, yet Adrian Hart is feted by the best of society in Rome, and boldly dubs himself 'Iago'. Determined to avenge Elena, his unrequited love, Lieutenant Andrew Sullivan asks the advice of poet and Shakespearian John Keats, and his artist friend Severn. Soon Percy and Mary Shelley join them, then Lord Byron and his servant Fletcher. But how can the seven of them work against this man, when they can't even agree what he is? The atheist Shelley insists that Hart is an ordinary man, while Byron becomes convinced he's the Devil incarnate, and Keats flirts with the idea that he's Dionysius… As death and despair follow in Hart's wake, Sullivan knows he must do something to stop Hart before even Sullivan himself succumbs – but what…?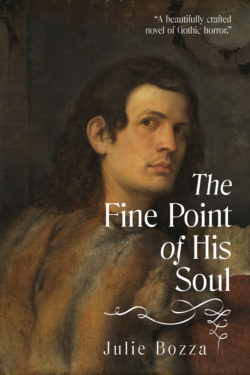 The Fine Point of His Soul
July 1, 2016
Word Count:
115,000
Summary: SECOND EDITION When Captain Rafe Lancaster is invalided out of the Britannic Imperium's Aero Corps after crashing his aerofighter during the Second Boer War, his eyesight is damaged permanently, and his career as a fighter pilot is over. Returning to Londinium in late November 1899, he's lost the skies he loved, has no place in a society ruled by an elite oligarchy of powerful Houses, and is hard up, homeless, and in desperate need of a new direction in life. Everything changes when he buys a coffeehouse near the Britannic Imperium Museum in Bloomsbury, the haunt of Aegyptologists. For the first time in years, Rafe is free to be himself. In a city powered by luminiferous aether and phlogiston, and where powerful men use House assassins to target their rivals, Rafe must navigate dangerous politics, deal with a jealous and possessive ex-lover, learn to make the best coffee in Londinium, and fend off murder and kidnap attempts before he can find happiness with the man he loves.
The Gilded Scarab
October 8, 2019
Word Count:
110,000
Summary: Rafe Lancaster is reluctantly settling into his role as the First Heir of House Stravaigor. Trapped by his father's illness and his new responsibilities, Rafe can't go with lover Ned Winter to Aegypt for the 1902/03 archaeological digging season. Rafe's unease at being left behind intensifies when Ned's fascination with the strange Antikythera mechanism and its intriguing link to the Aegyptian god Thoth has Ned heading south to the remote, unexplored highlands of Abyssinia and the course of the Blue Nile. Searching for Thoth's deadly secrets, Ned is out of contact and far from help. When he doesn't return at Christmas as he promised, everything points to trouble. Rafe is left with a stark choice – abandon his dying father or risk never seeing Ned again.
The God's Eye
January 21, 2020
Word Count:
13,300
Summary: England, 1834. On the night of a harvest moon, in the shadows of late autumn, Malcolm comes across a quaint village tucked away in the forest. It seems the perfect spot for a weary traveller to lay his head, and maybe find a little company. But there is dark magic afoot, and lots of local gossip swirls around the seductive titian-haired weaver, Daniel. All Malcolm seeks is a night's pleasure. He never suspected he would have to worry about losing his life. Or his heart. This novelette is about 14,000 words in length and the first entry in the Darkly Enchanted Romance Series.
The Harvest Moon
September 23, 2019
Word Count: Information not available
Summary: Josephine Mann is down to her last five dollars and in desperate need of a job when a chance encounter with Professor Alistair Conn completely upends her life. Soon she (and her cat) have steady employment, a new home, and a string of adventures that quite takes her breath away! Steampunk meets Dime-Novel in this first volume of The Conn-Mann Chronicles series. Thrill to the escape from an airship disaster. Take part in the battle aboard a moving train. Travel by steam car and mechano-velocipede to thwart the villain and reclaim the professor's automaton, The Marvelous Mechanical Man. And as a special bonus, read an excerpt from one of Jo's favorite dime-novels at the beginning of each chapter. Told from the first-person perspective of the very forward-thinking Jo, you will meet a collection of quirky characters that will charm and delight you.
The Marvelous Mechanical Man
April 30, 2016