Word Count:

84000
Summary: Edmund is heir to the throne of Thalassa and a wielder of Water magic. Devoted to his kingdom and his duty to it, Edmund can do nothing but acquiesce to an arranged marriage with the queen of a neighboring kingdom. The marriage and the child it is required to produce will seal an alliance between Thalassa and Aither that is vital to Thalassa's safety, and far more important than Edmund's personal misgivings. Arden is the younger brother of Aither's queen and a wielder of Air magic. Raised in the politics of the court to support his sister's rule, he understands the alliance is important to Aither, even as he worries about his sister marrying someone she's never met. When Edmund arrives in Aither to prepare for the wedding, Arden is tasked with helping him settle in at court. As they spend more time together, Edmund and Arden develop a close friendship, then stronger feelings, but with Edmund's wedding approaching, they must hide their feelings, even from themselves. When someone tries to assassinate the queen, Edmund is blamed, and Arden rescues him before he can be executed for a crime he didn't commit. To prevent a war between their kingdoms and protect them from a dangerous enemy, Edmund and Arden will have to discover who wants to pit Aither and Thalassa against each other and mend relations between the two kingdoms as they evade those searching for them—all while finding a way to be together.
A Dance of Water and Air
SALE
Word Count:

73,151
Summary: Time travel. For mages, it violates their number one rule: what the Mother has written, let no one unwrite. The Mother writes the destinies of the creatures on the world of Karishian. If her writings were undone, it is feared that Creation itself could be undone. The dark mage Morgorth takes this rule to heart, but there are others who do not. Morgorth is about to claim a stone of power when it is stolen from him by a female mage he hasn't seen in decades. As they struggle for the stone, she activates it, and Morgorth is unwillingly plunged into another time and another place. It isn't long before he realizes what time he's found himself in and there are a few familiar faces. Most notable is a much younger version of Aishe. His mate. Living with a tribe who will be massacred, caring for a young lad who will become his mate, and fighting a battle against a mage who can travel from past to future at a whim—Morgorth's life has never been easy but now he must contend with the will of the Mother. Unable to change the future and the tragedies of Aishe's life, he must decide what his role in his mate's past will be, and ask himself one vital question: how does one defeat time?
Agate: Then and Now
Word Count:

171995
Summary: There will be time to crown a king, but first a warlord must rise. Arthur's battle summer is upon him, and he must be victorious if he is to claim his throne and rid the land of Saxon invaders. The teenage king has pulled the sword from the stone, but still the petty kings will not accept his rule. The Saxons are invading, Lot and Uriens are united against him, and he still has to prove himself to the common folk of the land. Next stop: the mysterious standing stones of the Giants' Dance and the Beltane ritual. Warfare does not wait for Arthur to catch his breath. Battle follows battle. Love is lost and found. Allies fall, enemies rise, and betrayals come to the young High King. If he stays strong, he can lead his people through a bloody summer. If not, all of Britannia will fall. Arthur alone will be responsible for the glory or ruin to come. Merlin will help him to see it through. But what secrets is the druid keeping? Arthur Rex: Dux Bellorum is the third installment in an epic retelling of the King Arthur legend. You only think you know the story.
Arthur Rex: Dux Bellorum
Word Count:

82290
Summary: Merlin has devised a test. All of the petty kings have gathered in Londinium to see who will be the next High King. Arthur and his retinue travel to the city in secret, but they are not the only ones with an interest in the Sword in the Stone. Morgana, Arthur's half-sister and the renegade queen of Rheged, has journeyed there with her Saxon lover, and petty kings have come with no kind welcome for the young High King. Arthur pulls the sword, but the kings will not accept him. He is given the temporary title of Dux Bellorum, and with Merlin at his side, he sets out to unite the tribes of Britannia as the Saxon threat grows more menacing on their eastern shore. Some battles are easy. Others are carried out in secret. It is the secret battles that Arthur will need to fear. "Arthur Rex: Ex Lapis" is the second installment of an epic retelling of the Arthurian legend. You only think you know the story.
Arthur Rex: Ex Lapis
Word Count: Information not available
Summary: Emeline's quiet village has three important rules: Don't look at the shadows. Don't cross the river. And don't enter the forest. An illustrated fantasy filled with beauty and power, Between the Water and the Woods sweeps you into a world where forests are hungry; knights fight with whips; the king is dying; and a peasant girl's magic will decide the future of the realm . . . When Emeline's little brother breaks all three of their village's rules, she is forced to use her family's forbidden magic to rescue him from the dark things he awakens, the Ithin. Now that the Ithin are afoot in the land, she must, by law, travel to the royal court and warn the king. But the only way she and her family can make the journey to the capital is with the protection of a sour magister and a handsome, whip-wielding Lash Knight. Will Emeline survive in a city where conspiracies swirl like smoke and her magic is all but outlawed? Seven full-page black-and-white illustrations accompany Between the Water and the Woods, a lush, fairy-tale-style fantasy perfect for readers of Karen Cushman and Shannon Hale.
Between The Water and The Woods
Word Count:

55000
Summary: In a world where humans are genetically designed, altered and sold for pleasure and breeding, a young prince of the powerful Cassian Dynasty decides to take a mate and sire heirs. Not wishing to saddle himself with royal and meddlesome in-laws, and a wife he would have no desire to bed, Prince Edward goes to Heritage Breeders, and finds far more than just a warm body to carry on his lineage. Percy is the result of a master DNA architect designing himself his own personal slave and breeder. Yet when his creator and Master dies, leaving Percy alone at the mercy of the callous stable masters and the new owner of Heritage, he fears his future. Afraid he'll be bought by a wretched old man or a deviant monster, Percy is terrified when he is dragged from his cell and presented to the most prestigious client Heritage has ever welcomed...a Cassian Royal. Prince Edward is immediately infatuated with the shy, nervous and enchantingly beautiful Percy, and claims him for his own. Yet not everyone is pleased by a royal purchasing a breeder, especially one like Percy, and tensions rise both in Heritage and in the palace. Torn between need, duty, a king's command and the innermost desires of their hearts, Edward and Percy are set on path that is anything but easy. Can Percy trust Edward with his heart as he does his body? Can Edward keep an angry king and unseen enemies away from the young slave who is steadily stealing his heart? And what happens when Nature takes its course, and Percy's true purpose is fulfilled?
Bred For Love
Word Count: Information not available
Summary: Brute leads a lonely life in a world where magic is commonplace. He is seven and a half feet of ugly, and of disreputable descent. No one, including Brute, expects him to be more than a laborer. But heroes come in all shapes and sizes, and when he is maimed while rescuing a prince, Brute's life changes abruptly. He is summoned to serve at the palace in Tellomer as a guard for a single prisoner. It sounds easy but turns out to be the challenge of his life. Rumors say the prisoner, Gray Leynham, is a witch and a traitor. What is certain is that he has spent years in misery: blind, chained, and rendered nearly mute by an extreme stutter. And he dreams of people's deaths—dreams that come true. As Brute becomes accustomed to palace life and gets to know Gray, he discovers his own worth, first as a friend and a man and then as a lover. But Brute also learns heroes sometimes face difficult choices and that doing what is right can bring danger of its own.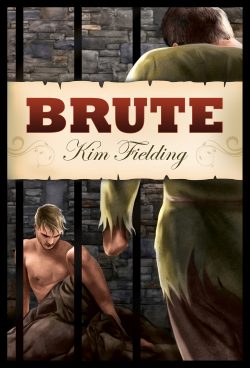 Brute
Word Count:

73,667
Summary: Lord Morgorth is haunted by dreams of his father. Though Morgorth killed him, his father's presence and brutality won't completely die. But now he has more to worry about—in the form of the Council of Mages' inquiry into the duel between Morgorth and an elder of the council. Morgorth expects sabotage and prepares accordingly. He fears for Aishe's life, knowing that the best way to sabotage the inquiry is to eliminate the witnesses. He sets into motion a desperate plan that, though it will protect Aishe, could put a strain on their relationship not easily removed. Yet the true danger lurks unseen, and it will take all of Morgorth's skill, strength, and devotion to Aishe, to save his mate from the hold of a foe Morgorth has yet to tangle with: a dream demon. Now Morgorth must throw aside caution, restraint, and fear if he is to save the one most dear to him. He must call upon the power of the one thing he hates more than even his father: a stone of power. But even if he manages to save Aishe, his mate's experiences in Dreamworld—at the mercy of the dream demon—have changed him forever and could shatter their bond irrevocably.
Carnelian: Dreams and Visions
Word Count:

33000
Summary: Clarity (noun) Four definitions to inspire writers around the world and an unlimited number of possible stories to tell: 1) Coherent and intelligible 2) Transparent or pure 3) Attaining certainty about something 4) Easy to see or hear Clarity features 300-word speculative flash fiction stories from across the rainbow spectrum, from the minds of the writers of Queer Sci Fi.
Clarity
Word Count: Information not available
Summary: The world of Avern has moved on. It has been almost a thousand years since the day the entire pantheon disappeared. Since the Abandonment, the mortals have learned to live without gods and goddesses. The world became mundane with little magic, and even less hope. Tyrants have risen, and those able to wield what is left of magic are powerful. Forces surge in the darkness that threaten to topple the already fragile world. The plight of the world of Avern is not unknown, however, and those that watch from a distance have decided to intervene. The mortals are sleeping, however, unknowing that two great powers will soon by vying for control.Then something happens that changes things. A young princess makes a bid for power by murdering her father. She then attempts to murder her sister, the crown princess of Lineria, Keiara. Despite a true strike, aided by dark powers, Keiara doesn't die. Instead, the strike pierces the barrier between her human soul and the soul sleeping within her, the soul of the Dark Phoenix. More than a goddess, the Dark Phoenix is the legendary mother of the gods. She is a part of the Eternal Phoenix that brought life to their world eons ago, one of the primal forces of the cosmos.
Dark and the Sword
Word Count:

93000
Summary: Three vampires. Three lives. Three stories intertwined. Bearing the guilt of destroying the holiest of books after becoming a vampire, the Dragon, Lord Desmond searches the world for lost knowledge, but instead, discovers truth in love. Born a slave in Ancient Greece, Alexandra craves freedom above all else, until a vampire sets her free, and then, she must pay the highest price of all … her human soul. An assassin who lives in the shadows, Roquelaure is cloaked even from himself, until he discovers the power of friendship and loyalty. Three vampires, traveling the world by moonlight—one woman and two men who forge a bond made in love and blood. Together they form a band of mercenaries called the Scarlet Order, and recruit others who are like them. Their mission is to protect kings and emperors against marauders, invaders, and rogue vampires as the world descends into the chaos of the Dark Ages.
Dragon's Fall
Word Count:

118937
Summary: Frank Grimes is a lowlife, no count, barely classifiable as a human, male who just happens to have enough sense to hire and retain qualified construction workers. He landed the contract to build most of Draoithe in January of 2016. He's not only worthless, but he's also criminal filth. He will do anything for an easy dollar. After the Draoithe housewarming party, his true colors shine through when he attempts to rape the architectural designer in her apartment after driving her home. Luke can't afford to let Jace kill him or allow Flame to turn him as dragonsworn, but there is no way that Frank can be allowed to just get away with what he's done. Even the Assassin King wants him dead, and he is the dragon called to serve one miscreant underking. Sentenced to house arrest and forced labor, Grimes seeks a way to fulfill the requirements Luke sets on him to gain enough respect that Javier will turn him into a canine shifter until he meets a blood demon who wants to help Luke out. Is it possible to totally rehabilitate the walking filth that is Frank Grimes into a real man in order to help him avoid certain death and turn him into a wolf? Or will the demon simply drink him dry and slowly end his miserable existence?
Draoithe: Filth and Death
Word Count:

107884
Summary: Julian Gypsun used to be a young man on his way to becoming a contractor. Everything changed when he died and was resurrected as a wizard's familiar. He was immortal and far better off physically than he had been as a human. Still, he was trapped with his life chained to a giant of a wizard who had no problem abusing him in every way imaginable. Julian was powerless to stop it without ending his own existence. That is until he was yanked bodily through his own portal, transported to Draoithe, and assigned to babysit the visiting dignitary, Amazon Warrior Princess Zephyra, and try to convince her that her people should ally themselves with Luke and Draoithe. That sounded easy, but it wasn't. He liked her. He had no clue how to act on that. Best to avoid that altogether. Keeping her safe just might equal his death. (Please see her warrior princess title.) She was old and so far out of his league. Worse, she liked him and was determined to have him. He can't even consider that. She has no idea how broken he really is.
Draoithe: Midnight Magic
Word Count:

91154
Summary: Flame is scarred from a past filled with lies, deceptions, and heartbreak. He is not guilty of what his brothers believe, but Blaze is the only one who knows the truth. He was betrayed by the king he had served. The girls he gave the dark gift to had been innocent. When he finds his Valkyrie, beaten, raped, broken, and fading after having been forced to accept the dark gift without her consent, Flame vows that he will do anything to save her. The light seems gone from both her and the world she finds herself in. Little does Flame know that for her to have the light again, he will sacrifice his honor, his integrity, and his life after breaking every law he can manage to break and even demand absolution for crimes he never committed. Many men say they will die for the love of their life. Flame somehow needs to do it four damn times, find a way to fix not only her broken magic, but fix her broken spirit as well, and then figure out how to live for her! All men wish to love a vampire, but Flame burns in his soul for one who holds the fire and has been granted the dark gift of an immortal vampire princess.
Draoithe: The Dark Gift
Word Count:

135408
Summary: Alexio Asmodai is the demon king of Eaglafonn, a small outpost kingdom in the Netherworld overruled by the Demon Lord Asmodeus. It is Alexio's responsibility to protect and police the frontier borders against any threats. He is an accomplished knight, so that part came easy. Eaglafonn is a cold and isolated kingdom. Alexio needed to stay and build his castle atop the hot springs to beat an addiction to seduction sickness. After over seven centuries, he thinks his loneliness has finally come to an end when he opens a crate to find a woman sent by Asmodeus for him to keep safe. He falls for her instantly. She is a human woman, fragile, timid, and irresistible. He must follow his liege's directive, convince her to become his queen, and see that she is cared for properly in a place that is inhospitable to her existence. This leads to a realization that his castle lacks a lot to be a first-class home for a lady. Can a tainted demon prince rise to the challenge to become a true king and win the woman who stole his heart? Dread Allies 7-14 The Shadow king of Eaglafonn has chosen his queen, but his castle lacks the feminine element. To make her more comfortable, he orders the demon princes to seek out and claim their own mates. That is easier said than done. Eaglafonn is a cold dark isolated kingdom in the Netherworld. It might be easier to claim mates from the Domhain, but not everyone could survive on the brutal dangerous frontier. The other options afforded from the Netherworld come with their own dangers. The magic is unbalanced and balancing comes with a price. Claiming their mates lead the demon princes on epic mini journeys and reveals the need for Eaglafonn to take a greater role in helping Luke aid the dream. Dread Allies is a miniseries set in the Netherworld in the dream. It is an ancillary group of stories to the Draoithe saga. While it is set in that world, it is not in the direct series lineup. The dream just got darker and colder. Welcome to Eaglafonn.
Dread Allies: Shadow King
Word Count:

89000
Summary: An uneasy truce between the four races has lasted for twenty years. Until now. The Dusters, a race of cat people from the north, have invaded and now former soldier Mika must make a grim choice: take up the sword again or watch everything he loves burn. With his old friend from the military, Gair, and a mysterious, half-breed Duster, Mika makes his way from his Northern border home to the southern capital, across the frozen wastes of the Duster homelands, and deep underground where the legendary Gallochs dwell. He is desperate to unravel the mystery of the invasion and how it's connected to his origin. But hunted by his own kind and unable to trust his companions, he discovers that to save his family, he may have to defeat not only the Duster army but the very Gods themselves. Penned by award-winning author, Adam Stemple, Duster is an epic, page-turning fantasy for adult readers who like their tales grim and dark but with just enough light at the end of the tunnel to keep them wanting more. Fans of Martin's Game of Thrones, Abercrombie's The First Law Trilogy, and Estes' Fatemarked will all find something to enjoy within. "I can, without reservation, recommend everything Adam Stemple has written, and Duster is no exception." — Steven Brust, best-selling author of The Baron of Magister Valley "No one writes bastard-son-of-a-bitch characters as brilliantly as Adam Stemple." — Naomi Kritzer, Hugo-Award-Winning Author of Catfishing on Catnet Praise for Adam's first novel, Singer of Souls "One of the best first novels I have ever read." — SFWA Grand Master, Ann McCaffrey *STARRED REVIEW* "A dour, nihilistic, absolutely marvelous grunge fantasy!" — Ray Olson, Booklist "Fans of Charles de Lint and Clive Barker will find much to like!" — Publishers Weekly
Duster
Word Count:

130600
Summary: Cursed with fearsome eyes and a dangerous gift, any chance of Damian Sires having an ordinary life was dashed the moment she was born. All her life, she has hidden her abnormalities and fought for acceptance behind the shadow of a veil and her respected merchant father. When Damian's power spirals out of control and casts her out alone into the world, she finds herself caught up in plots as old as the gods themselves. Bitter exiles, deposed nobility, clandestine knights, and a divine being with an ancient grudge all close in on the unstable power radiating from Damian. Desperate to keep that power contained, she sets out with mysterious allies in an attempt to find someone who can help her in a world that fears magic. Yet the source of Damian's ability is far more deadly than she imagined.
Enduring Chaos
Word Count:

50000
Summary: An act of desperation by young magician Brandon accidentally snatches Scott Hathaway from our world. Struggling to adapt to his new life, Scott becomes ensnared in dark local politics. He realizes he can use the knowledge he brought from his world to save his new friends, but at what cost? The first in a series. A story about an engineer who gets accidentally transported to a medieval type world where magic is real. But all is not as it seems!
Enimnori
Word Count:

50000
Summary: Can Scott and his new friends survive a trip to the "Dead Zone". Is it REALLY dead? if not who or WHAT lives there?
Enimnori Discovery
Word Count:

126000
Summary: Not once in the past five years has Castle Warden Sho Renjimantoro regretted following his best friend to Aart. How can he regret it when he finds open acceptance regarding his sexuality from everyone around him (even if they don't understand it), and he gets to be with the man most important to him? No, finding someone in this country is a fantasy best forgotten. General Arman Brahms, finally home from deployment, has waited over two years to show Ren he's wrong, that fantasies can come true. Unfortunately, his plans get put on hold to help Ren solve the crisis unfolding in the castle. Someone is doing their level best to make sure the engagement of Prince Charles and Princess Alexandria of Scovia falls through—by fair means or foul. In addition, they're trying to make Ren deemed incompetent and dismissed from his position. While hunting for the perpetrator, Ren and Arman do everything in their power to protect those they're sworn to before the irredeemable occurs. And along the way, prove that even an ordinary life can become extraordinary.
Fourth Point of Contact