Word Count:

47053
Summary: It's the last straw when three prudish pigs play a nasty trick on the set. So where else would Wolf go to plan the perfect payback, but Harry's Behind the Scenes Bar, Baths & Grill? Soaking wet when he arrives at the back door, Harry's dragon-magick fireplace soon gets Wolf's fur mostly dry. Shifting to his human, silver-hair-to-his-bare-butt self, he's almost done when the door opens again. And what to his wondering eyes does appear but a trio of boorish boar brothers—without a single reindeer!—all in a row from short to not-very-tall: Guy, Gresham and Grant Graham. Wolf's idea is so brilliant, it's definitely dawn coming up like thunder, "outer China 'crost the Bay." (Wolf really likes Kipling). A maybe mean, surely sneaky, snake-in-Eden idea. Payback is a dish best served hot...and hard. Join the fun as payback plays out. There's help from Tom Thumb, fine food, expensive bottles of Harry's Dragon's Own Special Reserve wine (the only thing which gets a shifter drunk), Death by Chocolate, Lady Flame, a private tour of the baths. Plus rooms of straw and sticks and bricks, and an Easter Egg, which might be hiding in Manhattan. Fair warning: there's a lot of huffing and puffing as part of the plan. Just not at doors. 47,053 words in the story
3 Boars & A Wolf Walk Into A Bar...
Word Count:

52000
Summary: Has kidnapping Zeus ruined Dargon and Alpha's chance at love? The sole survivor on a science vessel adrift in deep space, Zeus was adopted by the Emperor and Empress of the Mar'Sani, though he is both human and blind, and seen by many as unfit to join the royal family. Though they were able to repair his vision, Zeus does not trust his eyes, and the nobles of his parents' court refuse to ever trust a frail and treacherous human. Dargon Kal-Turak, along with his symbiote and lover, Alpha, command one of the most dangerous ships in the stars. After narrowly escaping a trap, they dock in a space port to make repairs but find that the Psionics hunting them are closing in fast. In desperation they kidnap the port's master mechanic, unaware that the man they've brought on board is more than he seems and will bring far more upheaval to their ship, their lives, and the stars than any of them could have imagined. **Alpha Trine is a 52k sci-fi romance. It was re-edited July 2018 and some concepts were expanded upon. Neither the plot nor characters were changed.
Alpha Trine
Word Count:

100000
Summary: Sassy and Owen Winslow were historical experts on the Revolutionary War and the Culpers, Washington's spy ring. After her husband dies unexpectedly, Sassy struggles to find new meaning in her life. When she goes exploring in the Cohutta Wilderness, she falls through a hole in time, and finds herself in the Indian Territory in 1778, falling in love with Big Sexy Will Selk. Will Selk, one of Washington's spies, falls in love with the spunky widow who came to live at McCarron's Corner after her husband's death. When he learns she came from Beyond, both Will and the Commander-in-Chief are eager to pick the historian's knowledge of the American Revolution – and in the process, Washington identifies the Culper Ring's Madame X, who turns the tide for the patriots to win the war when Sassy provides vital information.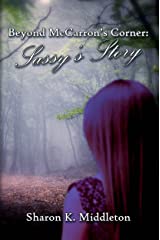 Beyond McCarron's Corner
Word Count:

18000
Summary: ★A novella-length collection of female-centered MF, MMF and MFM★ Detailed SF erotica with wisps of romance and hints of humour. Female p.o.v. Women with sass and men who know how to be deeply intimate. With her and each other. Alien Tryst Planetary Surveyor Icara believes she is alone on the frozen planet, until she stumbles into Alien Hybrid Benj'in and his bonded mate, veteran Cyborg Jake. Survival in the cold soon gives way to the heat of passion, and the intimate promise of being fully filled. But Icara's debt to her employers threatens to tear the new lovers apart. Hot Pursuit Starship Captain Lanie Talbot prides herself on being responsible, until forbidden passions rise between her, Lt. Commander Nico Demelov, and his genetically modified partner Az. As the three pursue dangerous hijackers, Lanie craves submission to Az's primal nature, but she's already violated one rule by taking her First Officer Nico to her bed... Dirty Diplomacy Captain Siva is stranded in deep space with two demanding, lustful aliens. The demonic-looking alien ambassador wants an apology for the delay, while his well-built warrior husband is brazenly trying to seduce the Captain... and succeeding. If Siva can swallow her pride and say sorry, interplanetary relations will take a very passionate turn.
Bisexual Alien Collection: Three Hot and Steamy Sci-Fi Menage Shorts
Word Count:

120000
Summary: U.S. Marshal James Creed has known loss, starting from the untimely death of his wife and daughter in a sudden fire. His work, chasing down and arresting outlaws across the Wild West, is all he has left to live for. Then one day, in 1876, the infamous killer Corwin Blake catches Creed by surprise and guns him down. Creed awakes after a mysterious young woman resurrects him in a basement laboratory beneath a brothel. Half alive, Creed feels torn between his need for justice and his desire to fall back into the peace of death. Creed's instincts drive him to protect the city of Santa Cruz, California, from the outlaws it harbors while searching for Blake. He uncovers a secret criminal organization, likely protecting Blake, determined to use resurrection technology for its own ends. The former marshal, now faster, stronger, and a more deadly shot than ever before, must work with a brothel madam, a bounty hunter, and the remaining marshals to uncover the criminal syndicate before they can misuse the machines of rebirth and create more mindless zombies. Meanwhile, he must also stop Blake, before the outlaw kills the only people he cares about. His own death can wait.
Bodacious Creed
Word Count:

55000
Summary: In a world where humans are genetically designed, altered and sold for pleasure and breeding, a young prince of the powerful Cassian Dynasty decides to take a mate and sire heirs. Not wishing to saddle himself with royal and meddlesome in-laws, and a wife he would have no desire to bed, Prince Edward goes to Heritage Breeders, and finds far more than just a warm body to carry on his lineage. Percy is the result of a master DNA architect designing himself his own personal slave and breeder. Yet when his creator and Master dies, leaving Percy alone at the mercy of the callous stable masters and the new owner of Heritage, he fears his future. Afraid he'll be bought by a wretched old man or a deviant monster, Percy is terrified when he is dragged from his cell and presented to the most prestigious client Heritage has ever welcomed...a Cassian Royal. Prince Edward is immediately infatuated with the shy, nervous and enchantingly beautiful Percy, and claims him for his own. Yet not everyone is pleased by a royal purchasing a breeder, especially one like Percy, and tensions rise both in Heritage and in the palace. Torn between need, duty, a king's command and the innermost desires of their hearts, Edward and Percy are set on path that is anything but easy. Can Percy trust Edward with his heart as he does his body? Can Edward keep an angry king and unseen enemies away from the young slave who is steadily stealing his heart? And what happens when Nature takes its course, and Percy's true purpose is fulfilled?
Bred For Love
Word Count:

113000
Summary: A twist of fate changed both their destinies. The wyrbears, once a long-lived species, were being lost to the forest in their prime. A people borne of a curse, their abilities not a gift but something wrongly taken, they nonetheless live in harmony with their animal spirits. But over time the curse they lived under changed, mutated, and now what once was a refuge from the world when they became too weary is culling mathan in their prime. Ewen mhic Friscalach, the leader of his peoples, lost his father too early and is now a widower with four children. The vow he made as a youth to break the curse afflicting wyrbears has been buried by grief and responsibility. Roi mhic Alric, a priest of Cerridwen and seer, watched his fellow priests slaughtered and his temple desecrated. The only thing that kept him going the last three horror-filled years was the vision Cerridwen had granted him of his emancipation. If freedom came at the cost of his life, well, he was more than ready for the Otherworld. A fated meeting upon a bloody field of battle. A wrong done long ago. Their choices could save a people… or send them into extinction. Either way, their love will be legend.
Caledonia Destiny
Word Count:

250000
Summary: Can a Warlord and a Prince find love when the galaxy is on the brink of war? Chief Warlord Sohm'lan has a job he loves protecting the family who claims him as one of their own. He has known the loss of a mate and believed he would walk alone for the rest of his life… that is until Prince Mestor demanded more from him than duty. Unable to fathom why Mestor would want a widowed older warrior, Sohm'lan maintains his distance believing Mestor will eventually choose an amor closer in age and experience, even though the thought causes him more pain than it should. Prince Mestor is tired of pretending and his patience is eroding. He needs Sohm'lan to see past their respective ranks and duties to who Mestor is underneath it all. Worried Sohm'lan will be lost to him if he pushes too hard, Mestor and Sohm'lan are caught in a dance of denied desires and tangled obligations. Warlord Sohm'lan and Prince Mestor struggle to find a way to their heart's desire against the backdrop of galactic conspiracies, the dangerous mission escorting the Fal'Amoric royals, and discoveries within the Vondorian family that threaten to tear apart everything they hold dear. The two of them must stand together to fight the coming battle whatever the consequences. *Note: Constant is 250,000 words and is the third book in the series that must be read in order.
Constant
Word Count:

12500
Summary: SEALS Winged Insertion Command (SWIC) has based Tiger Bailey's operational SWIC-3 out of Howland Island near the Equator in the central Pacific, just a few kilometers away from Baker Island, location for the socket where Amelia Earhart Skytower terminates. Tiger Bailey's squad is tasked to drop from Low Earth Orbit (LEO) to Mayotte Island, northwest of Madagascar in the Indian Ocean, to rescue a U.S. Senator and his family who were taken hostage by pirates.
DAEDALUS COMBAT—Combat drop from Low Earth Orbit
Word Count:

15600
Summary: Following his successful base jump from Fred Noonan Skyport, Tiger Bailey undertakes the next step in the development process of the Gryphon hardshell wingsuit, a drop from Low Earth Orbit. Using the Gryphon-10 with enhanced navigation and computer control, and with a greater wingspan, he uses the Slingshot Space Launch Loop to gain Low Earth Orbit (LEO), but experiences equipment problems that nearly destroy him and doom the project. Ultimately, Tiger perseveres and drops into the Earth's atmosphere. He skips out in in several times before eventually making a harrowing but safe landing.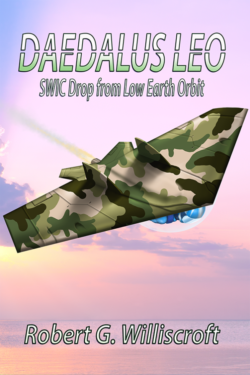 DAEDALUS LEO—SWIC drop from Low Earth Orbit
Word Count:

12300
Summary: After his successful proof-of-concept drop from Low Earth Orbit (LEO), Tiger Bailey's squad undertakes the next step in the development process of the Gryphon hardshell wingsuit, a coordinated drop from LEO by six team members. They tried to plan for every conceivable contingency, however, Mother Nature intervened with disastrous results.
DAEDALUS SQUAD—SWIC Squad drop from Low Earth Orbit
Word Count:

13500
Summary: Using a new Gryphon-7 hard-shell wingsuit, Tiger Baily, irreverent member of the Navy SEALS Winged Insertion Command, makes a harrowing first experimental base jump from the edge of Space, the Fred Noonan Skyport 80,000 meters above Jarvis Island in the Equatorial Pacific. Tiger's target, which he must reach to survive, is Kiritimati Island, a tiny isolated atoll 379 km northeast of Jarvis over ever-threatening and oh-so-deep ocean waters.
DAEDALUS: SWIC Basejump from Fred Noonan Skyport
Word Count:

82000
Summary: The Blackwood Pack saga begins…Follow the journey of the Blackwood Pack, seven brothers who are wolf shifters in search of their fated mates – stories about love at first sight with twists and turns, angst and humor, romance and adventure. Each book has two men who meet, fall in love, mate and achieve an HEA but the stories also chronicle the continuing saga of the Blackwood Pack. For more than 100 years, Steel, one of the last Dire Wolves, has been looking for his mate the Fates promised him. Discouraged after meeting his latest date, he takes a short cut home, seeing in a naked hitchhiker everything he envisions the man of his dreams to be. His wolf and body tell him the man is his fated mate but why can't he pick up his scent? Robbed of his car, clothes and money, Jackson, Alpha of the Blackwood Pack, is left with no choice but to thumb a lift, frantic to get home to his six brothers. He's been protecting them from a rival pack who massacred most of his family and wants to finish off the rest. When Steel rolls down his window, Jackson knows he's found his fated mate but it would be too dangerous to claim him with his pack under attack. After the intervention of an Oracle and a Witch, Jackson finds the Fates gave him an unusual gift that made him unique-- and just for Steel. Navigating the mine field this revelation brings, Jackson and Steel must figure out how to make their relationship work while dealing with external forces determined to kill them and the rest of the Blackwood pack.
Dire Warning
Word Count:

103456
Summary: In the wake of birth and betrayal, Ushna takes the God Ashur to Tristan in a last desperate bid to save Tristan's life—and is helpless to do anything but watch as Ashur instead buries him in a grave. Though he has no desire to go on living, having now lost Brian and Tristan, Ushna has no choice. Not only do their children need him, the mysterious Simurgh has come out of hiding and forces him to continue on—for there is much to do and little time to do it, especially with treachery and danger closing in on them from every side. Note: Dragon's Eye is the 5th book in the Sumeria's Sons series and features a poly (M/M/M) relationship. This book was previously released by another publisher and has been re-edited.
Dragon's Eye
Word Count:

80435
Summary: A modern-day knight in shining armor is a man with a secret. He's an immortal direwolf shifter. A man who can trace at will into a lethally dangerous canine who holds the ability to step into the stillness and achieve any goal. When he finds himself without a career after retiring disabled from his last mission in the military, he has to rethink the direction of his life. He needs to reinvent himself before anyone realizes that he stopped aging at the age of thirty-five. He's learned just enough to make his existence a bit dangerous. The sexy high school teacher neighbor he's been near stalking has her own secret. She feels like everything and claiming her is all he can focus on. He's determined to win her as his own until a shadowy evil attacks her and reveals a situation that forces him to be the man of action that he's always been. To keep the woman he loves safe, he'll become the alpha pack leader he was born to be. A Pack Forms is the first volume in the steamy paranormal romance saga of Draoithe.
Draoithe: A Pack Forms
Word Count:

118937
Summary: Frank Grimes is a lowlife, no count, barely classifiable as a human, male who just happens to have enough sense to hire and retain qualified construction workers. He landed the contract to build most of Draoithe in January of 2016. He's not only worthless, but he's also criminal filth. He will do anything for an easy dollar. After the Draoithe housewarming party, his true colors shine through when he attempts to rape the architectural designer in her apartment after driving her home. Luke can't afford to let Jace kill him or allow Flame to turn him as dragonsworn, but there is no way that Frank can be allowed to just get away with what he's done. Even the Assassin King wants him dead, and he is the dragon called to serve one miscreant underking. Sentenced to house arrest and forced labor, Grimes seeks a way to fulfill the requirements Luke sets on him to gain enough respect that Javier will turn him into a canine shifter until he meets a blood demon who wants to help Luke out. Is it possible to totally rehabilitate the walking filth that is Frank Grimes into a real man in order to help him avoid certain death and turn him into a wolf? Or will the demon simply drink him dry and slowly end his miserable existence?
Draoithe: Filth and Death
Word Count:

107884
Summary: Julian Gypsun used to be a young man on his way to becoming a contractor. Everything changed when he died and was resurrected as a wizard's familiar. He was immortal and far better off physically than he had been as a human. Still, he was trapped with his life chained to a giant of a wizard who had no problem abusing him in every way imaginable. Julian was powerless to stop it without ending his own existence. That is until he was yanked bodily through his own portal, transported to Draoithe, and assigned to babysit the visiting dignitary, Amazon Warrior Princess Zephyra, and try to convince her that her people should ally themselves with Luke and Draoithe. That sounded easy, but it wasn't. He liked her. He had no clue how to act on that. Best to avoid that altogether. Keeping her safe just might equal his death. (Please see her warrior princess title.) She was old and so far out of his league. Worse, she liked him and was determined to have him. He can't even consider that. She has no idea how broken he really is.
Draoithe: Midnight Magic
Word Count:

91154
Summary: Flame is scarred from a past filled with lies, deceptions, and heartbreak. He is not guilty of what his brothers believe, but Blaze is the only one who knows the truth. He was betrayed by the king he had served. The girls he gave the dark gift to had been innocent. When he finds his Valkyrie, beaten, raped, broken, and fading after having been forced to accept the dark gift without her consent, Flame vows that he will do anything to save her. The light seems gone from both her and the world she finds herself in. Little does Flame know that for her to have the light again, he will sacrifice his honor, his integrity, and his life after breaking every law he can manage to break and even demand absolution for crimes he never committed. Many men say they will die for the love of their life. Flame somehow needs to do it four damn times, find a way to fix not only her broken magic, but fix her broken spirit as well, and then figure out how to live for her! All men wish to love a vampire, but Flame burns in his soul for one who holds the fire and has been granted the dark gift of an immortal vampire princess.
Draoithe: The Dark Gift
Word Count:

135408
Summary: Alexio Asmodai is the demon king of Eaglafonn, a small outpost kingdom in the Netherworld overruled by the Demon Lord Asmodeus. It is Alexio's responsibility to protect and police the frontier borders against any threats. He is an accomplished knight, so that part came easy. Eaglafonn is a cold and isolated kingdom. Alexio needed to stay and build his castle atop the hot springs to beat an addiction to seduction sickness. After over seven centuries, he thinks his loneliness has finally come to an end when he opens a crate to find a woman sent by Asmodeus for him to keep safe. He falls for her instantly. She is a human woman, fragile, timid, and irresistible. He must follow his liege's directive, convince her to become his queen, and see that she is cared for properly in a place that is inhospitable to her existence. This leads to a realization that his castle lacks a lot to be a first-class home for a lady. Can a tainted demon prince rise to the challenge to become a true king and win the woman who stole his heart? Dread Allies 7-14 The Shadow king of Eaglafonn has chosen his queen, but his castle lacks the feminine element. To make her more comfortable, he orders the demon princes to seek out and claim their own mates. That is easier said than done. Eaglafonn is a cold dark isolated kingdom in the Netherworld. It might be easier to claim mates from the Domhain, but not everyone could survive on the brutal dangerous frontier. The other options afforded from the Netherworld come with their own dangers. The magic is unbalanced and balancing comes with a price. Claiming their mates lead the demon princes on epic mini journeys and reveals the need for Eaglafonn to take a greater role in helping Luke aid the dream. Dread Allies is a miniseries set in the Netherworld in the dream. It is an ancillary group of stories to the Draoithe saga. While it is set in that world, it is not in the direct series lineup. The dream just got darker and colder. Welcome to Eaglafonn.
Dread Allies: Shadow King
Word Count:

62836
Summary: For Tristan and Ushna, nothing comes easy. With each passing day the challenges grow and the dangers multiply. The safe home they are building for their family and tribe is threatened from all sides, and the peace they seek is being torn apart by enemies and internal strife. Tristan dares not reveal his condition to any but those closest to him, all the while he's plagued by dreams he cannot remember upon waking... Over it all hangs the knowledge that his time with Ushna is running out. Ushna already has a Flame awaiting rebirth, and though Tristan would die to protect that bond, he constantly struggles against his beast who demands they bind Ushna to their side. Dreams of the Forgotten is the 3rd book in the Sumeria's Sons series and features a poly (M/M/M) relationship and includes male pregnancy (mpreg).
Dreams of the Forgotten