Word Count: Information not available
Summary: Someone killed Grandfather Jefferson. Victor is sure of it. But he's the only one. Diagnosed with mirror resonance syndrome and shunned by Semiautonomous California society, Victor suffers from "blank outs," hallucinations, and vivid nightmares. He violently overreacts to even minor confrontations. Victor's grandfather devoted his life to researching and curing mentally ill Broken Mirrors like Victor, but now that he's gone, Victor must walk a narrow path between sanity and reclassification—a fate that all but guarantees he'll lose his freedom. Victor is determined to uncover the truth about his grandfather's death and grows increasingly suspicious of the medicine he must take to help manage his "symptoms." As he tries to sort his allies from his enemies, a conspiracy with global implications emerges. Can he trust his Aunt Circe, the only person in his family who's even somewhat sympathetic to his plight? His former classmate-turned-brainhacker Ozie, who wields information as damaging as any weapon and who seems intent on luring Victor away from his home? What about his old friend Elena, who reappears in his life abruptly, claiming to have miraculously overcome a devastating addiction? With its self-driving cars, global firearms ban, and a cure for cancer, the world of Broken Mirror may sound utopic, but history has taken a few wrong turns. The American Union is a weak and fractious alliance of nations in decline. Europe, a superpower, manipulates its citizens through technology. And Asia is reeling from decades of war. Amid shifting geopolitical sands, Broken Mirrors like Victor find themselves at a crossroads: evolve or go extinct. Broken Mirror is the first novel in a sci-fi cyberpunk detective saga tailor-made for fans of William Gibson, Haruki Murakami, and Neal Stephenson.
Broken Mirror
Word Count:

57000
Summary: Previously on Dragon War Chronicles, the first strike was made against their enemies, but the cost was heavy. Mourning their losses Danica still must prepare for dragons that will be coming to woo her. She already knows the dragon she wants to mate to, but will she convince Kollin that she's ready to commit? Of all the dragons going to Toulouse to meet Danica and see if they have a chance only one has a completely different agenda. He knows which dragon he wants and it isn't Danica. Will Xavier win the heart of Danica's brother? Anchin Luu, Danica's brother and manager of her Las Vegas casino, Dragon's Hoard, has spent his whole life alone due to his deadly nature. A broken experiment and retired assassin Anchin isn't sure what to make of the water dragon that has invaded his life. Love is in the air, but so is gunpowder. SLIPs going missing, Coyotes crashing parties, and a mating you'll never forget are all in store for you on the next exciting installment of Dragon War Chronicles. Attention: This book contains explicit sexual content between consenting dragons, depictions of relationships that are MF and MM with a dash of doublemint fun. Dragon War Chronicles is a continuous series. It is best read in order. SYN Consulting Secrets Revealed First Strike Dragon's Hoard
Dragon's Hoard
Word Count:

58000
Summary: Previously on Dragon War Chronicles, our heroes recovered and were preparing to take the fight to a still unknown enemy. Meanwhile, startling breeding experiments were revealed. Three sites are discovered in Russia that could hold all the answers they've been looking for. Three strike teams are assembled led by Xander, Kollin, and Tyler. Three simultaneous attacks are combined to make one devastating first strike against their hidden enemies. What horrors will they discover? What plans will be revealed? Why is a member of the Dragon Council showing up on Danica's doorstep with ultimatums? Find out in the next exciting installment of Dragon War Chronicles. Warning: This book contains explicit sexual contact between consenting adults. There are romantic, BDSM, and purely sexual relations shown that are MM and MF. There is also high sexual tension and alpha male posturing that will make you laugh and roll your eyes along with plenty of snark and definite teasing of dwarf-like dragons. Dragon War Chronicles is a continuous series. It is best read in order. SYN Consulting Secrets Revealed First Strike Dragon's Hoard
First Strike
Word Count:

147000
Summary: "Will I always be so alone, living as a dragon among the sheep?" Jane Dawson is an American on a journey of midlife makeover. Abandoning a tech career in Boston, she and her sheepdog, Moss, move to Wales in search of a simpler life, connection and community without the filter of the Internet. But who knew she would stumble over the red Welsh dragon, y Ddraig Goch? Actually, she stumbles over her own suitcase and falls on her face in the middle of Main Street. But her plea for help (or maybe it was just swearing) is answered by the shy local dragon who doesn't know he's a dragon—Stewart Rygby. But what rational, sane person believes in dragons and fairies? Why have such myths and legends persisted in the misty green hills of Wales over the aeons? And why does Moss need to mark everything in sight—including her new landlord? Join us as our dragons awaken from their slumber in Green Hills and Daffodils—the exciting first book in the Green Hills Series by Celyn Kendrick!
Green Hills and Daffodils
Word Count:

140000
Summary: "You probably shouldn't stop to talk to strange men, dragons or fairies…" Stewart Rygby and Michael Dougal are looking forward to a new chapter in a new lifetime together, but the waiting is driving them mad. It also doesn't help that Stewart's mother is prone to random outbursts of poetry punctuated by the pealing of bells in the local fairy village. Whilst visiting Michael in Scotland, Stewart also gets to meet his fiancé's cousin and the future mother of their children—Shannon Anderson. After getting dumped by her girlfriend of ten years by sticky note, she's sick of pretences and vows to live life differently and by her own rules. Meanwhile, back in Llwyncudd, there's a new vicar in town. Father Aron Lewis tries to look at retirement and the odd turn his life has taken as a positive—and one quite possibly fated by God. But God seems to have a twisted sense of humour. Join us for a puppy poppy tea party pealing parade in Green Hills and Fairy Bells—the prophetic third book in the Green Hills Series by Celyn Kendrick!
Green Hills and Fairy Bells
Word Count:

142000
Summary: "It was certainly hot and dry, but he hadn't expected Hell to be particularly sunny." Ben Davies is no stranger to the strange, but his life just got a whole lot weirder. He's always battled between doing the morally right, sensible thing and impulse—but this time, his good intentions have landed him in hot water. Trapped in the Land of Nod with Alex's Dreamtime alter-ego, Ben needs to find a way to get back to Wales—his Wales. With a psychotic psychopomp as their Virgil to guide them on an RV road trip through hell, Ben and Alex get to see America in all its star-spangled glory. It'll take a transatlantic transdimensional meeting in the middle for these two to keep calm and carry on in their pursuit of happiness. Back in the fairy village, tensions are running at an all-time high. Will y Pentreff Cudd start the new year in an all-out civil war? Or set aside their differences to find peace and goodwill? Join dragons, fairies and transdimensional puppies in Green Hills and Whippoorwills—the thought-provoking sixth book in the Green Hills Series by Celyn Kendrick!
Green Hills and Whippoorwills
Word Count:

78600
Summary: What can you do when a computer virus starts infecting people? For years, a virus that targets cybernetics has plagued people with any sort of computerized implant in their bodies. It is untraceable, unpredictable, 100% fatal and infecting more people every day. Politics tore apart Project Requiem, a highly-funded military endeavor meant to create an antivirus to save humanity. A ragtag group of programmers and visionaries is trying to pick up where Requiem left off, but their resources are limited, they're hounded by the army and corporate mercenaries and a key engineer with the only remaining copy of the antivirus is missing. As the virus grows more powerful by the day, all they can do is hope that they can finish before it becomes powerful enough to attack the entire city at once.
Halcyon
Word Count:

40000
Summary: We interrupt our regularly scheduled program to take a side trip down two branching paths. First, we'll follow Matt and Xander as they take a surprise honeymoon to Hawaii in The Honeymooners. It's not all private beaches and swimming with the fish, though. Truths from Xander's past are revealed that give Matt new insight into his mate. Just as they get comfortable, the unforeseen appearance of a new enemy cuts their trip short. Next, we slide over to find out what some mischievous foxes have been doing behind the scenes since they arrived in France. Akira and Koji set their sights on a pair of twin hunky dragons in 2+2=Love. ​​​​​​​ It's not easy being twin dragons when your other half has been in your head since conception. It's certainly not easy finding love, but Halvar and Herleif have hope when a pair of foxes cyberstalk their way into their lives. Intermission contains two short stories that occur during the events at the end of First Strike and through Dragon's Hoard. While these stories do not fit into the overall story arc, some bits and pieces may find importance later on down the road. So take a break from the action and breathe in some light-hearted fun and romance. Dragon War Chronicles is a continuous series. It must be read in order.
Intermission
Word Count:

55000
Summary: Stranded in space: no fuel, no way home… and no one coming to help. From the pen of Hugo Finalist Gideon Marcus comes the found-family, YA Space Adventure you've been waiting for: Nineteen-year-old Kitra Yilmaz dreams of traveling the galaxy like her Ambassador mother. But soaring in her glider is the closest she can get to touching the stars — until she stakes her inheritance on a salvage Navy spaceship. On its shakedown cruise, Kitra's ship plunges into hyperspace, stranding Kitra and her crew light years away. Tensions rise between Kitra and her shipmates: the handsome programmer, Fareedh; Marta, biologist and Kitra's ex-girlfriend; Peter, the panicking engineer; and the oddball alien navigator, Pinky. Now, running low on air and food, it'll take all of them working together to get back home. With illustrations by Hugo Finalist Lorelei Esther.
Kitra
Word Count:

119000
Summary: A single father fights to retain control as he shares his body and mind with an evolving AI. It's been nine years since the government banned all technology. So, when Joel Lodowick, a young transgender father struggling to support his five-year-old daughter, has an old bionic upload itself into his head, he is faced with a decision: Go to the cops and risk prosecution? Or use the robot's skills to turn his life around? Scared of losing his daughter, Joel chooses the latter. Heightened intelligence and physical enhancements quickly land him a better job and a brighter future. But things take a sinister turn when Joel realizes his uninvited companion has an agenda of its own, which may or may not include leaving him in control. Unable to approach the government who covered up the truth about AI sentience, Joel finds himself on the run. With his daughter's life on the line and his own body turning against him, he must find a way to convince the bionic in his head to value his human life before he loses the chance forever. Find out what happens in My Heart is Human by Reese Hogan!
My Heart Is Human
Word Count:

100,000
Summary: Lida was their last chance for an uncolonized planet. But a world-spanning fungus had colonized it first. Agetha and her husband have spent their whole lives in the fleet's zero-G. Now all is turmoil as the fleet lands, discovering they are surrounded by a single fungal biomass spanning the entire planet. To build a new home, the fleet must confront a dangerous organism, and Agetha must decide if she can raise a family in this inhospitable landscape. Jane Brighton holds tenuous command over the colony and its administrators. She and the other gene-modded leaders emerged from their four-hundred-year suspended animation to find a crew much different from the one that departed Old Earth. Jane must direct the colony's fragile growth and defend it against being overrun by the fast-growing biomass. But there is something none of the colonists know. The massive organism that spans the planet is not simply a fungal mass, nor even a chimerical combination of species that once roamed the planet. The biomass has desires and goals, and one is to know these strange beings carving out a home in its midst. Download today to read of the colony's fate in Of Mycelium and Men! Genres: Space Opera / Science Fiction / Colonization / Alien Contact / LGBT / Non Binary / Trans Market: Adult
Of Mycelium and Men
Word Count:

101000
Summary: What happens when a woman loses her memory but gains a conscience? Dr. Alexandra Turing is a roboticist whose intellect is unrivaled in the field of artificial intelligence. While science has always come easy, Alexandra struggles to understand emotional cues and responses. Driven by the legacy of her late great-uncle, she dedicates her life to the Synthetica project at her father's company, Organic Advancement Solutions (OAS).​ Her life is rebooted when she wakes from a coma, six months after being struck by a car. Traumatic brain injury altered Alex's senses, her memory, and her personality. Despite the changes, she feels reborn as she navigates her way back into her old life. Part of her new journey includes dating the alluring Doctor of Veterinary Medicine, Emily St. John. Emily is enamored with the hyper-intelligent scientist, but there are things about Alex and OAS that don't add up. With Emily's prompting, Alex undergoes testing that leaves her with more questions than answers. What she discovers changes more than her life, it will change the world around her.
Remember Me, Synthetica
Word Count:

111,000
Summary:
New York: two years after the Third World War. Humanity is rebuilding its cities brick by brick; the damage done to the people, however, is a lot harder to repair.
Dan Hardacre is one of those people. An aspiring stage actor and experienced draft-dodger, Dan struggles to find his place within the Utopic rebuild of New York City. When he's not caught up with the duties of work, Dan lives a quiet life in mourning for his mother, Dyani, who went missing when he was a teenager.
One night, Dan experiences a vivid, terrifying nightmare that puts him right on the front lines of the war for which he dodged the draft; it ends with him facing Death itself in the form of a metallic, faceless humanoid creature that calls itself the Valkyrie. To investigate the reason behind his haunting experience, Dan seeks out a meeting with his estranged father, who reveals the startling truth about Dan's dream: it wasn't a dream.
With this newfound knowledge and the powers it brings, Dan makes it his mission to return to the scene of his nightmare. However, he soon comes to know that confronting the Valkyrie not only endangers him but the war-withstanding world he leaves behind.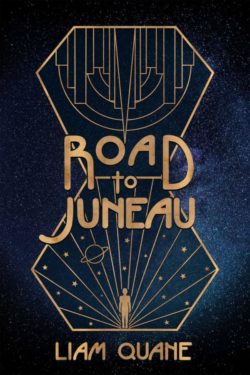 ROAD TO JUNEAU
Word Count:

72000
Summary: Go big or go home. For privateer Captain Magdalene Landon, it's all about going big. For Kay Ellis, it's about getting home. Together, they're about to architect the most daring heist in the galaxy. Kay knows too much. She knows it's a matter of time before a Conglomerate hitman finds her. She's desperate for safe passage back to Union space. Then Magdalene shows up, promising a way home in exchange for that information. It's a risky bet, but Kay is out of options. So she strikes a deal: the heist of the century for her freedom. Kay is playing a dangerous game, and she knows it. She's made herself Enemy Number One of the Conglomerate. She's relying on privateers for her safety. It's a fool's game. But the worst part is, her fool's heart is starting to warm to the enigmatic captain. And that's a risk for which she hadn't planned. (Cover by May Dawney Designs) 2019 Sci-Fi Lesfic Bard award winner
Safe Passage
Word Count:

73900
Summary: How far is too far to go to save someone you love? Brandon Lynch is magical. He's a scintilla, wielder of electricity and is in love with a werewolf—or maybe he'd just in love with the idea of loving a werewolf? Raul Fierro is a bounty hunter and a werewolf. He knows he loves Brandon. He's made a promise to always protect Brandon and will carry out that promise at all costs. When Brandon and Raul go head to head with human traffickers, Brandon's morals are stretched to their limits. Will Raul keeping his promise tear them apart?
Scintilla
Word Count:

53000
Summary: Previously on Dragon War Chronicles, we left our heroes fighting for their lives in the midst of battle... Kollin races against time to get samples of the weapon used in Canada to their lab in Oslo. Kenshin races to get Danica back home in time to save her, Aiden and Xander. Danica's allies converge in Toulouse to prepare for what may come. Will Kollin be able to help save Danica, Aiden, and Xander before all is lost? Will Matt be able to track down who's responsible for a new weapon that threatens them all? What will happen when Danica's biggest secret is revealed? Secrets are revealed that will change the future for all dragon and SLIP kind alike. Warning: This book contains explicit sexual situations that are MM, MF, and MMMF. There are romantic relationships displayed that are MM and some depictions of loving and consensual BDSM relationships. There are also bad puns, a game of tag with an invisible dragon, and lions, jaguars, and bears. Oh my! Dragon War Chronicles is a continuous series. It is best read in order. SYN Consulting Secrets Revealed First Strike Dragon's Hoard
Secrets Revealed
SALE
Word Count:

110000
Summary: In Sleep State Interrupt, a giant media corporation has taken over the Internet, created an addictive virtual reality called BetterWorld, and controls nearly all information. Politicians do their bidding and a brainwashed humanity serves a privileged few. Waylee Freid, an unemployed Baltimore journalist with ever-worsening bipolar disorder, is the only hope for a brighter future. She and her countercultural friends bust a notorious teenage hacker out of jail and sneak into a closed presidential fundraiser at the Smithsonian castle, where they hope to record incriminating admissions that will wake up the world. Hunted by Homeland Security, Waylee and her friends must reach a sufficient audience by broadcasting their video during the Super Bowl. But to do so, they'll have to break into one of the most secure facilities ever built.
Sleep State Interrupt
Word Count:

119500
Summary:  Slingshot is a love story—about a man, a woman, another man, another woman, some gender bending…and a machine, the largest ever built.      Slingshot is a mystery—about a missing aviatrix, a conspiracy, a true-believer. Slingshot is an adventure—about following a dream, the ocean-deep, outer space. Slingshot is about constructing the first space launch-loop stretching 2,600 km between Baker and Jarvis Islands in the Equatorial Pacific. It's about high finance, intrigue, unlimited ambition, heroism, fanaticism, betrayal…and about opening space to the common person. With a cast of 69, Slingshot takes you from Seattle's world financial district, to the ocean bottom at 5,000 meters off Baker Island, to the edge of space 80 km above. You play with dolphins and battle sharks. You fly and sail and dive, you work and play and love across the vast panorama of an Equatorial Pacific being put to leash to serve humanity's surge into outer space. While its accurate science and precise engineering will appeal to hard science-fiction buffs, Slingshot's major focus is the grand journey, the opening of outer space to the common person by men and women who loom larger than life as they work, play, and love.
Slingshot: Building the largest Machine in Human History
Word Count:

65000
Summary: Continue to hide or help save the very kin she's hidden from? Welcome to SYN Consulting, the top business strategy consulting firm in Europe, home to a motley crew whose leader has a life changing secret. CEO, Danica Lestrange, is the first female dragon born in the last 800 years. Hidden from the rest of her kin and raised in the human world, she built a life that she would defend until her death. A devious plan is unearthed while working on a new business deal that could plunge the dragons into another war with the humans. The humans may have forgotten the last dragon-human war, but the dragons have not. Will the war reveal this hidden world to the humans, or will the clans come together to defeat their enemies and maintain their anonymity? Danica must gather her allies and help the very dragons she's hidden from her whole life. She can only hope that she'll be strong enough to protect her chosen family. This is the first book in a new series about dragons who want nothing more than to live in peace, but refuse to be subjugated. In war there's also love, and love is blind. Love doesn't care about gender, race, species (in this case), or sexuality. Warning: This book contains explicit sexual content between consenting adults. The sexual scenes are MM, MF, and MMF. There are romantic relationships depicted that are MM. There is also a high level of explicit language, snark, kink, and possibly bad puns and fart jokes. This book does end in a cliffhanger. Dragon War Chronicles is a continuous series. It is best read in order. SYN Consulting Secrets Revealed First Strike Dragon's Hoard
SYN Consulting
SALE
Word Count:

161800
Summary: Following the dramatic events in The Starchild Compact, the starship Starchild departs on a 185-year interstellar journey. Meanwhile, the Iapetus Federation in cooperation with the Founders, descendants of the people who originally constructed Iapetus, expands to include the Mirs Complex at L-4, the Lunar Complex, a new habitat being constructed at L-5, the growing Mars settlements, and several asteroids including Daphne and Ceres. On Earth, America turns away from its world leadership position to focus on internal matters and the idea of an all-inclusive, multicultural society. Saeed Esmail, the stowaway Jihadist who played a significant role in The Starchild Compact, becomes the guiding prophet of a new form of Islam that quickly dominates the vanquished Persian Caliphate territories, and threatens the rest of the planet. Aided by Founder Asshur, the besieged Israelis reluctantly forge a new homeland on Mars, while the United States balkanizes into a half-dozen smaller units dominated by the Lone Star Conservancy under the leadership of Texan Sam Houston, who had earlier established the Lone Star Settlement on Mars. Science does not stand still. Founder researchers develop a longevity treatment that has the potential to extend human life indefinitely. The Starchild Institute, headed by former U.S. President Marc Bowles, develops advanced spacecraft, and a new form of transportation based on artificial wormholes. As the global Jihad on Earth heats up, most of the planet falls under the domination of Saeed Esmail, with only the Lone Star Conservancy, Columbia Freehold, Australia, and New Zealand left as independent territories. The Institute opens evacuation portals between Earth and Iapetus to rescue as many people as possible. While Earth sinks into medieval barbarism, the focus of human activity shifts from Earth to the Iapetus Federation as humans settle virtually every potentially habitable spot in the Solar System and begin planning for expansion into the rest of the Galaxy.
The Iapetus Federation: Exodus From Earth