Word Count:

93700
Summary: A princess on the run. A captain on the hunt for treasure. When their paths cross, will they be each other's salvation? Keola is a mermaid – and bound for marriage to a foreign human prince. Unable to face a life cut off from the ocean with a man she despises, she chooses freedom at a terrible cost. Posing as a human wavesinger to remain hidden from her pursuers, she finds work on the ship of the dashing captain Anaar Kahlani.Anaar is searching for a mythical treasure and believes that Keola is the key to finding it. Amidst the hunt for fame and fortune, Anaar begins to fall for the mysterious wavesinger. Confronted with a secret and a dangerous revelation, she must decide what price she is willing to pay for untold riches – and for love. When Keola's past catches up with her, can they survive the oncoming storm together, or will the trials ahead demand more of them than they are willing to sacrifice?
A Melody in the Deep
Word Count:

88700
Summary: Kat Wallace is on a mission. After escaping tortuous enslavement, she sets her sights on ending the human trafficking that has flourished in 24th century Earth. Adopted by the leader of the pirate nation of Bosch, Kat Wallace is determined to prove herself as a member of the Bosch Pirate Force and use her skills to avenge her enslavement and free other thralls. But unexpected love and a test of loyalty threaten to rob her of what she wants most: a home.
A Merry Life
Word Count:

71000
Summary: The thrilling Voidstrider Saga continues... Shan Taishan dedicated his life to protecting Mars as an Officer of the Fleet. But now an enemy no one can see has come to the Red Planet, and it's up to Shan to save his sister and his homeworld - or see Mars fall forever! Prominent Martians have gone missing - only to turn up again days later, seemingly changed. Government leaders forward policies they'd never have supported before, and the Fleet itself seems riddled with traitors. There's a conspiracy at work, one which threatens to turn Mars into a brutal dictatorship. With his friends gone off to Eros - glittering asteroid city of sin - in search of the enigmatic Djinn, it's up to Shan alone to unravel the mystery and save his world. And when he learns the truth at last, Shan Taishan will be forced to make a terrible sacrifice -- or see his world lost forever!
An Officer of the Fleet
Word Count: Information not available
Summary: Ardulum. The planet that vanishes. The planet that sleeps. Neek makes a living piloting the dilapidated tramp transport, Mercy's Pledge, and smuggling questionable goods across systems blessed with peace and prosperity. She gets by—but only just. In her dreams, she is still haunted by thoughts of Ardulum, the traveling planet that, long ago, visited her homeworld. The Ardulans brought with them agriculture, art, interstellar technology…then disappeared without a trace, leaving Neek's people to worship them as gods. Neek does not believe—and has paid dearly for it with exile from her home for her heretical views. Yet, when the crew stumbles into an armed confrontation between the sheriffs of the Charted Systems and an unknown species, fate deals Neek an unexpected hand in the form of a slave girl—a child whose ability to telepathically manipulate cellulose is reminiscent of that of an Ardulan god. Forced to reconcile her beliefs, Neek chooses to protect her, but is the child the key to her salvation, or will she lead them all to their deaths?
Ardulum: First Don
Word Count: Information not available
Summary: Ardulum. The planet of myth. The planet of unwanted destiny. The Charted Systems are in pieces. Mercy's Pledge is destroyed, and her captain dead. With no homes to return to, the remaining crew sets off on a journey to find the mythical planet of Ardulum—a planet where Emn might find her people, and Neek the answers she's long sought. Finding the planet, however, brings a host of uncomfortable truths about Ardulum's vision for the galaxy and Neek's role in a religion that refuses to release her. Neek must balance her planet's past and the unchecked power of the Ardulans with a budding relationship and a surprising revelation about her own genealogy. Ardulum: Second Don blends space opera elements and hard science into a story about two women persistently bound to their past and a sentient planet determined to shape their future.
Ardulum: Second Don
Word Count: Information not available
Summary: The planet wakes. Atalant is torn between two worlds. In uncharted space—head of a sentient planet—the new Eld of Ardulum now leads the religion she once rejected. Emn is by her side but the Mmnnuggl war brewing in the Charted Systems—threatening her homeworld of Neek—cannot be ignored. Atalant must return to the planet that exiled her in order to lead the resistance. She must return home a god, a hypocrite, a liar in gold robes, and decide whether to thrust her unwilling people into the truth of Ardulum, or play the role she has been handed and never see her family, or her world, again.
Ardulum: Third Don
Word Count:

117,600
Summary: The Action Packed Conclusion to the Peridot Shift Trilogy Peridot is on the edge of annihilation. Once life-giving, the world's Trade Winds are transforming people into soulless monsters. The surviving Alchemist gods neglect their followers or take advantage of them. Even worse, a delicate peace has been wasted, and everything and everyone is at stake, especially Meran, the mistreated embodiment of the planet. Captain Talis and the crew of Fortune's Storm must try to do some good with what's left of Peridot in the hope that, together, they'll reclaim the hidden pieces of Meran's soul before the chaos seals her disastrous fate.
Cast Off
Word Count:

97000
Summary: The seas spell freedom. Pirates and kraken, boats and submarines, deadly sirens, mermaids, and the women who face them all. These are our heroes. High seas adventure, fantasy, and magic weave together in this sapphic anthology focusing on the joy of the unbounded oceans. If you like diverse stories with lesbian and sapphic heroines exploring oceans, battling sea monsters, and seducing pirates, buy Farther Reefs today! With stories by: Sarah Day and Tim Pratt, Kim Pritekel, Kyoko M. Sara Codair, William C. Tracy, N.L. Bates, Robin C.M. Duncan, Vanessa Ricci-Thode, Margaret Adelle, and J.S. Fields Genres: Science Fiction / Fantasy / Adventure / Lesbian / LGBT and Non Binary Market: Adult
Farther Reefs
Word Count:

72000
Summary: Ellison Firebrandt fights the good fight for Earth. Under a letter of marque, he raids the ships of Earth's opponents, slowing down their progress and ability to compete with the home system. On the planet Epsilon Indi 2, he rescues a woman named Suki Mori from a drug lord, only to find she isn't so happy about living a pirate's life. However, when the captain finds a new engine that will make him the most successful pirate of all, Suki is the only one who can make it work. Now Firebrandt must find a way to keep his crew fed and his ship supplied while relying on a woman who barely trusts him and while every government in the galaxy hunts him to get the engine back!
Firebrandt's Legacy
Word Count:

120600
Summary: Captain Talis just wants to keep her airship crew from starving, and maybe scrape up enough cash for some badly needed repairs. When an anonymous client offers a small fortune to root through a pile of atmospheric wreckage, it seems like an easy payday. The job yields an ancient ring, a forbidden secret, and a host of deadly enemies. Now on the run from cultists with powerful allies, Talis needs to unload the ring as quickly as possible. Her desperate search for a buyer and the fallout from her discovery leads to a planetary battle between a secret society, alien forces, and even the gods themselves. Talis and her crew have just one desperate chance to make things right before their potential big score destroys them all.
Flotsam
Word Count: Information not available
Summary: Kal has always been considered too "fragile" to participate in the village activities. Her lithe stature links her to her father and distances her from everyone else. He left the village to fight in the Teristaque Wars and never returned. She meets Sarge, a strange star species of the human race who seems to know the secret of the patch from her father's uniform. Kal has always known she is different than her fellow villagers, and finally she may be closer to finding out why.
Kal's Fall
Word Count: Information not available
Summary: Kestrel, the King's Privateer, is preparing to wait out the annual storm season when she receives an unexpected royal order to capture and deliver a rare creature for the king's menagerie. Before she can weigh anchor, news reaches Kestrel of a long-ago friend in desperate need of help—in the opposite direction of her assigned voyage. In addition, her ship may be haunted by something big, loud, and terrifying. Before Kestrel can plot a course, she crosses paths with an enigmatic dancer who offers an enticing bargain: sail her home to the Continent, an ocean away, and she'll reveal the mysteries of magic Kestrel has longed all her life to know. The temptation of answers endangers her crew and might ruin her privateer status. Worse, taking on this passenger could thrust her into the clutches of the ever-watchful Danisoban mages who lie in wait for her to make the perfect mistake. Every decision is fraught with danger. Each wrong turn may mean her death or the death of her crew. And Captain Kestrel can walk away from none of them.
Kestrel's Dance
Word Count:

99000
Summary: Look to the skies! Brave adventurers face new relationships and adversity in all sizes, from steampunk dirigibles to harpies, giant bees to garden gnomes, and winged dinosaurs to sky pirates. Isolated mountain peaks, clifftop cities, and battles in the sky abound in this sapphic anthology focused on overcoming challenges awaiting in the clouds. If you like diverse stories with lesbian and sapphic-centric heroines enjoying the thrill of adventure high in the air, buy Lofty Mountains today! With stories by: Seanan McGuire, Rosiee Thor, Rebecca Kim Wells, Maya Gittelman, Carmen Loup, Sara Codair, William C. Tracy, N.L. Bates, L.R. Gould, Robin C.M. Duncan, and J.S. Fields
Lofty Mountains
Word Count: Information not available
Summary: In a world where infants with magical powers are torn from their parents to be raised exclusively by the mysterious and powerful Danisoba, Kestrel has managed to keep her abilities concealed--and herself free. She hid when they killed her parents, lived as a street urchin in back alleys, and then served as a young tavern maid before escaping to sea, where magic is canceled by water. Now an adult and quartermaster of a pirate ship, Kestrel loves the freedom of living on the seas. But her way of life could end if anyone on board learns her closely guarded secret--that she has magical control over the wind. One day a black ship appears, and her life changes. Its captain is a handsome rogue of whom Kestrel is strangely, constantly aware. When Kestrel's captain is led into a trap and is arrested, Kestrel gathers her crew and sets sail in relentless pursuit.
Mad Kestrel
Word Count: Information not available
Summary: Captain Marta Ramos, the most notorious pirate in the Duchy of Denver, has her hands full between fascinating murder mysteries, the delectable and devious Delilah Nimowitz, Colonel Geoffrey Douglas (the Duke of Denver's new head of security), a spot of airship engineering and her usual activities: piracy, banditry and burglary. Not to mention the horror of high society tea parties. In contrast, Simms, her second in command, longs only for a quiet life, filled with tasty sausages and fewer explosions. Or does he? Join Captain Ramos, Simms and their crew as they negotiate the perils of air, land and drawing room in a series of fast-paced adventures in a North America that never was. Murder on the Titania and Other Steam-Powered Adventures includes 4 novellas and a short story about piracy, banditry, burglary, jail-breaking, several brilliant bits of detective work and all manner of otherwise lawless hijinks performed by the valiant Captain Ramos and her crew. Murder on the Titania: Colonel Geoffrey Douglas, the Duke of Denver's new head of security, is drawn into a high society murder mystery on the Airship Titania. None of the passengers are quite what they seem, including the mysterious young woman who always turns up where she is least expected. The Curious Case of Clementine Nimowitz (and Her Exceedingly Tiny Dog): A simple burglary goes horribly awry when Captain Ramos and Simms stumble across a dead body, a small dog and the deceased's heirs, the noisome Morris and the rather too interesting Delilah. The Jade Tiger: A mysterious woman enlists Captain Ramos's aid in getting her revenge on her former employer and Captain Ramos finds herself doing an unintentional good deed. The Ugly Tin Orrery: Captain Ramos and her crew embark on what appears to be a perfectly ordinary train robbery, only to be drawn into the Duke of Denver's political machinations via a strange metal artifact. Throw in a spot of jail breaking and an encounter with the lovely Delilah, and it's all in a day's work for Captain Ramos and Simms. The Flying Turk: The Airship Titania is entering a new era and welcoming its first automaton pilot. Or, perhaps not. Captain Ramos and Simms are back aboard the Titania for a heady mix of murder, robbery, peeved scientists and oblivious peers, with a spot of engineering thrown in.
Murder on the Titania and Other Steam-Powered Adventures
Word Count:

78,500
Summary: In the 23rd century, spaceships just don't go missing. FBI agent Ray Volk is assigned to a task force to investigate a tragic accident: the disappearance of interplanetary passenger liner ValuTrip Cardinal, carrying 500 souls between Mars and Earth on a routine run. What looks like a cut-and-dried case of pressure loss is complicated by the arrival of a Martian Captain. A very cute Martian Captain who keeps sticking his nose in Ray's investigation. Martian exchange student Kelly Rack knows the disappearance is no accident. She survived the ships' hijacking, but learns the former cruise entertainer leading the pirates has plans for the passengers, and they don't include sightseeing. Kelly has avoided the murderous pirates, except now an off-duty Earth Commander insists on organizing resistance for the passengers. She forces Kelly to climb through service tunnels on sabotage runs, risking capture and death. Can Ray shake down the right accomplices to capture the good ship ValuTrip Cardinal before its new captain spaces everyone on board? Will Kelly discover the pirates' hidden plans for their prisoners? The race is on, because One of Our Spaceships is Missing! Genres: Space Opera / Military Sci-Fi / Science Fiction / LGBT and Non Binary Market: Adult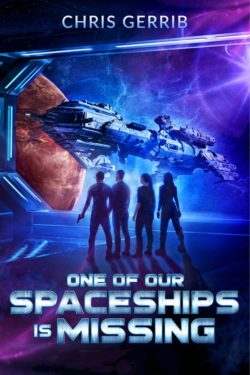 One of Our Spaceships is Missing
Word Count:

36600
Summary: Undercover agent Liam Connell stared at his captor.  He looked like a pirate from a holovid— black trousers, a white, puffy-sleeved shirt, and a purple sash wrapped jauntily around his waist. Wavy black hair fell to his shoulders and ... Connell couldn't believe it.  He actually had gold hoops hanging from his ears. The pirate ran his forefinger lightly down Connell's cheek and smiled. "Mmm! Mmmm! What do we have here?" Just what had Connell gotten himself into? (M/M Romantic Sci-Fi) Word Count 36,600
Pirate
Word Count:

66000
Summary: Introducing a thrilling new space opera adventure! When a Martian politician is kidnapped en route to a summit of leaders from the Asteroid Belt, events are set in motion which will change the face of the Solar System... Katia Miranova believes in a free Belt. She's lived her entire life on Vesta, and she'll be damned if she lets a bunch of Earthers tell her how to run her station. But when Earth makes its move, Katia begins to suspect there's something more sinister at work behind the scenes... On the distant edge of the system, Francis Drake is a washed-up hack drowning in a bottle. He's seen the face of the enemy and he ran from it. But Drake is about to be dragged kicking and screaming back into the middle of a war for the very future of humankind!
Revolt on Vesta
Word Count:

72000
Summary: Go big or go home. For privateer Captain Magdalene Landon, it's all about going big. For Kay Ellis, it's about getting home. Together, they're about to architect the most daring heist in the galaxy. Kay knows too much. She knows it's a matter of time before a Conglomerate hitman finds her. She's desperate for safe passage back to Union space. Then Magdalene shows up, promising a way home in exchange for that information. It's a risky bet, but Kay is out of options. So she strikes a deal: the heist of the century for her freedom. Kay is playing a dangerous game, and she knows it. She's made herself Enemy Number One of the Conglomerate. She's relying on privateers for her safety. It's a fool's game. But the worst part is, her fool's heart is starting to warm to the enigmatic captain. And that's a risk for which she hadn't planned. (Cover by May Dawney Designs) 2019 Sci-Fi Lesfic Bard award winner
Safe Passage
Word Count:

149,000
Summary: Peridot is headed for its second cataclysm. War has broken ancient alliances, sealed borders, and locked down the skies. The Five, Peridot's alchemist gods, have seen one of their number die and another fall in their efforts to protect their world from invaders beyond the stars. Defeated and diminished, they have ceased to answer the prayers of their people and have left the rapidly unraveling world to fend for itself. Talis and the orphaned crew of the lost airship Wind Sabre have a plan to set things to rights, but they're stranded on a rock far from the heart of the conflict. When an old enemy comes and offers them a ship and a path forward, it comes with strings that will pull them further from the home they are so desperate to save. Can Talis and her crew chart a course through hostile skies, shifting allegiances, and subverted governments before the true enemies of Peridot claim a power that can destroy the world once and for all?
Salvage