Word Count: Information not available
Summary: Step through a portal in time - and steal a piece of history! Iria and Madge, witches extraordinaire, have summoned Joshua Norton I, self-declared Emperor of the United States, back from the nineteenth century to help them save the city of San Francisco from a demon of greed. Mammon, their infernal adversary, is running a real estate scam to end all real estate scams, and he's got his own helping hand from the city's past: Etta Place, famous in her day as the accomplice of Butch Cassidy and partner of the Sundance Kid. As Norton dodges mafia foot soldiers alongside another of San Francisco's larger-than-life figures from yesteryear on the fog-shrouded streets of Chinatown long ago, Iria and Madge find themselves face to face with Mammon and Etta in modern day - and trapped in very different timelines. It'll take all their ingenuity, bravery, and prowess to fix time itself, steal the prize, and get these three heroes back together!
All the Pomp of Earthly Majesty
Word Count: Information not available
Summary:
Withrow Surrett, cantankerous vampire lord of North Carolina, is passing the long winter nights of the off-season in the sleepy resort town of Sunset Beach. When the nights are long and humanity slumbers, where else would a vampire go but the beach? This is no mere vacation for Withrow and his cousin Roderick, though. They're hunting down a nest of nasty elder vampires who want to take over the world!
Of course it's not that simple, because for Withrow nothing ever is. Withrow and Roderick - and their team of frienemies, rivals, and allies - soon learn there are stranger things afoot than vampiric machinations among the dunes of Sunset Beach: mysterious mortals, twisted sorceries, and fleeting apparitions. Through sabotage, espionage, and bare-knuckled brutality Withrow must find and stop the elder vampires before they play the ace up their sleeve!
Kick back in the sand with the fourth installment of this vampire and urban fantasy series, perfect for fans of Rick Gualtieri, Jeff Strand, or Christopher Moore.
Attempted Immortality
Word Count:

128000
Summary: In the wake of a worsening climate crisis, magic runs rampant and demons roam across the Canadian prairies. A long-dead god stirs in the Pacific Ocean, while the wilderness is choked by invasive, screaming grass. The Cascade has shattered political stability, leaving a scandal-plagued government clinging to power in Ottawa. As catastrophe looms ahead, a precognitive rainman, Ian Mallory, stands between run-of-the-mill corruption and a nightmarish, dystopian future. It is up to a diverse and unlikely band of activists, scientists, journalists, and one underpaid, emoji-spell wielding intern to save their beleaguered country from its own worst impulses
Cascade
Word Count: Information not available
Summary: I didn't think things could get worse… …but people started dying, and it was my fault. At first, I thought someone was playing a cruel trick on me, but that didn't explain the bizarre truth that defied scientific explanation: I had unwillingly become part of something ominous and evil. I'm not the kind of guy who cries often, and I'm certainly not a killer. I wouldn't even wish death upon my worst enemy, if I had one. But after losing two of my closest friends, I questioned my morals and beliefs: could I kill to survive? I didn't have time to mourn because I needed to discover where I fit in the supernatural world of Vampires, Lycan, and Spellcasters. If the crazy old priest and the Fae were right, then my place is second only to Lucifer Morningstar himself. Children of the Sun is the third book of The Snakeheart Series (Season 1), a supernatural novella series about Dante Coranguis and the ancient prophecy of the End Times.
Children of the Sun
Word Count:

22277
Summary:
Witch's corpse. Witch's ticket. Witch's party.
As a counter-boy at a high-end men's boutique, Charlie Jessup's life consists of little more than work and sleep. That, and enough flirting to help guarantee his commission on sales will pay his rent. So when a twist of fate, and some behavior unbecoming that of a Ganymede employee, leaves him in possession of a dead man's pass to a mysterious Club 669, Charlie has no desire to waste it.
Every seventeen years, the House of Witches throws a party like no other. It's invitation-only, and for centuries it has helped ensure peace between the covens. It's the last place Caspian wants to be, but with the death of Queen Avel, and his own imminent rise to the throne, it's more important than ever that he attends. The stability of the House depends on it.
In four days a new king will be crowned, but when Charlie unintentionally crashes a gathering of the most secretive of all the Great Houses, he sets in motion a series of events that could disrupt the transition of power, and threaten the future of the House of Witches forever.
Club 669
Word Count: Information not available
Summary: Eclectic, imaginative, and unexpected, Community of Magic Pens features forty genre-spanning flash and short stories--including fantasy, humor, science fiction, romance, historical fiction, satire, and mystery--bringing together a rich group of diverse voices from a wide range of backgrounds and intersections. Fountain pens, markers and ink, charcoals, spy pens, a braille writer, a printing press, virtual reality, and a supernatural pizza: whether revealing unspoken truths, fighting injustice, or finding friendship and love, our pens have power. Join us as a recent graduate of superhero school struggles to understand her gift, a disabled android interviews for a job, a queen's conscripted artist must pull reality from illustrations on parchment, and a grandmother's secret room is…better kept a secret. Tales of struggle and triumph, compassion and hope: Community of Magic Pens is a celebration of our shared story.
Community of Magic Pens
Word Count: Information not available
Summary: Lucifer has been waiting for me to awaken… …and now I welcome the growing darkness inside me as I become who I'm meant to be. The Vampires are afraid of me, the Lycan want to disembowel me, the Spellcasters want to harvest my power, the Fae want to control me, and the Roman Catholic Church wants to murder me. The Soul Hunters… well, who knows what they want with me. I've never been on the run from anyone before, but after I started running from the Devil, I decided the only way to survive was to run back to him and embrace the evil power within and claim my destiny. My name is Dante Coranguis, but you might know me as The One, the Herald of Satan, or the Antichrist. From here on out, you can call me Snakeheart, the most feared man throughout the ages. Darkness Awakens is the sixth book of The Snakeheart Series (Season 1), a supernatural novelette series about Dante Coranguis and the ancient prophecy of the End Times. Get it now.
Darkness Awakens
Word Count:

110100
Summary: Nate's no supernatural expert, but even he knows a murdered man coming back to life to kill him can only mean one thing—the necromancer is back and out for revenge. Recruited by Department Seven in a desperate attempt to stop Peter before he claims new victims, Nate quickly realizes he's in way over his head. His powers are failing him, he's haunted by Peter's ghost, and he can't even remember how he stopped Peter the first time—or why he feels that someone very important is missing from his life. Ben is fighting for his afterlife. Trapped in the supernatural version of solitary confinement, he knows freeing himself will destroy New Camden's fragile peace—but what choice does he have? The longer he spends in his magical prison, the harder it becomes to resist his inner vampire. But if Ben wants to help Nate prevent Peter taking over the city, he has to prove himself to his sire—Saltaire, a thousand-year-old vampire with no qualms about using his immense power to suppress Ben's free will. As the casualties mount and the city descends into chaos, Ben and Nate must overcome their worst fears and impossible odds—or be written out of existence entirely.
Dead Wrong
Word Count: Information not available
Summary:
Durham, North Carolina has industry, commerce, fine universities, a world-famous baseball team, technopagans, vampires, and its very first superhero and supervillain.
As Withrow Surrett, self-declared vampire lord of North Carolina, digs in to see what's up in his own back yard, two mortals - The Bull's Eye and El Diablo - make headlines fighting crimes and committing them. With the help of friends old and new, Withrow has to track down both hero and villain before his city decides to go looking for even weirder things that go bump in the night!
The fists fly fast and furious in the third installment of this vampire and urban fantasy series, perfect for fans of Rick Gualtieri, Jeff Strand, or Christopher Moore.
Deal with the Devil
Word Count:

112,000
Summary: Where does magic end and love begin? ​Oliver Evans spent his youth spinning one tall tale after another until it got him over his head in trouble. Now he has returned to his grandmother's cottage in Aberdaron, determined to put his past behind him and settle down. But the misty Llŷn Peninsula hides dangerous secrets and Olly is torn between the Longing, a powerful force driving him away from the only home he has ever known, and the growing conviction that the prince of his childhood make-believe is real and in need of Olly's help. There is more truth in Olly's stories than he realises. If he is to have any chance of righting past wrongs and rescuing his prince, Olly must navigate the truth in his old stories and discover the magic right in front of him. But Olly has a powerful enemy on the ​Llŷn, an ancient king who would like to end Olly's story-telling permanently. Written for the M/M Romance Groups 2015 Don't Read in the Closet event, Deep Magic was produced with the support and effort of members of the M/M Romance Group. You can find out more about the event and discover hundreds of other free stories here. Cover art produced by Bree Archer. Deep Magic does contain adult material.
Deep Magic
Word Count:

107884
Summary: Julian Gypsun used to be a young man on his way to becoming a contractor. Everything changed when he died and was resurrected as a wizard's familiar. He was immortal and far better off physically than he had been as a human. Still, he was trapped with his life chained to a giant of a wizard who had no problem abusing him in every way imaginable. Julian was powerless to stop it without ending his own existence. That is until he was yanked bodily through his own portal, transported to Draoithe, and assigned to babysit the visiting dignitary, Amazon Warrior Princess Zephyra, and try to convince her that her people should ally themselves with Luke and Draoithe. That sounded easy, but it wasn't. He liked her. He had no clue how to act on that. Best to avoid that altogether. Keeping her safe just might equal his death. (Please see her warrior princess title.) She was old and so far out of his league. Worse, she liked him and was determined to have him. He can't even consider that. She has no idea how broken he really is.
Draoithe: Midnight Magic
Word Count:

135408
Summary: Alexio Asmodai is the demon king of Eaglafonn, a small outpost kingdom in the Netherworld overruled by the Demon Lord Asmodeus. It is Alexio's responsibility to protect and police the frontier borders against any threats. He is an accomplished knight, so that part came easy. Eaglafonn is a cold and isolated kingdom. Alexio needed to stay and build his castle atop the hot springs to beat an addiction to seduction sickness. After over seven centuries, he thinks his loneliness has finally come to an end when he opens a crate to find a woman sent by Asmodeus for him to keep safe. He falls for her instantly. She is a human woman, fragile, timid, and irresistible. He must follow his liege's directive, convince her to become his queen, and see that she is cared for properly in a place that is inhospitable to her existence. This leads to a realization that his castle lacks a lot to be a first-class home for a lady. Can a tainted demon prince rise to the challenge to become a true king and win the woman who stole his heart? Dread Allies 7-14 The Shadow king of Eaglafonn has chosen his queen, but his castle lacks the feminine element. To make her more comfortable, he orders the demon princes to seek out and claim their own mates. That is easier said than done. Eaglafonn is a cold dark isolated kingdom in the Netherworld. It might be easier to claim mates from the Domhain, but not everyone could survive on the brutal dangerous frontier. The other options afforded from the Netherworld come with their own dangers. The magic is unbalanced and balancing comes with a price. Claiming their mates lead the demon princes on epic mini journeys and reveals the need for Eaglafonn to take a greater role in helping Luke aid the dream. Dread Allies is a miniseries set in the Netherworld in the dream. It is an ancillary group of stories to the Draoithe saga. While it is set in that world, it is not in the direct series lineup. The dream just got darker and colder. Welcome to Eaglafonn.
Dread Allies: Shadow King
Word Count:

130600
Summary: Cursed with fearsome eyes and a dangerous gift, any chance of Damian Sires having an ordinary life was dashed the moment she was born. All her life, she has hidden her abnormalities and fought for acceptance behind the shadow of a veil and her respected merchant father. When Damian's power spirals out of control and casts her out alone into the world, she finds herself caught up in plots as old as the gods themselves. Bitter exiles, deposed nobility, clandestine knights, and a divine being with an ancient grudge all close in on the unstable power radiating from Damian. Desperate to keep that power contained, she sets out with mysterious allies in an attempt to find someone who can help her in a world that fears magic. Yet the source of Damian's ability is far more deadly than she imagined.
Enduring Chaos
Word Count: Information not available
Summary: In a town where a vampire's bite is the hottest drug on the market, one user gets more than they pay for when a feeding turns deadly. Tobias has loved Lucie for as long as he's known the owner of the bookstore he works at, and she seems to like him too. There's a problem, though. It turns out his boss has a boyfriend--a vampire that bites for pay. What starts out as a friendship between the three grows into something infinitely more complicated when Tobias becomes the latest victim of another local vampire. 25 page Novella
Falling
Word Count: Information not available
Summary: What happens when a Highland witch falls for the Loch Ness Monster? When Cam Walker, the last remaining Witch of the Highlands, heads to Loch Ness to investigate a potentially dangerous monster, the last thing he expects is to wind up working with that monster… let alone be attracted to him. But the friendly, cheerful Lachlan is hard to resist, and turns out to be a powerful ally in the hunt for the real monster behind the killings around Loch Ness… M/M paranormal romance with a sweet relationship and medium spice. This novella is the first in a trilogy following the same characters: it has a HFN conclusion and NO cliff-hanger!
Finding Nessie
Word Count:

41000
Summary: When a satanic wizard runs the insane asylum, nobody believes the inmates, even when they're sane. Jonah is entirely normal in every respect but one: whenever he's frightened he turns into his evil alter ego, Maldeus. When Jonah discovers Maldeus is working with the asylum doctor to sacrifice women on a giant pentagram, he's thrust into the middle of a diabolic plot involving occult magic, invisible people, and a perverted, sex-crazed blue demon! Will he keep his wits about him as he pretends to be Maldeus and stop the rise of Satan?
Five Maidens on the Pentagram
Word Count:

134000
Summary: Taste the magic of the gods! Sisters Kisare and Belili uproot an ancient box in their owner's orchard and find a miracle inside: a fifth godfruit in a society that knows only four. It is punishable by death for non-nobles to eat godfruit, so the sisters hide the discovery and plot to escape servitude for good. With the power represented in the box, they could live as nobles themselves. But Kisare finds her new freedom more difficult than she imagined, and Belili has many secrets she strives to keep hidden. With the help of a people slowly losing their culture and technology to the powerful nobles, the sisters lead an infiltration of the highest levels of noble society. While Kisare finds she cares for the captured leader of the people helping them, Belili comes to love her noble suitor's guard—a fierce woman with a similar past to her own. In the end, the fifth godfruit may bring harmony to the world, but the sisters' only hope of succeeding lies in deciphering ancient mythologies surrounding the gods' original plan for their people.
Fruits of the Gods
Word Count:

80,350
Summary: The sun and moon have been devoured by the cosmic wolves Skoll and Hati. Fimbulwinter has enveloped the world in the cold and darkness. Men prey on each other in order to survive. Amid the chaos, in the struggle for the throne, comes a war between brothers. Hakon, the illegitimate heir to the throne of Norveig, has obtained a horn that can summon a terror from the depths of the ocean. This monstrosity has been sinking the vessels of his half-brother, Jarl Erik Bloodaxe. Erik sends a company of untried heroes to infiltrate Hakon's stronghold and steal the horn. As with all things political, there are other agendas. Fjorn, the leader of the team, is Erik's half-brother who could challenge Erik for the throne. Erik's wife Gunnhild is a powerful sorceress with her own ambitions- could her goals derail the heroes? In life, sometimes a Jarl wins, and other times a Jarl wins.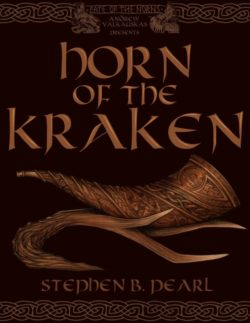 Horn of the Kraken
Word Count:

99000
Summary: Gavin Booker, a school librarian at Cooper Road Elementary, Raleigh, Northern Carolina, leads an orderly, normal life. Work, jogging, friends from work, his son every other weekend. Gavin is also a secret. He is a hybrid, or part-fairy, and in the Columbian Empire, hybrids are under an automatic death sentence. Magic is illegal. So is loving another man, another capital crime. Fairies are locked away in ghettoes, magical beasts, such as gryphons, unicorns, and pegasi are kept in zoos. The others, the tree and water spirits, the talking beasts, fauns, and the rest, are in hiding. This is the world in which Gavin grew up. He survived, thanks to his mother. He can never forget he is different: ministers preach against people like him constantly; hating the other is a part of every school's curriculum. But now, things are changing fast, and apparently, for the worst. Earthquakes, volcanoes, killer storms are all frequent occurrences. The medicine Gavin takes to suppress his body's glowing, isn't working. The spells cast by his doctor, a witch, are losing their power. If anyone finds out what Gavin is, he is dead. Under threat, the Empire always goes after its marginalized people. Can Gavin survive the coming catastrophe? Will he ever recover from losing the boys he loved? Can he find the fairy man who has haunted his dreams all his life before it is too late? Can his scarred heart ever heal?
In Light's Shadow
Word Count:

115000
Summary: Battles and adventure crisscross the Viking Age! From monumental sea clashes to beleaguered mountain strongholds to war with the tribes of Eire, circumstance drives the scattered Agneson clan across the known world. And beyond the lands of Midgard, mythic hidden folk challenge our forerunner hero. The award-winning Forerunner Series epic continues…. Fleeing an arranged marriage, Kara escapes across the narrow sea to follow her warrior dreams. Escaping slavery, Cub joins Rollo's horde in Britany, while his outlawed brother Sorven fights for survival in the Welsh mountains. Uncle Karl and his warriors rally to Harald Tanglehair in his ambition to unify the wild kingdoms of the North Way, and young Thorfinn is left behind, safe and secure in a tiny fishing village... or is he? Kara gains her place in king of Dublinn's ranks to prove her mettle, but being a warrior is not what she expected, and what of these new feelings she finds for her closest companion? Will Karl and his crew perish in the great battle of Hafrsfjord? And how will an unprepared Thorfinn survive kidnapping by an 8-armed giant, leaving behind worried friends and a very angry dragon? Don't miss this 5-star epic fantasy critics are calling "whimsical and gritty," with "fabulous, engaging characters." If you enjoy the history of The Last Kingdom and Nordic myths and legends, the Forerunner Series is a grand tale not to be missed!
Kara Shieldmaiden of Eire