Sassy's Story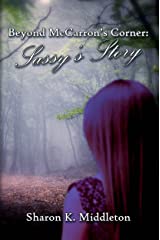 Sassy and Owen Winslow were historical experts on the Revolutionary War and the Culpers, Washington's spy ring. After her husband dies unexpectedly, Sassy struggles to find new meaning in her life. When she goes exploring in the Cohutta Wilderness, she falls through a hole in time, and finds herself in the Indian Territory in 1778, falling in love with Big Sexy Will Selk.
Will Selk, one of Washington's spies, falls in love with the spunky widow who came to live at McCarron's Corner after her husband's death. When he learns she came from Beyond, both Will and the Commander-in-Chief are eager to pick the historian's knowledge of the American Revolution – and in the process, Washington identifies the Culper Ring's Madame X, who turns the tide for the patriots to win the war when Sassy provides vital information.
Published:
February 18, 2018
Publisher:
Black Rose Writing
Genres:
Tropes:
Beyond the Grave Communication, Black and White Morality, Time Travel
Word Count:
100000
Setting:
United States
Languages Available:
English
Series Type:
Same Universe / Various Characters
Tropes:
Beyond the Grave Communication, Black and White Morality, Time Travel
Word Count:
100000
Setting:
United States
Languages Available:
English
Series Type:
Same Universe / Various Characters
Excerpt:
It is said that grief never ends, but it changes.  It is a passage, not a place to stay.  Grief is not a sign of weakness, nor a lack of faith.  It is the price of love.
READ MORE
My name is Sarah Alinora Winslow.  My family has called me Sassy as long as I can remember.  They called me Sarah Alinora if I was in serious trouble.  I am 34 years old.  My husband died a few months ago.  He just turned 50.  We were married 14 years.  We both worked hard, and we saved a lot during our marriage, so that we could buy a lake house near my brother and his family, who live in Kennesaw, Georgia, just outside of Atlanta.  We were so excited to buy that house at Lake Allatoona, 20 miles away from Jim and his family.  Owen bought his boat he had talked about for years, and was thrilled that we had found the house we wanted, for when we retired in a few more years.  Our son, Rick, would be living there while he attends Med School at Emory.  We had been moving the first load into the house, when my damned husband had a heart attack, and just had to up and die.
Wasn't' that just like a man?
I was so ready for this desolate time in my life to change.  to move on to the passage to the next stage in the grief process, for the movement to the next phase in recovering.  Because when all is said and done, grief sucks.  It hurts like hell.
Maybe I was better.  Maybe I was progressing.  I knew I was going through the passage.  Some days, I felt like it was the slow boat to hell.  But then, change is not always pleasant, especially secondary to the death of someone loved as much as I loved Owen.  I just knew I was ready to stop hurting.
My Owen was dead, and I was struggling to go on.  Breathing was hard.  I hurt.  I know that grief is said to be love's unwillingness to let go.  he was missing from me.  Right now, thinking about life without him was almost unbearable.
COLLAPSE
Reviews:
Elaine L.

on

Amazon

wrote:
This book is a good mix of history and fantasy, in that it's a "hole-in-time" that the main character, Sassy, falls into. Unlike Alice's rabbit hole, this makes a lot more sense. The story captures the history of the Revolutionary War and some real and fictional characters both. I enjoyed the vivid descriptions in parts of everyday life in colonial times; I could smell the burning, acrid scent of lye soap, see the red hands it caused. I enjoyed visualizing the fields of corn, okra, tomatoes, and how they were harvested and preserved. And the clothes came to life as well: the women's loose caps, aprons, fabrics of muslin, men's breeches. Some fascinating scenes move the story of Sassy and her new love forward. Oh yes, this reader is thankful for modern day maternity care; hard to imagine Sassy giving birth to not one, but two twin boys with a couple of Redcoats downstairs. Recommended for readers who enjoy this period of history and lively characters.
John Hazen

on

Amazon

wrote:
It is not an simple task to write a book that encompasses two or more distinctly different historical eras, especially if the author wants each of those times to be believable. Sharon Middleton does this with ease. It is obvious that she has done her research and is well versed not only on the history of the American Revolution but on the culture and practices of that period. She also does a wonderful job of weaving in historical figures, people many of only know as myth-like figures, making them the flesh and blood human beings that they really were. I'd often wondered how we actually won that war, given how the odds were stacked against us. Author Middleton gives an unexpected explanation that will be sure to surprise!
One person found this helpful
LadyAilith

on

Amazon

wrote:
Loved, loved, loved this book. I don't remember how I came across it but I'd been looking for something to get me through Droughtlander (the dead time between both Diana Gabaldon's books and the next season of Outlander). Somehow this story fell into my lap.

When I started it I was quite pleased - I'm interested in history and Sassy and Owen spent time in Colonial Williamsburg, a place I hope to someday visit. When she fell from one time to another I was quite surprised. Still pleased, but surprised. I read a bit more and was thrilled with the story. Sassy really has some spunk! I can hardly wait to read the next book in the series.
Daniel Oliver

on

Goodreads

wrote:
Author Sharon Middleton mixes time travel with romance in this steamy story about Sassy, a history buff who ends up in the exact place and time where her expertise lies. Middleton's extensive knowledge of Colonial America is evident as she intricately describes the way of life of all those who lived in this era. She takes the reader on a tour of Native American cultures, Colonial life (the working class and the plantation owners), and the founding fathers of the United States, including Washington, Franklin, and Jefferson, among others. With her knowledge of what will happen in the near future, Sassy must learn to blend in as well as make sure that the Colonies gain their independence. The suspense as to whether she will disrupt the history of the fledgling Colonies or not is strong. It takes the reader to an exciting and unforgettable end.
Christy Cooper-Burnet

on

Goodreads

wrote:
This book is historical fiction at its best. The detail was phenomenal, the world-building and wardrobe descriptions made it possible to really imagine you were there! The story is rich in historical facts, but has enough imaginative fiction to engage readers who like a little adventure and romance.
Sophie

on

Amazon

wrote:
Very well written!! The author has captured the period and written a romance in that time with accuracy!! Cannot wait for the next book from Sharon Middleton!!!!! I think she is going to rival Clive Cussler's books in my library of favorite authors!!
In the first book, Sassy goes back in time to find her destiny.  In subsequent books, people may go back in time (Before) or forward in time (Beyond) depending on their destiny.  Remember, these are romance time travel.   It won the 2018 Pencraft Award for Historic Romance.