A Cadicle Space Opera
by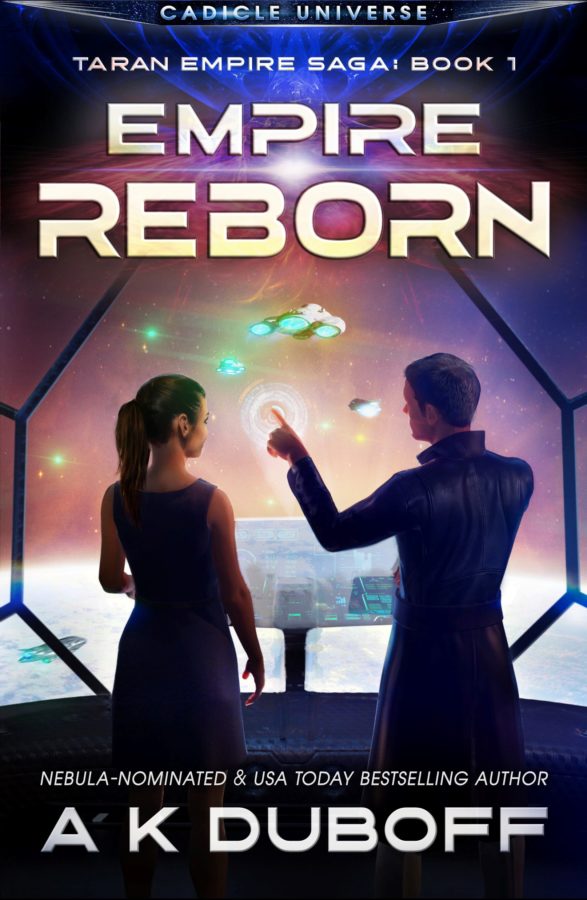 Editions:
Kindle

:

$ 3.99

ISBN:

B08XYF7QY7

Pages:

427
Paperback

:

$ 16.99

ISBN:

1954344198

Size:

5.25

x

8.00

in

Pages:

425
Hardcover

:

$ 19.99

ISBN:

1954344201

Size:

5.50

x

8.50

in

Pages:

384

Break the treaty, be destroyed.
We forgot.
Now we pay the price.
Jason Sietinen lives in the shadow of greatness. He's worked hard to become a TSS officer in his own right, but having war heroes for parents is hard to top.
When Jason is assigned to investigate a mysterious attack, he finds evidence of powerful transdimensional beings never before seen. Or so he thought.
Jason soon learns that critical information was lost through the millennia: Tarans had an ancient treaty with the aliens. Unfortunately, rogue actions by a shadow faction within the Empire just broke the peace.
With the future of the Empire hanging in the balance, Jason must find a way to unite the Taran worlds, including the lost colony of Earth, against the mounting threat. There's just one problem: how do you fight an enemy you can't see or touch?
Perfect for fans of epic sci-fi featuring sprawling galactic empires, drama, intrigue, and psionic abilities, Empire Reborn is the first book in the Taran Empire Saga, a new entry point to the bestselling Cadicle Universe.
Published:
March 19, 2021
Publisher:
Dawnrunner Press
Cover Artists:
Genres:
Tropes:
Aliens Among Us, Aliens in History, Astral Projection, Benevolent Aliens, Conspiracy, First Contact, FTL, Galactic Civilization, Humans Evolved From Aliens, Interstellar Travel, Lost Civilization, Psionic Powers
Word Count:
109,500
Languages Available:
English
Series Type:
Continuous / Same Characters
Tropes:
Aliens Among Us, Aliens in History, Astral Projection, Benevolent Aliens, Conspiracy, First Contact, FTL, Galactic Civilization, Humans Evolved From Aliens, Interstellar Travel, Lost Civilization, Psionic Powers
Word Count:
109,500
Languages Available:
English
Series Type:
Continuous / Same Characters
The Taran Empire Saga is set in the larger Cadicle Universe. Read more at www.cadicle.com