Treasures Retold Vols. 10 - 12
by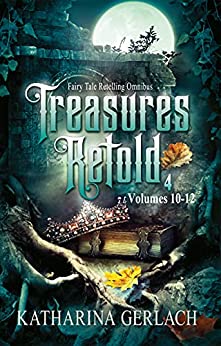 A tomcat fights for freedom, a devil seeks justice, and the youngest zarewna doesn't want to go to hell…
Once upon a time there was magic. But even in fairy tales, time does not stand still. From mechanical gadgets to steam-driven machines, new inventions clash with old powers.
Puss in Boots fights against the bonds that enslave him, the Devil With the Three Golden Hairs struggles with local customs for a legal trial, and the Sisters with the Glass Hearts must end a feud before they fall prey to a demon. Will magic be their salvation? Or technology? Or will both only create more havoc?
Find out how your favorite fairy tale characters survive in a world where technology suppresses magic, buy these retellings.
The book includes all adaptions with their bonus stories and original fairy tales from 'The Inheritance', 'The Talk Show', and 'Obsidian Heart' as well as a brand new fairy tale retelling and its original.
Published:
May 19, 2021
Genres:
Languages Available:
English
Series Type:
Same Universe / Various Characters