Word Count:

25000
Summary: Exiled to Earth for perhaps the worst failure in Irasolan history, General Teer must assimilate or die. Earth is too warm, too wet, too foreign, but he does the best he can even though human males are loud, childish louts whom he can't imitate successfully. When a grieving seaplane pilot strikes up a strange and uneasy friendship with him, he finds he may have been too quick to judge human males. They are strange to look at, but perhaps not as unbearable as he thought.
A Christmas Cactus for the General
Word Count:

26000
Summary: Being an OIL (Onsite Inter-species Liaison) for the Interplanetary Multispecies Pact has never been an easy job. In fact it's a crap job when stuck on a backwater nowhere planet like Earth. But cobra Yervath Sissal Naganos manages. The demotion was swift and heavy-handed, but he'll climb back out of this hell eventually. Humans don't meet his social needs, so, yes, it's been lonely and he tells himself he likes the solitude. That is, until IMP sends him an irritating  new assistant he never asked for. Now his peace is well and truly disturbed and his paranoid diplomatic reflexes have reawakened. The worst part is the kid didn't have to be so cute.
A Message From The Home Office
Word Count:

115000
Summary: Aaron Okonkwo, a Nigerian scientist, travels with a crew in the 24th century to evaluate Viridis, which proves to be a beautiful and fabulous world. There, Aaron discovers a strange, alien species and amazing machines and technology left in a vast underground complex by a mysterious race called the Creators. Aaron soon falls under the irresistible, seductive spell of Nightsong, a green alien female with ominous and bewitching powers. However, an even greater danger rises. He will be forced to fight for the planet's survival against a ruthless invasion of many ships to conquer and enslave the planet – just as Africa itself was once enslaved. Aaron knows it's A Senseless Act of Beauty to try to reclaim his ancient warrior heritage and fight back against such overwhelming odds, but he knows he must try.
A Senseless Act of Beauty - John B. Rosenman
Word Count: Information not available
Summary: Collection of twenty-two short fantasy and science fiction stories. A wizard seeking an apprentice won't take no for an answer, and a would-be apprentice attempts the impossible to find a mentor. A twin discovers her sister's new job is a lot different than she expects. And what's the deal with the cat whiskers?
Agents, Adepts & Apprentices
Word Count:

77000
Summary: There are worlds out there with a past. A past that is only poorly understood. The Song worlds are in that category. What are they? Why are they? What do they tell us about the rest of us? Should we investigate them or should we avoid them? What if our world was visited by the Song? Maybe that is not strong enough. What if ours is the result of a visitation by the Song. More to the point, what if they achieved what they wanted with us? What if it all went wrong? What category does the world of Forest come under? The inhabitants there only number a few thousand and they face numerous perils. Were they ever visited by the Song? Shanlee the story teller has been given the world to investigate. What is she in for? She has other things on her mind. She left the love of her life behind when she took this investigation on. Will she be waiting for her when Shanlee returns home? If she returns home? The people of Forest, the Kekimelu, have been deserted by their spirits but have not lost their beliefs. A young song writer decides he is going to ask the Song's representative on Forest some hard questions. The answers he gets may not be what he hopes for.
Air Song
Word Count:

44756
Summary: After Adil and Esihle met on a space station orbiting alien refugee Esihle's home planet of Yalaphor, their relationship of lust and intensity gradually blossomed into love. Now on Yalaphor, the two care for Sehthe, a young girl who has been orphaned by the same war that cast Esihle out of his home. To keep their new family safe, Esihle and Adil must come face to face with the worst of Yalaphor, each other, and themselves. This heartfelt follow-up to Storm Caywood's debut novella Alien Hands is emotional and sexy, exploring how two beings from different worlds fit together and forge a life together while facing extreme obstacles. Alien Eyes continues a story of redemption and love as it moves from sparks flying on a space station in isolation to domestic life on another planet.
Alien Eyes
Word Count:

30884
Summary: Adil Raif is a relief-effort doctor on a space station orbiting a war-torn planet. Disconnected from life on Earth, he's looking for sex, adventure, relief from boredom--anything but love. Esihle Queran is an alien refugee on the station who never tells the whole truth. He's given up on ever returning to his planet, and knows that love is for other, better men. But then, the two meet... Adil and Esihle's relationship is one of intensity and lust. Can they find their way home together?
Alien Hands
Word Count: Information not available
Summary: It's her first job...and it's already going wrong. Freshly graduated from university with a degree in engineering, Crystal approaches her placement on the wormhole-constructive ship Crossing Paths with nothing but enthusiasm. But while Crystal gets used to the ins and outs of a multispecies, multicultural ship, tension brews both at work and back home. Not murdering her coworker Jai is hard enough; the last thing she needs are the terrifying errors cropping up on her maps. Reality and space are either tearing themselves apart - or someone else is attacking them. With conspiracies lurking everywhere, friendship won't be enough to see her through these dangerous new problems... Fans of Becky Chambers' Wayfarers series will enjoy this sometimes joyful, sometimes dark personal adventure set in a world of politics, bureaucracy - and piracy.
And The Stars Will Sing
Word Count:

67000
Summary: Androids & Aliens is Scott's third short story collection - eight sci fi and sci-fantasy shorts that run the gamut from cyborgs to (comedic) alien invasions: Rise: The rise in sea levels caused by climate change swallowed Venice beneath the lagoon half a century ago. But what if we could bring it back? Ping: I was a real estate agent by day, and a museum curator in the evening at a sci-fi museum. What I saw one night changed everything. What the Rain Brings: Miriam struggles to make a living in post-climate-change Vancouver. But her friend Catalina has it even worse in the Arizona desert. So Miri hatches a plan. High Seven: Zan dreams of making full reals - immersive live virtual reality skins - but his low score may doom him to a life of cheap coding. Full Real: Dek's given up his life of spying for the city. But one more case awaits him. Will he regret it more if he takes it, or turns it down? Shit City: The Bay Area is being walloped by a hurricane, and seventeen-year-old Jason Vasquez has been relocated to a refugee city in the Nevada Desert. Will it be temporary shelter, or change his life? Firedrake: Kerry has always wondered about his deadly powers. But a mysterious bunch of violet roses starts him on the path to discovery - even if he's not sure he's going to like what he finds. The Last Human Heart: I'm one of the Remainers, the few cyborg humans still living on this busted planet. But if my still-human heart finally gives out, I may not live to find out the truth about who I am. This is the first time all of these stories have all been collected in one place, and the first publication of the Pacific Climate Tryptich - What the Rain Brings, High Seven, and Full Real - in any form.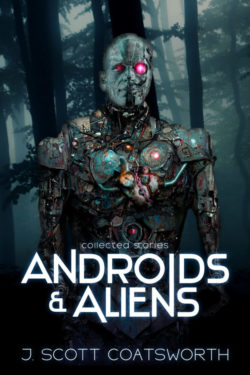 Androids & Aliens
Word Count:

73000
Summary: ::The Seignso have our own plans for the remains of Genghis Khan.:: Alien warmongers have cloned an ancient emperor to lead an unstoppable army. Gifted with superhuman powers and advanced technology, he sets his sights on his home planet, Earth, and then... the stars! However, countermeasures have already been set in place. A young Iowa farm boy, oblivious to his powers or destiny, is thrust into a battle that will decide the fate of humanity against the new and improved Genghis Khan! A thrilling, interstellar adventure from the author of The Weller and War of the Worlds: Goliath!
Birthright
Word Count:

88400
Summary: On planet Earth, it's aliens against humans and humans are losing the battle. While a few brave humans are ready to fight to regain their freedom from their alien conquerors, the future of the human race falls on Khara, a woman whose sole focus is her personal fight for survival. As the human population dwindles toward extinction, will the strange and reluctant friendship that develops between Khara and an alien show them all a new way - coexistence? Or will the human race finally be eliminated once and for all? This gritty alien invasion story is told from both human and alien points of view, a la C.J. Cherryh, and puts a new twist on the idea of "first contact."
Carapace
Word Count:

112,000
Summary: Chanda Kasmira devotes years of her life and career to saving the inhabitants of the planet Splendor from the planet's coming destruction. Her latest effort fails. Life on Splendor faces more danger than ever before. Disheartened, Chanda places herself into a "long sleep," intending to awaken decades later to a brighter future for Splendor and its people. She doesn't. Instead, an even more difficult path lies ahead after CHANDA'S AWAKENING.
CHANDA'S AWAKENING
Word Count:

197000
Summary: Saving a life can change the course of history. Destin is torn away from his chicks and his bonded when the Terrens invade Aries 7. Experimented on in Terren labs, and made to work their mines, the GyrFalconi struggle to survive. Destin becomes their caretaker, endeavoring to save as many as possible, despite the emotional toll. Amidst the battle for survival, the universe shines on him and he bonds with not one but four people who give him a reason to keep fighting. When Valespia sends its Legions to the GyrFalconi's aid, Destin and his bonded are eventually freed, only to face new cruelties from their own people. Freedom comes with its own trials, though, as a divide forms in GyrFalconi society between the winged and the wingless. Destin and his bonded are given a chance at true happiness and they keep what they claim, no matter what. Tags: The Twenty-Year War where Terrens really mucked things up, so many hatchlings, Love not Lust (yes, using caps there seemed necessary), survivors, bisexual characters, all the cute hatchlings, talking to spirits, low heat, protective chantelle, evil empress, courageous stags, polyamorous, Destin keeps collecting bonded, avian species screech... a lot, non-human ace spectrum characters, found family, underestimated batore, so many stags, Mar'Sani mentor, did I mention the cutest chicks ever? CHERISH is the fourth book in the award-winning Valespian Pact series. Trigger warnings can be found in the Author's Note. Please download a sample of this book or use the Look Inside feature. 196,000 words.
Cherish
Word Count:

130000
Summary: The world was forever changed when a government genetic experiment created the Chromodecs from a dead alien in 1952. Decades later, when it became apparent that society needed a way to deal with a hybrid humans with unheard of powers, the CORP was created. The Chromodec Office of Restraint and Protection was a special government police agency formed to keep track of the Chromodecs. This particular tale involves two refugees, young babies who were sent down to Earth to escape being used as pawns in an interplanetary war, despite the fact that Earth itself wasn't so safe. Destined to be Q'sirrahna, or soul mates as the humans called it, Amari Losira Del Rey and Zendara Inyri Baen-Tor would grow to be more powerful than any other beings on the planet, if they could find each other first. After being forced to hide from the CORP when it's realized their powers could level entire cities, Amari and Zen will have to answer one question. Who will save the world when it all falls apart?
Children of the Stars
Word Count:

106,000
Summary: In the early 21st century, Rowan is fighting a secret war against alien pirates bent on subjugating all of mankind. At least, that's what she thinks. In reality, it's a thousand years later, Earth has long been part of an interstellar and interspecies republic, and she's a character on Angel Black, an e-entertainment that allows viewers a complete sensory experience through her perspective. Who needs actors when you can clone famous performers and splice in some alien DNA? Since studio clones have no rights, their lives and experiences can be tailor-made for the program. It's just too bad the clones don't know that. Ryan Chandler was a decorated war hero until he was cloned to save his life. His career options died with his original body and the best job he can get is a technician on Angel Black. He's planning to escape to a newly colonized system when Rowan is scheduled to be killed off. With help from unexpected allies, Ryan stages Rowan's rescue, but getting her off the set is only the beginning. To succeed, they must evade a manhunt supported by the state that fears Rowan's liberation might be the triggering event of a clone rights movement that could cost the establishment billions and shake the foundations of human society. Can two clones find their freedom in a society that treats them as second-class citizens?
Cloning Freedom
Word Count:

56000
Summary: Idiom Lee is a man alone, millions of miles from home. A chance encounter with an alien shapeshifter sent him into a Cold Cosmos devoid of humanity. After the events of book one, he's established himself in the lowest bar on the moving asteroid Panadaras, gambling and serving as a bouncer. Until a sloth-cat creature he calls Slowhand appears, and tells him Ginn is in trouble.
Cold Cosmos Book Two - Payment to Perdition
Word Count:

56000
Summary: Cold Cosmos is a fun and epic space opera science fiction story. Think Cowboys and Aliens meets Farscape and Firefly, with a hint of Hitchhiker's Guide and some Orville. [audio mp3="https://www.limfic.com/wp-content/uploads/2020/06/Cold-Cosmos-B1-Sample.mp3"][/audio]
Cold Cosmos: Book One - Last Night On Earth
Word Count:

89,000
Summary: A heart-rending loss… Flora Bock will never forgive the Anferthian invaders for murdering her birth-parents. Growing up with the grandson of her sworn enemies is living a nightmare—until the day she sees him through the eyes of a young woman. But giving her heart to him is the ultimate betrayal of her parents' memory. A life in peril… There are precious few places in the galaxy where Fander K'nil is safe. One look into Flora's beautiful, hate-filled eyes is proof enough that Terr is not one of those places. He must keep her at a distance and stay alive long enough to fulfill his destiny. No matter what his heart desires. An empire at stake… Just as Fander and Flora begin to discover the depth of their feelings for each other, they are thrust into a deadly game of politics and assassination with an enemy who stops at nothing to stay in power. With the lives of everyone they love at risk, they must find a way to avert a new invasion before it's too late—even if it means making the ultimate sacrifice.
Collision
Word Count:

126,000
Summary: A little blue world, the third planet from the sun. It's home to 7 billion people with all manner of faiths, beliefs and customs, divided by bigotry and misunderstanding, who have been told they are not alone in the universe. Anyone watching from the outside would pass by this fractured and tumultuous world, unless they had no other choice. It's been a little over a year since Todd Landon's life changed with the arrival of the Nentraee. Continuing his duties as Special Envoy for Terran Affairs, Todd finally feels at home with the aliens; gaining more responsibility and influence with both races. Plans are underway for two Interplanetary spaceports and additional solar exploration. It's an exciting time for both the humans and the Nentraee. Not everything is as perfect as some hope. Speaker General Mirtoff and Vice-Speaker Mi'ko of the Nentraee are worried that the Liberi Dei plot additional terrorist attacks and may have inside help. Threats are clear, but who can they trust? Could Todd be helping them unknowingly or worse covertly? Will these new space endeavors continue to bring the human and the Nentraee together or will a conspiracy hiding in the shadows fracture an already shaky alliance?
Conspiracy
Word Count:

250000
Summary: Can a Warlord and a Prince find love when the galaxy is on the brink of war? Chief Warlord Sohm'lan has a job he loves protecting the family who claims him as one of their own. He has known the loss of a mate and believed he would walk alone for the rest of his life… that is until Prince Mestor demanded more from him than duty. Unable to fathom why Mestor would want a widowed older warrior, Sohm'lan maintains his distance believing Mestor will eventually choose an amor closer in age and experience, even though the thought causes him more pain than it should. Prince Mestor is tired of pretending and his patience is eroding. He needs Sohm'lan to see past their respective ranks and duties to who Mestor is underneath it all. Worried Sohm'lan will be lost to him if he pushes too hard, Mestor and Sohm'lan are caught in a dance of denied desires and tangled obligations. Warlord Sohm'lan and Prince Mestor struggle to find a way to their heart's desire against the backdrop of galactic conspiracies, the dangerous mission escorting the Fal'Amoric royals, and discoveries within the Vondorian family that threaten to tear apart everything they hold dear. The two of them must stand together to fight the coming battle whatever the consequences. *Note: Constant is 250,000 words and is the third book in the series that must be read in order.
Constant