Word Count: Information not available
Summary: Olson lives in a city that has been sealed from the outside world. He's an Eleven Year and close to citizenship. His life is upended when one of the few adults who cares about him commits suicide - or so it appears at first. While investigating, Olson meets a girl named Natalie snooping around his school. He soon learns that one of her friends died under similarly mysterious circumstances. Together, they start looking for answers, and end up discovering the city's darkest secrets.
Atmospheric Pressure
September 9, 2016
Word Count:
60,000
Summary: Queer Handmaid's Tale meets hyper-capitalist dystopia. Nonbinary, queer main character BREEDER is set in a distant but bleakly familiar future, where each person exists to repay Units to the violent Corporation. But girls and women can only be Breeders in this world, and can only repay the Corporation through reproduction. Is the price of survival worth the cost of submission? Will Meadows is a seemingly average fifteen-year-old Westie, who lives and works in Zone F, the run-down outermost ring of the Corporation. In the future state of the Corp, a person's value comes down to productivity: the right actions win units, the wrong ones lose them. If Will is unlucky and goes into unit debt, there's only one place to go: the Rator. But for Zone F Breeders, things are much worse—they're born into debt and can only accrue units through reproduction. Every day in Zone F is a struggle, especially for Will who is fighting against time for access to an illegal medical drug, Crystal 8. Under the cover of night, Will travels to the Gray Zone, where life is less regulated and drugs—and people—are exchanged for gold. There, Will meets Rob, a corrupt member of the Corporation running a Breeder smuggling operation. Will also meets Alex, another teen whom he quickly recognizes as a Breeder in disguise. Suddenly, Will has an illicit job and money, access to Crystal, and a real friend. As the pair grows closer, Alex shares her secret: she is part of the Response, an uprising to overthrow the Corporation. Caught up in the new friendship, Will and Alex become careless as the two covertly travel into Zone B for a day of adventure. Nothing goes as planned and Will's greatest fear is realized. Will his true identity be revealed?
BREEDER
July 13, 2021
Word Count:
88400
Summary: On planet Earth, it's aliens against humans and humans are losing the battle. While a few brave humans are ready to fight to regain their freedom from their alien conquerors, the future of the human race falls on Khara, a woman whose sole focus is her personal fight for survival. As the human population dwindles toward extinction, will the strange and reluctant friendship that develops between Khara and an alien show them all a new way - coexistence? Or will the human race finally be eliminated once and for all? This gritty alien invasion story is told from both human and alien points of view, a la C.J. Cherryh, and puts a new twist on the idea of "first contact."
Carapace
June 30, 2017
Word Count:
80000
Summary: Other stories will take you to Mars. This one will take you inside the boardroom, the pub, and the bedroom with the people planning the mission. Gurdeep is an engineer and a soldier. Georgie's a food scientist. One is pragmatic with a tough outer shell; the other's an optimist, a person of ideas and compassion. In the span of a single afternoon, the couple find themselves in charge of planning a self-sustaining colony on Mars. Together, they're humanity's last hope for survival. They have 160 slots to fill with experts from all over the world as they set about designing an all-new society with its own government, economy, and culture – and that's just the tip of the iceberg. Among those chosen for the mission is Devon, an autistic scientist with a unique skill set who finds life on Earth strange and alienating. Maybe a whole new planet is exactly what's needed. With 1,114 days until the launch, excitement and tensions run high. Earth's second chance hangs in the balance. Between strict genetic requirements and the dangers of the dystopian almost-present, will everyone make it to the final countdown? This is a work of neurodiverse, culturally diverse, gender-bendy, socio-politico-economic, drunken-arguments-in-the-pub science fiction – not bang-bang-pew-pew science fiction.
Devon's Island
January 20, 2020
Word Count:
130000
Summary: Life after the Crash. Over a century after the end of the Earth, life goes on in Redemption, the sole remaining Lunar colony, and possibly the last outpost of humankind in the Solar System. But with an existential threat burrowing its way into the Moon's core, humanity must recolonize the homeworld. Twenty brave dropnauts set off on a mission to explore the empty planet. Four of them—Rai, Hera, Ghost and Tien—have trained for two-and-a-half years for the Return. They're bound for Martinez Base, just outside the Old Earth city of San Francisco. But what awaits them there will turn their assumptions upside down—and in the process, either save or destroy what's left of humanity.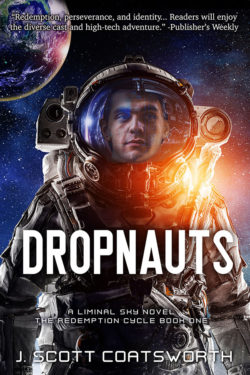 Dropnauts
August 1, 2022
Word Count:
80000
Summary: Cling to the edge of your seat in this high-finance, high-stakes adventure. What do we do with knowledge of the future? Clairvoyant Ariel has been doing her best to ignore it, finding the whole thing a nuisance. But when she comes across people using similar abilities to get extremely rich, her interest is piqued. Then she discovers a second collection of gifted people. Their cause is less about money and more about ensuring the survival of the human race. That doesn't stop them from being as dangerous and crazy as the first group, however. Soon Ariel finds herself the object in a game of tug of war as each faction fights to have her--and her particular talents--on their side. She can't possibly help both groups. Aligning with either could be a terrible idea. But how can she stay out of it when so much is at stake?
Flickers of Fortune
December 21, 2014
Word Count:
79,000
Summary: Left for dead behind enemy lines, prince Dominel seeks refuge in an abandoned stronghold of the slaughtered wizards. There he is recruited and trained by undead mages in the once forbidden magics so that he can close the doors into the world of man and halt the advance of the horde of monsters known as the storm. Can the strength of a lone wizard stand against a god of evil bent on ruling all the worlds of monsters and men. Will other races stand as friends or foes in Dominel's quest? Can Dominel open himself to memories of his past lives without fracturing his sanity and becoming a worse threat than the monsters he seeks to halt? And what of the man who is prince, king and wizard? What space is left for him in a life of crushing duty and wondrous enchantment? For the answers read on
Havens in the Storm
February 10, 2020
Word Count:
28000
Summary: Derek Herman is living a nightmare. Long before he was born, the planet was taken over by a mind-controlling alien race, and everyone is affected except for him. Derek does his best not to draw attention to himself, but it's not going well. Ocren Starburst is obsessed with his human neighbor. Every time he sees Derek, he wants nothing more than to grab him, hold him, and keep him forever. And four years of chasing him up the stairs in their apartment building has resulted in Derek refusing to even acknowledge his existence. That is, until Derek accuses Ocren of breaking into his apartment. Derek found a button on his living room floor, the same kind of button Ocren wears on his police uniform. And while Ocren hasn't broken in, he knows the button means someone has. Ocren's race has kept their shape-shifting abilities secret for years, but now his other form wants out to slaughter everyone that dares to get too close to Derek. And staying in control proves hard when threats toward Derek increase. Will they be able to keep Derek safe without Ocren losing control of his dragon self?
How to Soothe a Dragon
November 13, 2021
Word Count:
36000
Summary: IN-NO-VA-TION (Noun) 1) A new idea, method, or device. 2) The introduction of something new. 3) The application of better solutions to meet unarticulated needs. Three definitions to inspire writers around the world and an unlimited number of possible stories to tell. Here are 120 of our favorites. Innovation features 300-word speculative flash fiction stories from across the rainbow spectrum, from the minds of the writers of Queer Sci Fi.
Innovation
August 8, 2020
Word Count:
100000
Summary: In the 2100s mankind is about to embark on a mission to save the human species. Earth is dying and time is running out. Liam Donovan and Ann Caldwell work at the construction site where one of eight ships is being built that will carry thousands to the nearest potentially habitable planet, Proxima b. But not everyone wants them to leave. A terrorist attack on the construction site of one of the ships leaves dozens dead. Why attack those wanting to save them? And who are they? Before those questions can be answered another threat looms on the horizon. An alien fleet has been spotted at the edge of the solar system heading their way. But are they coming to help a broken world...or to destroy it?
Proxima
July 6, 2020
Word Count:
119900
Summary: The year is 2156. The moon colonies watch in fear as an asteroid, far larger than the one that wiped out the dinosaurs, plummets towards the Earth. The collision leaves the planet blackened and lifeless. But is the Earth as dead as it appears?
Splinters
August 22, 2020
Word Count:
130000
Summary: A Journey to the Crossroads of Science and Myth The New Leprosy plague and a geomagnetic reversal threaten earth's precarious balance. An unlikely trio may hold the key to reset the compass of the world:
"Saint Ariadne" Demodakis—a Greek bioelectricity researcher who realizes she's curing plague victims by laying on hands.
Peter Mitchell—a jaded American veteran of the latest Gulf War, now a smuggler in the Mediterranean.
Leeza Conreid—a paparazza equipped with the latest neurally-connected media implants, who wants revenge and a big story.
Peter, blackmailed into bringing Leeza along, hires on with reclusive Ariadne to secretly  transport her to sacred sites in the Greek islands. She seeks to confirm a connection between the pandemic, geologic upheavals, and ancient lore that promises healing for humans and the planet. Peter doesn't realize they'll be pursued by violent Sons of the Prophet, mercenaries, and a cult of warrior women, out to claim Ariadne's rumored powers—or kill her. He will need all his wits and weapons to protect Ariadne as she labors to control her connection to the dangerous forces that may deliver a global cure. Or destroy them all.
The Ariadne Connection
March 15, 2015
Word Count:
110000
Summary: Five years later, and the living is easy. Well, it would be if you were anyone except Cass and Kendra. Yes, they inherited enough money so they can pursue their dreams. Cass's teleportation system is becoming accepted all over the planet, and Kendra's starship is nearly ready for its first flight. Throw in a pair of precocious daughters and what more could they want? Except the universe has other plans for them. A global crisis is brewing, one which the United Earth government has kept under wraps, one which will end up with 9 billion dead in 20 years. And a brilliant bureaucrat at the UE has decided the Cassidy's are exactly the people to help. Now they have another project: helping the UE break the crippling Artemis Accords. Unfortunately, Artemis and the Solarian Union don't want to give them up. This time it's going to take more than quick talking and a fast car if they're going to continue their dreams.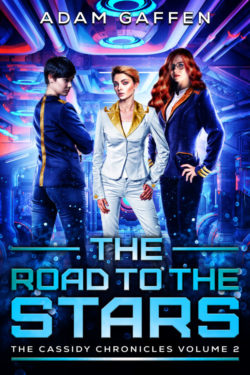 The Road to the Stars
September 15, 2020
Word Count:
83000
Summary: By the end of the 21st century, the world had become a harsh place. After decades of natural and man-made catastrophes, nations fell, populations shifted, and seventy percent of the continents became uninhabitable without protective suits. Technological advancement strode forward faster than ever and it was the only thing that kept human society steady through it all. No one could have predicted the discovery of the Dream Walkers. They were people born with the ability to leave their bodies at will, unseen by the waking world. Having the potential to become ultimate spies meant the remaining government regimes wanted to study and control them. The North American government, under the leadership of General Rennet, demanded that all Dream Walkers join the military program. For any that refused to comply, they were hunted down and either brainwashed or killed. The very first Dream Walker discovered was a five year old girl named Julia. And when the soldiers came for her at the age of twenty, she was already hidden away. A decade later found Julia living a new life under the government's radar. As a secure tech courier in the capital city of Chicago, she does her job and the rest of her time avoids other people as much as she is able. The moment she agrees to help another fugitive Walker is when everything changes. Now the government wants them both and they'll stop at nothing to get what they want.
Waking the Dreamer
June 29, 2018