Word Count: Information not available
Summary: Olson lives in a city that has been sealed from the outside world. He's an Eleven Year and close to citizenship. His life is upended when one of the few adults who cares about him commits suicide - or so it appears at first. While investigating, Olson meets a girl named Natalie snooping around his school. He soon learns that one of her friends died under similarly mysterious circumstances. Together, they start looking for answers, and end up discovering the city's darkest secrets.
Atmospheric Pressure
Word Count:

21,400
Summary: When do dreams become reality? Orin sells dandelion latex at a no-name market, barely scraping by. Mette is a princess. Maybe. What Orin does know is that for thirty seconds every night, Mette visits Orin in xir dreams. Orin has long since written the fancy ghost woman off as a recurring nightmare, but when Mette insists upon meeting in real life, Orin's inner world turns out to be more substantive than imaginary. Along with best friend Blathnaid, Orin embarks on a journey to discover the truth behind xir otherworldly connection--determined to free xir mind and finally get a good night's sleep. But it's an ancient, planetary magic that binds Orin to Mette, and Orin's dandelions may be their only chance to survive the separation. If you want a fun, queer romp through a sci-fi planet with magic and dragons (of a sort), download Awry with Dandelions today! Note: this book uses xie/xir pronouns for Orin. Genres: Space Opera / Science Fiction / Romance / LGBT Lesbian Non Binary Market: Adult and New Adult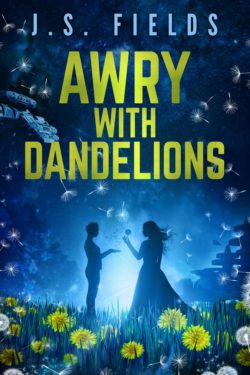 Awry With Dandelions
Word Count:

60,000
Summary: Queer Handmaid's Tale meets hyper-capitalist dystopia. Nonbinary, queer main character BREEDER is set in a distant but bleakly familiar future, where each person exists to repay Units to the violent Corporation. But girls and women can only be Breeders in this world, and can only repay the Corporation through reproduction. Is the price of survival worth the cost of submission? Will Meadows is a seemingly average fifteen-year-old Westie, who lives and works in Zone F, the run-down outermost ring of the Corporation. In the future state of the Corp, a person's value comes down to productivity: the right actions win units, the wrong ones lose them. If Will is unlucky and goes into unit debt, there's only one place to go: the Rator. But for Zone F Breeders, things are much worse—they're born into debt and can only accrue units through reproduction. Every day in Zone F is a struggle, especially for Will who is fighting against time for access to an illegal medical drug, Crystal 8. Under the cover of night, Will travels to the Gray Zone, where life is less regulated and drugs—and people—are exchanged for gold. There, Will meets Rob, a corrupt member of the Corporation running a Breeder smuggling operation. Will also meets Alex, another teen whom he quickly recognizes as a Breeder in disguise. Suddenly, Will has an illicit job and money, access to Crystal, and a real friend. As the pair grows closer, Alex shares her secret: she is part of the Response, an uprising to overthrow the Corporation. Caught up in the new friendship, Will and Alex become careless as the two covertly travel into Zone B for a day of adventure. Nothing goes as planned and Will's greatest fear is realized. Will his true identity be revealed?
BREEDER
Word Count:

88400
Summary: On planet Earth, it's aliens against humans and humans are losing the battle. While a few brave humans are ready to fight to regain their freedom from their alien conquerors, the future of the human race falls on Khara, a woman whose sole focus is her personal fight for survival. As the human population dwindles toward extinction, will the strange and reluctant friendship that develops between Khara and an alien show them all a new way - coexistence? Or will the human race finally be eliminated once and for all? This gritty alien invasion story is told from both human and alien points of view, a la C.J. Cherryh, and puts a new twist on the idea of "first contact."
Carapace
Word Count:

80000
Summary: Other stories will take you to Mars. This one will take you inside the boardroom, the pub, and the bedroom with the people planning the mission. Gurdeep is an engineer and a soldier. Georgie's a food scientist. One is pragmatic with a tough outer shell; the other's an optimist, a person of ideas and compassion. In the span of a single afternoon, the couple find themselves in charge of planning a self-sustaining colony on Mars. Together, they're humanity's last hope for survival. They have 160 slots to fill with experts from all over the world as they set about designing an all-new society with its own government, economy, and culture – and that's just the tip of the iceberg. Among those chosen for the mission is Devon, an autistic scientist with a unique skill set who finds life on Earth strange and alienating. Maybe a whole new planet is exactly what's needed. With 1,114 days until the launch, excitement and tensions run high. Earth's second chance hangs in the balance. Between strict genetic requirements and the dangers of the dystopian almost-present, will everyone make it to the final countdown? This is a work of neurodiverse, culturally diverse, gender-bendy, socio-politico-economic, drunken-arguments-in-the-pub science fiction – not bang-bang-pew-pew science fiction.
Devon's Island
Word Count:

132,000
Summary: Rules were made to be broken. From terraformed outposts to magical realms, journey to worlds where deadly plants, rampant biodiversity, or failed colonies have created irresistible opportunities for those brave enough to seize them. New worlds, found family, mystical secrets, and deadly science weave together in this lesbian-centric anthology focusing on a very different kind of first time—a first encounter with a world, or being, entirely unlike our own. If you like diverse stories with lesbian heroines practicing science, magic, and seduction, buy Distant Gardens today!
Distant Gardens
N.L. Bates , Sara Codair , Robin C.M. Duncan , Wil...
Word Count:

130000
Summary: Life after the Crash. Over a century after the end of the Earth, life goes on in Redemption, the sole remaining Lunar colony, and possibly the last outpost of humankind in the Solar System. But with an existential threat burrowing its way into the Moon's core, humanity must recolonize the homeworld. Twenty brave dropnauts set off on a mission to explore the empty planet. Four of them—Rai, Hera, Ghost and Tien—have trained for two-and-a-half years for the Return. They're bound for Martinez Base, just outside the Old Earth city of San Francisco. But what awaits them there will turn their assumptions upside down—and in the process, either save or destroy what's left of humanity.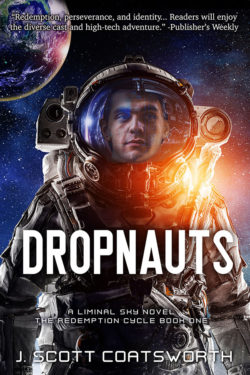 Dropnauts
Word Count:

80000
Summary: Cling to the edge of your seat in this high-finance, high-stakes adventure. What do we do with knowledge of the future? Clairvoyant Ariel has been doing her best to ignore it, finding the whole thing a nuisance. But when she comes across people using similar abilities to get extremely rich, her interest is piqued. Then she discovers a second collection of gifted people. Their cause is less about money and more about ensuring the survival of the human race. That doesn't stop them from being as dangerous and crazy as the first group, however. Soon Ariel finds herself the object in a game of tug of war as each faction fights to have her--and her particular talents--on their side. She can't possibly help both groups. Aligning with either could be a terrible idea. But how can she stay out of it when so much is at stake?
Flickers of Fortune
Word Count:

79,000
Summary: Left for dead behind enemy lines, prince Dominel seeks refuge in an abandoned stronghold of the slaughtered wizards. There he is recruited and trained by undead mages in the once forbidden magics so that he can close the doors into the world of man and halt the advance of the horde of monsters known as the storm. Can the strength of a lone wizard stand against a god of evil bent on ruling all the worlds of monsters and men. Will other races stand as friends or foes in Dominel's quest? Can Dominel open himself to memories of his past lives without fracturing his sanity and becoming a worse threat than the monsters he seeks to halt? And what of the man who is prince, king and wizard? What space is left for him in a life of crushing duty and wondrous enchantment? For the answers read on
Havens in the Storm
Word Count:

299
Summary: This action filled, edge of your seat dystopian adventure is set in the near future, when a space probe is returning to Earth from the Cares 1 Asteroid with geological and biological samples frozen in ice for billions of years. It's big news, the discovery of ancient organisms from an extra-terrestrial body. After the samples arrive at Interplan Astro-Research facility in the quiet city of Worcester Massachusetts, with the world's media gathered, eager to hear official announcement that the samples are indeed biological, thus discovering evidence of complex life beyond our planet. Not everyone's excited or happy about having alien lifeforms coming to Earth, and one group of terrorists have planted a thermobaric bomb in an elevator shaft of the facility. The bomb detonates and the facility explodes, killing hundreds of people, workers, protestors, scientists and TV crews, but far from destroying the samples, the explosion has released them from their level one quarantine and unleashes a deadly parasite that quickly infects the citizens of Worcester with infestations of strand red worms that infest the living. Despite efforts to contain the "Cares Pestis" AKA the "MR. Ripple" it spreads fast and becomes through the USA and beyond, causing a complete breakdown of society. But then comes something else, something far more menacing that threatens the very existence of human life on earth, and for Colonel Troy Glass and his fiancé Yvette, a deadly struggle for survival begins as they head west, to a secret government facility known as Haven. On their way, they pick up an eclectic group of fellow survivors, who together, battle against all the odds, both human and alien…
Mr. Ripple
Word Count:

325
Summary: It's 200 years after WWIII and he earth is poisoned with Carbon-14 and plutonium. Following the decade long night of nuclear winter and the Great Famines, what's left of the human race is fragmented and much of the old world is nuclear wastelands inhabited by different factions, from the cannibalistic Ferals, who have reverted to savagery, to the Scavengers who pick among the ruins of the old world cities for useful items to barter with the Dusteaters, nomadic warlike factions who are at war with the despotic Utopians, the most technologically advanced and powerful of the human enclaves, who have forged a new civilization that is controlled by an elite of fertile scientists and intelligentsia who live underground in Sub City, which sprawls beneath Silo City and Surfer Town, where the infertile topsiders called the Mudsurfers live and work for their troglodyte masters. Thundersky often wonders why he doesn't get sick? All the topsiders get sick from the radiation and the cancers. So sick, that living to 35 is considered a grand old age. Only the Scholars live for longer. But the Scholars manufacture the medicinals that everybody needs to survive. Thundersky is different, not only is he immune from the radiation and cancers that have plagued the earth for 500 years, he's also a genius and just 19, he has designed an antimatter impulse drive capable of achieving 50% the speed of light. It's been months since Thundersky submitted his data and applied to the prestigious Tech Training Academy but has heard nothing since. Not all the Scholars are tyrants; some believe the exploitation of topsiders is cruel and wrong. The human experimentations conducted in the Utopian prisons on Dusteater terrorists is barbaric and inhuman. Among them, Grand High Scholar Blackstone Washington and High Scholar Blossom Flora, who for the past twenty years, following the purge of the geneticists and bioengineers have been protecting the "Genesis Child" from the Grand High Council who would kill him. But now people are getting suspicious and asking questions about the topsider who never gets sick, they must act quickly before his true identity is discovered and contrive to bring Thundersky into Sub City and alter his records with a little help from the ARTI-QS-Six-Zero-Two Quantum AI. Zim Steven, head of the SSS is soon suspicious of the new young genius and discovers that he is the Genesis Child, but before he can act, an ancient quantum system is activated at a secret location beneath the flooded ruins of Manhattan, and a countdown begins to unleash another thermonuclear holocaust upon our dying world and a race against time begins. Thundersky is selected to go to New York with an elite team of military tacticals to locate the NORAD system and deactivate it. Meanwhile, Zim Steven lays his plans to make certain that Thundersky and his companions never return to Silo City alive. After their transport drone is shot down by Dusteaters, Corporal Venus Jane and Fox, Thundersky and his best friend Tiger White are the only survivors, with just an armored vehicle. They are pursued by Dusteaters and the infamous Godders of Pennsylvania and a desperate battle for survival begins. While in the wilderness, the foursome make unlikely allies, and Thundersky falls in love with a handsome young Dusteater fighter, Reaper Bloodbuck. Utopia's arch enemy, the queen of the Dusteaters, the Prophetess will reveal things to Thundersky's that will unravel his life and everything he believes in, and soon, it's realized that the humble Mudsurfer is far more powerful than even the Scholars could have imagined…
NORAD's Ghost
Word Count:

100,000
Summary: Lida was their last chance for an uncolonized planet. But a world-spanning fungus had colonized it first. Agetha and her husband have spent their whole lives in the fleet's zero-G. Now all is turmoil as the fleet lands, discovering they are surrounded by a single fungal biomass spanning the entire planet. To build a new home, the fleet must confront a dangerous organism, and Agetha must decide if she can raise a family in this inhospitable landscape. Jane Brighton holds tenuous command over the colony and its administrators. She and the other gene-modded leaders emerged from their four-hundred-year suspended animation to find a crew much different from the one that departed Old Earth. Jane must direct the colony's fragile growth and defend it against being overrun by the fast-growing biomass. But there is something none of the colonists know. The massive organism that spans the planet is not simply a fungal mass, nor even a chimerical combination of species that once roamed the planet. The biomass has desires and goals, and one is to know these strange beings carving out a home in its midst. Download today to read of the colony's fate in Of Mycelium and Men! Genres: Space Opera / Science Fiction / Colonization / Alien Contact / LGBT / Non Binary / Trans Market: Adult
Of Mycelium and Men
Word Count:

100000
Summary: In the 2100s mankind is about to embark on a mission to save the human species. Earth is dying and time is running out. Liam Donovan and Ann Caldwell work at the construction site where one of eight ships is being built that will carry thousands to the nearest potentially habitable planet, Proxima b. But not everyone wants them to leave. A terrorist attack on the construction site of one of the ships leaves dozens dead. Why attack those wanting to save them? And who are they? Before those questions can be answered another threat looms on the horizon. An alien fleet has been spotted at the edge of the solar system heading their way. But are they coming to help a broken world...or to destroy it?
Proxima
Word Count:

119900
Summary: The year is 2156. The moon colonies watch in fear as an asteroid, far larger than the one that wiped out the dinosaurs, plummets towards the Earth. The collision leaves the planet blackened and lifeless. But is the Earth as dead as it appears?
Splinters
Word Count:

130000
Summary: A Journey to the Crossroads of Science and Myth The New Leprosy plague and a geomagnetic reversal threaten earth's precarious balance. An unlikely trio may hold the key to reset the compass of the world:
"Saint Ariadne" Demodakis—a Greek bioelectricity researcher who realizes she's curing plague victims by laying on hands.
Peter Mitchell—a jaded American veteran of the latest Gulf War, now a smuggler in the Mediterranean.
Leeza Conreid—a paparazza equipped with the latest neurally-connected media implants, who wants revenge and a big story.
Peter, blackmailed into bringing Leeza along, hires on with reclusive Ariadne to secretly  transport her to sacred sites in the Greek islands. She seeks to confirm a connection between the pandemic, geologic upheavals, and ancient lore that promises healing for humans and the planet. Peter doesn't realize they'll be pursued by violent Sons of the Prophet, mercenaries, and a cult of warrior women, out to claim Ariadne's rumored powers—or kill her. He will need all his wits and weapons to protect Ariadne as she labors to control her connection to the dangerous forces that may deliver a global cure. Or destroy them all.
The Ariadne Connection
Word Count:

109,000
Summary: Time is running out for planet Earth. An insidious Martian plague has been infecting the planet for over twenty years, and has resisted all human efforts to eradicate it. With all life on Earth facing extinction, the only solution left is to directly access a specific piece of Martian technology. But, according to diaries left behind by Ogilvy the astronomer, the Martians have hidden it at the lake on the moon. In 1945, three rockets converted from Martian cylinders take off on the vital lunar mission, and amongst the crew is Ogilvy's nephew, Jack Stent. Will the astronauts locate the Martian shadow-weapon, thought to hold the desperately needed cure for Marseria? Can it really be used to instigate another timeline on Earth so that mankind can survive? The stakes are high and so is the risk of contact and conflict with Martians. Nearly two hundred years later, at a scientific colony on Mars, a shocking discovery is made about Jack Stent, and Ogilvy's Martian diaries are once again pivotal to human survival and the continuation of life on Earth. Gateway To Mars is the third volume of The Martian Diaries series that continues the classic H.G. Wells Mars novel in a compelling, unmissable action adventure. If you're a fan of The War Of The Worlds you won't want to miss this story of survival, despair and hope, that brings the original tale full circle. Get your copy today! What readers have said: "A really well written, excellent continuation of the story and a truly brilliant tribute to HG Wells! I do recommend!" "An excellent third part to this incredible series!" "Boy this was a good book! I love the writing style... it's very true to the original story."
The Martian Diaries: Vol.3 Gateway To Mars
Word Count: Information not available
Summary: It's the end of the Age of Kali and our world is dying, its boundaries shrunken to encompass a single city. In the Earth's final days, lonely young Jay Grant finds his first love in the arms of his neighbor Michèle. Together with six other survivors, they break through the eggshell-thin walls of the world to find a mythical land where the ultimate power of creation resides. Washed ashore from an ocean of milk, they confront personages seemingly out of legend: Ananta Sesha, the lord of the Nagas; Varuna, whose eyes are the stars; Indra, king of the devas; and the tormented being who calls himself the Preserver. Jay and Michèle want nothing more than a life together, but the gods themselves stand in their way. Separated by divine malice and tormented by falsified memories, Jay and Michèle struggle to reunite, transforming themselves into beings beyond the merely human to confront the demiurge responsible for Earth's destruction.
The World's Shattered Shell
Word Count: Information not available
Summary: Forty years after landing on Lida, the colony still isn't finished. Agetha has survived many more battles than she anticipated when she first landed on her new home planet. She's older and wiser, has gained family and lost loved ones. And yet her reward for four decades of service is to be pushed to the colony's outer edges with the other aging Generationals. But that was only the beginning of her adventure. The biomass has spent years studying the intruders who landed on its surface, carving a new home from its very essence. Never satisfied in its attempt to communicate with this new and invasive species, finally it has found a way to express its intentions. The colonists may never be the same. Discover the fate of the colony in the second book of The Biomass Conflux trilogy!
To a Fungus Unknown
Word Count:

454
Summary: For 60 years, the "Founders" have been secretly infiltrating every aspect of the American government, law enforcement, military and judiciary, influencing government policy and biding their time for the day they can seize power, in the chaos that has followed the Covid Pandemic, the Founders believe that day has come... A titanic power struggle is taking place between the western democracies; China and Russia and a new Cold War with hotspots of proxy-wars, such as the American led Anglo-American-French coalition in Iran, where British SAS Colonel Elizabeth Brooks commands an elite unit of Anglo-American Special Forces. Following a mission behind enemy lines, Elizabeth's brother-in-law, John Crane of "Crane Technologies" shows up in Iran. Crane Tech has developed a cloaking device, but the secret's out, the Founders know about it and they want it desperately and will stop at nothing to get it. Fearing he will be murdered, John needs a contingency plan. Elizabeth and her team are that plan… FBI Special Agent Dexter Quills is in Virginia hunting a vicious serial killer, the "Three-Sixty Strangler" when he receives a call that will change his life forever when he's ordered to the Crane Mansion, where the entire family with the exception of John's youngest son Adam (Elizabeth Brooks's biological son) have been murdered by Founder terrorists who want the "Perseus II" cloaking device in order to detonate a nuclear weapon over Washington DC to wipe out the Government. Fate bring Elizabeth and Dexter together and the fate of millions of Americans and the free world itself is in their hands, in a violent race against time to prevent the greatest tragedy in American history…
Twisted Maze
Word Count:

83000
Summary: By the end of the 21st century, the world had become a harsh place. After decades of natural and man-made catastrophes, nations fell, populations shifted, and seventy percent of the continents became uninhabitable without protective suits. Technological advancement strode forward faster than ever and it was the only thing that kept human society steady through it all. No one could have predicted the discovery of the Dream Walkers. They were people born with the ability to leave their bodies at will, unseen by the waking world. Having the potential to become ultimate spies meant the remaining government regimes wanted to study and control them. The North American government, under the leadership of General Rennet, demanded that all Dream Walkers join the military program. For any that refused to comply, they were hunted down and either brainwashed or killed. The very first Dream Walker discovered was a five year old girl named Julia. And when the soldiers came for her at the age of twenty, she was already hidden away. A decade later found Julia living a new life under the government's radar. As a secure tech courier in the capital city of Chicago, she does her job and the rest of her time avoids other people as much as she is able. The moment she agrees to help another fugitive Walker is when everything changes. Now the government wants them both and they'll stop at nothing to get what they want.
Waking the Dreamer