NRM Roshak is an award-winning Canadian author & translator. Their fiction has been published in three languages, and has appeared in various anthologies and magazines, including Flash Fiction Online, Galaxies, Daily Science Fiction, and Future Science Fiction Digest. They live in Ontario, Canada, with a small family and a loud cat. You can find more of their work at http://nrmroshak.com.
This author has been favorited by 1 user.
Contact Information:
Books By N. R. M. Roshak
Word Count: Click here to reveal11000 (Click here to hide)

Summary: Stuck in a soul-deadening job as a social credit auditor, Pat struggles to cope when her thoroughly modern home suddenly shows every sign of being haunted. Pat doesn't believe in ghosts, but the only thing that seems to restore her home to normalcy is the help of an online exorcist. Is Pat's house really haunted… or is something more sinister going on?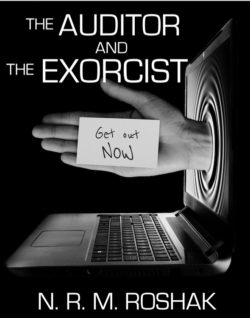 The Auditor and the Exorcist