Hi! Thanks for dropping by!
Sorry about the mess.
So, I suppose I should start with some basics, eh?
I was born in Maine, didn't live there for long before my parents figured out that it was too bloody cold and moved south, all the way to Massachusetts. Grew up there and in Connecticut, lived in Maryland and Indiana for a while before moving back to Maine. Lived there for twenty years before I, too, decided the winters were too long. Of course, where do you to get away from long winters? COLORADO! Naturally. Married to a wonderful, inspirational, supportive woman; between us we have five kids, five dogs, and five cats.
Every author starts as a reader, and the same is true for me. Some of first 'real' books I remember are the Foundation series by Isaac Asimov, the Hornblower books by C.S.Forester, and Lad by Albert Payson Terhune. The, ah, let's just say 'eclectic' nature of these first few began a trend that continues today, as I read just about anything. You want a list? Okay. In no order (except as they occur to me):
Robert Heinlein. Dave Barry. Lisa Mantchev. John Ringo. David Weber. Isaac Asimov (yes, still). David R. Palmer. Spider Robinson. Randall Garrett. Richelle Mead. F.M. Busby. Frank Herbert. Kevin J. Anderson. W.E.B. Griffin. Clive Cussler. Gemma Halliday.
Is the picture coming into focus? No? Exactly. There's way too many authors out there to limit myself to a single one, or even a single genre, though I do tend to return to science fiction.
'From these seeds did a mighty tree grow.'
As for my writing, well, I've thrown a bunch out onto Amazon. There's a couple Sherlock Holmes stories, a few horror-ish shorts, and then you get to my longer books: Refuge, a time-traveling take on vampire stories, and The Cassidy Chronicles. There are currently four volumes in the series with the fifth book coming in August.
Like I said, thanks for dropping in! You can find me on Allauthor.com, Twitter, Facebook, Instagram, and on my website www.cassidychronicles.com. I love interacting with fans, but be warned: I often add my fans into my books!
Contact Information:
Email Address: Gaffen620
Books By Adam Gaffen
Word Count: Click here to reveal143365 (Click here to hide)

Summary: Viva la revolucion! The Primus, Vasilia Newling, is facing her worst nightmares: A revolution on Luna Titan and the Asteroids abandoning the Solarian Union. Defections from within her own government. All because of those damned Cassidys! But she's still as ruthless as ever. And if Aiyana and Kendra thought she was playing dirty before? They're going to see how filthy she really can get. There isn't room for both the Terran Federation and the Union. This time, one is going down. For good. Return to the future for the fifth installment of The Cassidy Chronicles: Triumph's Ashes.
Triumph's Ashes
Word Count: Click here to reveal108000 (Click here to hide)

Summary: Now what? As Kendra recovers from her wounds, Artemis is planning their next strike. But so are others. Artemis has been too corrupt for too long; their own people are ready to take control. It's just going to take a little encouragement...
A Quiet Revolution
Word Count: Click here to reveal112000 (Click here to hide)

Summary: The first battles against Artemis ended with both sides bloodied. Six months have passed, six months of meaningless negotiations but no hostilities. What is Artemis up to now? To a degree, it doesn't matter. Cass and Ken can't stop building, improving, tinkering:
A new, larger, more capable habitat, a true city in space.
An improved starship
A true space fighter, not just a shuttle with popguns
And they're expanding their reach onto Luna itself, trying to discover and disrupt from the inside. But a secret is about to emerge, a secret so dark and devastating even Kendra doesn't know she's been carrying it her entire life. One which could smash their plans without a shot being fired.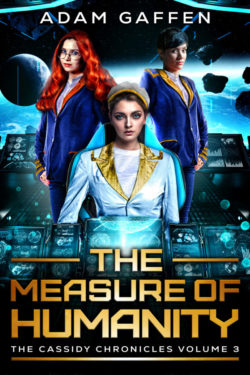 The Measure of Humanity
Word Count: Click here to reveal110000 (Click here to hide)

Summary: Five years later, and the living is easy. Well, it would be if you were anyone except Cass and Kendra. Yes, they inherited enough money so they can pursue their dreams. Cass's teleportation system is becoming accepted all over the planet, and Kendra's starship is nearly ready for its first flight. Throw in a pair of precocious daughters and what more could they want? Except the universe has other plans for them. A global crisis is brewing, one which the United Earth government has kept under wraps, one which will end up with 9 billion dead in 20 years. And a brilliant bureaucrat at the UE has decided the Cassidy's are exactly the people to help. Now they have another project: helping the UE break the crippling Artemis Accords. Unfortunately, Artemis and the Solarian Union don't want to give them up. This time it's going to take more than quick talking and a fast car if they're going to continue their dreams.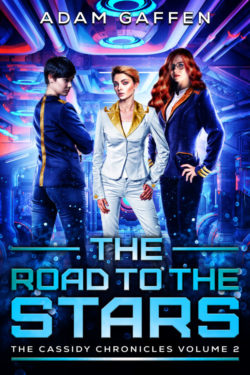 The Road to the Stars
Word Count: Click here to reveal110000 (Click here to hide)

Summary: The Cassidy Chronicles Volume One introduces you to two of the most determined characters in fiction: Aiyana Cassidy and Kendra Foster-Briggs. In 2113, Aiyana (Cass) is a physicist, working on high-energy optics for the premiere orbital passenger and cargo company, Heavy Lift Corporation. During her research she stumbles upon a discovery which might revolutionize the transportation industry. Kendra is a semi-retired sensie star and Cass's childhood friend. She also has a shadowy, hidden past. None of this would matter if the Reverend hadn't tried to kill them and their fiance, Derek, at their wedding. Now it's a race to find out who wants them dead and why! They'll have to cross the continent, across the shattered remains of a post-fractured America, to find the answers. Along the way they'll discover plots, schemes, betrayals, as well as new friends and allies. Don't miss this ride!
The Cassidy Chronicles