Andrea Speed may or may not exist. She may have been found in a shoe box for a brand that has never existed - Rebus: Picture Success. Or don't. Your call. - in the Dumpster of a co-op in Seattle. Or maybe she's a collection of Twitter bots advertising coffee enemas who somehow combined and gained sentience. Nobody knows for sure or cares. May also be a small, medicinal horse that's the Meryl Streep of stunt corpses.
This author has been favorited by 3 users.
Contact Information:
Email Address: aspeed2@gmail.com
Books By Andrea Speed
Word Count: Click here to reveal47,000 (Click here to hide)

Summary: A collection of tales filled with monsters, be they human or beast, ranging in setting from dystopia to pitch black noir and even general silliness. From the ludicrous to the frighteningly plausible; from deep space to after the end of the world. There are clumsy werewolves and bloody revenge, monster sleep overs and a dieting fad sure to kill your appetite. Whether looking into the past or the future, you're sure to find that stuff gets really weird.
Shotgun Bastards and Other Stories
Word Count: Click here to reveal54,646 (Click here to hide)

Summary: Kaede Hiyashi is sick and tired of living in the shadow of his father, supervillain Doctor Terror. Brilliant but crazy, Doctor Terror sends his son to Corwyn, California, for reasons Kaede can't imagine. Sent to accompany and protect him is Ash, a genetically modified supersoldier raised and trained by an infamous death cult. Corwyn is lousy with superheroes, led by the obnoxious Dark Justice. Kaede finds himself dancing around Dark Justice as he digs into his father's mysterious business and teaches his socially awkward—but physically lethal—bodyguard to acclimate to "normal" life. Can these two wacky supervillains figure out what Doctor Terror wants them to do, solve the riddle of the villain known as Black Hand, and keep Dark Justice from raining on their bloody parade? The course of love—and world domination—never did run smooth.
Hearts of Darkness
Word Count: Information not available
Summary: Josh Caplan is your average late-night convenience store clerk, but the Quik-Mart where he works is nothing like normal with that hell vortex in the parking lot. Waiting on zombies, demons, and other things that go bump in the night might scare some, but they're actually more polite than the stoners, and Josh welcomes the break in the monotony—especially when he acquires himself a sexy new boyfriend with a deadly secret. Will Josh survive this retail nightmare? It's a Big Gulp of a chance, but between the hazard pay and the hottie with a sweet tooth for Josh's candy, it's a chance he's willing to take. This box set includes: - Pretty Monsters (Josh of the Damned, #1) - Peek-a-Boo (Josh of the Damned, #2) - Josh of the Damned Triple Feature #1 - Josh of the Damned Triple Feature #2: The Final Checkout
Josh of The Damned Complete Collection
Word Count: Information not available
Summary: In a world where a werecat virus has changed society, Roan McKichan, a born infected and ex-cop, works as a private detective trying to solve crimes involving other infecteds. The murder of a former cop draws Roan into an odd case where an unidentifiable species of cat appears to be showing an unusual level of intelligence. He juggles that with trying to find a missing teenage boy, who, unbeknownst to his parents, was "cat" obsessed. And when someone is brutally murdering infecteds, Eli Winters, leader of the Church of the Divine Transformation, hires Roan to find the killer before he closes in on Eli. Working the crimes will lead Roan through a maze of hate, personal grudges, and mortal danger. With help from his tiger-strain infected partner, Paris Lehane, he does his best to survive in a world that hates and fears their kind… and occasionally worships them.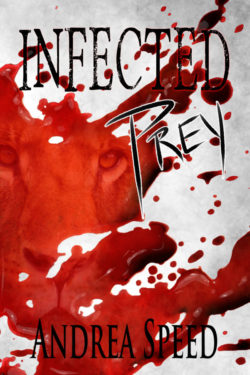 Infected: Prey