August (Gus) Li is a creator of fantasy worlds. When not writing, he enjoys drawing, illustration, costuming and cosplay, and making things in general. He lives near Philadelphia with two cats and too many ball-jointed dolls. He loves to travel and is trying to see as much of the world as possible. Other hobbies include reading (of course), tattoos, and playing video games.
This author has been favorited by 2 users.
Contact Information:
Email Address: augustali3@hotmail.com
Books By August Li
Stand-Alone Books
Word Count: Click here to reveal125,000 (Click here to hide)

Summary: For the past few years Yarroway L'Estrella has lived in exile, gathering arcane power.  But that power came at a price, and he carries the scars to prove it. Now he must do his duty: his uncle, the king, needs him to escort Prince Garith to his wedding, a union that will create an alliance between the two strongest countries in the known world. But Yarrow isn't the prince's only guard. A whole company of knights is assigned to the mission, and Yarrow's not sure he trusts their leader. Knight Duncan Purefroy isn't sure he trusts Yarrow either, but after a bizarre occurrence during their travels, they have no choice but to work together—especially since the incident also reveals a disturbing secret, one that might threaten the entire kingdom. The precarious alliance is strained further when a third member joins the cause for reasons of his own—reasons that may not be in the best interests of the prince or the kingdom. With enemies at every turn, no one left to trust, and the dark power within Yarrow pulling dangerously away from his control, the fragile bond the three of them have built may be all that stands between them and destruction.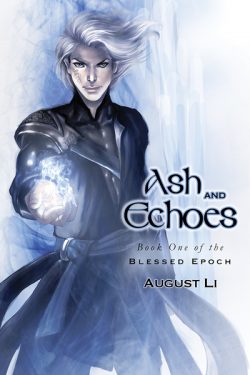 Ash and Echoes
Series: Blessed Epoch
Word Count: Click here to reveal160,000 (Click here to hide)

Summary: Sasha was born to, and has always defined himself by, the secret assassins' Order of the Crimson Scythe. He chose the love of Yarrow L'Estrella and Duncan Purefroy over his duty to his clan, forfeiting his last mission and allowing Prince Garith to live. Now, the order—previously Sasha's family—has branded him a traitor. He's marked, and that means the brethren of the Crimson Scythe won't stop until Sasha is dead. Garith's twin kingdoms balance on the brink of war, and all three men have reasons to help the king, whether loyalty, duty, the interests of their own lands, or gold in their pockets. Still, Yarrow and Duncan are willing to abandon their reasons to seek out and destroy the assassins' order to keep Sasha safe. But Sasha isn't sure that's what he wants. Loyalties are strained by both foreign invaders and conspirators in their midst. It's hard to know which side to choose with threats piling up from every direction and war looming, inevitable, on the horizon. Their world teeters on the precipice of change, and Sasha, Duncan, and Yarrow can only hope the links they've forged will hold if Garith's kingdom is torn apart.
Iron and Ether
Word Count: Click here to reveal170,000 (Click here to hide)

Summary: An assassin's unexpected mercy granted Octavian Rose his life and freed him from his father's control, but it left him with little more than the clothes on his back and the determination not to waste his chance at a life of his choosing. As Octavian sets out to make a name for himself, he refuses to compromise his ideals for money or status—a decision tested as he works his way up the ranks as a mercenary fighter and novice mage. Along the way he forges friendships, takes lovers, and makes bitter enemies, all while striving for the power he feels he deserves and can wield fairly. With the advent of the Blessed Epoch and the discovery of new cultures, the world is changing. Octavian's decisions will affect not only those closest to him but will have profound worldwide consequences that he cannot begin to imagine. For twenty years, Octavian does what he must, and his choices bring him brilliant victories alongside crushing losses. Time and again, he must choose between what is right for all and what is beneficial to him, while hoping for the wisdom to tell the difference. FREE Short—A Lesson and a Favor Eight years before meeting Yarrow and Duncan in Ash and Echoes, the man now known as Sasha lived and breathed for a single purpose: to kill for gold and the glory of his cult and dark god without emotion or hesitation. In this lost tale of Sasha's early career, he's dispatched on a difficult mission—one with a surprise in store for him. FREE Short—Archer's Regret  Sylvain Damasca has seen and done it all since walking away from his wealthy family and the promise of a future title. He's had more men, money, and adventure than he can count—including a part in the founding of Rosecairn—but he's restless, and no amount of gold, wine, or casual companionship can scratch his itch. It might be time to deal with the one thing he left unfinished, if he can find the courage to face the only man who ever got underneath his skin.
Cairn and Covenant
Word Count: Click here to reveal120,000 (Click here to hide)

Summary: Whose hand will orchestrate the change in the world? The decade-long war with Johmatra is over, but peace hangs by a thread in Garith's kingdom. Yarrow, isolated in his island realm, refuses to abide by the treaty or to follow the dictates of the priestesses. Others—Octavian Rose among them—are uneasy with the growing military power of the temples, and the mage island of Espero remains a tenuous ally. Garith knows his people cannot weather another conflict and that infighting will leave their lands vulnerable to further invasion. The arrival of a Johmatran ambassador with his own agenda calls everyone's loyalties into question. Sides will be chosen, and the consequences of those choices will have repercussions no one can foresee. Even among the turmoil, Yarrow is determined to have his vengeance against the thirteen goddesses and heal the world's magic. But how far will he go, and what lines is he willing to cross? As unlikely alliances are forged and enemies are revealed, Prince Thane seems to be the key to forgotten knowledge that will shape the future—and some will do whatever it takes to control him.
Calling and Cull
Series: Fox-Hat
Word Count: Click here to reveal120,000 (Click here to hide)

Summary: Tokyo high school student Tsukino Ayumu never wanted to stand out. He's always been content to run at the middle of the pack and go unnoticed, and he doesn't expect much to change when he moves to the small fishing village of Yuuyake to live with his grandfather. In Yuuyake, Ayumu makes his first real friend in Ikehara Haruki and forges close ties with two girls, Shizuka and Chou. Together, the four friends muddle through the messy world of dating and relationships while trying to succeed in school and prepare for the world they'll enter when it ends. Fate has other plans for them, though, and Ayumu in particular, as an invisible threat targets the village's young people. After being plagued by disturbing, violent dreams, Ayumu learns what the spirit world expects of him. He must learn to fight and to lead—but he's only ever been ordinary. With the support of friends he would die to protect, Ayumu faces a destiny only he can fulfill. But others have taken an interest in Ayumu. The mysterious Fox-Hat and Neko know more about Ayumu than he knows about himself, and they lead him onto a path that might end in the destruction of them all.
Fox-Hat and Neko