An author and freelance writer, Cody L. Martin grew up in the beautiful mountains of Wyoming where he became an avid sci-fi fan. He wrote his first screenplay in high school and has since branched out into sci-fi and action novels. He works in Japan in Yamaguchi prefecture and lives happily with his beautiful wife, Yoko. When he isn't writing he enjoys watching movies, reading, and listening to Morning Musume, Berryz Koubou, C-ute, and other J-pop singers.
Contact Information:
Email Address: clmartin1701@icloud.com
Books By Cody L. Martin
Word Count: Information not available
Summary: The resurrection of one world will mean the destruction of another. The homeworld of the alien Noigel has been annihilated. Their existence as a species is on a razor's edge. But they have found a replacement: Earth. But it must be changed to suit their needs. If they succeed, all of humanity will perish. When an alien secret agent is killed, his technology and mission are given to Hina Takamachi. The Japanese schoolgirl discovers the alien's battle suit gives her incredible powers, just like the anime heroines she admired as a kid. The battle suit's artificial intelligence, whom Hina names Voice, informs her that only she can save the world from the Noigel.With Voice training and guiding her, Hina must overcome her own self-doubts and find the courage to stop the Noigel's plan. For one world to win, the other must lose.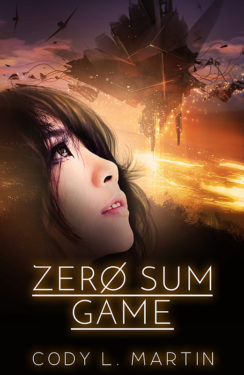 Zero Sum Game