Davyne is the author of the Phantom Rising Series - a trio of historical romances which continue the saga of the Phantom of the Opera - as well as a science fiction novel, Carapace, and an anthology of speculative fiction short stories, Soap Bubble Dreams and Other Distortions.
Davyne's writing focuses on strong characterization, a sense of adventure, and emotional impact, reflecting her own passionate view on life.
Stay connected with Davyne by signing up for her email list. You'll receive a FREE short story just for signing up as well as exclusive updates on giveaways, new releases, cover reveals, sneak peeks, etc.: Sign up HERE.
Contact Information:
Email Address: davyne@davyne.com
Books By Davyne DeSye
Stand-Alone Books
Word Count: Click here to reveal27900 (Click here to hide)

Summary: A mind-blowing collection of short fiction. This anthology of Davyne DeSye's short stories includes twelve speculative fiction stories, ranging from science fiction to fantasy, and from humorous to horrific. This collection – which includes one new tale published here for the first time – contains: -A Ray Bradbury-esque story about a boy whose wishes come true; -A dark testimony of alien invasion and the redemptive power of a single selfless act; -The true story of Little Red Riding Hood; -An inside look into robot-assisted psychotherapy of a killer; and -A guided tour of a shop for recycled dreams. These twisted tales and others may be discovered in this anthology, which includes: "The Slide," "Moron," "There I Was…," "Death, By Any Other Name," "Mine Eyes," "Mirror, Mirror," "Carapace," "…I Win," "It's Not What You Think," "Shattered," "The Cloak," and "The Thief Speaks."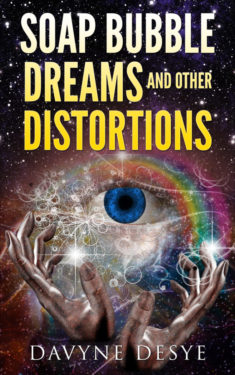 Soap Bubble Dreams and Other Distortions
Word Count: Click here to reveal68900 (Click here to hide)

Summary: Romance, mystery, and an impossible relationship. Meet David:  Sculptor.  Wealthy.  Introvert.  Suffering from the loss of his wife.  The last thing he needs is to discover that his newly purchased mansion is haunted. Meet Sarrinah:  Born 1882, died 1903.  She was smart, well read, fun.  Too bad she can't rest in peace. Sarrinah and David are both flawed, but just so lovely – if only they can get over the tragedies of their past that are weighing them down… and the fact that one of them is a ghost.
Love Whispers Through the Veil
Series: Aggressor Queen
Word Count: Click here to reveal88400 (Click here to hide)

Summary: On planet Earth, it's aliens against humans and humans are losing the battle. While a few brave humans are ready to fight to regain their freedom from their alien conquerors, the future of the human race falls on Khara, a woman whose sole focus is her personal fight for survival. As the human population dwindles toward extinction, will the strange and reluctant friendship that develops between Khara and an alien show them all a new way - coexistence? Or will the human race finally be eliminated once and for all? This gritty alien invasion story is told from both human and alien points of view, a la C.J. Cherryh, and puts a new twist on the idea of "first contact."
Carapace