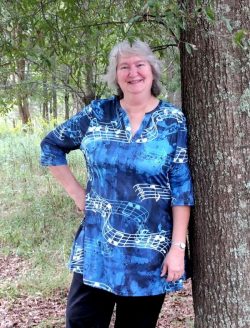 Edale Lane is the pen name used by Melodie Romeo for her LGBTQ literature to differentiate from her more mainstream stories. Melodie Romeo is a native of Vicksburg, Mississippi. She earned a bachelor's degree in Music Education from the University of Southern Mississippi and a master's degree in History from the University of West Florida. Ms Romeo is a retired school teacher who currently travels the country as an over the road truck driver with Prime, Inc. Her first book, Vlad, a Novel, (https://www.facebook.com/VladANovel) an historical thriller, was published in 2002. She has short stories published in anthologies by Seventh Star Press, Charon Coin Press, Alban Lake Press, and Less Than Three Press. She has a son, Peter and daughter, Michele who both serve in the US Army, a daughter-in-law, Jessica and two grandsons, Mark and Asher. Melodie resides in Utica, MS with her longtime partner, Johanna. Some of her works can be found at http://www.amazon.com/-/e/B00WFFFEA4
Melodie is also a musician who plays the French horn, composes, and has spent many years as a choral and instrumental director. She aspires to be a successful enough author to quit driving and devote herself to writing fulltime.
Contact Information:
Email Address: melodieotr@gmail.com
Books By Edale Lane
Word Count: Click here to reveal101,085 (Click here to hide)

Summary: Attracted by passion, repelled by war. Can two shieldmaidens navigate battlegrounds of the sword and the heart? Sigrid the Valiant is legendary throughout the kingdoms of Norvegr for her heroic deeds, but her love has yet to find a home. Now, racing on the heels of her father's murder, a neighboring kingdom's raids signal an all-out conflict. Elyn is a young shieldmaiden with a score to settle, fighting her own insecurities along with enemies who threaten her homeland. However, she suspects a more menacing danger lurks in the shadows. When the two clash on opposite sides of their shield walls, sparks fly from both their swords and passions. But when they talk, the fierce women discover an antagonist's plot has pitted their kingdoms against each other. Can Sigrid and Elyn move past their suspicions and differences to forge a binding love and foil the villain's scheme, or will the enemy's assassins end their search for the truth? Action, adventure, and intrigue ride together with romance in this enemies-to-lovers saga from the pre-Viking land of Norvegr. Award-winning, best-selling author Edale Lane brings history to life in this fast-paced sapphic novel. Grab your ax and rönd and join the quest!
Sigrid and Elyn
Word Count: Click here to reveal79,025 (Click here to hide)

Summary: Solving mysteries is her business. Finding love is her dream. Will combining the two get her killed? Victorian Era England. Stetson revels in being unconventional. So when society shies away from her independent nature, the bold woman creates an imaginary boss and opens her own detective agency. And her keen observational skills, convincing disguises, and Holmesian methods quickly bring in a string of tough-to-crack cases. Struggling to squeeze a personal life in around a series of hazardous investigations, Stetson worries she'll never find a woman of like-passions. But with her heart set on true love despite the risk, she carries on hunting for the perfect relationship. Will her clever escapades lead to death… or delight? Daring Duplicity: The Wellington Mysteries, Vol. 1, Adventures of a Lesbian Victorian Detective is a collection of five sequential novellas, each encompassing its own exciting mystery while furthering the story of Stetson's life in London. If you enjoy crime dramas, Victorian era fiction, or a sweet lesbian romance, then you'll love award-winning author Edale Lane's Daring Duplicity. Order yours today!
Daring Duplicity
Word Count: Click here to reveal88,500 (Click here to hide)

Summary: When secrets and lies threaten the throne, can a fierce champion tame her passion in time to stop a cruel enemy's ruthless march? Viking Warrior Princess Lena craves revenge. Hunting a killer after her husband is brutally slain, she discovers a shadowy traitor is at play behind the scenes, working to disrupt the balance of power. Placing her need for vengeance on hold when the king falls gravely ill, Lena leads an expedition to locate a fabled healer across a treacherous sea. Caitlin had been snatched from her home in Eire and sold into slavery. She prayed for a means of escape, and in storms Lena to her rescue. She is grateful, but realizes her feelings for Lena run far deeper. Mighty warrior Gunnar is loyal to the core. But when his lord orders him to sabotage the princess's royal mission, he's plagued by doubt, uncertain he's fighting for the right side. Beset by a plethora of dangers and delays, Lena battles foes on every front, even within her own heart as her love for Caitlin grows. Gunnar must choose between honor and fealty, but in the end, will a traitor's blade end all their lives? Viking Quest is a breathtaking historical fantasy novel. If you like principled characters, battles of conscience, and tender F/F romance, then you'll love Edale Lane's action-packed epic. Buy Viking Quest to destroy a fearsome foe today!
Viking Quest
Word Count: Click here to reveal70,500 (Click here to hide)

Summary: Three powerful merchants, two independent women in love, one masked vigilante. Renaissance Italy. Florentina, set on revenge for her father's murder, uses Leonardo da Vinci's ideas to create an alter-ego known as the Night Flyer. She planned for everything… except falling in love. Madelena, whose husband was also murdered, hires Florentina as a tutor for her children. She becomes infatuated with this singular woman, completely unaware Florentina is also the fearsome Night Flyer. Will the Night Flyer's dance with danger cause her death before Florentina can declare her love? Merchants of Milan is the first book in Edale Lane's Night Flyer Trilogy, a tale of power, passion, and payback in Renaissance Italy. If you like gadgets and gismos, rich historical background, three-dimensional characters, and fast-paced action with a sweet lesbian romance, then you are sure to love this series. Buy this one of a kind novel today and let the adventure begin!
Merchants of Milan
Word Count: Click here to reveal110840 (Click here to hide)

Summary: When Robyn's father and brother are killed in the Third Crusade, she is banished from her manor home and branded a traitor by the Sheriff of Nottingham. Disguised as a boy, she joins Little John and the rest of the gang in Sherwood Forest—and soon finds herself their leader. Queen Eleanor suspects Prince John is up to no good, and colluding with Sir Guy and the Sheriff of Nottingham. To learn more, she engages Maid Marian as a spy—and unwittingly reunites Marian with her old childhood friend, Robyn. Together, the women help the queen acquire the funds needed to free King Richard and help Nottinghamshire—and perhaps fall in love along the way.
Heart of Sherwood