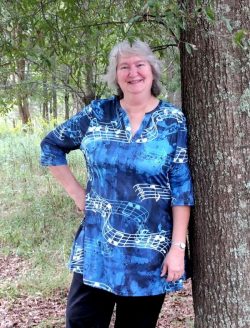 Edale Lane is the pen name used by Melodie Romeo for her LGBTQ literature to differentiate from her more mainstream stories. Melodie Romeo is a native of Vicksburg, Mississippi. She earned a bachelor's degree in Music Education from the University of Southern Mississippi and a master's degree in History from the University of West Florida. Ms Romeo is a retired school teacher who currently travels the country as an over the road truck driver with Prime, Inc. Her first book, Vlad, a Novel, (https://www.facebook.com/VladANovel) an historical thriller, was published in 2002. She has short stories published in anthologies by Seventh Star Press, Charon Coin Press, Alban Lake Press, and Less Than Three Press. She has a son, Peter and daughter, Michele who both serve in the US Army, a daughter-in-law, Jessica and two grandsons, Mark and Asher. Melodie resides in Utica, MS with her longtime partner, Johanna. Some of her works can be found at http://www.amazon.com/-/e/B00WFFFEA4
Melodie is also a musician who plays the French horn, composes, and has spent many years as a choral and instrumental director. She aspires to be a successful enough author to quit driving and devote herself to writing fulltime.
Contact Information:
Email Address: melodieotr@gmail.com
Books By Edale Lane
Word Count: Click here to reveal79,025 (Click here to hide)
Summary: Solving mysteries is her business. Finding love is her dream. Will combining the two get her killed? Victorian Era England. Stetson revels in being unconventional. So when society shies away from her independent nature, the bold woman creates an imaginary boss and opens her own detective agency. And her keen observational skills, convincing disguises, and Holmesian methods quickly bring in a string of tough-to-crack cases. Struggling to squeeze a personal life in around a series of hazardous investigations, Stetson worries she'll never find a woman of like-passions. But with her heart set on true love despite the risk, she carries on hunting for the perfect relationship. Will her clever escapades lead to death… or delight? Daring Duplicity: The Wellington Mysteries, Vol. 1, Adventures of a Lesbian Victorian Detective is a collection of five sequential novellas, each encompassing its own exciting mystery while furthering the story of Stetson's life in London. If you enjoy crime dramas, Victorian era fiction, or a sweet lesbian romance, then you'll love award-winning author Edale Lane's Daring Duplicity. Order yours today!
Daring Duplicity
Edale Lane ...
January 19, 2022
Word Count: Click here to reveal97,618 (Click here to hide)
Summary: The most terrifying horrors are revealed in the pages of history. After killing over 100,000 people during his first reign as Prince of Walachia, Vlad has returned, ready to inflict tortuous death on anyone he chooses. Only Nicolae and Maria, drawn together through mutual tragedies both inflicted by the ruthless Prince Dracula, dare try to stop him. Can Nicolae fulfill his plan of justice and revenge while winning the heart of the lovely Maria, or will he become the Impaler's next victim? With heart-stopping danger at every turn, detailed historical accuracy combined with fictional characters, and a myriad of surprises, Tribute in Blood is sure to keep you on the edge of your seat. Order this historical thriller romance today!
Tribute in Blood
Edale Lane ...
July 22, 2020
Word Count: Click here to reveal70,536 (Click here to hide)
Summary: When history meets horror, will evil prevail? Terror in Time is a collection of nine eerie tales of the macabre and the unexpected that will chill you to the bone. From Celtic lore and ancient evils, to ghosts, voodoo, and legendary creatures, these stories are sure to please the horror enthusiast and history buff alike. It even includes the obligatory spoof taking zombies where no zombie has gone before! So lock your doors and turn up the lights, for you never know what evil lurks in the shadows, and settle down for a good night of exploring the darker side of history and the human mind.
Terror in Time
Edale Lane ...
October 9, 2019
Word Count: Click here to reveal110840 (Click here to hide)
Summary: When Robyn's father and brother are killed in the Third Crusade, she is banished from her manor home and branded a traitor by the Sheriff of Nottingham. Disguised as a boy, she joins Little John and the rest of the gang in Sherwood Forest—and soon finds herself their leader. Queen Eleanor suspects Prince John is up to no good, and colluding with Sir Guy and the Sheriff of Nottingham. To learn more, she engages Maid Marian as a spy—and unwittingly reunites Marian with her old childhood friend, Robyn. Together, the women help the queen acquire the funds needed to free King Richard and help Nottinghamshire—and perhaps fall in love along the way.
Heart of Sherwood
Edale Lane ...
October 19, 2018