Jaime Samms is a plaid-hearted Canadian who spends the too-long winters writing stories about love between men and the too-short summers digging in the garden. There are dust bunnies in the corners of her house—which she blames on a husky named Kai. There are dishes on the counter—which is clearly because teenagers! There is hot coffee in the pot and the occasional meal to keep her from starving—because her husband is remarkable and patient.
A multi-published author whose work has been translated into French, Italian, and German, Jaime delights in the intricate dance of words that leads her through tales of the lost and broken hearted men she writes about to the love stories that find and mend them.
And when the muse is being stubborn, she also makes pretty things with yarn and fabric scraps because in her world, no heart is too broken to love, and nothing is too worn or tired it can't be upcycled into something beautiful. All it takes is determination and the ability to see life a little bit left of center.
This author has been favorited by 1 user.
Contact Information:
Books By Jaime Samms
Word Count: Click here to reveal73027 (Click here to hide)

Summary: If blood really is thicker than water, are the ties that bind a found family stronger than the ties of blood? After a decade of homelessness and living off his own wits, Tris has lost all faith in the kindness of strangers. And after years of letting his friends down time after time, Ozzy knows he's the last person anyone should count on. When Tris's search for his lost younger brother lands him in a small town at an overly-friendly Bed and Breakfast, everyone, including the B and B herself, seem to be pushing Tris and Ozzy together. Tris learned a long time ago, under the fists of his manipulative step-father, that family can't be trusted, and love means nothing. Torn between the desire to see Tris thrive in his new home, and the need to protect the very younger brother Tris came looking for, Ozzy has some hard choices ahead. Welcome back to Griffon's Elbow and The Oaks B&B, aka Mildred. She's not the only sentient house in town.
Brother's Keeper
Word Count: Click here to reveal26085 (Click here to hide)

Summary: Sometimes the unexpected becomes magical. When August Shaw takes an unplanned vacation at the Oaks B & B, he decides on a bold step—to slip into his vintage feminine wardrobe and let himself feel beautiful. He usually plans every detail of his life, but is counting on bestie, Nicole, to boost his courage. When Nicole can't join him, and Jan Koskinen—the man August has crushed on for years—arrives instead, August risks accepting Jan's invitation to join in the Beat the Winter Blues Festival. The spontaneous weekend turns romantic, but August can't help his uncertainties, even as the people at the Oaks—along with a very uncanny house—encourage him to live in the moment. Can August accept the spontaneous whirlwind winter romance… or will his questions leave him standing in the cold?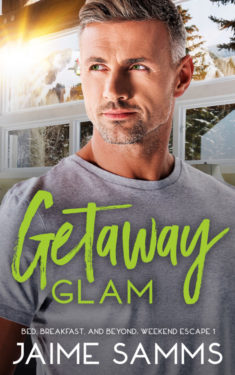 Getaway Glam
Word Count: Click here to reveal69861 (Click here to hide)

Summary: A loving boyfriend, generous friendships, and a thriving business—Arnold Kreed should be ecstatic. So why does he feel like he's standing on the edge of an abyss? When Kreed took a chance on a thief—letting Lucky into his world, his life, his heart—he hardly imagined he would find the love and acceptance he didn't dare dream of. Lucky draws people to him, and his extended found family embraces Kreed. Now in an established relationship, despite Kreed's ex causing trouble again, Lucky and Kreed are working toward making a life together. But Kreed is unsettled, unable to find his bliss. He is getting grumpier, and he can feel his people, including his beloved self-aware house, Mildred, pulling away… How can Kreed get back to the joy he so recently found if he has no idea what's wrong?
Innkeeper's Blues
Word Count: Information not available
Summary:
Lucky Denver has wandering feet, sticky fingers and an unreliable moral compass—he's never had a home and he's not so sure he cares about what he's missing.
Arnold Kreed who runs a small-town B&B knows what a home should be. So does his home, The Oaks—aka Mildred—and she has some very definite opinions on who should stay and who should go.
Mildred wants Lucky to stay—and while Kreed is surprised, he can't really blame the old girl. He's getting sort of attached himself. Lucky might be fine with the house's eccentricities, but he's not so sure Kreed will be fine with the man attached to Lucky's real name. When Kreed falls ill, Lucky needs to make a decision—wander away like he's always done or stay and be his better self. Kreed's hoping he'll stay—and so is The Oaks, and Mildred has a way of getting what she wants.
Thief in the Light
Word Count: Information not available
Summary:
When Sunny retires to the northern Ontario wilderness to mourn his parents' deaths, he's hoping the change of scenery will afford him some peace and quiet.
His hopes are soon spectacularly dashed.
In self-imposed exile, dragon Emile runs across the Fold between his dimension and Sunny's—and right into Sunny's arms. Centuries out of touch with human culture, bright, beautiful Emile incinerates any hope Sunny had for an ordinary existence. With dryads and water sprites coming to life all around them, Sunny can't deny the magic Emile brings to his life—or his heart. But that same magic leads the unrelenting dragon who would keep Emile captive right to them. To save his love, Sunny will have to reach deep and find some magic of his own.
Sunshine in the Dragon's Heart
Word Count: Information not available
Summary: Spaceship captain Tom lost his copilot and lover to a slipstream accident, but he refuses to accept Briak is dead. As he loses himself to his obsession, his ship begins to exhibit technical glitches and personality traits not normal for a shipboard computer. It gets worse as Tom finds a new pilot and decides to manipulate the slipstream to go back in time and stop the accident from happening. But if Tom can't figure out the problem, the space-time jumps may tear the ship—and his dreams of reunion with Briak—apart.
Renegade