Jennifer Haskin is an author of YA fantasy, science fiction, and romance. Associate Editor at Touchpoint Press, editor at Frontpage Editing. Previous agent and helper of new authors.
Contact Information:
Email Address: Haskin.author@gmail.com
Books By Jennifer Haskin
Word Count: Information not available
Summary: "It is so packed with action that there was no place where I could say, 'Ok time for bed now. I'll finish it tomorrow.' A must read." ~Amazon Reviewer Fale doesn't know why she has visions of the queen's past life. All she knows is that her magic becomes dangerously faulty every time she sees into the past. Through the visions, the mystery of Effailya's banishment and life of slavery is solved; the reasons of her heated parting with Gryndoll are revealed, as well as who was the queen's secret lover. And how that could possibly relate the Source Wizard to the Queen of Mages, herself. The Source Wizard Gasten sends out his best efforts, but the new queen stays one step ahead of him. He may have found a way to send his spell to her. And if not, he's found the old wizard's journals, which are sure to give her weaknesses. The Final Rescue is a face-paced adventure as the wizards and mages race toward their mutual destruction. A strong female lead not only survives her dystopian society… she solves the mystery of a hidden war, only to cause a new one, then battles both sides to rule it herself. It's a conclusion for fans who fell in love with The Hunger Games, Divergent, and The Reader series. If you're hooked on genre-blending, suspenseful, fantasy romance novels, with adventure, you'll love The Final Rescue!
The Final Rescue
Word Count: Click here to reveal92000 (Click here to hide)

Summary: He wants to rule the world. She was born to stop him. Fale secretly began having visions of things before they happen when she turned 18. But when she uses the vision of a deadly encounter to save the life of her hot, biomechanical crush in a fight, she sets into motion the race of their lives. Henchmen emerge from the shadows, and Fale and Keron battle to stay alive. When Fale's only remaining family disappears, leaving a kidnapper's note, they go into hiding. There, they discover a hidden romance that steams up their hideaway. Fale searches for clues to discover why she is being hunted, and how to get her family back. When the answers come, no one could have expected the role Fale is called to be, or the impossible task she must fulfill. Fale's powers awaken as she learns who her true enemy is and why they want the antique key her father gave her as he lay dying, saying it was her destiny. The human citizens of Alloy City have believed the lies they were fed, and magic has been forgotten, though the war between wizards and mages has been brewing for centuries. If Fale can accept the identity she's been given and the power that runs in her veins, a greater fate awaits her, but the war has awakened with her in the center. Rebellion is in her blood, but can she admit that she has the strength to be a warrior princess? Can she defeat the greatest evil her world has ever known? Can she love a man who is part machine? ♥ For fans of Sarah J Maas's Throne of Glass and Suzanne Collins's The Hunger Games. Are you ready for the adventure?
Princess of the Blood Mages
Word Count: Information not available
Summary: The race is on. Beware the henchmen. Fale and her friends are on an epic journey to find the magic machine that will open dimensions, allowing her to rescue the mage slaves—her people—from the hands of an evil Source Wizard. Still accepting her role as queen, she welcomes her new powers. But the group is not alone. Henchmen wait for them when they least expect it. Tensions are already high, but when Izzy—Alloy City's socialite—decides to wage war on Fale, the situation becomes toxic. Fale is devastated. She's lost her way of life, her identity, her guardian, and now her best friend. Worse, she pushed Keron—her hot boxer crush—away so he could focus on his job, but sharing a tent with him is excruciating when passions boil over. She'd give it all up if it weren't for her trusty sidekick, Lisle—the wizard—who loves her, but wants to see her succeed and to find his own purpose. They sail to an island in her visions that no one believes is there. Fale is relieved to be on her way, but fear of what awaits her, plus the constant state of tension in her group, immobilizes her. She's miserable, just trying to make every choice a good one. Things will never be the same as they were back home, she will never be the same. Fale doesn't know what they will find once they reach the island. She doesn't know why she's having memories of Queen Effailya's life, making her magic misfire at inopportune times. She has no clue how they'll manage to get a huge machine onto the boat and back to the mountain mages' estate. Impatient for answers, she seeks clues to the mystery. She may find everything she's looking for—she might not—but the price for winning will be higher than she ever imagined. ★If you like epic quests, sword and sorcery, mages, wizards, love triangles and plot twists, you'll love this complicated emotional must-read. You won't want to put it down. Fans of the first book, The Key of F, The Hunger Games, Eve, and The Rise of Isaac will enjoy this character-driven story.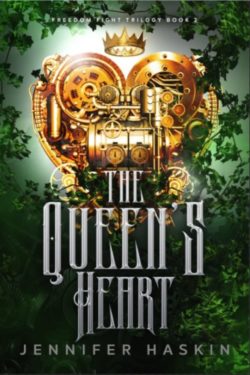 The Queen's Heart