A linguist and an avid reader with a particular fondness for fantasy and paranormal genres, KASIA BACON lives in London with her husband. When not tearing her hair out over a translating project, she writes stories about the shenanigans of emotionally constipated assassins and sexy Elves. Otherwise, she can be found shaking her loins at a Zumba class, binging on anime or admiring throwing knives on Pinterest. She has a mild coffee and lemon tart addiction. A lover of MMA and Muay Thai, she also enjoys nature and the great outdoors. She dreams of becoming independently wealthy, leaving the city and moving into her wooden mini-manor—located in the heart of stunning forests resembling those of the Elven Country depicted in her tales.
This author has been favorited by 3 users.
Contact Information:
Email Address: kasiabacon@gmail.com
Books By Kasia Bacon
Word Count: Information not available
Summary: RED: Lázhien's human. A common Imperial soldier. And my soulmate. How could fate get it so wrong? The demon in me craves this bond with every shred of his being. He pushes me to accept it. This time I won't yield to his demands. LÁZHIEN: Red's a lust demon, a whore and a stuck-up snob. The most beautiful man I've ever seen. Pain in the arse. And he hates my guts. I'd be an idiot to pursue him. Yet something about him compels me to make him mine. When I First Saw Red is a complete and standalone short novel with an HEA ending, featuring a couple of reluctant fated soulmates—a demon and a human—trying and failing to defy destiny. 
When I First Saw Red
Word Count: Information not available
Summary: Lieutenant Laahn Ĉortez is about to sit down to his well-deserved supper when destiny hits—winged, scaled and more than a little tipsy. Rago is a fated mates/forced proximity short story, featuring a puffing dragon shifter and a romp in the fencing hall.
Rago
Word Count: Click here to reveal25000 (Click here to hide)

Summary: As the Light Festival draws near, the Něssyrians craft paper lanterns, awaiting the most important holiday of the year. The Lyliňg Fighting House, too, prepares for celebration—by laying fresh sand onto the arena and setting up a match against their top pit fighter, the unrivalled Yüuzuki Ōren. His last match. One he can't win. With the odds more than stacked against him, the gorgeous Barbarian is as good as dead. Unless his lover, healer Ĥaiatto Ẽkana, proves himself every bit as determined as he is clever and finds a way to protect the man he'd stop at nothing to save.
Don't Fight the Spark
Word Count: Click here to reveal24000 (Click here to hide)

Summary: An archer's heart is a hard target to hit… Luckily, the Queen's Guards are excellent shots! Verhan Tŭrryés of Black Mountain is a handful. Freshly enlisted in the Highland Regiment, he does all he can to steer clear of responsibility and commitment. Just not his cup of mead, that. Loose of tongue and even looser of morals, he rarely misses an opportunity to get into trouble—and into the other archers' knickers, too. In a unit composed almost entirely of Dark Elves, Hernan Seinnés, with his green eyes and auburn hair, is an outsider. When Verhan, up the creek again, is blackmailed into helping Hernan, he never expects to fall for him. But during the long hours spent training Hernan for the Honour Guard, feelings strike the Highlander right in the heart—and with the force of an arrow. Unversed in relationships, Verhan finally plucks up enough courage to tell Hernan how he feels, only to drive the Asirhwӱnian away instead. If Verhan can swallow his pride, he might get one last chance to show Hernan what he means to him—and maybe this time he can hit the mark.
Twenty-One Arrow Salute
Word Count: Click here to reveal4500 (Click here to hide)

Summary: It's the Night of Winter Lights. Heedless of the holiday, the Commander of the H'Aren fortress, Captain Torýn Torhdhar, seems to find his satisfaction in work. Such occurrence hardly surprises his Orderly, Sæbastyn Hyago, even though the young Lieutenant has spent a silent, aching decade wishing his superior officer would pursue pleasure elsewhere—specifically in his arms. But as the evening continues, nothing about it meets Sæbastyn's expectations. Will the Lieutenant see his secret desires realised, or his heart shattered? This alternative winter holiday short, set in the Order Universe, will be available FREE in December as a part of the 2017 Rainbow Advent Calendar.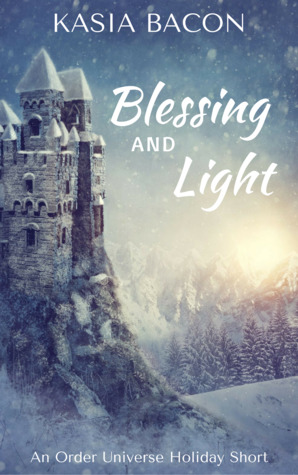 Blessing and Light
Word Count: Click here to reveal16000 (Click here to hide)

Summary: I, Lochan of the famed Féyes clan, know all about fighting. As a half-breed Elf, I have struggled against prejudice and feelings of inadequacy. A recluse by nature, I have battled my aversion to touch and interaction with others. To become an assassin of The Order, I have learnt to overcome the limitations of my mind and body. But denying the power Ervyn Morryés holds over me might be the one fight I lose. The truth is—damn it all—the relentless Highlander brings me to my knees. Note: This novelette is the second in the Order Series, and not a stand-alone installment. Reading THE MUTT is crucial for its full enjoyment.
The Highlander
Word Count: Click here to reveal11000 (Click here to hide)

Summary: Black clouds of xenophobia gather over Radvadur, the western province of the Empire. The political climate is strained and fragile. A surge of Nymph refugees has stirred widespread hostility towards non-humans. When the investigation of a gruesome triple murder linked to the refugee camp ensues, it takes Inspector Käyru Skaer and his lover, Count Ellydhar Finn-Jánn, along an unusual path, at the end of which a precious gift awaits. Käyru and Elly are worlds apart in social standing, but they have found common ground in the bedroom—up against the wall and the stable doors, too. The arrangement between them ought to have been temporary and of no consequence. As their circumstances change, will they find the courage to risk their hearts? Warning: Contains mentions of off page sexual assault
The Poison Within
Word Count: Click here to reveal7000 (Click here to hide)

Summary: I, Ervyn Morryés of the Black Mountain clan, know all about control. ​As the only fair-haired Dark Elf in the Highlands, I had to learn to control my fists and my temper in the face of derision.   ​To become the best archer amongst my peers, I had to learn to control my breathing and my movements. ​But the day the half-breed called Lochan Féyes arrived at the training camp, my discipline faltered. Because—sweet gods—when I am around that aloof, blue-eyed assassin, my need is uncontrollable.   
The Mutt