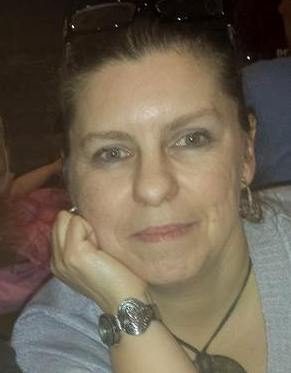 Natalina wrote her first romance at the age of 13 in collaboration with her best friend. Since then she has ventured into other genres, but romance is first and foremost in almost everything she writes. She's the author of We Will Always Have the Closet, Desert Jewel, Loved You Always, and Lavender Fields.
After earning a degree in tourism and foreign languages, she worked as a tourist guide in her native Portugal for a short time before moving to the United States. She lived in three continents and a few islands, and her knack for languages and linguistics led her to a master's degree in education. She lives in Virginia where she's taught English as a Second Language to elementary school children for more years than she cares to admit.
Natalina doesn't believe you can have too many books or too much coffee. Art and dance make her happy and she is pretty sure she could survive on lobster and bananas alone. When she is not writing or stressing over lesson plans, she shares her life with her husband and two adult sons.
This author has been favorited by 2 users.
Contact Information:
Email Address: catarinadeobidos1@gmail.com
Books By Natalina Reis
Word Count: Click here to reveal70000 (Click here to hide)

Summary: With a serial killer on the loose, the baffling mystery of Aiden's past, and their tenuous budding romance, Aiden and Fouchard tread through a world of magic and myth on padded shoes, terrified to stir up something neither can control or defeat. Aiden Mercer's life now centers around lounging on the sunny beaches of his adopted country with a beer in one hand and a coffee in the other while admiring the local male population. After a rough life as a respected detective in DC, playing it cool shouldn't be too hard, right? With the magical community on his case and dead bodies piling up around town, the responsibility of finding their killer seems fated to fall on him and deny him of his easy living. Then there is Naël. Cantankerous merman Naël Fouchard's life is focused on bringing up and protecting his little sister. When DNA found at the scene of the murders mark him as the prime suspect, Naël seeks out the help of Aiden, whose reputation as a detective grossly belies his lazy lifestyle and apparent lack of ambition. The chemistry between the strong, stoic Naël and the easygoing Aiden is undeniable, no matter how many walls Aiden builds. If this unlikely pair can't come to terms with their feelings for each other long enough to catch the killer, their emotional turmoil might yet allow the murderer to kill them instead.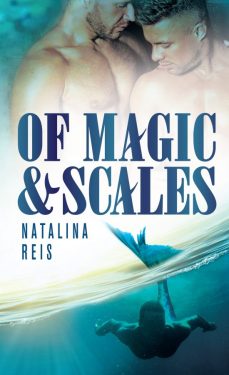 Of Magic & Scales
Word Count: Information not available
Summary: When a shifter and a human are bound by fate, neither man knows if their connection will be enough to save not only their growing love, but their lives. Shahin Halcón has been taught that if and when he meets his soul mate, he'll know immediately. Always the rebel, he doesn't believe it until the day he crosses paths with Cai, a full-human. Plagued by unsuccessful relationships and heartache, Cai Banes's life is quiet and unexciting. When he meets young and wild Shahin, his life is turned upside down, and he's not sure he likes it. But neither can deny the powerful pull that draws them together. Old secrets and ancient myths about cross-species relationships plague their romance and threaten to put their happiness and life at risk. Will their love for each other be strong enough to survive?
Infinite Blue
Word Count: Click here to reveal53000 (Click here to hide)

Summary:
***One angel to bind you, one angel to save you.***
Sky Heavensent, an angel of death, is charged with the collection of souls of the recently departed. Known to his peers and immediate supervisor, the archangel Gabriel, as the liability, Sky puts his heart and soul into everything he does. When he meets Caleb Pierce, Sky is immediately smitten. The problem is Caleb is the soul he came to earth to harvest, and saving him means breaking one of the most sacred angelic directives. Already in too deep, Sky pushes aside the consequences and follows his heart. Danger and mayhem follow, but he will do everything in his power to protect his lavender-eyed man.
Lavender Fields