Nita Round lives in the heart of England with her wife and their ruby Cavalier King Charles Spaniel, Rosie. She has many interests and hobbies, including walking, D&D, cooking, and drinking wine. Not always in that order. Her damson gin and plum vodka have been a factor in several hangovers, but she says it has nothing to do with her. If you can't manage your fruit, lay off the gin.
This author has been favorited by 1 user.
Contact Information:
Email Address: encarna77@live.com
Books By Nita Round
Word Count: Information not available
Summary: Hidden in the shadows, something unseen is hunting them all. The Raven Tower summons the trinity to return home. Neither the tower nor magic tell them why. One by one the soldiers tasked with defending its people, fall to an insidious contagion. Once infected, they succumb to a rabid and animalistic state. If they survive, then they become minions of the dark to spread their touch even further. Magda, Ascara and Lucinda must seek out the dark places foretold by the clan dreamers. When they do, they discover more than they expected. As the rot at the heart of Veritas takes hold, no cure is in sight. When all seems lost, they must face their deadliest foe yet. Now, the war on humanity has become deadly serious. The trinity must triumph. The world depends upon it.
A Touch of Purple
Nita Round ...
June 1, 2022
Word Count: Information not available
Summary: A promise made in fire and ice. A promise kept in death and stone. A truth in three, arise the trinity. Home to Gidhera. Here Ascara must prove herself through combat and the strength of her heart and soul. These tests of fire are nothing when compared to the danger she has yet to face. Ancient foes, asleep for generations, rise up from the sea and swarm across the land like a blight of fang and claw. These dark creatures are different now. They have evolved into something bigger, stronger, and more resilient. They bring with them magic of their own. These new powers could render the whole of Gidhera defenseless. Guns and cannons are no match for these dark powers of the deep. To save her people, the clan and her home, Ascara needs a tower and the full power of fire, and three. Without them will bring the destruction of her clan, and all that she holds dear. Join Magda, Lucinda, and Ascara as they face their biggest and most deadly challenges yet.
A Touch of Fire
Nita Round ...
March 1, 2022
Towers of the Earth Boxed set 2
Nita Round ...
October 3, 2021
Word Count: Information not available
Summary:
A woman scorned is a curse that lasts… for ever Two families inexorably linked through time and misfortune, come together to face an uncertain, and possibly fatal, future. Maggie Durrant, heir to a rambling estate is plagued with a curse that will end her days. Providing her brother doesn't get to her first. Emma Blewitt is the beneficiary of an aunt who leaves her everything and tells her nothing. She must discover her own legacy before she and Maggie can seek a solution to The Ghost of Emily Tapper. (Note this was previously released in 2017)
The Ghost of Emily Tapper
Nita Round ...
March 1, 2021
Word Count: Information not available
Summary:
Some fight evil with swords and force. But for Evie and Hesta, they stand against evil with no more than their will and a song.
In a series of violent and horrific murders, The Butcher of Bristelle, strikes terror into the heart of the city. No one is safe. When Evie Chester encounters the remains of one such victim she knows that this is the work of no ordinary killer.
With mistrust of the gifted rising, can Evie and Hesta solve the case and keep the city safe. Will their wits and their gifts be enough against brute force.
The Evie Chester Files - Case 3: Fur and Fangs
Nita Round ...
January 12, 2021
Word Count: Information not available
Summary: A tormented past, a demon, and a death foretold. Evie no longer a slave, is haunted by her past. Her saviour Hesta Bethwood, who granted her freedom, wants to embark on a joint venture to set up an academy for the gifted. During a demonstration of mesmerism, they witness a demon possession. The demon aware of their presence, seeks them out.  When Evie and Hesta seek advice from a wise witch, a death is foretold. Together they must face the demon; failure will mean loss of freewill that Evie holds so dear. Can they both survive the demon encounter, or will the foretold death prevail.
The Evie Chester Files - Case 2: Sirens and Syphons
Nita Round ...
December 2, 2020
Word Count: Information not available
Summary: A gifted slave. A cursed woman. Together can they gain their freedom? Evie Chester is a slave with a precious gift. Living in a world that both marvels and fears magic and the unexplained. Evie dreams of being free and of acceptance. When an opportunity presents itself for escape she finds herself pursued with a bounty on her head. Eyes are everywhere, nowhere is safe. An encounter with a cursed woman brings about the promise of freedom in return for her help. Everything changes. Is the price of her freedom at too high a price? Evie Chester is set in the same world as the fantasy Towers of the Earth series.
The Evie Chester Files - Case 1: Lost and Found
Nita Round ...
November 2, 2020
Word Count: Click here to reveal94000 (Click here to hide)
Summary:
To have a future, they must face their past. Magda, Ascara, and Lucinda must draw upon the strength of their trinity to seek out the truths of the past that hold the key to their future. They travel north, to Magda's place of birth amongst the Oceanics. For Magda, this is an unwelcoming place, a reminder that she was banished and dealt a cruel fate. Named Stoner and landlocked, for an Oceanic this is a dishonour and a fate worse than death. To return to the float again would place her life, and those with her, at risk. In the freezing waters of the far north, Magda finds herself defending her honour and birthright.  She must succeed as their fate depends upon it. Failure is not an option, the costs are too high. Will Magda allow the past to hold her back, or will she find her destiny? A Touch of Ice is the fourth book in the Towers of the Earth fantasy adventure series.
A Touch of Ice
Nita Round ...
June 9, 2020
Word Count: Information not available
Summary: In the shadows, treachery and betrayal grow unseen. The state funeral of Princess Olivia at Port Ruth marks the end of the Queen of the Desert's reign of terror. As Lucinda, Magda and Ascara attend this grand ceremony, all is not as it seems. A storm of secrets and lies emerge from the shadows and the darkness threatens to destroy them all. No matter where Magda goes, her heritage calls to her. Even when they make their way home, peace and safety are still not theirs. Malice and betrayal, hidden and out of sight, finds the three women and threatens to pull them under the waves of death and pain once more. For the Trinity of Truth: Raven, Fire and Ice, there can be only one way forward, but at what price? This is the third in the Towers of the Earth fantasy adventure series.
A Touch of Darkness
Nita Round ...
April 2, 2020
Word Count: Information not available
Summary: As foretold, the Trinity of Truth must finally face the Mistress of the Night. Lucinda, Ascara, and Magda have survived several dangerous encounters with the various agents of Sh'Na. It is time for them to brave the beast herself in the pyramid from Lucinda's dreams. Magda, however, has met this Queen of the Desert before. Now her past history has risen to confront her with the evidence of her mistakes, and brings new dangers to the trinity. Although she can draw strength from her bonds with Lucinda and Ascara, she fears that even the power of the three of them will not be enough to withstand Sh'Na's evil. But there is more to face than just the desert beast. There are other dangers directed at the three women, and they must act with care and forethought, or be caught in the traps of others. From the city of Port Ruth, their troop travels into the burning lands of sand and sun, where they will face Sh'Na in a battle for more than their lives. Failure will mean the end of the world as they know it. Success will bring a new truth, and the revelation of a new path for all three of them. The trinity must continue to work together, not only to save the world, but also the very nature of time itself. "When the Hours are true, the gates of time will open". In the end, will the trinity prevail? Or will darkness rise again? This is the second in the Towers of the Earth fantasy adventure series.
A Touch of Rage
Nita Round ...
March 2, 2020
Word Count: Information not available
Summary:
Three women. One bloody mystery, and a prophesy that transcends time.  People have gone missing and no one knows where they've gone. The only clue left behind is blood, lots of blood, and a single silver brooch. Magda Stoner, captain of the airship Verity, has questions, and the Order for which she works has no answers to give. She has been directed to enlist assistance from Lucinda Ravensburgh, a tower witch and truthsayer. Lucinda sees truth in everything she touches, a gift, or curse, enhanced by the magic of the tower in which she resides. It's a gift that comes with great responsibility and a duty to those she serves. When Magda asks for aid, Lucinda cannot refuse. Whilst Magda and Lucinda seek the evil behind the disappearances, all manner of threats imperil their lives. Ascara is the warrior who must protect them as their search becomes more and more dangerous. At the moment Lucinda touches the silver brooch, all three lives are changed forever.  Three must become one if these strong women are to succeed when traversing the path of justice. But the path they tread is littered with lies, deception, betrayal, and dark forces. No matter what, the Trinity of Truth must form and hold strong. "Wise birds whisper, Rage of Fire, Strength of Ice". This is the first in the Towers of the Earth fantasy adventure series. (Note previously released as Raven, Fire and Ice in 2018)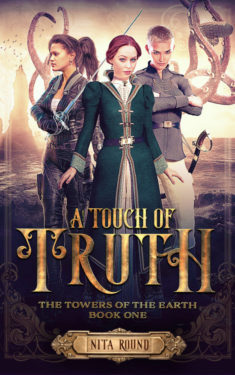 A Touch of Truth
Nita Round ...
March 2, 2020
Word Count: Information not available
Summary:
When two sky pirates survive an attempt on their lives, they must ask themselves, who can they trust?
Magda keeps her emotions in check and her life in order. Beneath her cool exterior she battles with personal loss that has her questioning everything and everyone. Ascara's enthusiasm and passion cannot be contained by the army she once trained with. They became pirates to help people who have no one else, and now, the stakes are much higher. This is a mission they cannot refuse. A notorious slaver has acquired the latest in airship design, an Imperial Condor Class airliner. A ship designed to change the world, and if the slaver transforms it into an advanced warship then no one will be safe, anywhere. Magda and Ascara promise one more mission to free hundreds of slaves and prevent a world at war. Can they rescue the slaves and stop the creation of a super warship?
A Hint of Hope
is the second prequel in the fantasy adventure Towers of the Earth series. If you like exciting adventures that have you hooked from the start, then you'll love this imaginative, enthralling story from Nita Round.
A HInt of Hope
Nita Round ...
January 31, 2020
Word Count: Information not available
Summary: A survivor with no memory and a warrior looking for her path unite against the pirate horde. Two hundred soldiers walk into the burning sands of Gypta, but only a handful make it out. When Magda Stoner wakes in an infirmary halfway across the world, she discovers her memories of the desert are gone. Something happened that tore her mind and soul apart, and the only thing keeping her sane is the fact that she can't remember a thing. Ascara d'Jharaena ael Korphen is a warrior, not a soldier, and trying to fit herself into the lesser role at Veritas Traders has left her body battered and broken in the same infirmary where Magda recovers. As they both mend, they meet a survivor of a pirate attack that included gifted attackers. Finding themselves without a unit or mission, they propose a daring plan to infiltrate the pirate horde and bring them to justice. Can the pirates be stopped? Or will Magda and Ascara be caught before they even begin? This is the first prequel in the Towers of the Earth fantasy adventure series.
A Pinch of Salt
Nita Round ...
January 25, 2020
Word Count: Information not available
Summary: Boxed set of 3 ebooks. Includes the prequel:- "A pinch of Salt" "A Hint of Hope" "Towers of the Earth Book One: A Touch of Truth."
Towers of the Earth Boxed Set 1
Nita Round ...