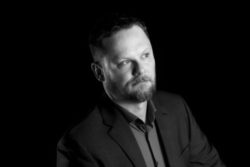 Scott R. Jones is a writer, editor, and naturalized sorcerer living in Victoria, BC, Canada with his wife and two frighteningly intelligent spawn. His fiction and poetry have been published in Innsmouth Magazine, Andromeda Spaceways Inflight Magazine, Pseudopod, Lackington's, and others, as well as a few anthologies and podcasts. He is the editor of the anthologies RESONATOR: New Lovecraftian Tales From Beyond, Cthulhusattva: Tales of the Black Gnosis, A Breath from the Sky: Unusual Stories of Possession and Chthonic: Weird Tales of Inner Earth, all for Martian Migraine Press. His "self-help book for the weird fiction crowd", When The Stars Are Right: Towards An Authentic R'lyehian Spirituality, continues to enlighten/upset/derange hardcore Lovecraftians; he has yet to issue a public apology. Recent works include a short fiction collection, Shout Kill Revel Repeat, and a novel of psychedelic Gnostic horror, Stonefish. Jones was once kicked out of England for some very good reasons.
This author has been favorited by 1 user.
Contact Information:
Email Address: scottjones.rmt@gmail.com
Books By Scott R. Jones
Word Count: Information not available
Summary: On a mission to recover an ancient artifact, an amnesiac girl unlocks the terrible secret of humanity's past and future. The implementation of a radical new technology sends an unlucky test pilot into a dimension of enlightenment and horror. A mystic obsessed with higher-order camouflage uncovers the true face of the world. Lovers on a wilderness trek encounter the unspeakable in a place where time and space turn on themselves. A harmless question posed to a Ouija board unleashes an unusual plague. And a crack team of mutants and monstrosities storms the stronghold of a mad god in a last-ditch effort to rescue Reality itself from delirium and decay. In Shout Kill Revel Repeat, the debut collection of short fiction from Scott R. Jones, you'll be introduced to nihilistic shapeshifters, deranged billionaire magicians, surf champions, survivalists, sadists, and soldiers, all of whom learn that to live is to enter into a never-ending cycle of fury and fear, dark revelation and deepest regret. Shout. Kill. Revel. Repeat.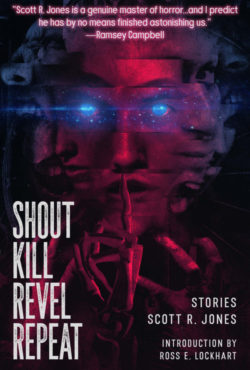 Shout Kill Revel Repeat