I am a fourth generation Texan who grew up in San Antonio. My first relative was a boy came to the Colonies in 1747 as a Scottish indentured servant at age 12. Children were indentured until age 121, not for the regular 7 year indenture. My great-grandmother immigrated from Mexico in the 1890's. My grandfather taught me Spanish.
I am a semi-retired attorney with a family practice near Houston, Texas. I write, quilt, and raise and show Skye terriers. I love North Georgia and we hope to retire there next year - if I can manage to get my husband to retire! He claims he is still having too much fun working.
Contact Information:
Email Address: skmiddleton@sbcglobal.net
Books By Sharon K. Middleton
Series: McCarron's Corner
Word Count: Click here to reveal80000 (Click here to hide)

Summary: Lily Van Der Houghton, a newly licensed physician, is lost and unsettled on which way her life is leading her when she goes hiking to the Jacks River Falls. Lily stumbles through a hole in time and finds herself in 1763. She is not on the trail to the falls anymore but is in Indian Territory in the aftermath of the French and Indian War. To her surprise, Lily learns she has a key role in an ancient Cherokee prophecy. The tribal elders prayed for the right woman to come from Beyond to be Red Moon Woman and the right woman for Marcus McCarron. Lily Van Der Houghton, fresh from the new millennium, is the right woman for the job.
Home to McCarron's Corner
Word Count: Click here to reveal80,000 (Click here to hide)

Summary: "If it weren't for bad luck, she'd have no luck at all," lament the family of Fancy Selk, who has been the victim of horrific abuse. Fancy decides it is high time she learns to make lemonade from lemons instead of always making lemons from lemonade. As she learns to survive her past abuse, young Dr. Richard "Rick" Winslow manages to go back in time to find the beautiful young woman. Rick learns Fancy is married to another man. When her husband is killed at Yorktown, she finally admits her attraction for the handsome physician, as they fall in love, only to be ripped apart not once, but twice.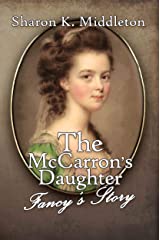 The McCarron's Daughter
Word Count: Click here to reveal100,000 (Click here to hide)

Summary: When Fancy sent Richard from Barbados, she did not tell him her plans. Richard arrives unexpectedly after she and Kirk go to Ireland. Richard discovers she has adopted Kirk's daughter, and he concludes she will never abandon Kirk. Brokenhearted, Richard returns to the future before Fancy can tell him her marriage to Kirk is void. Richard's departure allows Kirk to woo Fancy again in earnest and they remarry. The couple sail to Bermuda, where Kirk leaves Fancy and the children at Spring Haven to sail to Barbados. A hurricane destroys the Spring Haven house. Fancy takes the children to the mainland and on to the safety of McCarron's Corner. En route, she learns Kirk's ship was destroyed in the hurricane and Kirk is believed to be dead. At McCarron's Corner, Fancy manages to go forward in time, where Richard finds her. She gives Richard another chance. They fall in love again, marry, and she writes a best-selling memoir, which attracts unwanted attention. Will they survive when a stalker's dangerous obsession threatens to destroy their future?
Diary of the Reluctant Duchess
Word Count: Click here to reveal80,000 (Click here to hide)

Summary: Cherokee attorney Baylie Smith hates pushing paper at the Bureau of Indian Affairs. When Baylie learns time travel exists, she goes to 1787 to guide her people westward to safety before the Trail of Tears. Baylie becomes a warrior woman, where her intelligence, cunning and logic help the tribe win a decisive battle against the Chickamauga Cherokees. She earns ownership of enslaved Kirk O'Malley, who the Cherokees believe is the white devil, Tsul Kalu. Baylie and Shadow Wolf fall in love and are about to marry when O'Malley manages to go forward in time. The village orders her to retrieve O'Malley to his correct time. But Kirk finds love with Mellie Henderson, and refuses to return to the past as Baylie learns she is pregnant with Wolf's 'different-abled' child. Will Baylie be able to rejoin Shadow Wolf, claim her destiny, and fulfill her part of the prophecy?
Path of the Guiding Light