Word Count:
41000
Summary: Welcome to the mercenary ship, The Blue Solace: Leti Ando needs off planet and fast. He has a best friend and a new half-sister to rescue, and he needs to be sneaky about it. Unfortunately sneaky isn't really his thing. With the help of a friend, Leti and his menagerie, along with his two companions, stow away aboard a mystery ship. Little does he know that The Blue Solace belongs to the infamous mercenary, Captain Will Hackett, a man he'll come to love with everything inside him. Will has been in a bitchy ass mood for the past six months. He's restless and grumpy, but doesn't know why. He knows he needs something and he can't find it, but his crew are out of patience and insist on some R &R back home at Charybdis Station. Then Hack finds a stow away angel and everything changes. Leti is his mate and he'll do anything to keep him safe and happy, even smile. The galaxy's not a safe place, though, and The Blue Solace has a job to do: pick up a renowned scientist and his mysterious artifact. Then get them safely back to Charybdis Station. Hack and Leti don't realize their romance story is about to get hijacked by Concord mercenaries. Their love is easy, it happens just like that. Staying alive and keeping the galaxy safe? That's a little harder. Author's Note: 41,801 words. (Previously published as "Happens Just Like That"). This is a m/m love story with no angst and no cheating, just a HEA. There is lots of action, sex, mpreg, and a few potty mouths involved in the story. 18+ readers only, please. It is also the first of two books about this specific couple.
The Mercenary's Mate
October 5, 2018
Word Count:
60000
Summary: Welcome back to the Blue Solace: (Sequel to "The Mercenary's Mate") Leti Ando and Will Hackett are certain about one thing in all the galaxy. They love one another. Now that they are mated, it's time to meet Hack's parents and settle into their new home. In a normal courtship, the two would spend time getting to know one another and reveling in their love. Normal isn't what they get. Leti struggles to understand the artifact Dr. Morrick left them, but what he's discovering is unbelievable and completely frightening. If his theories are true, then the entire galaxy is at risk. Meanwhile, he tries to adjust to Charybdis Station, deal with his parents, and worse of all, learn to cook. Luckily he has friends, old and new, to help him. Hack comes home to Charybdis Station, expecting a break from the hectic adventures of the past few months. What he gets are changes, more responsibilities, and a war with the Concord. He'll deal with it, though. All he has to do is look around him to understand why it's time to fight back. Together, the new couple must learn to stand together, to accept and support one another. Their happiness isn't the only thing at risk. Author's Note: 60,000+ words. This is a m/m love story with no angst and no cheating, just a HEA. There is lots of action, a little sex, mpreg, and a few potty mouths involved in the story. 18+ readers only, please. It is also the second book in a series that is best read in order. Read "The Mercenary's Mate" first!
The General's Mate
November 18, 2018
Word Count:
55,000
Summary: Morgan Murray is an easy, fun-loving guy. He excels at being a soldier, but never wanted more out of life. Somehow, he ends up in a position of authority on Dru's new ship, the Blue Sparrow. Now he has to deal with what he dreads most. Responsibilities. Dru and her crew are given the task of finding Wyatt Morrick and telling him about his father's death. Along the way, Morgan soon learns that responsibility can be painful, difficult, and frightening. It can also lead to something very special. Dr. Wyatt Morrick is in trouble. Big trouble. He and his medical crew are stuck on a planet under attack. He may not be a soldier, but he has patients and friends to worry about. With very few supplies left, something has to give for them to survive. The whole planet's future is at stake and he is stuck hiding in a cave. When Morgan saves Wyatt and his friends, the two men are given a gift, each other. Their love can't stop the Concord, though, and someone has to. Morgan has to grow and accept his responsibilities, and Wyatt has to move on from his father's death. That death just happens to be a little more complicated then Wyatt expected.
The Soldier's Mate
January 11, 2019
Word Count:
54,000
Summary: Welcome back to Charybdis Station and the crew of the Blue Solace: (Fourth Book in the series) Sebastian Dolarnio has a past. His parents sold him into indentured servitude when he was seventeen which led him to enforced prostitution. Fortunately, with the help of some very good friends, him and his daughter are safe and have a home - a beautiful, accepting place with more family than he ever dreamed of having. Then there's his mate. A handsome, wonderful man calls Sebastian "mate" and Sebastian knows he doesn't deserve him. He has to find a way to be worthy of his new home and his new mate. A strange Crellic book provides him with the answer to his problems, but it comes with complications of its own. Alois has been dreaming of finding his life-mate since he was a kid. He knows that Sebastian is a dream come true, but how can he convince his mate of that plus fight the baggage he carries from his own past? When Sebastian begins a strange, wonderful journey, Alois knows that he has to be the loving and supportive mate that Sebastian deserves. The two men build a life together and learn to love one another, but the galaxy is in turmoil and Charybdis Station is in the middle of it all.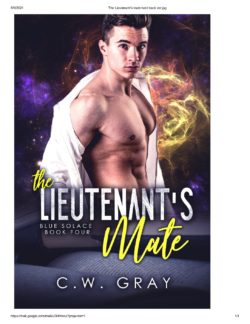 The Lieutenant's Mate (Blue Solace Book 4)
March 10, 2019
Word Count:
56,000
Summary: Welcome back to Charybdis Station and the crew of the Blue Solace: (Fifth Book in the series) Beck Brackenstone is a simple Grell. He loves his family and friends and enjoys tinkering in his shop. His greatest dream is to meet his life-mate, settle down, and raise a bunch of babies. When he finally does meet his mate, he realizes how completely unprepared he really is. How do you court an assassin? How do you keep your brain from melting when your mate smiles? Guild Master Beol is not a simple man. He runs one of the most prominent assassins guilds in the galaxy and has a troubled past. He has responsibilities and contracts to worry about and no time for a mate. When he meets Beck, that all changes. His Grell completely bewitches him and sparks something inside him that he thought died a long time ago. The problem is that Beck has secrets that even his most trusted friends don't know, and Beol has some major trust issues. The two men may appear to be a horrible match, but in truth, they are perfect for one another. Unfortunately the Crellic Queen and Humans First are terrorizing the galaxy and Charybdis Station is their next target. They will need to trust in one another and their friends to end the Queen's path of destruction once and for all.
The Engineer's Mate
May 16, 2019
Word Count:
55,000
Summary: Welcome back to Charybdis Station and the crew of the Blue Solace: (Sixth Book in the series) Draif Ando started life as a slave on Vextonar. When he was fifteen, he met his best friend, Leti Ando, and life got a lot better. Now he's a Charybdis Station captain and works closely with the Lord Admiral of the Station. He is a free man, finally has a purpose of his own, and has the the best lieutenant in the galaxy by his side. If he's so content, why does he yearn for more, and why is he suddenly picturing children with his eyes and Lucas' ears and tail? Lucas Meluth knew that Draif was his life mate from the moment they met. He also knew that Draif was demisexual and wasn't attracted to Lucas. Not at first. Now, Lucas notices the way Draif's eyes follow him and the way Draif's innocent touches are suddenly not so innocent. Has the time come for their friendship to turn into more? Draif and Lucas may finally be figuring their relationship out, but their enemies are approaching and it's time to protect Charybdis Station and rid the galaxy of Humans First, once and for all.
The Captain's Mate
August 29, 2019
Word Count:
55,000
Summary: Welcome back to Charybdis Station and the crew of the Blue Solace: (Seventh Book in the series) Finn Sterling is still adjusting to becoming the lieutenant of the blue fleet of Charybdis Station. As an orphan on Cardinal Hold, he never imagined he would have a position of authority as an adult and the trust his friends put in him makes failure impossible. When he is given the monumental task to find a large number of missing Vextonians, he'll take all the help he can get. When Finn's journey brings him to his mate, he discovers that finding the missing is only one part of the quest ahead of him. Aiden Crow has spent the last year consumed with grief and his search for vengeance. When he meets Finn, he knows instantly that the man is his mate, but what could he possibly offer the beautiful, smiling Cardinal? As the search for the missing draw the two men together, Crow realizes that the greatest risk he faces is losing his heart. Crow and Finn must work together to gather information so they can find the innocent before they are lost forever.
The Rebel's Mate
January 24, 2020