Word Count:

103,300
Summary: Legends tell of large cats defending the principality of Tournai, but such creatures are only myth. Or are they? Prince Philip inherited the throne of Tournai at a young age, and since then, his life has centered around ruling his country and resisting those pressuring him to do as they want both in matters of governance and those more personal. He's become isolated and lonely. Amory is the second son of a wealthy merchant who has never approved of anything about him or had any use for him. Until now. When kind-hearted Amory is offered to the prince in exchange for more time for Amory's merchant father to complete a commission, both Philip and Amory are horrified. But Philip agrees to keep Amory at the palace, where they gradually become friends, then lovers. For the first time in his life, Philip is free to share not only his heart, but the magical shape-shifting ability that runs in the royal bloodline—something the royal family has kept secret from all but those closest to them for generations. Neither Amory nor Philip imagined falling in love, and they certainly don't expect what those who oppose their relationship will do to keep them apart—maybe even resorting to murder.
The Prince's Consort
Word Count:

108,720
Summary: As the first-born son of a royal duke and cousin to the prince, Cathal has always put his duty to family and country first, even when it conflicts with his own wishes. When Cathal's father arranges a marriage between him and Velia, cousin to the emperor of Ardunn, without consulting him, he sees no alternative but to go along with his plans for the good of Tournai. But it's Velia's companion, Flavia, who fascinates Cathal from the moment he first sets eyes on her. Cathal doesn't know Flavia is really Flavian, an artist masquerading as a woman to escape Ardunn, a restrictive and repressive place where Flavian's preference for men is forbidden. Even when Cathal discovers Flavian's identity, even as he struggles with his obligations and duty, he cannot fight his attraction to the sharp-tongued artist. Flavian is intrigued by him as well, but Cathal is still betrothed to Velia, and Flavian worries he is more taken with the feminine illusion Flavian presents than the man beneath it. He came to Tournai to start a new life—a safe one—as an artist, and an inconvenient attraction to his friend's betrothed, a man who happens to be a member of the royal family, is not a part of his plans. While both men battle their longings for each other, spies from Ardunn infiltrate the capital, attempting to uncover Tournai's weaknesses and secrets. They are also searching for Flavian, who possesses a magical Talent giving him the ability to see the truth of a person just by painting their portrait—something that would be invaluable to Ardunn's emperor.
The Artist's Masquerade
Word Count:

107,680
Summary: Though he is the youngest son of a royal duke, Etan is a scholar at heart, happiest in a library surrounded by his books. He contentedly juggles his work for the prince's government with his studies of the history and legends of Tournai, a subject of particular interest to him because he shares the secret magical Talent that runs in the royal bloodline. However, Etan's peaceful world turns upside down when his best friend—the man he secretly loves—unexpectedly marries someone else. Tristan is the oldest son of a wealthy merchant, raised to shoulder responsibility for the family business one day. That day comes far sooner than anticipated, and he makes a deathbed promise to his father to marry the woman his father chose and become head of the company and family. Tristan values his friendship with Etan and has always been attracted to him, but he can't forsake his duty to his father, even if it means giving up the possibility of having Etan as a lover. A year later, Tristan is a widower with an infant daughter and a mother who demands he marry again quickly—something Tristan resists. Circumstances throw Etan and Tristan together again, but even as they succumb to the desires they've always harbored, Etan battles his feelings, wary of being cast aside once more. When the unimaginable happens, Etan and Tristan must come together and support each other through the ordeal…and maybe beyond.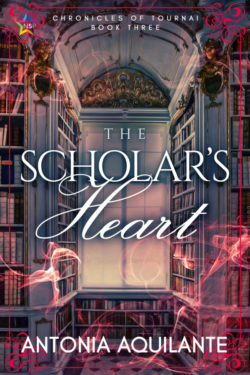 The Scholar's Heart
Word Count:

111,309
Summary:
Savarin honed his Talent through years of study, and to achieve his goal of becoming the most powerful and accomplished sorcerer in Tournai, he made magic his life. Among the wealthy and noble circles he moves in, no one would suspect the handsome, refined, arrogant sorcerer's humble beginnings—which is how Savarin prefers it. He wants to be seen only as the man he's made himself. When Tournai's princes task Savarin with studying and strengthening the spells that protect the principality from magical attack, he is more than happy to do so. The spells are complex, centuries old, and exactly the type of puzzle Savarin is eager to solve. But to his annoyance, the princes insist Loriot accompany him on his journey. Second son of a minor noble family, Loriot worked his way up the ranks of the royal guard to captain with single-minded determination and takes pride in his service to the crown. He must obey the prince's orders to protect Savarin, despite believing his skills would be best used elsewhere and his wariness of magic. UnTalented himself, Loriot has learned not only the benefits of magic but also its potential for harm—and how to counter it. He still believes it's best to avoid most magic entirely, which is difficult when he's tasked with playing guard to a powerful sorcerer. Loriot and Savarin clash repeatedly during their journey, but the simmering tension between them doesn't only stem from their work, and passion develops into feelings neither expected. But Savarin must still secure Tournai's magical barrier, and his only solution will endanger both him and the royal family.
The Sorcerer's Guardian
Word Count:

108100
Summary: Corentin is a scholar with a secret—his magical Talent allows him to turn into a dragon, and he isn't alone in that ability. Long ago, dragons were hunted fiercely, until they went into hiding, becoming things of legend. Corentin has traveled the world with one aim—to protect his people and keep their secret safe. Drawn to the principality of Tournai by news of someone close to discovering that secret, he hopes to avert suspicion. His attraction to the too-serious Bastien isn't convenient for his purpose, but it isn't something he can ignore either. Lord Bastien, Earl of Ardesia, inherited his title unexpectedly when his parents were killed in a sailing accident along with the parents of his cousin, Prince Philip. Since then, Bastien has devoted his life to the obligations of his family and estate—so much so, that it has caused tension between him and his siblings. His world is further shaken when he receives an anonymous letter informing him that the tragic boating accident may, in fact, have been murder. Bastien throws himself into investigating whether the allegations are true and finding out who killed his parents. As Corentin and Bastien become closer, the mystery of Bastien's parents' death draws him further into danger. Corentin feels compelled to protect Bastien, but the threat is closer than they know. Now, Corentin must decide whether preserving his secret—and potentially his people's safety—is more important than saving the man he loves.
The Dragon's Devotion
Word Count:

106100
Summary: Faelen, cousin to the prince and son of a diplomat, has finally come home to Tournai after years away. The pull to return was almost tangible, and the sense of rightness at being back is absolute. He wants nothing more than to put down roots and build a life among family while pursuing his linguistic studies. Becoming involved in magic meant to protect Tournai isn't part of his plans…and falling in love is even more unexpected and unfamiliar, but he finds himself doing just that as his friendship with Maxen deepens into something more. Maxen, second son of a wealthy merchant family, longs to leave Tournai and visit everywhere he can. All his life, he's found places on maps and dreamed, planning out routes to get to them. For now, he's tied to Tournai's capital city by family obligations and his position in their shipping business. Someday, though, he'll be able to travel. His sudden attraction to Faelen shocks him, but their friendship soon becomes a necessary part of his life. Love, however, has no place in his plans, especially not love for a royal cousin with secrets who wants nothing more than to stay in one place. For Faelen and Maxen to build something real between them, they must resolve their differences, but when magic goes awry and all Faelen's secrets are revealed, will Maxen remain at his side?
The Merchant's Love
Word Count:

107100
Summary:
Alexander is doing his best to settle into life in Tournai's royal palace after years living outside the country due to his father's diplomatic work.The sense of belonging and home he feels is overwhelming, but none of his plans are going as he imagined. Many see him as only a lovely, charming adornment of the royal court and underestimate both his intelligence and abilities. His attraction to Marcus, a mysterious olderman who does work for the prince, Alexander's cousin, is unexpected butnot unwelcome...if Marcus could possibly see who Alexander really is. Lord Marcus is the second son of a minor noble family, a widower raisingtwo children...and the prince's spymaster. He knows his work isnecessary for the security of the kingdom and its royal family, but he also knows it can be distasteful and dangerous to him and those around him. Marcus has vowed never to fall in love again, never to put anyone else at risk—a promise threatened for the first time by the vibrant, flirtatious Alexander. The attraction is unwelcome and entirely undeniable. Hecan't believe someone like Alexander would want someone like him, but he also can't stay away. As they become ever more entangled, Marcus is investigating rumors ofspies at work in Tournai's university. As he gets closer to uncovering their plot, Alexander is drawn deeper into danger. Can their love survive when Alexander is put in peril by the very spies Marcus is hunting for?
The Spymaster's Secret
Word Count:

103800
Summary: Second son of an earl and cousin to the Crown Prince, Griffen has worked hard to forge a career in diplomacy for the principality of Tournai, but he never expected his diplomatic skills would be necessary for a problem so personal to him and his family. A delegation from the mysterious kingdom of Ivria has come to Tournai to make sure the secret of their people—the magical Talent allowing them to change into dragons—and therefore their kingdom itself remain safe. The delegation is concerned with Corentin, an Ivrian, and the man Griffen's older brother is soon to marry. The Ivrians seem to want to drag Corentin back to Ivria for the offense of revealing their secret, but Griffen refuses to let it happen. His determination puts him into contact—and conflict—with Kirill, a negotiator for the king of Ivria who possesses the dragon Talent himself. The two clash and connect, getting closer and pulling away as they try to negotiate the needs of their people and an unwanted attraction between themselves. However, just as trust might be growing between them, a plot is uncovered and a member of the Ivrian delegation murdered. Griffen and Kirill must discover who is behind both for the safety of their countries and the people they love…and for a chance to be together.
The Envoy's Honor