Word Count: Information not available
Summary: Worlds collide and peace shatters in Book 3 of The Meaning Wars… On the way to a new wormhole-building gig, Crystal and her husband Jai fight over the future of their family. But the safe haven of their base is paradise compared to Pluto. Recovering from her imprisonment, Sarah and her cousin Toby try to scrape their lives back together and stay out of trouble on the icy planetoid. Rebel leader Patience Ngouabi's actions have triggered a growing insurrection on the colony planet of Indus, and the shock waves have reached even the Solar system's worlds. Both Crystal and Sarah will have to decide between uneasy peace and constant danger - if they get to choose at all. Content advisory: this book contains references to abuse, sexual scenes, torture, and mental health issues. Reader discretion is advised.
The Meaning Wars
Word Count:

62000
Summary:
Sanderson always envied the townies, all smiling faces and holding hands at his performances. He wanted the happy ever after that came with real life, not the pretend one in the twinkling fairy lights of the Moonlight Market. So when the Weaver of Dreams conjured him a normal life, college classes instead of performances, a chance at a boyfriend instead of an audience, he ran for daylight. Now a year later, he's learned that connecting with someone physically doesn't always lead to a lasting relationship. To get closer to the man of his dreams, Sanderson offers to help Cory find his missing sister. This means navigating the twists and turns of the Moonlight Market, the disorienting world of performers and hawkers, bizarre sights, sounds—and dangers. The sinister Weaver of Dreams offers to forgive Sanderson's obligation in return for a lost soul, for Cory, who is still grieving the death of his parents and the disappearance of his sister. Surrounded by both friends and enemies, Sanderson fights doubts about his budding relationship with Cory while guiding them ever closer to his ultimate dilemma. The debt is valid and the choice is clear–his lover, or his dreams. The Moonlight Market, a paranormal finalist for the 2017 Southern Magic Gayle Wilson Award of Excellence, is a full-length new adult romance brimming with magical realism, fairy tale villains, and quirky characters. If you like your romance to send a shiver down your spine, you'll love The Moonlight Market! Buy your copy now and enter a world of dark fantasy and magic!
The Moonlight Market
Word Count:

67429
Summary: During the War to End All Wars, Roddy Sayer survived his trip down the Ruzizi with his beloved, Charlie Pearson. He survived the sinking of the Konigin Marie Christine he and Charlie engineered. But now it's 1922, his beloved is dead after working on a dig in Egypt to unearth royal tombs, and Roddy is alone, with odd, erotic dreams of an Egyptian prince ensnared by the machinations of a high priest. Is he losing his mind? Thomas Fortescue-Smythe, who flirted with Roddy and made advances toward him before, finds him again. Tommy persuades Roddy to come to his family home in England, and eventually, to share his bed and his body. But when Roddy sees an Egyptian man and knows it is the same man who was the high priest in his dreams, can he keep himself and Tommy safe?
The Most Loved of All
Word Count:

86600
Summary: Why would someone, apparently chosen at random, have their consciousness swapped with someone else in another reality? How would someone, apparently chosen at random, have their consciousness swapped with someone else in another reality? Why would another three persons, apparently chosen at random, have their consciousness swapped with three other someone elses in another reality? Why would the entire bridge crew of a starship, apparently… well, you get the picture. What will happen to all these very confused people? How does the Alternate Reality News Service get scoops on these events so quickly? Why are their reporters acting so dodgy – do they have something to hide, or just issues? Who are the Pops, and can they help? Does the editor know what's going on, and if she does would she even tell Noomi (our favourite TA investigator)? What was that noise from her office when Noomi was 'interviewing' her? Why am I asking you these questions when you haven't even read the story yet?
The Multiverse is a Nice Place, But I Wouldn't Want to Live There
Word Count: Information not available
Summary: In a world where magic is real and evil walks amongst humanity, a young sorcerer is beset upon by enemies, both old and new. Angelus Salvatore is the only necromancer in all of Boston, and his name is whispered warily by the undead and fellow sorcerers alike. He and his brother Isaac are the lone survivors of an attack by an army of the undead, in which Angel used a spell so powerful it forever marked his place in history. Now, years later, Angel struggles to balance his career as a teacher of the higher magical arts, his role as big brother, and a tenuous relationship with an Elder vampire from the local clan. When his brother's boyfriend is used as a pawn in a mysterious plot to draw Angel out, Angel is once again drawn back into the old hostilities that fueled the Blood Wars and led to his family's death. Leaning on others for help is something Angel cannot do, and while he searches for clues into who may be targeting him and his brother, Angel finds his heart steadily growing occupied with Simeon, Elder and vampire. Dealing with death magic and vampires on a daily basis may leave Angel jaded when it comes to life and staying that way, but the more time he spends fending off the ancient vampire's attention and affections, the more he realizes he wants to give in. Can Angel find out who wants him dead, and keep his heart safe in the process? How can he fall for a vampire, when his whole family was torn apart by an army of the undead? Death stalks the streets of Boston's historic Beacon Hill....and there is no one more suited to battle against death than a necromancer. MATURE CONTENT Contains graphic violence, male/male sexual contact, a cranky necromancer, a sexy Irish vampire, and a pesky demon.
The Necromancer's Dance
Word Count: Information not available
Summary: Even love can die without trust. Angel's brother, Isaac, has returned home, and the pair begins to make slow and awkward attempts back to each other. Learning how to be a brother to a grown man instead of a parental figure has Angel adjusting his behaviors and habits, and Isaac still remains a mystery. Was it merely entering adulthood that turned Isaac away from an overprotective Angel, or does Isaac carry a secret that will keep them from finally being a real family? Daniel Macavoy, Angel's new apprentice, is torn between his bond with Angel and the grasping machinations of his father. Dealing with a traumatized apprentice with dangerous holes in his magical education, saving Daniel may be harder than Angel first thought—especially since the biggest problem is not revenge, but guilt. The one shining beacon in his life is Simeon, Elder vampire of Boston's only Bloodclan. Four hundred years old and sexy as sin, Simeon is warrior and sage, patient and cunning. The strength Angel draws from Simeon's devotion and the newborn mate-bond between them is steadfast and true…and the fount of death magic that animates the undead lord places Angel in the midst of a power struggle for control over himself, his lover, and his family. Through it all, Angel is beleaguered by the unwanted attention of a troll-hybrid, the adventures of a dragon in the city, and a serial killer has decided to hunt the back alleys and midnight streets of Boston. **72k words. Contains bonus short story at the end, "The Necromancer's Birthday Surprise", written for Crystal's Many Reviewers, March 2016. Book TWO in a series. Not standalone. **Contains male/male sexual content. Violence, gore, sex, vampires. A cute dragon and some snark. Okay, lots of snark.
The Necromancer's Dilemma
Word Count:

85000
Summary: Every action has consequences. For a decade, Angel Salvatore has been the most powerful sorcerer and only necromancer in all the Northeast. Never one to ask permission nor apologies, he has acted with near impunity for years. Until now. The High Council of Sorcery has come to Boston, and Angel is their target. Charged with numerous violations of practitioner laws, his freedom and family are placed in jeopardy. If found guilty, Angel's apprentice Daniel will be imprisoned to serve out the remaining years of his apprenticeship. Isaac, his brother, is too vulnerable to be left unguarded, and Angel fears for his sanity and health. And Simeon, Elder vampire and Angel's mate refuses to see Angel convicted under the laws of the Council and his actions to keep Angel free threaten to start a war that could destroy their world. And Angel faces the severest of punishments—the castration of his gifts. The Council has never cared for the people of Boston, and Angel doubts their motives. They have come for some insidious reason, and it has nothing to do with upholding the law and everything to do with Angel. Dealing with an impending trial, a wayward ghost, and a graverobbing ring of thieves leaves Angel on the edge. He thinks he may have a handle on things until violence erupts across the city, and a stranger comes to town...a stranger with his own dark powers of necromancy. This is book 3 of a series, and the previous books should be read first for full enjoyment. Trigger Warnings are on the Copyright Page and can be seen using the Look Inside feature or by downloading a sample of this book. 85,000 words 340 pages Gay Urban Fantasy Romance
The Necromancer's Reckoning
Word Count: Information not available
Summary: The case: a grandmother who vanished from a locked room. The best lead: a psychic who's as mysterious as she is cute. Detective Jack Duarte is the one called upon when weird cases hit Auckland. A fierce loner with a reputation for solving the unsolvable, she is the perfect choice for the latest odd mystery: the locked-room disappearance of a beloved grandmother, who has vanished without trace and, seemingly, without suspects or a motive. This time around, though, Jack has also been assigned a partner. The fresh young detective Piper, who has transferred in with a difficult history, is determined to prove themself. Smart, perky, and inexperienced. They are exactly the kind of partner Jack manages to scare away. As they dig deeper into the mystery, though, Jack has to put her own reluctance in the back seat and help Piper navigate a whole different world — because the beloved grandmother has her own mysterious past, one that has already cost lives… and souls. With the help of the enigmatic and beautiful psychic Emmaline, Jack and Piper must confront the strange world on the other side of the mirror. Some mysteries can only be solved with magic!
The Other Side of the Mirror
Word Count:

93000
Summary: A militia officer on the hunt for a murderer. A scientist with the key to humanity's future. A girl locked in a glass tank. One seeking justice. One seeking fame. One seeking answers. With the galaxy on the brink of war, time is not on their side. Join them in their battle for survival.
The Parallels
Word Count:

75000
Summary: She just wanted an easy case ... Private eye Jacqueline Spadros, recovering from her harrowing experiences the week prior, wants nothing more than a simple, straightforward case - preferably one the Spadros Family won't find out about. Aristocratic jewel merchant Dame Anastasia Louis, aka "The Queen of Diamonds," seems to be offering the perfect arrangement. But Jacqui can't leave the madman "Black Jack" Diamond's crimes unpunished. And the more she learns, the more she begins to believe that this particular job wasn't such a good idea after all ...
The Queen of Diamonds: Part 2 of the Red Dog Conspiracy
Word Count: Information not available
Summary: The race is on. Beware the henchmen. Fale and her friends are on an epic journey to find the magic machine that will open dimensions, allowing her to rescue the mage slaves—her people—from the hands of an evil Source Wizard. Still accepting her role as queen, she welcomes her new powers. But the group is not alone. Henchmen wait for them when they least expect it. Tensions are already high, but when Izzy—Alloy City's socialite—decides to wage war on Fale, the situation becomes toxic. Fale is devastated. She's lost her way of life, her identity, her guardian, and now her best friend. Worse, she pushed Keron—her hot boxer crush—away so he could focus on his job, but sharing a tent with him is excruciating when passions boil over. She'd give it all up if it weren't for her trusty sidekick, Lisle—the wizard—who loves her, but wants to see her succeed and to find his own purpose. They sail to an island in her visions that no one believes is there. Fale is relieved to be on her way, but fear of what awaits her, plus the constant state of tension in her group, immobilizes her. She's miserable, just trying to make every choice a good one. Things will never be the same as they were back home, she will never be the same. Fale doesn't know what they will find once they reach the island. She doesn't know why she's having memories of Queen Effailya's life, making her magic misfire at inopportune times. She has no clue how they'll manage to get a huge machine onto the boat and back to the mountain mages' estate. Impatient for answers, she seeks clues to the mystery. She may find everything she's looking for—she might not—but the price for winning will be higher than she ever imagined. ★If you like epic quests, sword and sorcery, mages, wizards, love triangles and plot twists, you'll love this complicated emotional must-read. You won't want to put it down. Fans of the first book, The Key of F, The Hunger Games, Eve, and The Rise of Isaac will enjoy this character-driven story.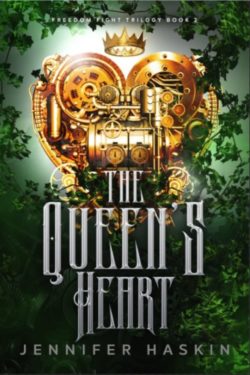 The Queen's Heart
Word Count: Information not available
Summary: The Hunt is On! When strength becomes weakness… And hope becomes doubt… As the past collides with the future…hard… Can Suzanne—Wild Hunt biker chick and one-time member of the fae High Court—stand strong as her world falls apart? She survived an assault by redcaps, an all-out battle with the High King's armies, and her first encounter with roller derby… but how will she fare against her inner demons? Caught in the midst of a transformation she scarcely realizes and does not understand, her hard-won convictions are tested as never before. Suzanne is left with only one question—what if they're wrong? The truth could mean the difference between saving her sanity and losing her soul…
The Redcaps' Queen
Word Count:

45000
Summary: Manifesto the Great comes from a dynasty of leaders who treat women like breeding machines. When his father dies, he must take over as leader, but will he be able to keep control of the women? Planet Hy Man is a planet as pure as a baby's belly button until a spaceship arrives; a spaceship full of men and women who have spent a lifetime of celibacy. Sex, like roast chicken and football being off the menu until a planet was found.  They hurl themselves into a frenzy of real meat, real air, and sex until a leader emerges to create order, civilization and a sewage system. Manifesto the Great watches as his forefathers pollute the planet, treat women as walking wombs, and make dodgie robots until it is his turn.  Will he rise over the tidal wave of discontented women, or will he drown under a sea of underwire and oestrogen? The Rise Of Manifesto The Great is the first of three prequels to the Planet Hy Man science-fiction comedy series. If you like high-mileage heroines, fast-paced satire, and meticulously crafted universes, then you'll love Kerrie Noor's otherworldly farce. 
The Rise Of Manifesto The Great
Word Count:

70190
Summary: Tucker Ferguson thought his life was moving along in a predictable fashion—working as an athletic trainer by day, clubbing and partying at night. Then he receives a mysterious plea for help on his cell phone, and he soon finds himself trapped in an alternate dimension he can't escape. Other odd things are happening elswhere in Colville, New York, though. Wry, plain-spoken Police Officer Dean Williamson and his earnest, dedicated partner Khalil Mansour have been chasing a petty thief who has the ability to appear out of nowhere and disappear again at will. When they make the connection between Tucker's disappearance and the thief's antics, the situation takes a turn in a markedly sinister direction. The three men are drawn into the connections between our world and the Shambles—that mysterious, shadowy place where all the lost things go. Lost socks, lost car keys—and lost people. And when a young megalomaniac decides that she wants the Shambles to be her kingdom, regardless of whose life it costs, Tucker is jerked out of his complacency into a world where there are no rules—and Mansour and Williamson may be the only ones who can save his life.
The Shambles
Word Count:

55,000
Summary: Morgan Murray is an easy, fun-loving guy. He excels at being a soldier, but never wanted more out of life. Somehow, he ends up in a position of authority on Dru's new ship, the Blue Sparrow. Now he has to deal with what he dreads most. Responsibilities. Dru and her crew are given the task of finding Wyatt Morrick and telling him about his father's death. Along the way, Morgan soon learns that responsibility can be painful, difficult, and frightening. It can also lead to something very special. Dr. Wyatt Morrick is in trouble. Big trouble. He and his medical crew are stuck on a planet under attack. He may not be a soldier, but he has patients and friends to worry about. With very few supplies left, something has to give for them to survive. The whole planet's future is at stake and he is stuck hiding in a cave. When Morgan saves Wyatt and his friends, the two men are given a gift, each other. Their love can't stop the Concord, though, and someone has to. Morgan has to grow and accept his responsibilities, and Wyatt has to move on from his father's death. That death just happens to be a little more complicated then Wyatt expected.
The Soldier's Mate
Word Count:

108100
Summary: Starting on his reluctant odyssey with a small party of friends, the storyteller Jafar al-Sharif must cope with treacherous nomads, a desert djinn, a king of an underground realm and an army of animated corpses as he attempts to save the life of his beloved daughter. This is Book 2 of the Parsina Saga, a journey through a world of djinni, flying carpets and high adventure in exotic realms -- with the fate of the world at stake.
The Storyteller and the Jann
Word Count:

75000
Summary: Be careful what you wish for … After eleven years trapped in the Spadros crime syndicate, 23-year-old private eye Jacqueline Spadros is an independent woman, free to run her investigation business. But her problems are only beginning. Deeply in debt, Jacqui is in danger from both the rogue Spadros men calling themselves "The Ten of Spades" and the ruthless Red Dog Gang — who may be one and the same. Jacqui is determined to find Black Maria, the key to the identity of the Red Dog Gang's secretive leader. To survive long enough to do that, Jacqui needs a paying case. The one she's offered may put her in the most danger of all …
The Ten of Spades: Part 5 of the Red Dog Conspiracy
Word Count:

81000
Summary: As a private eye closes in on her city's secrets, there are those who will go to any lengths to stop her. After the horrific events of our last chapter, Jacqui's in a medical predicament. If she wants to stay free from the Spadros crime syndicate, she has to find the cure for her condition - and time's running out. But just when Jacqui thinks she's found what she's after, she finds herself instead in a much bigger - and deadlier - situation. She's getting closer to discovering what mechanisms really lie beneath the city. And the Red Dog Gang isn't the only one who wants her stopped. Warning: on-screen death, captivity, child murder, terror, blood, bad language, smoking.
The Three of Spades
Word Count:

70000
Summary: Jacqui faces her biggest mystery yet - and her greatest fear. A drive-by shooting leaves Jacqueline Spadros with little remaining support for the life she's built apart from her estranged husband Tony. As evidence grows that the Hart Family is behind the attacks, which up to now have been laid on the doorstep of the notorious Red Dog Gang, Tony brings formal charges against the Harts before the Commission. Jacqui wants to stop the Red Dog Gang and learn the truth about Charles Hart's obsession with her. But the truth is stranger than she ever imagined. And what she learns changes everything. This is chapter 7 of a 13-part future steampunk noir series. Please begin with The Jacq of Spades and read the books in order.
The Two of Hearts
Word Count:

70000+
Summary: Is there redemption after mass murder? Is there redemption after genocide? Is there redemption when one isn't even seeking it? Brianna'Tal had been running for years, running from her past, from her sister She found peace and Isolation She was content and happy, or so she thought Until a freak accident brought a mysterious woman into her life Love was not part of the plan, nor was it something she understood, And certainly not something she deserved But it is what she got You may remember Brianna from M.R. Gross' first novel The Malevolent Witch. The Unfolding takes place some 5 years after The Malevolent Witch. We hear Brianna's story, her side of events, does her reasoning justify her actions? This is a stand alone novel, it can be completely enjoyed without reading The Malevolent Witch. Author Note: I've read books, watched tv and movies that supposedly had autistic characters, but the vast majority of them were written by non-autistic people/writers. Brie is autistic, and I believe I represented a Neurodiverse woman authentically.
The Unfolding