Horror stories that radically reinterpret ghosts, vampires, werewolves, and other traditional horror themes. Return to general Horror
Note: these books are currently sorted by release date, with newest first.
Word Count:

38000
Summary: RISE (noun / verb) Eight definitions to inspire writers around the world, and an unlimited number of possible stories to tell: 1) An upward slope or movement 2) A beginning or origin 3) An increase in amount or number 4) An angry reaction 5) To take up arms 6) To return from death 7) To become heartened or elated 8) To exert oneself to meet a challenge Rise features 300-word speculative flash fiction stories from across the rainbow spectrum, from the minds of the writers of Queer Sci Fi.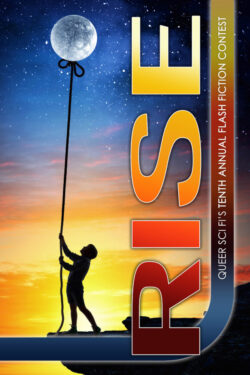 Rise
Word Count:

50,000
Summary: J. Manfred Weichsel's versatility, unique style, and refusal to be bound by genre conventions have made him a force to be reckoned with in the world of speculative fiction. Now, Weichsel invites you to strip down and expose yourself to his raw and unfiltered imagination with Warrior Soul & Other Stories. Weichsel's stories peel away the veneer of societal norms and delve deep into the human psyche, exposing the rawest and most vulnerable parts of our existence. Through his boundary-shattering tales of science fiction, adventure, horror, and humor, Weichsel fearlessly explores the fringes of what is possible in fiction, revealing the naked truth of our humanity. From the mind-bending science fiction of "Warrior Soul", to the fantastical realm of "The Rainbow-Colored Rock Hopper", from the light comedy of "Queen of the House", to the darkest depths of horror of "Complicit in Their Bondage", these twelve tales will leave you feeling exposed and vulnerable in the best possible way. The bold and daring themes that run throughout Weichsel's work strip away all pretense and artifice to reveal the unvarnished truth of the human experience. So if you're ready to shed your inhibitions and explore the depths of what's possible in fiction, then get your copy of Warrior Soul & Other Stories now. It's time to embrace your innermost desires and take the plunge into the raw, unbridled world of J. Manfred Weichsel.
Warrior Soul & Other Stories
Word Count:

45000
Summary: A mordant, smirking collection; rife with life in a grim future Florida, notions of Christianity and its cousin Satanism—spies, mercenaries, magic, asteroid-belt drillers, and above all else, a universe bent forever by the powers of pleasure and pain.
Forsaken, Fantastic!
Word Count:

299
Summary: This action filled, edge of your seat dystopian adventure is set in the near future, when a space probe is returning to Earth from the Cares 1 Asteroid with geological and biological samples frozen in ice for billions of years. It's big news, the discovery of ancient organisms from an extra-terrestrial body. After the samples arrive at Interplan Astro-Research facility in the quiet city of Worcester Massachusetts, with the world's media gathered, eager to hear official announcement that the samples are indeed biological, thus discovering evidence of complex life beyond our planet. Not everyone's excited or happy about having alien lifeforms coming to Earth, and one group of terrorists have planted a thermobaric bomb in an elevator shaft of the facility. The bomb detonates and the facility explodes, killing hundreds of people, workers, protestors, scientists and TV crews, but far from destroying the samples, the explosion has released them from their level one quarantine and unleashes a deadly parasite that quickly infects the citizens of Worcester with infestations of strand red worms that infest the living. Despite efforts to contain the "Cares Pestis" AKA the "MR. Ripple" it spreads fast and becomes through the USA and beyond, causing a complete breakdown of society. But then comes something else, something far more menacing that threatens the very existence of human life on earth, and for Colonel Troy Glass and his fiancé Yvette, a deadly struggle for survival begins as they head west, to a secret government facility known as Haven. On their way, they pick up an eclectic group of fellow survivors, who together, battle against all the odds, both human and alien…
Mr. Ripple
Word Count: Information not available
Summary: There are creatures lurking in our world. Obscure creatures long relegated to myth and legend. They have been sighted by a lucky-or unlucky-few, some have even been photographed, but their existence remains unproven and unrecognized by the scientific community. These creatures, long thought gone, have somehow survived; creatures from our nightmares haunting the dark places. They swim in our lakes and bays, they soar the night skies, they hunt in the woods. Some are from our past, and some from other worlds, and others that have always been with us-watching us, fearing us, hunting us. These are the cryptids, and Systema Paradoxa tells their tales. *** Life and Death and Family Secrets... Sheridan Cascaden faces more than memories when she receives a call in the darkest hours summoning her home. Sent away five years prior to safeguard her from the evil that claimed her mother, Sheridan hasn't been back since. She returns to find her home in a disturbing state and her father straddling the Veil, with no explanation of what happened. Not only must she deal with her own demons, but she will have to delve into his if she is to unlock the mystery and save Papa's life. But where lies the line between truth and madness among the shifting shadows? And can Sheridan navigate it before it's too late... for both of them?
The Play of Light
Word Count:

20000
Summary: Living in a quiet house on the outskirts of town, Ginger isn't like the other girls. When she wakes up and discovers the unthinkable about her adoptive parents, she runs away and goes on a rampage straight to the only friend she has. Can she control what they both become? With a violent, growing hunger and more questions than answers, Ginger has nowhere to turn.
As Fast as She Can
Word Count:

120000
Summary: A woman with the strength to rebel. A shapeshifter who wears the souls of the dead. Together, they face a lethal enemy. Em helped create it. Now she must craft its defeat. In a city owned by industrialists, Em sells her magic to make ends meet. The extraction procedure is brutal and potentially deadly. Desperate for change, she joins an underground resistance movement to weaponize her magic and stop the abuse of workers. Meanwhile, a mysterious voice wakes Ruk from a decades long slumber and compels him to become human. He wants to break free but is torn between his shapeshifter instincts and the needs of the soul that sustains him. On streets haunted by outcasts and predatory automatons, a new danger emerges – an ever-growing corruption of magic and science. Em and Ruk must put aside their differences and pursue it – each for their own reasons. What they discover will forever change their lives… Or end them. The Eternal Machine is set in a 19th Century alternative reality Australian city, where magic and science are equally valid disciplines.
The Eternal Machine
Word Count:

132,220
Summary: Bobby Gene is a man who stands out even among his people. Guided by the knowledge of his heritage as a backwoods shaman and more perceptive than many, he's grown to be a valuable asset to those he knows. While he isn't surprised to be the first to know when the woods around him begin to show clues that something isn't right, he doesn't expect just how much these omens and signs will prove to foretell something far more sinister to come. Soon strange dreams and inexplicable encounters have him questioning everything he knows- and then the people who live in his woodland Appalachian community begin to disappear. It's his job to protect and guide the others, what will he do when he's the only thing between them and the end of life as they know it?
Night is Falling
Word Count:

26000
Summary: Jealous angels with no genitals discover the passion and ecstasy that humans experience through sex. In revenge, the frustrated but impotent celestial beings banish the men to the wilderness. Will the women save the human race, or will they become the mothers of great evil?
Not Far from Eden
Word Count: Information not available
Summary: When Joan's husband dies, she is forced to move with her young son, Joey, from home to home. But at each home, an evil follows, forcing Joan and Joey to move again and again, hunted. They never know why they're being hunted. All they can do is run away from the constant threat until, hopefully, it gives up the chase … or they find a savior who can either end it, or help them to fight it forever.
Widow
Word Count:

98000
Summary: Edward Lee meets Clive Barker… Gord is getting married to a woman he recently met, named Venus Baer. His best friend, Chris, is invited to be the best man. The bride-to-be is incredibly sexy, manipulative, and evil. Chris and Gord realize something is horribly wrong with the Baer family and soon find out escaping the family is going to be one hell of a task. The huge family stretches around the world making a clean getaway an impossibility. But that's just what Gord, Chris and Gord's sister, Elizabeth, are going to try and do. The Bride Stripped Bare takes the backwood freaks of classic Edward Lee books and slams them together with Clive Barker and his Nightbreed world. Lots of blood, drugs, sex, and violence make this a perfect addition to the Necro family. New blood extreme horror ready to take you on a drug-crazed, chaotic race against evil. Find out what happens when the bride is stripped bare.
The Bride Stripped Bare
Word Count:

119000
Summary: Enter the world of Mulgara, where conquerors and ghouls and sordid necromancers await. "In The Scrolls of Sin, David Rose paints a fully realized fantasy realm with ingenious plotting, complex characterization, and cleverly lush language. It's also viscerally involving. The collection is so steeped in the sin of the title that it plunges the reader into a sordid otherworld of corruption, treachery, violence, torture, lust, murder, and dark magic — though not without fleeting moments that grope toward something like tenderness and redemption." --- Matt Cardin, author of To Rouse Leviathan
The Scrolls of Sin
Word Count:

36000
Summary: INK (NOUN) Five definitions to inspire writers around the world and an unlimited number of possible stories to tell: 1) A colored fluid used for writing 2) The action of signing a deal 3) A black liquid ejected by squid 4) Publicity in the written media 5) A slang word for tattoos Ink features 300-word speculative flash fiction stories from across the rainbow spectrum, from the minds of the writers of Queer Sci Fi.
Ink
Word Count:

41000
Summary: When the Action Girls, a trio of wannabe starlets from Hollywood, land a jungle adventure show, they think it's their dream come true. But instead, they're trafficked to the Congo for a sinister purpose. In the heart of Africa, a cult of mad scientists harbors a mad ambition: to create a new species of human-ape hybrid, mating human women with chimpanzees. But their experiments are failures, so they need to bring a steady supply of women to their jungle compound to keep their twisted fantasy alive. Will the Action Girls escape their bizarre and terrifying ordeal? Or will they fulfill the cult's warped vision of humanity's future to become broodmares birthing inhuman monsters? Find out in Jungle Jitters, a story not for the faint-hearted, the easily offended, or anyone who thinks human-ape hybrids are a good idea.
Jungle Jitters
Word Count:

111,000
Summary:
New York: two years after the Third World War. Humanity is rebuilding its cities brick by brick; the damage done to the people, however, is a lot harder to repair.
Dan Hardacre is one of those people. An aspiring stage actor and experienced draft-dodger, Dan struggles to find his place within the Utopic rebuild of New York City. When he's not caught up with the duties of work, Dan lives a quiet life in mourning for his mother, Dyani, who went missing when he was a teenager.
One night, Dan experiences a vivid, terrifying nightmare that puts him right on the front lines of the war for which he dodged the draft; it ends with him facing Death itself in the form of a metallic, faceless humanoid creature that calls itself the Valkyrie. To investigate the reason behind his haunting experience, Dan seeks out a meeting with his estranged father, who reveals the startling truth about Dan's dream: it wasn't a dream.
With this newfound knowledge and the powers it brings, Dan makes it his mission to return to the scene of his nightmare. However, he soon comes to know that confronting the Valkyrie not only endangers him but the war-withstanding world he leaves behind.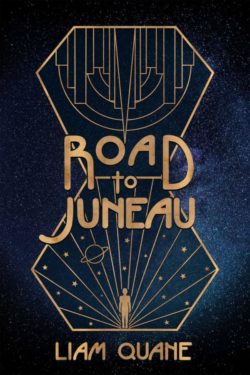 ROAD TO JUNEAU
Word Count:

120552
Summary: Like a spout pushing its way through soil extending deep mighty roots as it grows firm and tall, Michael like those around him has become renewed in the sun. The Wheel of Creation continues to turn through tragedy and triumph with secrets and mysteries revealed, truth discarding deceit to rot away into dust. Terror still lurks in shadow, hinting at battles yet to come and while the union of souls may reign down catastrophe upon all involved, there is a newly shared optimism that this town, rebirthed and revived again after decades can meet the oncoming storm together. Bonded in battle, humbled in heart new friendships have replaced old animosities as all the residents are finding their place in creation.Despite the odds, the couple continues their path toward blending, but if the sun sets on their hopes or the union is not supported by the Mother, disaster could befall not just Michael and Kurra but the entire Grove.Book four of The Place Of Things is Blood. The blood spilled and shared through trial and combat, forged in a family or spilled through injury, death, or pain and joy. Will the Great Mother approve of a blending of souls, or will the remains and splatter of not just Michael, but all those he holds dear be splashed in chunks upon the wedding alter.As this story concludes in the middle it continues on like the cycle of the seasons. Never ceasing always evolving. Until next time, Love from the Sacred Grove.
The Place Of Things Book Four: Blood
Word Count: Information not available
Summary: Who doesn't crave a little escape? Dreaming of small town life and rural charm, Alex and Rainey find a deal on an old rustic home they can't resist. But soon after Rainey moves, her preoccupation with weird local history and the complications of living alone in the woods take a toll. Alex worries that the long nights and growing isolation are driving her stir crazy. When the Sugar House is damaged and Rainey goes missing, Alex doesn't know where to turn. Was it a storm, vandals, or something worse? What happened at the Sugar House? The only thing worse than wondering is finding out.
Liar: Memoir of a Haunting
Word Count:

216321
Summary: Root by Daniel Fisher, the third book in the Place of Things series is the continuing story of Michael and his new, rather unique fiancée. From the Winter's Solstice to the Vernal Equinox we find our lovers and their friends explore new and creative ways to adapt to life-altering events. Having relocated and now a resident in the sanctuary town of Sacred Grove, Michael is finding his place among the mythical, mystical, and mostly immortal residents who've hidden away from the outside world. Not only is he coming out of his own isolation, but they are also finding he is dragging them out of self-imposed exile as well. Sometimes against their instincts. As his and Kurra's love deepens, new mysteries are added to the mysteries and his and their worlds will never be the same.As the union between two souls from two drastically different worlds draws closer, new mysteries, challenges, and threats crop up for Michael, the mortal, and all the immortals that get caught in his wake. Enchantments and wards may not be enough to hold back the onslaught of supernatural forces if the wedding gets bumpy. Many may yet perish if things go awry. May the Goddess help them all.Book four, the conclusion to this tale coming soon.
The Place Of Things Book Three: Root
Word Count:

65000
Summary: Loner, bumpkin, self-destructive teenager, Matina thought her life's adventures would reach no further than paddling under night cypress or falling through the parchment of a good book. But she owns a great secret, one coming with her approaching womanhood like the mouths of gnashing teeth. Boraor Rehton, the inept shaman, would love nothing more than to leave this wretched town, continuously appointing him their spiritual leader. He knows little about the earthly arts, but the same cannot be said for black magic; tools he uses, which, if caught, would earn him a place on Amden's impaling stakes. Add Pauthor Quithot, recluse, Grubilius Motty, lowlife drunkard, and other malcontents all involved with a mysterious force let loose upon the bog. As the force's mystery wanes, old feuds are inflamed, murder is ready to run rampant, and the threshold separating the living from the dead is hopped over with wicked glee. The second book to expose the grim world of Mulgara: Alluring, unpredictable, dripping with idiosyncratic folk, AMDEN BOG is dark fantasy where beauty and brutality often hang from the same sagging vine.
Amden Bog: A Novel in Stories
Word Count:

41000
Summary: When a satanic wizard runs the insane asylum, nobody believes the inmates, even when they're sane. Jonah is entirely normal in every respect but one: whenever he's frightened he turns into his evil alter ego, Maldeus. When Jonah discovers Maldeus is working with the asylum doctor to sacrifice women on a giant pentagram, he's thrust into the middle of a diabolic plot involving occult magic, invisible people, and a perverted, sex-crazed blue demon! Will he keep his wits about him as he pretends to be Maldeus and stop the rise of Satan?
Five Maidens on the Pentagram