Historical fantasy is a version of alternate history, adding magic to a known historical period. Return to general Fantasy
Note: these books are currently sorted by release date, with newest first.
Word Count:

108000
Summary: All legends spring from a seed of truth. Humble Kai aspires to become more than the petite, inconsequential young woman her community sees. Persistence pays off when the village holy leaders reveal a prophecy—Kai might actualize her dream of being a hero if she completes three seemingly impossible tasks. Princess Solveig, descendant of the famous shieldmaiden Sigrid the Valiant, believes she was born to accomplish great things, but her poor eyesight, weak constitution, and lack of physical expertise hold her back. Convinced she can never realize her ambitions, Solveig settles for living vicariously through her warrior girlfriend. The appearance of a dangerous jötunn wreaking havoc in the kingdom brings the two would-be champions together. Solveig feels both threatened and skeptical when Kai arrives in her father's great hall with a "magic" sword, claiming she's there to save the day after more promising protectors have failed. With many lives at stake, will rivalry push Solveig and Kai apart, or will they inspire each other to realize the greatness both women desire to achieve—and to survive the coming battle? Gear up for action and the dramatic storytelling of Edale Lane in this hero's journey sapphic Viking historical romance. If you like to root for an underdog, experience epic world building, and enjoy women with swords, you'll love Legacy of the Valiant, the second book in the Tales from Norvegr series. Buy your copy today!
Legacy of the Valiant
Word Count:

114000
Summary: A Slow Burn Meet Cute! Baker. Wizard. God of Space and Time. Cupcake enthusiast. How long will it take to fan the flames and enrage this gentle phoenix? Start counting. What's a wounded and lonely little cinnamon roll to do? Stripped of his psychic powers, Calico Winghorse flees his homeworld and travels to 19th century Earth via his inter-dimensional portal. As a mixed-blood phoenix trapped in human form, he opens a bakery in the San Francisco Bay Area and quietly nurses his wounds. But the unique method of his arrival draws the unwanted attention of Infinity Corporation. Representing this angelic-run company is Agustin Chavez de la Cruz, the Demon Lord of California. Even though Agustin is IC's heir, he finds himself demoted from his duties to concentrate on his new assignment: take absolute control of Calico's portal. But Calico refuses to sell at any price. He is also very busy ensuring that the good people of the city are getting their fill of baked goods. Before Agustin can formulate a more gracious avenue of acquiring the gateway, the demanding head of IC interferes, further complicating matters. So as negotiations stumble along, Calico and Agustin come to realize they both want more than a stuffy business arrangement. However, due to Calico's injuries, the portal remains vulnerable to the darker forces that want it at any cost. Agustin will have to push both his angelic heritage, as well as his own psychic powers to the very limits to heal this sweet baker, who is also the portal world's God of Space and Time. The Demon Lord of California is the first book of an LGBTQ+ paranormal-fantasy series. You won't want to miss a first love found, hidden worlds, and a recovering workaholic grasping at his second chance. All centered around the control of an otherworldly portal. So curl up with your favorite beverage, and hang out with Cal and Gus for a while. You'll be happy you did!
The Demon Lord of California
Word Count:

443
Summary: Dive into this collected edition of the first three volumes of The Darkly Enchanted Romance series. Sweet and sultry historical romances with just the right amount of spookiness! ~ THE HARVEST MOON In the shadows of late autumn, Malcolm comes across a quaint village tucked away in the forest. It seems the perfect spot for a weary traveller to lay his head, and maybe find a little company. But there is dark magic afoot, and lots of local gossip swirls around the seductive titian-haired weaver, Daniel. All Malcolm sought was a night's pleasure. He never suspected he would have to worry about losing his life. Or his heart. THE GHOST OF HILLCOMB HALL On a stormy night, landscape designer Jonas arrives at the cheerless and fog enswathed Hillcomb Hall. He finds an odd trio of ladies in residence and an eerie portrait of the hauntingly attractive portrait of a stately ancestor, which constantly seems to watch his every move. His nights are filled with weird dreams and otherworldly visitations. Is the manor house truly haunted? Or is it all just a trick of the mind, a sinister game being played by the inhabitants of Hillcomb Hall? MANCHESTER LAKE Monty, along with his best friend Bishop, discovers a mystical selkie in Manchester Lake who transforms into a gorgeous man of his dreams. Together they adventure through a tastefully debauched house party, an Edwardian novelty called a "night club," and a macabre Parisian cabaret. As their journey unfolds, they come face-to-face with ghoulish agents of the occult as well as startling discoveries - including Monty's realization that he is falling for the beautiful creature from the lake. Can he really be in love so soon, or is there a past connection? And what does it all have to do with his past trip to Paris? Before their adventure ends long-hidden secrets will erupt in a storm of magic and passion!
The Darkly Enchanted Omnibus
Word Count:

97000
Summary: The seas spell freedom. Pirates and kraken, boats and submarines, deadly sirens, mermaids, and the women who face them all. These are our heroes. High seas adventure, fantasy, and magic weave together in this sapphic anthology focusing on the joy of the unbounded oceans. If you like diverse stories with lesbian and sapphic heroines exploring oceans, battling sea monsters, and seducing pirates, buy Farther Reefs today! With stories by: Sarah Day and Tim Pratt, Kim Pritekel, Kyoko M. Sara Codair, William C. Tracy, N.L. Bates, Robin C.M. Duncan, Vanessa Ricci-Thode, Margaret Adelle, and J.S. Fields Genres: Science Fiction / Fantasy / Adventure / Lesbian / LGBT and Non Binary Market: Adult
Farther Reefs
Word Count:

33000
Summary: Clarity (noun) Four definitions to inspire writers around the world and an unlimited number of possible stories to tell: 1) Coherent and intelligible 2) Transparent or pure 3) Attaining certainty about something 4) Easy to see or hear Clarity features 300-word speculative flash fiction stories from across the rainbow spectrum, from the minds of the writers of Queer Sci Fi.
Clarity
Word Count:

101,085
Summary: Attracted by passion, repelled by war. Can two shieldmaidens navigate battlegrounds of the sword and the heart? Sigrid the Valiant is legendary throughout the kingdoms of Norvegr for her heroic deeds, but her love has yet to find a home. Now, racing on the heels of her father's murder, a neighboring kingdom's raids signal an all-out conflict. Elyn is a young shieldmaiden with a score to settle, fighting her own insecurities along with enemies who threaten her homeland. However, she suspects a more menacing danger lurks in the shadows. When the two clash on opposite sides of their shield walls, sparks fly from both their swords and passions. But when they talk, the fierce women discover an antagonist's plot has pitted their kingdoms against each other. Can Sigrid and Elyn move past their suspicions and differences to forge a binding love and foil the villain's scheme, or will the enemy's assassins end their search for the truth? Action, adventure, and intrigue ride together with romance in this enemies-to-lovers saga from the pre-Viking land of Norvegr. Award-winning, best-selling author Edale Lane brings history to life in this fast-paced sapphic novel. Grab your ax and rönd and join the quest!
Sigrid and Elyn
Word Count:

115000
Summary: Battles and adventure crisscross the Viking Age! From monumental sea clashes to beleaguered mountain strongholds to war with the tribes of Eire, circumstance drives the scattered Agneson clan across the known world. And beyond the lands of Midgard, mythic hidden folk challenge our forerunner hero. The award-winning Forerunner Series epic continues…. Fleeing an arranged marriage, Kara escapes across the narrow sea to follow her warrior dreams. Escaping slavery, Cub joins Rollo's horde in Britany, while his outlawed brother Sorven fights for survival in the Welsh mountains. Uncle Karl and his warriors rally to Harald Tanglehair in his ambition to unify the wild kingdoms of the North Way, and young Thorfinn is left behind, safe and secure in a tiny fishing village... or is he? Kara gains her place in king of Dublinn's ranks to prove her mettle, but being a warrior is not what she expected, and what of these new feelings she finds for her closest companion? Will Karl and his crew perish in the great battle of Hafrsfjord? And how will an unprepared Thorfinn survive kidnapping by an 8-armed giant, leaving behind worried friends and a very angry dragon? Don't miss this 5-star epic fantasy critics are calling "whimsical and gritty," with "fabulous, engaging characters." If you enjoy the history of The Last Kingdom and Nordic myths and legends, the Forerunner Series is a grand tale not to be missed!
Kara Shieldmaiden of Eire
Word Count:

125,000
Summary: Bound by love, separated by a tragic mistake; can two Indigenous women realize their happy ending? Long ago, in an age of mysticism, Walks with Spirits, a two-spirit woman, perceives voices whispering on the wind and they empower her with the gift of calling animals. But who she truly wishes to call to her side is her childhood friend, Laughing Brook. Daughter of a shaman and an herbalist-midwife, Laughing Brook holds a prominent place in her society and bears the responsibilities it entails. She is training to be a healer like her mother, but her most compelling desire is to spend her life with Walks with Spirits. When a misunderstanding crushes their dreams of happiness, both women must learn to face the trials that await them in a land where danger lurks behind every tree and honor means more than life. Will the spirits intervene on their behalf, or are they fated never to manifest their visions of love? Walks with Spirits is a historical fantasy set in an ancient time. Packed with Native American themes, heart-touching imagery, and an epic love story, Walks with Spirits will immerse you in an inspiring view of life.
Walks with Spirits
Word Count:

7000
Summary: Emma and her Aunt Agathe share a family resemblance - they can both speak to ghosts. But Agathe, rejected by her family and constantly beset by heartache, has spent her whole life fleeing her unusual gift. Emma, however, embraces it. Grave Songs for the Dead is a cycle of three interconnected short stories, gothic with a touch of magic realism, set in the late 19th century.
Grave Songs for the Dead: A Short Story Cycle
Word Count:

35000
Summary: THE TIME TO STAND UP FOR YOURSELF IS NOW – AND ALWAYS! Past and present shatter like glass as Iria and Madge, lovers and witches in modern-day San Francisco, send their friend and ally Emperor Norton back in time to snatch a key to the city's soul from one of its most turbulent events: the Compton's Cafeteria riots! As the abused and exploited LGBTQIA+ people of the Tenderloin neighborhood rise up against their violent oppressors, our heroes find their plans foiled by Mammon, their demonic foe, when he sends his lieutenant Etta Place to ambush them in the present while he attacks them in the past. As Norton and Place dance a deadly duel in the shadow of one of the city's greatest monuments, Iria and Madge must use their most powerful arts and quickest wits to wage a battle of wills and weapons across multiple moments in time. Betrayals abound and secrets are revealed as everyone involved—good and evil, wicked and wise—joins the battle for their own soul, the soul of the city, and their place in its future! Servant/Sovereign is the time-bending urban fantasy series from award-winning author Michael G. Williams, set in the Shadow Council World of Quincy Harker.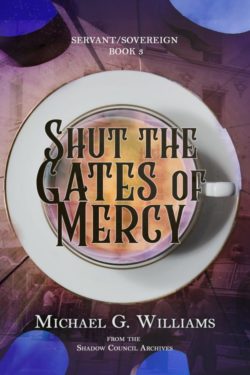 Shut the Gates of Mercy
Word Count:

79,025
Summary: Solving mysteries is her business. Finding love is her dream. Will combining the two get her killed? Victorian Era England. Stetson revels in being unconventional. So when society shies away from her independent nature, the bold woman creates an imaginary boss and opens her own detective agency. And her keen observational skills, convincing disguises, and Holmesian methods quickly bring in a string of tough-to-crack cases. Struggling to squeeze a personal life in around a series of hazardous investigations, Stetson worries she'll never find a woman of like-passions. But with her heart set on true love despite the risk, she carries on hunting for the perfect relationship. Will her clever escapades lead to death… or delight? Daring Duplicity: The Wellington Mysteries, Vol. 1, Adventures of a Lesbian Victorian Detective is a collection of five sequential novellas, each encompassing its own exciting mystery while furthering the story of Stetson's life in London. If you enjoy crime dramas, Victorian era fiction, or a sweet lesbian romance, then you'll love award-winning author Edale Lane's Daring Duplicity. Order yours today!
Daring Duplicity
Word Count:

70000
Summary: Do you know what your problem is? Celestine, the fifth of seven sisters, is tired of hearing about hers. Father thinks she's frivolous because she likes pretty clothes and caters to the crowds in the taverns who adore her music. Mother thinks that because she's the most social daughter in the family, she can't keep quiet about anything. They're both wrong. Celestine hides a secret she has kept for most of her life. As the family beauty and a talented musician with a lyrical voice, she has the best prospects for marriage to a prince. When such a liaison never happens, people assume Celestine is too choosy. But even in somewhat tolerant Ilari, a daughter hates to disappoint her family. How can she tell them she's in love with a princess instead? Lucky for Celestine, all her sisters are obsessed with an invading army headed to their realm. Celestine would rather ignore the threat and enjoy the freedom their lack of attention gives her. But, her voice can unlock a power that may help save Ilari. And the woman she loves is determined to fight these invaders. And her family, for all their talents, seems clueless about how to motivate the masses. Celestine knows she can inspire the citizens of Ilari to do what needs to be done. Is it time to put her inhibitions aside and use her voice to save those she cares about?
She's the One Who Can't Keep Quiet
Word Count:

98000
Summary: The Big Cinch embeds readers in a magic-laced St. Louis, once known as Mound City, home of the indigenous Americans' Mississippian ancestors. Little evidence of their civilization survives in 1924, apart from the popular Piasa monster image, invoked to sell plows as well as ornament civic pageants. Sean Joye, a recent Irish immigrant, tried to avoid fae attention and ignore his magical abilities since childhood. A young veteran of 1922's Irish Civil War, he aims to atone for his assassin past and make a clean life in America.  Sean helps a wealthy, powerful, magic-dabbling family—founders of the most exclusive club in town, the Piasa Lodge--with a discreet inquiry or two. Sexually involved with a secretive, high-society flapper, he falls hard for her fiancé, a Great War flying ace with a few secrets of his own. But Sean asks the wrong questions about a kidnapped toddler and missing Native American artifacts and becomes a suspect in his lover's bludgeoning and a tycoon's murder. Can he master the paranormal abilities he's rejected for so long in time to protect the innocent and save his own skin?
The Big Cinch
Word Count:

110000
Summary: Courage. Honor. Loyalty. All fine things, but they've led John Ringo to kill a man. He was raised right and he knows he's not a murderer, but otherwise he's a mystery even to himself. Doc Holliday claims to have some insights, but Doc is too devoted to Wyatt Earp to spare much attention for the man who's already lost his soul. Which leaves Johnny Ringo prey to the distractions of a demon. Imaginary or not, if this creature abandons him, too, then surely his sanity is forfeit – and what will his life be worth then? This Queer Weird West novel follows these three along the complex trails that lead into and out of Tombstone, Arizona in 1881.
Writ in Blood
Word Count:

70,000
Summary:
Do you know what your problem is? Olivine knows hers. This quiet thirteen century artist has been hiding a secret as she travels to K'ba to meet her friends. Others assume she's fallen in love with another artist, but it's much worse than that. For on the way to K'ba is the dirt poor nichna of Scrud, a place scorned by other Ilarians. And in Scrud is the one man who understands her. However, Bohdan recognizes the dangers posed by an impending Mongol invasion. When he learns of Olivine's unusual visual powers, he convinces her to pick up her bow and start practicing. She does, though she's more concerned with moving to K'ba where she can paint all day and see Bohdan whenever she wants. If only her sister hadn't decided Olivine and her fellow long eyes held one key to defending the realm. Then, as if life wasn't complicated enough, Olivine learns the artist community she yearns to be part of has developed a different take on the invasion. They're certain the only way to survive is to capitulate completely to the Mongols' demands. Artists who feel otherwise are no longer welcome.
Where does her future lie? The invasion is coming soon and Olivine doesn't have much time to decide.
She's the One Who Doesn't Say Much
Word Count:

36000
Summary: INK (NOUN) Five definitions to inspire writers around the world and an unlimited number of possible stories to tell: 1) A colored fluid used for writing 2) The action of signing a deal 3) A black liquid ejected by squid 4) Publicity in the written media 5) A slang word for tattoos Ink features 300-word speculative flash fiction stories from across the rainbow spectrum, from the minds of the writers of Queer Sci Fi.
Ink
Word Count:

88,500
Summary: When secrets and lies threaten the throne, can a fierce champion tame her passion in time to stop a cruel enemy's ruthless march? Viking Warrior Princess Lena craves revenge. Hunting a killer after her husband is brutally slain, she discovers a shadowy traitor is at play behind the scenes, working to disrupt the balance of power. Placing her need for vengeance on hold when the king falls gravely ill, Lena leads an expedition to locate a fabled healer across a treacherous sea. Caitlin had been snatched from her home in Eire and sold into slavery. She prayed for a means of escape, and in storms Lena to her rescue. She is grateful, but realizes her feelings for Lena run far deeper. Mighty warrior Gunnar is loyal to the core. But when his lord orders him to sabotage the princess's royal mission, he's plagued by doubt, uncertain he's fighting for the right side. Beset by a plethora of dangers and delays, Lena battles foes on every front, even within her own heart as her love for Caitlin grows. Gunnar must choose between honor and fealty, but in the end, will a traitor's blade end all their lives? Viking Quest is a breathtaking historical fantasy novel. If you like principled characters, battles of conscience, and tender F/F romance, then you'll love Edale Lane's action-packed epic. Buy Viking Quest to destroy a fearsome foe today!
Viking Quest
Word Count:

70,000
Summary: Do you know what your problem is? Sulphur knows hers. This 13th-century woman has trained as a fighter all her life in hopes of joining the army. Then, within days, both of her older sisters announce plans and suddenly Sulphur is expected to find a man to marry instead. Is it her good fortune her homeland is gripped by fear of a pending invasion and the army now goes door to door encouraging recruits? Sulphur thinks it is. But once she's forced to kill in a small skirmish, she's ready to rethink her career decision. Too bad it's too late. The invasion is coming, and Ilari needs every good soldier it has. Once Sulphur learns Ilari's army has made the strategic decision to not defend certain parts of the realm, including the one where her family lives, she has to re-evaluate her loyalty. Is it with the military she's always admired? Or is it with her sisters, who are hatching a plan to defend their homeland with magic? The problem with being a woman who fights for what's right is that now, she has to figure out what is.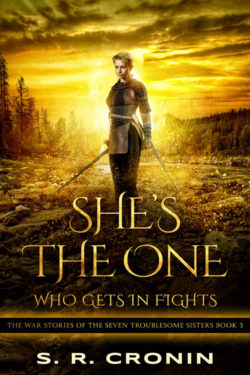 She's the One Who Gets in Fights
Word Count: Information not available
Summary: Eliot Ness has deemed the notorious gangster off limits, while Director J. Edgar Hoover has taken note of Saul and Christian's activities and has his own plans for the two agents. Meanwhile, Mr. Brown's mysterious master finally reveals herself, putting Saul's family in more danger than they've ever been before. Saul's life is changing again, and not for the better. Will the choices Saul must make in order to save his family, stop Capone, and deal with the new threat be worth the price he must pay?
Unavoidable
Word Count:

72831
Summary: A river turned black. A city under siege. A monster in charge. Is this what Ashira really wanted? The desert kingdom of Khemeret has been waiting for the legendary pharaoh to return. But soon, they'll wish he hadn't. Ashira can remember when Hapi was just a mindless little blob who only devoured people on command. But now it thinks it's the legendary pharaoh Nephtet-Ka and he's laid claim on an entire city. Lucky for the city, the citizens are all supportive of the violent new regime. Every day is a riot against the oppressive foreign empire, and Hapi's vizier Mwarthes is delighted with every new horrifying idea his monster has. Can Ashira put a stop to the madness or will everything and everyone be devoured?
Vicious