about limFic
We're an inclusive library of spec fic titles (fantasy, sci fi, paranormal and horror). Use the book search, our filter search, or the menu links. Join our weekly newsletter list, and we'll give you four free ebooks (and you can sign up for more each month via the newsletter). You'll be able to add books to your TBR list and "favorite" authors. Questions? Email scott@limfic.com.
Using this Site
Authors: Join Us
our blog
By scott
/ November 28, 2022
Cats are so flexible that a 2014 study half-jokingly investigated whether felines are liquids. But joking aside, traditional fluid mechanics...
Read More
new from limfic authors
Check out our "coming soon" titles here too.

Word Count:
76600
Summary: The Fredamine Project was just the beginning. Shadow dealings and conspiracies regarding variants intertwine until Damien and his cohorts can no longer tell who the bad guys are. Several months have passed since Blaze and the infamous Variant activist Shudder McKenzie helped Damien rescue the captives of the sinister Fredamine Project. Professionally, everything's great. He's back to working with Damien again and they have a new lead on the three kids who are still missing. Personally, not so much. Blaze has made his peace with Shudder, though nothing between them has even been easy, but his relationship with Damien has taken several steps back. Blaze no longer has any idea where he stands. Adding to the tense atmosphere are the anti-Variant members of legislature who have been slowly gaining popular approval, and the cryptic messages Damien receives from an unknown source. Shudder's back to his old haunts and his old tricks, trying to raise public awareness of imperiled Variant rights—such as the draconic Horace Act that strips due process during Variant trials—and to rescue Variant kids in trouble. His almost mythical luck runs out though when he's arrested for murder only three days after the passage of the Horace Act and a whirlwind trial and sentencing lands him in the most notorious maximum security facility for Variants—San Judas Tadeo. ​ With too many conspirators on both sides of the aisle, Damien, Blaze and Shudder no longer know whom to trust. Peeling through the layers of deceit and half-truths puts them on shakier ground with every discovery and in greater danger than ever before. Variant Configurations takes place in a future Earth where humanity is reclaiming its spot in a gradually healing world. This book contains mentions of past abuse, action-adventure style mayhem, and the sparks of a slow burn, series-spanning relationship.
From The Noblest Motives
November 22, 2022
Word Count:
52,000
Summary: A secret unicorn, a desperate family, and a cop dead set on hunting them down. Lem and the rag-tag gang of galactic adventurers on the starship Teapot are set to become roadies for the galaxy's hottest band – but an urgent call from Bexley's family means the rock stars will have to wait. Bexley's soon-to-be-born sibling has a big secret: wings. On planet Hwin, skeledivergence is outlawed, so the Teapot crew swoop in to help the family escape. But their planet won't let them go that easily. Hunted across the galaxy by a fanatical and eerily familiar cop, the Teapotters must find a way to outwit their pursuer and secure a future for skeledivergent people everywhere. Dive into the next adventure in this satirical space opera series. Artfully intertwining deep themes with tongue-in-cheek humour and intergalactic ridiculousness, Consider Pegasus is a must-read for fans of Ryka Aoki's Light from Uncommon Stars or TJ Berry's Space Unicorn Blues.  Scroll up and grab your copy now!
Consider Pegasus
November 22, 2022
Word Count:
19936
Summary: Wyatt Calder is trapped -- in a rundown neighborhood, in a dead-end job, by the endless string of trouble his brother drags to their door -- and it seems he's destined to slowly fade away within the aging walls of Picket House, longing for his best friend's cousin. That is until his upstairs neighbor Abel Walters dies on the staircase just outside Wyatt's door. Saalik has spent most of his existence asleep and waiting for the next person to discover his bottle and claim their wishes. And the last four years playing prized possession to Abel Walters and spying on the downstairs neighbors. But he has a plan. And, like every plan worth planning, it has taken patience. But if life as a Jinn has taught Saalik nothing else, it's taught him that. When a break-in sends Wyatt out his second-story bedroom window and into his dead upstairs neighbor's apartment, he finds more than a place to hide. He discovers a magical solution to all his troubles. Or does he? Because really, when is life ever that simple?
Smoke
November 19, 2022
Word Count:
18619
Summary: Varon Cambeul has made it to the top: Royal Magician of the Kingdom of Lothia, at the right hand of the King, who is his lover. He has always kept the promise he made to his mother and his apprenticeship master: he has used his magic for good. This promise is tested when the King asks him to make a curse, a curse that will be cured by the King and so everyone will love him. Helping the King is using his magic for good, right? But, is Varon doing this because he has fallen in love with the King? What about those who will suffer from the curse and slowly transformed into ghosts, people like Theo and Russell in the town where the curse is released? Can Varon undo this great wrong? Can he save Theo and Russell and the others as they turn invisible? How can he love someone who is not doing good?
Susurrus
November 12, 2022
Word Count:
109,000
Summary: Time is running out for planet Earth. An insidious Martian plague has been infecting the planet for over twenty years, and has resisted all human efforts to eradicate it. With global extinction now imminent, the only possible solution left is to directly access Martian technology by a daring space mission–to the moon first and then Mars. But how feasible is the ambitious plan to send astronauts into space in 1945? Will the super-weapon, hidden by the Martians at the lake on the moon, hold the desperately needed cure for mankind's survival? Can it really be used to instigate the future of another timeline on Earth? The stakes are high and so is the risk of contact and conflict with Martians, but one astronaut unknowingly holds the key to the evolution of the Martian race and the reason why the aliens came to Earth in The War Of The Worlds. Gateway To Mars is the third volume of The Martian Diaries series that continues the classic H.G. Wells Mars novel in a compelling, unmissable action adventure. If you're a fan of The War Of The Worlds you won't want to miss this story of survival, despair and hope, so get your copy today! What readers have said: "A really well written, excellent continuation of the story and a truly brilliant tribute to HG Wells! I do recommend!" "An excellent third part to this incredible series!" "Boy this was a good book! I love the writing style... it's very true to the original story."
The Martian Diaries: Vol.3 Gateway To Mars
November 8, 2022
Word Count:
81,000
Summary: Explore the birth of a new world! Journey through time and space to the intricate biosphere of Juno, where three species have been birthed by the gods. First the Kuhifadi, inheritors of sun magic, able to do great deeds with magic stored in their bodies. Second the fearsome Uchafumlaji, technological savants who live in the depths of the ground. Third the weird Ngisikaa, a species uplifted from animals through communal memories. Small decisions and single individuals will affect the tide of history. Learn of the first Ngisikaa to meet death, whether a Kuhifadi will make the sacrifice to become a mage, and if an Uchafumlaji can build a bridge to the past. These stories and more will create The World of Juno! With content by: Nick Bright and Brent Lambert, C.J. Hosack, Nate Battalion, Daniel Eavenson, Malcolm F. Cross, Katie Cordy, William C. Tracy, N.L. Bates, Reese Hogan, Cedan Bourne, Robin C.M. Duncan, and X.M. Moon Genres: Science Fiction / Fantasy / Adventure / LGBT and Non Binary Market: Adult
The World of Juno
November 8, 2022
Word Count:
44,000
Summary: He only comes out in the dead of night, whistling a haunting tune. No one has seen him. When you hear him, it's already too late. As a horror writer, Mason Murdock scares people for a living. Now the tables have turned. The killer leaves gruesome, bloody clues on his victim's bodies to let the world—and Mason—know who will be next. And no one is safe.
The Whistler
SALE
October 29, 2022
Word Count:
27500
Summary: War, deceit, and love intertwine in the first six Tales From The Sehnsucht Series. Within this anthology, you'll find six tales of love and hate, loyalty and treason, failure and triumph from alien soldiers, desperate teachers, strange bedfellows, and more. And in the background a war of all against all. Who will survive? Open this collection and take your first steps into the history of the Manderian people. Meet Ameela's improbable lover. Escape from tyranny with Rotima. Find the man who tampered with Ryma's DNA.
Tales From The Sehnsucht Series Part One - The Manderian Halden
October 25, 2022
Word Count:
370000
Summary: The Small Things trilogy omnibus contains all three books in the Small Things trilogy (Small Things, Threads, A Pattern of Shadows,) a previously-published short story (Smoke), a brand new story (Dowd) and a never-before-published Small Things novella, Sundown Rising. The stories are presented in the order in which they are meant to be read. The Small Things trilogy omnibus totals 1,450 pages/370,000 words and includes all covers, artwork, and a few surprises as well! Small Things: It's a hot June morning in a small Midwestern town when fifteen-year-old Shawn Spencer arrives at the church for his best friend Tanner's funeral. Though his drowning was officially ruled an accident, Tanner's sister Jenny swears she saw something rise up from the Carthage Lake to pull the struggling teenager beneath the surface. Shawn doesn't believe in monsters… but he will…The real threat, however, lies in the man behind the monster, a mysterious old man who has vowed to settle an old grudge and regain something that was stolen from him decades earlier. To survive the dark days and nights ahead, Shawn must not only decipher what the man is after, he must move past his own grief, fears, and insecurities, and learn to trust in Jenny, the disgraced town sheriff, and, most importantly, in himself. A small town horror, fantasy, paranormal, and coming of age romance. The Small Things trilogy spans forty years and three generations in a tale of murder, betrayal, corruption, sacrifice, love, redemption, faith and magic that culminates in a showdown that will pit the very forces of heaven and hell against Shawn and his family in a battle for the future of mankind and the world itself. Sundown Rising: When Shawn and Jenny decide to visit a traveling carnival, will they find more than they bargained for? And why are Mr. Kingfisher and Mr. Quarry in town? Threads: History is changing around nineteen-year-old Ben Spencer, and he's powerless to stop it. His sister has disappeared, his family thinks he's schizophrenic, and, worse yet, the girl he's madly in love with won't give him the time of day. Enter the mysterious Michael, who, years earlier, helped Ben's parents defeat a powerful sorcerer bent on destroying them and reclaiming a relic stolen from him years before. With Michael's help, Ben will travel back in time, to 1977, and attempt to set the past straight. But will he undo himself and the woman he loves in the process? Threads is a coming of age time travel adventure complete with murder and magic, and also a magical realism love story. The Small Things trilogy spans forty years and three generations in a tale of murder, betrayal, corruption, sacrifice, love, redemption, faith and magic that culminates in a showdown that will pit the very forces of heaven and hell against Ben and his family in a battle for the future of mankind and the world itself. Smoke: Can humans and ghosts work together to figure out what's behind deadly and destructive fires…when they can't even communicate? A Pattern of Shadows: Five years ago, the demon Azazel tricked Ben Spencer into giving him possession of his body. After countless frustrating and heartbreaking dead ends, Ben's family and his girlfriend Katy Ruskin have finally located him. Will their daring rescue attempt work, and will they be able to free Ben from the demon? And with Ben free, is everything truly over…or is it only just beginning? A Pattern of Shadows brings the Small Things trilogy to a stunning conclusion that pits Ben and Katy and their families against the very forces of heaven and hell itself in a battle that will decide the fate of humanity. Who will survive? Redemption: Can a former villain truly change his ways?
Small Things trilogy omnibus
October 25, 2022
Word Count:
150000
Summary: Can a retired assassin be the savior his people need? How does a former assassin save his fellow humans from extinction? By allying them with mrrogs of course! But that's easier said than done as humans are understandably distrustful and suspicious of sescurei, the official species of the InterGalactic community. Leopold must convince them that Mastrodai's offer of alliance isn't a trick, which means diplomacy, patience, and tenacity. Times like this make him grateful that he has two strong mates to lean on. And when it comes to understanding his own people, he'd be wise to follow Alex's lead. Alex has been too long away from her family and is thrilled to see them again. But with reunions come old pressures, old doubts, and old wounds. She must negotiate who she was with who she is, while helping her mates and her colony come together with the shared goal of freedom. Mastrodai, meanwhile, finds himself in the minority for the first time in his life, and the constant hostility has him doubting the wisdom of their choices. But he's devoted to his human mates and determined to see things through no matter the discomfort… or danger. Not everyone wants what Leopold and his mates have to give, and he needs to break through the resistance humans have built up after generations of degradation, humiliation, and fear. He must win his people's trust, solve the riddle of his parents' rings, and navigate the new complexities of his love life. Being an assassin was so much easier. Reader Discretion advised: PTSD, abusive family, a cult, MMF romance, dystopian.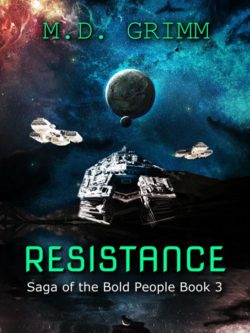 Resistance
October 25, 2022
Word Count:
99600
Summary: After her adventures in Time Portals of Norwich, Cassie Fox makes a promise to both her grandfather and her best friend, Georgia, never to time travel again. So, how did she end up in the deep past with her recent memories wiped, and her time travelling abilities gone? Is she being punished? Did she press the big red button? Will she ever see her grandfather and friends again? And what has Robert Kett and his rebellion got to do with it all? Of more immediate concern, though, are the pains in her stomach.
Time's Revenge
October 21, 2022
Word Count:
284
Summary: Dalí Tamareia has the terrorist Skadi in their sights – but bringing her in may cost them everything. Dalí's role as an undercover operative is compromised, putting a target on their back and threatening the close-knit team aboard Thunder Child. A new lead on Miriam Skadi's activities forces them back to Luna, where they must confront everything they tried to run from…including their changed relationship with Rion Sumner, who insists on backing up Dalí for this investigation. But Dalí is not the only one searching for Skadi. An alien presence hunts the terrorist as well, taking over Sumner's body to ensure Dalí's cooperation. With their team on the other side of the solar system Dalí must depend on this questionable ally to complete the mission, which takes a deadly turn when an old nemesis resurfaces. If there is any chance for a future with Sumner and their chosen family, Dalí must exorcise the demons haunting them, or they will burn in the heart of a star.
Third Front
October 18, 2022
Word Count:
97000
Summary: The seas spell freedom. Pirates and kraken, boats and submarines, deadly sirens, mermaids, and the women who face them all. These are our heroes. High seas adventure, fantasy, and magic weave together in this sapphic anthology focusing on the joy of the unbounded oceans. If you like diverse stories with lesbian and sapphic heroines exploring oceans, battling sea monsters, and seducing pirates, buy Farther Reefs today! With stories by: Sarah Day and Tim Pratt, Kim Pritekel, Kyoko M. Sara Codair, William C. Tracy, N.L. Bates, Robin C.M. Duncan, Vanessa Ricci-Thode, Margaret Adelle, and J.S. Fields Genres: Science Fiction / Fantasy / Adventure / Lesbian / LGBT and Non Binary Market: Adult
Farther Reefs
October 18, 2022
Word Count:
74000
Summary: Space: Where discovery and danger are two sides of the same coin. Meet Albert 'Buzz' Buchanan, a retired space marine now freelancing as a gun for hire, who finds himself accepting a deal too good to turn down, even if it's too good to be true. Meet Thomas Cutter, a star-ship engineer who's a lot more than what he first seems. He seeks knowledge and adventure, and the offer to team-up with the sexy space marine is just what Cutter's been waiting for. As our two heroes set out, they encounter more than they bargained for: a discovery of a lifetime, but only if they can escape with their lives. Will the galaxy reward them for their bravery, or will they fall victim to the great unknown? Join Buzz and Cutter in their very first episode as they journey across the galaxy, finding high adventure and untold dangers in the darkness of space ... along with discovering a friendship that promises so much more.
Sparks in the Dark
October 15, 2022
Word Count:
78740
Summary: Dare to explore the darkest tales where sunlight never touches. Etaski's dark fantasy epic, Sister Seekers, begins underground with its denizens living and dying in eternal night. A novice Red Sister leads us through much of the series, but her Elven ancestors have their own stories to share. Tales of Miurag: The Deepearth is a same-world anthology exploring critical moments in the history for the Dark Elves of Sivaraus. This collection contains explicit and sometimes grim content, though we are never lacking all hope. Stories included in this collection: House Aurenthin - a novella on the dramatic origins of the lowest-ranking noble house in Sivaraus. Auranka the Keeper - a chilling horror tale on the monstrous Mistress of the Driders. Rohenvi - the tragic romance in the early reign of the Matron of the Twelfth House. Gaelan - a "dark slice of life," how future Red Sisters sometimes make connections long before their trials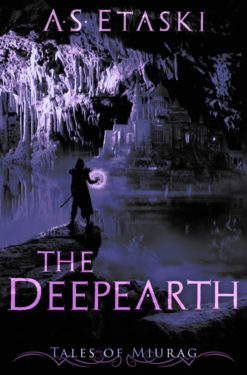 The Deepearth: Tales of Miurag 1
October 7, 2022
Word Count:
33000
Summary: Clarity (noun) Four definitions to inspire writers around the world and an unlimited number of possible stories to tell: 1) Coherent and intelligible 2) Transparent or pure 3) Attaining certainty about something 4) Easy to see or hear Clarity features 300-word speculative flash fiction stories from across the rainbow spectrum, from the minds of the writers of Queer Sci Fi.
Clarity
October 5, 2022
Word Count:
91000
Summary: She barely survived the last round. As the Red Dog Gang closes in on her Family, can she survive the next? After the devastating events of our last chapter, all private eye and mafia wife Jacqueline Spadros wants is to get her life back. Then a missing person she thought she'd never track down falls into her lap. Jacqui is thrown into a series of events which not only puts her and everyone around her into danger, but changes her life forever. Warning: on-screen murder, major consent issues, smoking, language, infidelity, betrayal, description of injury, gore, on-screen suicide, child injury This is chapter 9 of a 13-part serial novel. Please read these books in order: * The Jacq of Spades * The Queen of Diamonds * The Ace of Clubs * The King of Hearts * The Ten of Spades * The Five of Diamonds * The Two of Hearts * The Three of Spades * The Knave of Hearts <-- you are here Book 10 coming October 2023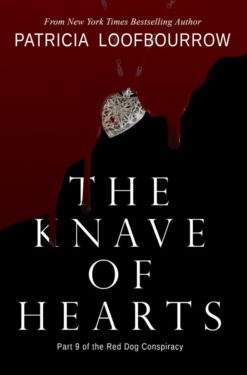 The Knave of Hearts
October 1, 2022
Word Count:
103,000
Summary: Humans are no longer alone; they have been joined by Arcanes, Lycans, and Vampires. It's been over a hundred years since the Earth went through The Shift. Where once almost eight billion humans lived, the population now holds at four billion. But that wasn't the only change. No one anticipated the branching of human DNA to produce new species of humans. Arcanes, Lycans, and Vampires are hidden throughout the genome, awaiting puberty before they manifest distinctly unhuman abilities. Finally, the new species of man were welcomed. No longer studied or treated as outcasts by most. People accepted these new humans and they integrated into society, albeit not easily. This allowed the UN Government to focus on colonizing space, in order to secure a future for all. Risks remain however, permitting a vampire to feed from you can cause shared memories. Tobin Corsian took such a risk. He resides in a newly reopened district of San Jose, California, where his family's old home stood. He lives there with his friend Mikel, a Lycan, and his dog Begger. Instead of making his mandatory monthly blood donation at the government blood bank for the vampire community, Tobin decides, with the help of his therapist, to visit Biter, a vampire spa. The spa allows vampires to feed from humans directly while providing spa and sexual services, granting the donor a three-month reprieve from their required donations. Tobin's encounter at Biter opens a window to his past and an experience he had as a child on the moon. Questions abound as he tries to unravel his past and make sense of his life.
Volaria
October 1, 2022
Word Count:
50000
Summary: Can Scott and his new friends survive a trip to the "Dead Zone". Is it REALLY dead? if not who or WHAT lives there?
Enimnori Discovery
October 1, 2022
Word Count: Information not available
Summary: Revin and the Professor must go undercover to investigate a mysterious device that has the power to generate storms and may threaten their very existence. But securing the information and getting out alive may be trickier than they bargained for.
Crossing the Streams
September 30, 2022