about limFic
We're an inclusive library of spec fic titles (fantasy, sci fi, paranormal and horror). Use the book search, our filter search, or the menu links. Join our weekly newsletter list, and we'll give you four free ebooks (and you can sign up for more each month via the newsletter). You'll be able to add books to your TBR list and "favorite" authors. Questions? Email scott@limfic.com.
Using this Site
Authors: Join Us
our blog
By scott
/ December 11, 2023
High-powered infrared laser weapons could be on the horizon after scientists figured out how to make lasers nine times more...
Read More
new from limfic authors
Check out our "coming soon" titles here too.

Word Count:

125000
Summary: A distant star is calling us. Will it end in tears? Could the first contact between humanity and an intelligent species from outer space come at a worse time? The signal arrives when Earth is only beginning to recover from an apocalyptic cyber- and nuclear war.  Transportation is by horse. New construction relies on salvage from ruined cities, and indoor plumbing is a thing of the past. Leif Grettison was an army ranger and then an exoplanetary scout who survived two interstellar missions. He thought he had finally found a home and family to call his own when a rider appeared in town, looking for help to deal with a message received from another star system—a message nobody understands. To Leif, this message is the most important event he can imagine. He wants to learn what it says, who sent it, and have humanity respond to it. It is important enough for him to embark on horseback across what used to be the eastern United States to reach Earthbase, the birthplace of humanity's former interstellar exploration program. At Earthbase he discovers an insular small town in the wilderness, its inhabitants riven by internal politics and preoccupied with day-to-day survival. Tech is almost nonexistent, and even those who want to respond to the mysterious star signal are not sure how. Worse, Leif's arrival upsets the precarious balance that exists among the factions vying for control. Can Leif reconnect humanity to the stars, or will he start a civil war? If we do reach out to the stars, will we find the stuff of our dreams…or unleash Earth's biggest nightmare yet? Will Leif regret the decisions he makes?
A Planet of Wrath and Tears
Word Count:

70000
Summary: Ray M. Holler is an interstellar shipping freelancer, expert smuggler, and an occasional thief with a troubled past which means that his life is far from the boring, mundane exploits of your average denizen of the Orion-Sagittarius Union, a political alliance of intelligent species inhabiting the Milky Way galaxy. In fact, more often than not, he finds himself up to his neck in situations that require wit, courage, and a decent amount of luck to maneuver out of in one piece. Throughout his adventures in a universe where a safe, peaceful life is possible but not guaranteed, Ray gets to meet a variety of interesting individuals, make new friends, reunite with old acquaintances, and maybe—just maybe—face his own demons. All Quiet In the Milky Way: Ray M. Holler's Adventures vol. 1 brings forth five stories, accompanied by an equal amount of side vignettes. This collection will take you on an exciting journey to remote worlds that, in some aspects, may not be all that dissimilar from the one we live in today.
All Quiet in the Milky Way
Word Count: Information not available
Summary: After suffering a savage assault in a bathroom as a girl, Gertie meets the man of her dreams. Her trauma soon vanishes as they begin to build a life together. However, with the sudden death of her beloved Jack, and the return of her school bully—Bea—years later, Gertie's long-buried trauma bubbles to the surface. All the think is one thing: Revenge. Inserting herself into Bea's life, nobody is safe—not her parents, not her children. Hell, not even the pTA members of her daughter's high school. Starting a sordid romance with Bea in a bid to destroy her life from the inside out, Gertie soon learns revenge is messier than she thought. BUT A GIRLS' GOTTA DO WHAT A GIRL'S GOTTA DO. "A vicious novella that promises to upset even the most seasoned horror reader in the best ways possible." – Caitlin Marceau, award-winning author of This is Where We Talk Things Out "Vicarious left me grinning and gagging. Violent, vile a d absolutely delightful." – I.S. Belle, author of Zombabe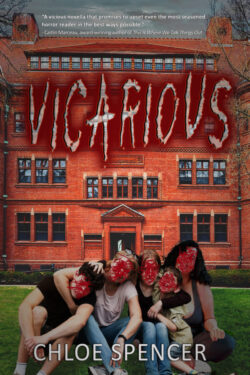 Vicarious
Word Count:

134000
Summary: Taste the magic of the gods! Sisters Kisare and Belili uproot an ancient box in their owner's orchard and find a miracle inside: a fifth godfruit in a society that knows only four. It is punishable by death for non-nobles to eat godfruit, so the sisters hide the discovery and plot to escape servitude for good. With the power represented in the box, they could live as nobles themselves. But Kisare finds her new freedom more difficult than she imagined, and Belili has many secrets she strives to keep hidden. With the help of a people slowly losing their culture and technology to the powerful nobles, the sisters lead an infiltration of the highest levels of noble society. While Kisare finds she cares for the captured leader of the people helping them, Belili comes to love her noble suitor's guard—a fierce woman with a similar past to her own. In the end, the fifth godfruit may bring harmony to the world, but the sisters' only hope of succeeding lies in deciphering ancient mythologies surrounding the gods' original plan for their people.
Fruits of the Gods
Word Count: Information not available
Summary: Legend of the Crimson Blaze is an action-packed origin story that will leave readers breathless and eager for more. When First Lieutenant Catalina Hernandez awakens in the morgue with superpowers, she's determined to discover the truth behind the CIA's faulty experiments and the mysterious organization known as The Order. But when the Ranalli mafia kills her lover, Catalina's past comes back to haunt her. With a heart full of vengeance, Catalina heads to Baltimore, MD, with a plan to infiltrate and take down The Order's secret presence in the United States. Will she succeed, or will the truth of her past catch up to her first? Legend of the Crimson Blaze is an action-packed novel that takes readers back to 1965 when the world's first superhero is born. If you enjoyed Marvel's Black Widow, you're sure to be enthralled by the origin story of Catamount, otherwise known as the Crimson Blaze. Buy now before the price changes!
Legend of the Crimson Blaze
Word Count: Information not available
Summary: For years, the whispers and legends of a lost city hiding in the Pacific Ocean were just that; legend. On the day Kaimi discovers his parents, the Queen and King of Mu, murdered, Mu's most powerful weapon fired, sending a pulse rushing towards the North American west coast. After the 2025 Great Pacific Pulse Event, or Pulse, vomited up much of humankind's trash in the Pacific Ocean along the North American west coast. The mysterious occurrence causing the largest environmental disaster in human history, people are no longer certain there is nothing concealed in the depths of the ocean. Scientist Karen Linn and billionaire investor Michael Donovan want to find out what actually happened that day five years ago. Will Michael's life in the adult entertainment industry and Karen's moniker in pseudoscience keep them as social pariahs, or are they on the cusp of finding a civilization that has been kept out of our grasp, deep in the world's largest ocean? How does the event from five years ago tie into the murder of the Queen and King of Mu? What lies under the sea may be bigger than anyone can imagine, and neither civilization may be ready for the truth.
Mu; Legend of a Lost City
Word Count:

45000
Summary: Mundo Lopez, a minor player in the criminal underworld of Los Angeles, has killed a man of unexpected importance to the Mayan gods of war and death. After his release from prison, Mundo journeys with his lover, Pedro, through the jungles of Guatemala to steal a fortune in sacred gold from the Pyramid of the Dead. It is there among the ruins of Tikal that the dark gods, in their quest for vengeance, force him to make a monumental and horrific choice…
Bleeding Stone
Word Count:

75000
Summary: Enjoy the next chapter in this dark, psychological, steam-powered future mystery series from New York Times bestselling author Patricia Loofbourrow. Recovering from the tremendous losses she's suffered in our last chapter, private eye and mafia wife Jacqueline Spadros gets a new case from an unlikely source: her mobster husband. But when a mutual friend goes missing, Jacqui and her husband must join forces on a case which quickly turns deadly.
The Four of Clubs
Word Count: Information not available
Summary: Something is definitely rotten in the experimental settlement on Ceres. Jax wonders how it will affect her and her colleagues when along comes Nan and shows her a side to the complex she did not expect. Together, the two young women work to break the control the aliens have over the human settlers and begin to form the foundation of a fairer community.
The Ceres Illusion
Word Count:

38000
Summary: RISE (noun / verb) Eight definitions to inspire writers around the world, and an unlimited number of possible stories to tell: 1) An upward slope or movement 2) A beginning or origin 3) An increase in amount or number 4) An angry reaction 5) To take up arms 6) To return from death 7) To become heartened or elated 8) To exert oneself to meet a challenge Rise features 300-word speculative flash fiction stories from across the rainbow spectrum, from the minds of the writers of Queer Sci Fi.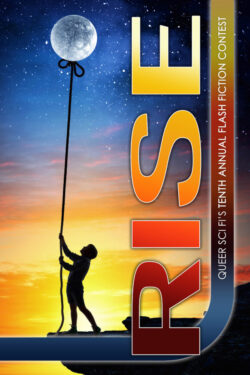 Rise
Word Count:

32,000
Summary: Late at night, they say you can hear the children screaming. All the kids are afraid of someone in the neighborhood. They call him the Boo Man.  Six-year-old Mateo is pushed into the Boo Man's yard and discovers it may be a secret graveyard. Although he fears for his life, Mateo is determined to prove something is buried in the Boo Man's back yard…without getting caught. It's rumored the Boo Man captures little kids and tortures them in his basement. Mateo doesn't want to be next.
The Boo Man
Word Count: Information not available
Summary: Shiver during the long nights with these dark tales Featuring stories by Brett Thomas Abrahamsen, Mike Adamson, Christopher Bond, John M. Campbell, Arasibo Campeche, Brandon Case, Elizabeth Cobbe, Ryan Cole, Sarina Dorie, Monica Joyce Evans, P.G. Galalis, Kara L. Hartz, Brian Hugenbruch, Andrew Rucker Jones, Andrew Kozma, Steven P. Mathes, Jen Mierisch, Iseult Murphy, Ira Nayman, Tarver Nova, Frank J. Oreto, Anthony Regolino, and Lauren Reynolds
Dragon Gems (Fall 2023)
Word Count:

99000
Summary: Look to the skies! Brave adventurers face new relationships and adversity in all sizes, from steampunk dirigibles to harpies, giant bees to garden gnomes, and winged dinosaurs to sky pirates. Isolated mountain peaks, clifftop cities, and battles in the sky abound in this sapphic anthology focused on overcoming challenges awaiting in the clouds. If you like diverse stories with lesbian and sapphic-centric heroines enjoying the thrill of adventure high in the air, buy Lofty Mountains today! With stories by: Seanan McGuire, Rosiee Thor, Rebecca Kim Wells, Maya Gittelman, Carmen Loup, Sara Codair, William C. Tracy, N.L. Bates, L.R. Gould, Robin C.M. Duncan, and J.S. Fields
Lofty Mountains
Word Count:

76, 000
Summary: She tried to steal treasure from the dragons' hoard… and stole their hearts instead. To save her sister from a lascivious lord, Venya must steal a piece of treasure from a legendary dragon's hoard. Dragons haven't been seen in several generations, so imagine her surprise when she wakes not one, but two dragons from their hibernation. While the battle-honed Onyx is intent on having her for lunch, the graceful Gold appears more curious than angered by the theft. Abyss and Ray have very different ideas about what to do with the thief when they catch her. Abyss wants to punish her while Ray is intrigued by her audacity. After Ray turns his mate's anger to desire, the dragons set out on a rescue mission, intent on capturing the brazen thief and learning more about her. And to see if her Song matches theirs. Neglected and discarded by her parents, Venya has never bonded with anyone except her sister. Now she has two mighty dragons wanting to woo her and take her as their mate. While she finds delight in their company, she must reassess her own self-worth before she can trust them enough to love them. But the dragons have exposed themselves to the outside world, and many covet not only their hoard but Ray's golden scales. And when Venya's closely held secret is revealed, she becomes a prize worth killing for.
Song of Flames
Word Count: Information not available
Summary: A genre-bending science fiction tale that takes place on several planets and through two lifetimes, rife with psychic magic as well as insights from psychology and physics. Yearning to reunite in the afterlife, a couple's search runs afoul of both the materialistic Technists on Earth and the intransigent laws of Commensuration on their adoptive planet Xarbo, where rewards and retributions fly fast. Their quest for destiny leads to far-flung planets — one occupied by the disembodied brains of human astronauts, another by soulless clones — as the reincarnated pair find themselves on separate planets and following divergent paths. Hints of Star Trek and of Ram Das combine oddly with eroticism and mysticism in this epic tale of personal evolution.
Rebirth on Xarbo
Word Count:

34000
Summary: Dr. Eavan Delaney is frustrated. It is her destiny to reunite her people and work hard to protect the rivers and waters of the world, but she has no help whatsoever. So she has lived among humans for decades, undiscovered and in peace, but she knows this is wrong: she should be taking action. Then comes the fateful day she calls for support one last, desperate time -- and is heard. With the support of 'The Council of Twelve', Eavan continues to work for the safety of Nature. But no one has foreseen that the 'Other Side' has been sabotaging her efforts. The challenge before her is suddenly much greater, and the consequences of failure even more dire than she ever imagined. Will Eavan be strong enough to save the waters from the fire?
River Guardian
Word Count: Information not available
Summary: Steve Coleman had never heard of Comptos before a receiving a call from one of their recruiters. They needed a Project Manager and through a stroke of luck had heard about him — underpaid and underappreciated in a rural manufacturing environment. Steve is seduced by the city, the job, and the young and vibrant people he works with. Over time, the job becomes all consuming, and corporate reshuffling leaves him working for a nightmare of a boss. A boss who drives him over the edge. But Steve Coleman gets a second chance. Seriously injured and without a job, he finds purpose in the two groups that accept him as he is now. The first, a mental health therapy group, and the second, a roleplaying gaming group. Both become key to his recovery. TRIGGER WARNING: This novel contains disturbing events, images, and situations, including suicidal thoughts and actions amongst its characters. The journey isn't meant to be pretty. You're about to witness the mental breakdown of a man, so be prepared for the fall. You'll also get to witness his rebuilding starting in part 2.
Group Therapy
Word Count: Information not available
Summary: Jenna, Storm, Ghortin, and the rest of the people Jenna holds dear in this new world face a war that will shake the pillars of the Universe and beyond. Join in the explosive conclusion of the Books of the Cuari trilogy!
Destruction of Chaos
Word Count: Information not available
Summary: These interconnected sci-fi dystopian stories will transport you to a world teetering on the precipice of collapse. Join heroes who dare to challenge the shackles of oppression, embarking on dangerous journeys to seek freedom. As the shadow of destruction looms, some choose to fight, while others opt for escape. Yet, in the depths of tormented souls, hope emerges as a fragile yet resilient guiding light. Amidst the tapestry of deceit and cunning, clandestine agendas unfurl, weaving intricate webs of intrigue. The galaxy is engulfed in a war that threatens the fabric of existence. However, amidst the chaos, unexpected friendships and relationships are forged, transcending boundaries and divisions. Will righteousness prevail in the face of adversity? Can the seeds of change take root in the soil of uncertainty? Be enthralled by this omnibus edition, a gateway to the captivating Sehnsucht Series by Keyla Damaer.
Tales from the Sehnsucht Series Omnibus Edition
Word Count:

96,000
Summary: A guard and a thief. What could go wrong? Aik has fallen hopelessly in love with his best friend. But Raven's a thief, which makes things … complicated. Oh, and Raven has just been kidnapped by a dragon. Now Aik is off on a quest of his own, to hunt down the foul beast and make them give back his … friend? Lover? Soulmate? The whole not-knowing thing just makes everything harder. Meanwhile, the world of Tharassas is falling apart, besieged by earthquakes, floods, and strange creatures no one has ever seen before. Aik's ex, Silya has gone back to Gullton to try to save her people as the Hencha Queen, and Aik's stuck in a caravan with her mother and a damnable magical gauntlet that won't let him be. He has to find Raven, before it's too late. Things were messy before … but now they're much, much worse.
The Gauntlet Runner