about limFic
We're an inclusive library of spec fic titles (fantasy, sci fi, paranormal and horror). Use the book search, our filter search, or the menu links. Join our weekly newsletter list, and we'll give you four free ebooks (and you can sign up for more each month via the newsletter). You'll be able to add books to your TBR list and "favorite" authors. Questions? Email scott@limfic.com.
Using this Site
Authors: Join Us
our blog
By scott
/ January 26, 2023
Genre: Historical, Western, Paranormal, Weird West Reviewer: Maryann Get It On Amazon About The Book Thinking they have put their...
Read More
new from limfic authors
Check out our "coming soon" titles here too.

Word Count: Information not available
Summary: Tales to warm your imagination during the cold winter months Featuring stories by Christina Ardizzone, Matt Bliss, Gustavo Bondoni, Micah Castle, Nestor Delfino, C. M. Fields, Andrew Giffin, Emma Kathryn, Michelle Ann King, Jason Lairamore, Eve Morton, Lena Ng, S. Park, Arlo Sharp, Mar Vincent, and Richard Zwicker
Dragon Gems (Winter 2023)
Word Count: Information not available
Summary: It's the end of the Age of Kali and our world is dying, its boundaries shrunken to encompass a single city. In the Earth's final days, lonely young Jay Grant finds his first love in the arms of his neighbor Michèle. Together with six other survivors, they break through the eggshell-thin walls of the world to find a mythical land where the ultimate power of creation resides. Washed ashore from an ocean of milk, they confront personages seemingly out of legend: Ananta Sesha, the lord of the Nagas; Varuna, whose eyes are the stars; Indra, king of the devas; and the tormented being who calls himself the Preserver. Jay and Michèle want nothing more than a life together, but the gods themselves stand in their way. Separated by divine malice and tormented by falsified memories, Jay and Michèle struggle to reunite, transforming themselves into beings beyond the merely human to confront the demiurge responsible for Earth's destruction.
The World's Shattered Shell
Word Count: Information not available
Summary: Terrified, desperate, and rebellious—before 1973, those were routine reactions for anyone trapped and in trouble. Access to reproductive health care has been chipped away for decades until a single decision once again mired a new generation in historic trauma and modern repression. The voices of In Trouble explore the fantastic and ordinary ways lives are overturned by unplanned or unexpected arrivals. This collection aims forward, delivering stories of radical agency and fierce self-direction, challenging the world of legally imposed vulnerability, exploited futures, and oppressive structures that have become so painfully real. In Trouble is a vivid examination of power and self-determination.
In Trouble
Word Count: Information not available
Summary: Synesthesia alters detective-turned-novelist Ronan Mezini's perceptions. But can it help him find the killer? Detective-turned-novelist Ronan Mezini has skewed perceptions because of a condition called synesthesia, which for him transforms sounds into colors. These visions give him unusual insights that help him solve the case. So when a collection of eccentric — and possibly violent — creative people come together at an elite artists' colony in rural Vermont, murders occur in rapid succession and suspicion falls on everyone as Mezini unearths the founding family's secrets.
Dangerous Inspiration
Word Count:

84000
Summary: Stationmaster and exiled aristocrat Albert St. John Rembrandt—Bertie to his friends—is in love with a Tolari ruler he believes he can't have. When he nearly dies finding out the hard way that some Tolari are as poisonous as their planet, it's only the beginning of his troubles. A ship has gone missing. His station is in crisis. Bertie must somehow recover his health and manage the disaster while trying to decide whether to accept genetic modification in order to be with the man he loves. And no Rembrandt has ever taken a gen mod.
Rembrandt's Station
Word Count:

94000
Summary: 1929. 1938. 1947. Three days. Three decades. Three connected lives. In a world where the voices of the dead echo among us, a student, an officer, and a prisoner in the USSR struggle with a discovery that will expand state tyranny. Can any of them overcome their own terror, shame, and misery long enough to free the world?
Then Raise the Dead Man High
Word Count:

114000
Summary: A Slow Burn Meet Cute! Baker. Wizard. God of Space and Time. Cupcake enthusiast. How long will it take to fan the flames and enrage this gentle phoenix? Start counting. What's a wounded and lonely little cinnamon roll to do? Stripped of his psychic powers, Calico Winghorse flees his homeworld and travels to 19th century Earth via his inter-dimensional portal. As a mixed-blood phoenix trapped in human form, he opens a bakery in the San Francisco Bay Area and quietly nurses his wounds. But the unique method of his arrival draws the unwanted attention of Infinity Corporation. Representing this angelic-run company is Agustin Chavez de la Cruz, the Demon Lord of California. Even though Agustin is IC's heir, he finds himself demoted from his duties to concentrate on his new assignment: take absolute control of Calico's portal. But Calico refuses to sell at any price. He is also very busy ensuring that the good people of the city are getting their fill of baked goods. Before Agustin can formulate a more gracious avenue of acquiring the gateway, the demanding head of IC interferes, further complicating matters. So as negotiations stumble along, Calico and Agustin come to realize they both want more than a stuffy business arrangement. However, due to Calico's injuries, the portal remains vulnerable to the darker forces that want it at any cost. Agustin will have to push both his angelic heritage, as well as his own psychic powers to the very limits to heal this sweet baker, who is also the portal world's God of Space and Time. The Demon Lord of California is the first book of an LGBTQ+ paranormal-fantasy series. You won't want to miss a first love found, hidden worlds, and a recovering workaholic grasping at his second chance. All centered around the control of an otherworldly portal. So curl up with your favorite beverage, and hang out with Cal and Gus for a while. You'll be happy you did!
The Demon Lord of California
Word Count:

39200
Summary: Years ago, all she wanted was to leave. Now, a web of secrets might ensnare her forever. When Iris Grey returns to her hometown of Ilmoure years after a bitter parting, she hopes for reconciliation in the face of a tragedy. Instead, she arrives to a town changed for the worse, a cold welcome from people she once loved, and a family that seems to be keeping secrets from her at every turn. When those secrets become too heavy to ignore, Iris starts to dig deeper. What she finds leads her to question her very perception of reality. Faced with old wounds and new revelations, Iris finds herself mired in a plot that threatens to swallow herself, the town, and the people she once loved.
Dark Heart of Ilmoure
Word Count: Information not available
Summary: No good deed goes unpunished. But maybe making a deal with a demon was a bad idea. After freeing a demon from a century-long captivity, rogue alchemist Tev finds himself yanked through the veil between realms and dumped in what has to be hell. He can handle that. Losing Misha, his one bright spot in the world? Not so much. Who makes deals with demons? Not Fillery hotel manager Misha. Demons and the like are the stuff of nightmares, not dreams. Misha dreams of a life with Tev. Sure, Tev hates him, but Misha can change his mind. All he has to do is get through the veil. No matter the cost. With a war brewing between fairies and demons, Tev and Misha are caught in a devious double cross, but Tev has a secret he's going to use to twist the game his way. And nothing will stop him. Sorcery's Call is book two of an exciting MM paranormal fantasy series called Demon Tales and Fairy Games, where demons, fairies, and trolls live with unsuspecting humans. Sometimes light, sometimes dark, always sweet, magical, and romantic. Happily ever after guaranteed. Especially for those who enjoy unrequited love, emotional scars, dark obsession, and fish out of water tropes. Each book tells a complete story with a different couple, but these books must be read in order. No cheating, no unkindness.
Sorcery's Call
Word Count:

80000
Summary: The pandemic came and the world changed. Lives have changed; work has changed. The boundaries between reality and fantasy have become as blurred as those between life and work. Corporate Catharsis: The Work From Home Edition explores the impact of the COVID pandemic on everyone's personal and professional lives through speculative fiction. Featuring stories by Alicia Adams, Antaeus, Pauline Barmby, Steven D. Brewer, Dominick Cancilla, Adrienne Canino, Graham J. Darling, Derek Des Anges, Manny Frishberg, Alex Grehy, Jon Hansen, Alexa Kellow, Jack Nash, Helen Obermeier, Frank Sawielijew, William Shaw, Steve Soult, N.L. Sweeney, Kimberley Wall, and Richard Zaric.
Corporate Catharsis
Word Count:

87000
Summary: In the interstellar kingdom of Valoris, the balance of power has changed. Dressa Rhialden has all she ever wanted—except she only wanted Lesander, gorgeous prince of an enemy high house, not the kingdom meant for her sister. Unfortunately, her betrothal came with both, and now she has a lot of catching up to do. But she's falling hard for Lesander in the meantime, and with her kingdom on the line and Lesander maybe her enemy, is falling in love really a good idea? When alien attacks that shouldn't be possible plague her kingdom's distant worlds, Dressa's new position is put to the test. Why are the pacifist Kidaa attacking now, and were the attacks made by the Kidaa at all? There's more going on than an internal power shift, and she has far more secrets to uncover to keep her kingdom safe. Ari Rhialden had her whole life planned out: excel at being the Truthspoken Heir, controlling her kingdom with her shapeshifting powers, and then one day excel at ruling the kingdom. But when she contracts an incurable illness and loses her ability to shapeshift, those plans are derailed. Ari's sent undercover to a resort world for treatment, but all is not right in paradise. A young gardener with a mysterious past is taking too much interest in Ari's new persona, and a possessive duke is bent on capturing her attention for himself. Are these just the ordinary machinations of noble guests or something far more sinister? In a kingdom where subterfuge is the norm, coincidence is never just that, and now events are rapidly spinning out of control. Can Dressa and Ari find their way to truth before the kingdom comes crumbling down around them? The Shadow Rule is the second season of The Stars and Green Magics, an epic space fantasy serial set in a diverse, queernorm universe with shapeshifting royals, plotting nobles, and space magic! The Shadow Rule collects episodes 37-93, the complete second season. This book has main characters who are queer, nonbinary, trans, agender, genderfluid, ace and/or aro, lesbian, fat, POC, disabled, ND, and generally awesome. (Not all rep is stated, some is implied.) Barring the occasional burst of strong language, this book is PG-13.
The Shadow Rule
Word Count:

11500
Summary: A dark fairy tale in a modern Greek setting. Hiding in the mountains, a harpy and her adopted daughter struggle to survive. Iphis has always known that survival comes hand in hand with loneliness, but when she catches feelings for a girl in the nearby town, her heart yearns for a different kind of future. When she's suddenly attacked by a group of enraged harpies, things only become more complicated... and dangerous.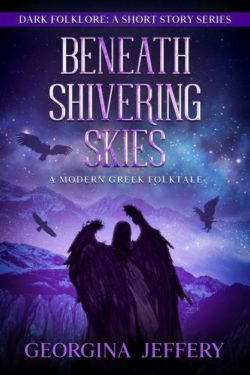 Beneath Shivering Skies
Word Count:

3,000
Summary: Lem and her dog, Spock, have a late-night encounter with a stowaway. 'Twas the night before Christmas, when all through the Teapot… Not a creature was stirring, not even a lonely robot; The stockings were hung in the mess hall with care In hopes that St. Nicholas soon would be there.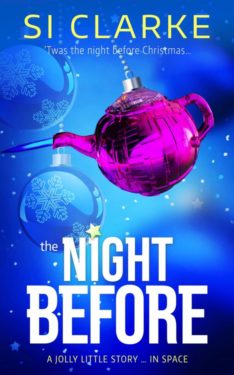 The Night Before
Word Count:

67000
Summary: Androids & Aliens is Scott's third short story collection - eight sci fi and sci-fantasy shorts that run the gamut from cyborgs to (comedic) alien invasions: Rise: The rise in sea levels caused by climate change swallowed Venice beneath the lagoon half a century ago. But what if we could bring it back? Ping: I was a real estate agent by day, and a museum curator in the evening at a sci-fi museum. What I saw one night changed everything. What the Rain Brings: Miriam struggles to make a living in post-climate-change Vancouver. But her friend Catalina has it even worse in the Arizona desert. So Miri hatches a plan. High Seven: Zan dreams of making full reals - immersive live virtual reality skins - but his low score may doom him to a life of cheap coding. Full Real: Dek's given up his life of spying for the city. But one more case awaits him. Will he regret it more if he takes it, or turns it down? Shit City: The Bay Area is being walloped by a hurricane, and seventeen-year-old Jason Vasquez has been relocated to a refugee city in the Nevada Desert. Will it be temporary shelter, or change his life? Firedrake: Kerry has always wondered about his deadly powers. But a mysterious bunch of violet roses starts him on the path to discovery - even if he's not sure he's going to like what he finds. The Last Human Heart: I'm one of the Remainers, the few cyborg humans still living on this busted planet. But if my still-human heart finally gives out, I may not live to find out the truth about who I am. This is the first time all of these stories have all been collected in one place, and the first publication of the Pacific Climate Tryptich - What the Rain Brings, High Seven, and Full Real - in any form.
Androids & Aliens
SALE
Word Count:

117,600
Summary: The Action Packed Conclusion to the Peridot Shift Trilogy Peridot is on the edge of annihilation. Once life-giving, the world's Trade Winds are transforming people into soulless monsters. The surviving Alchemist gods neglect their followers or take advantage of them. Even worse, a delicate peace has been wasted, and everything and everyone is at stake, especially Meran, the mistreated embodiment of the planet. Captain Talis and the crew of Fortune's Storm must try to do some good with what's left of Peridot in the hope that, together, they'll reclaim the hidden pieces of Meran's soul before the chaos seals her disastrous fate.
Cast Off
Word Count: Information not available
Summary: "Now is the time to release the burdens you have been carrying." The holiday season is traditionally one of reunions, homecomings, and family gatherings, but for the LGBTQIA+ community, it can be a time of anxiety and dread—a time we must hide our true selves in order to feel welcome. Too often, the holidays bring about loneliness and pain—a longing to be unequivocally accepted, seen, and loved for who we are. This season, we invite you to be Queer for the New Year! Enter nine fantastical worlds and witness rebirth and release as individuals let go of the past and welcome the new year with open arms and fearless hearts. In the final minutes to midnight, journey with us as we discover that acceptance can be found in the most unlikely of places, pain is not forever, and if nothing feels okay, then it is not the end. Move from the heartaches of old, make a fresh start with hope and renewal in your heart, and join us in being— queer for the new year.
Queer for the New Year
Word Count:

155000
Summary: Eighteen years after the Chromodec Uprising in Children of the Stars, the world is a very different place. Kaelen Ra-Evon lands on Earth, a planet where aliens exist and refugees are fast-tracked to citizenship in many countries. Her tale encompasses the age-old notions of loss, love, and found family. Kaelen tries to navigate her new life on Earth, as well as a romance with genius CEO, Lea Lockheed-Tuck, all while honoring her family's legacy as the last of her house. She's wary of the Chromodec Office of Restraint and Protection, a US agency tasked with policing people of power regardless of their race or planet of origin. In an attempt to protect the woman she loves, Kaelen becomes a vigilante: Scion. She won't let laws or the CORP stop her from doing what's right.
The Last Scion of Ra
Word Count:

76600
Summary: The Fredamine Project was just the beginning. Shadow dealings and conspiracies regarding variants intertwine until Damien and his cohorts can no longer tell who the bad guys are. Several months have passed since Blaze and the infamous Variant activist Shudder McKenzie helped Damien rescue the captives of the sinister Fredamine Project. Professionally, everything's great. He's back to working with Damien again and they have a new lead on the three kids who are still missing. Personally, not so much. Blaze has made his peace with Shudder, though nothing between them has even been easy, but his relationship with Damien has taken several steps back. Blaze no longer has any idea where he stands. Adding to the tense atmosphere are the anti-Variant members of legislature who have been slowly gaining popular approval, and the cryptic messages Damien receives from an unknown source. Shudder's back to his old haunts and his old tricks, trying to raise public awareness of imperiled Variant rights—such as the draconic Horace Act that strips due process during Variant trials—and to rescue Variant kids in trouble. His almost mythical luck runs out though when he's arrested for murder only three days after the passage of the Horace Act and a whirlwind trial and sentencing lands him in the most notorious maximum security facility for Variants—San Judas Tadeo. ​ With too many conspirators on both sides of the aisle, Damien, Blaze and Shudder no longer know whom to trust. Peeling through the layers of deceit and half-truths puts them on shakier ground with every discovery and in greater danger than ever before. Variant Configurations takes place in a future Earth where humanity is reclaiming its spot in a gradually healing world. This book contains mentions of past abuse, action-adventure style mayhem, and the sparks of a slow burn, series-spanning relationship.
From The Noblest Motives
Word Count:

52,000
Summary: A secret unicorn, a desperate family, and a cop dead set on hunting them down. Lem and the rag-tag gang of galactic adventurers on the starship Teapot are set to become roadies for the galaxy's hottest band – but an urgent call from Bexley's family means the rock stars will have to wait. Bexley's soon-to-be-born sibling has a big secret: wings. On planet Hwin, skeledivergence is outlawed, so the Teapot crew swoop in to help the family escape. But their planet won't let them go that easily. Hunted across the galaxy by a fanatical and eerily familiar cop, the Teapotters must find a way to outwit their pursuer and secure a future for skeledivergent people everywhere. Dive into the next adventure in this satirical space opera series. Artfully intertwining deep themes with tongue-in-cheek humour and intergalactic ridiculousness, Consider Pegasus is a must-read for fans of Ryka Aoki's Light from Uncommon Stars or TJ Berry's Space Unicorn Blues.  Scroll up and grab your copy now!
Consider Pegasus
Word Count:

19936
Summary: Wyatt Calder is trapped -- in a rundown neighborhood, in a dead-end job, by the endless string of trouble his brother drags to their door -- and it seems he's destined to slowly fade away within the aging walls of Picket House, longing for his best friend's cousin. That is until his upstairs neighbor Abel Walters dies on the staircase just outside Wyatt's door. Saalik has spent most of his existence asleep and waiting for the next person to discover his bottle and claim their wishes. And the last four years playing prized possession to Abel Walters and spying on the downstairs neighbors. But he has a plan. And, like every plan worth planning, it has taken patience. But if life as a Jinn has taught Saalik nothing else, it's taught him that. When a break-in sends Wyatt out his second-story bedroom window and into his dead upstairs neighbor's apartment, he finds more than a place to hide. He discovers a magical solution to all his troubles. Or does he? Because really, when is life ever that simple?
Smoke