about limFic
We're an inclusive library of spec fic titles (fantasy, sci fi, paranormal and horror). Use the book search, our filter search, or the menu links. Join our weekly newsletter list, and we'll give you four free ebooks (and you can sign up for more each month via the newsletter). You'll be able to add books to your TBR list and "favorite" authors. Questions? Email scott@limfic.com.
Using this Site
Authors: Join Us
our blog
The seven wonders of the ancient world were a selection of exceptional pieces of architecture and art in the Middle...
Read More
new from limfic authors
Check out our "coming soon" titles here too.

Word Count:
104000
Summary: Seg Holton yearns to leave his isolated farming dome and travel the ravaged Earth, or even to Mars Colony. Only a few things stand in his way: an authoritarian government, deadly storms, and an enchanting outsider who may be the most dangerous of all. Fast-forward 500 years. Civilization has nearly wiped itself out of existence, and is on the long, slow road to recovery, held together by an agreement called the Pact between cities, agricultural domes, and a new global government. Seg is a farmer in Holtondome. Like his ancestors, he's chosen a life of ignorance about technology and the outside world in favor of a simple existence, free of the corruption that almost destroyed the human race. His world turns upside down when Fi arrives. Tall, exotic, and far too wise for her age, she challenges everything he's been taught to believe, making him question for the first time if a simple life is right for him or, indeed, for the rest of humanity. But Fi has secrets darker than her black-ringed eyes — bigger than the Pact — that have implications far beyond Seg and the residents of Holtondome.
Holtondome
May 17, 2022
Word Count:
75000
Summary: Waking up undead is just the start of my bad night. This night is going from bad to worse. My roommate is dead. My sexy neighbor, who I've never worked up the guts to talk to before, is standing in my living room. I have a gold amulet I just stole from the museum hidden in my pocket. Oh, and I'm dead... or undead? All the myths about vampires, were-wolves, and the like? Turns out, all true. My sexy neighbor claims I'm a vampire now. I don't quite believe him, but then again, he turned into a coyote in front of me. Jackal, whatever. Plus, you know, my fangs. Oh, did I mention my sexy neighbor is an ex-cop? And his cop buddies just knocked down my door. I'm pretty sure this night can't get any worse…
Ritual of the Ancients
May 13, 2022
Word Count:
62,900
Summary: A werewolf and seven vampires are all that stand between the world and complete annihilation. When Kai Richter and Ori Bier met, sparks flew. Then a train blew up. Tracking an organism deadly to not only humans, but vampires and werewolves alike, brings Kai and Ori into the Vampire Guard. Decades later, they, along with Operative Team Jack Rabbit, come face to face with the horrors that same virus produces. Dead bodies are coming back to life, and rational people are becoming violent and brutal killers. A massacre is taking place nearly a mile under the Atlantic Ocean. Two teams of The Vampire Guard are in the thick of it, fighting to survive.
Endosymbiont
May 4, 2022
Word Count:
8700
Summary: Ida, a young girl still grieving the loss of her mother, encounters a huldra in the snowy Norwegian wilderness. She makes a desperate wish to have her mother returned... and gets far more than she bargained for. With the huldra's meddling, Ida learns her Pappa's life is suddenly at stake. To save him, she must battle against the wild valley she calls home and find the strength to confront the huldra before time runs out. This is a standalone short story of about 8,700 words, and is the first installment in the Dark Folklore series.
Beyond Thundering Waters
May 3, 2022
Word Count: Information not available
Summary: Seasoned, strange, and dangerously clever Some invitations are impossible to refuse. When Ajay and Kylie are invited to a dinner party hosted by one of the wealthiest women around, Ajay sees it as an opportunity to dig into her past. He needs to find what shady business she's been up to and how dangerous she really is. Never mind that she's Kylie's grandmother. What starts out as a dinner party turns quickly to trouble when a guest is murdered. Was the killer the billionaire socialite, the odd chef, or one of the other guests? Ajay needs to cut through the complex connections between the reluctant guests, because one of them is a killer–but they aren't the only one. Too old to learn decent manners? Maybe. Too old to solve a murder? Not this grandfather.
Grandfather-Guardian
May 2, 2022
Word Count:
144680
Summary:
A secret revealed. A plot within a plot. A battle to reunite.
"Author James Siewert has certainly breathed new life into science fiction with this superb and spicy work."
-
K.C. Finn for Readers' Favorite Reviews
Headed in opposite galactic directions, Rowland Hale and Toar Grithrawrscion must find a way to reunite despite the myriad of challenges dogging their every step. An unwelcome surprise finds Rowland picking up the pieces of what he thought was his life, and Toar learns the hard way that the Pryok'tel always settle the score. Can their blossoming relationship survive, or will it be torn to bits between needle-sharp teeth? In
Barons of Oartheca
, the exciting sequel to the one-of-a-kind adventure
Allure of Oarthec
a, James Siewert plunges our two heroes into an epic fight for survival with adversaries both old and new, and asks the question, 'Is family those you love, or those you trust … with your life?'
Advisory:
this book contains scenes of explicit male/male romance, sex and sexuality, and is recommended only for readers ages 18+.
Barons of Oartheca
April 30, 2022
Word Count:
28000
Summary: Monty has a special power that no one else possesses. And he hates it. He just wants to live a quiet cheese sandwich and tap water life. Fate, being the fickle bitch it is, has other plans. His best friends, Lark and Sean, have abilities as well and the trio encounter three mysterious people who show them, they are not alone. It would be nice if any of them had useful abilities, but take what you can get, right? As a result, Monty is forcibly dragged into a world of coffee-addicted villains, half-competent goons, and pompous windbags. Monty must use his wits against the witless to save himself and his friends. To do so he must embrace being the DICK WIGGLER.
Dick Wiggler and Other Useless Superpowers
April 25, 2022
Word Count:
48821
Summary: More than fifty years before Leah Corbyn became a werewolf, Amélie Orne was cast out of werewolf society, manipulated into taking the blame for crimes she did not commit. After living for so long on the run as a Feral wolf, she found unexpected comfort and companionship from Leah and her lover Amy Oakley. As they grow closer, can she dare to hope for a real future together with them after a lifetime of betrayal and misery? Amélie has allies to stand with her now, but it will mean uncovering secrets long buried, and reopening dangerous old wounds...
Outcast's Song
April 23, 2022
Word Count:
107000
Summary: An ancient evil in Anne's head aims to ruin her tranquil life and end humanity. It must be Tuesday. A house of her own with a white picket fence, complete with a loving partner, Anne Perrin finally has the life of her dreams — including the job she always wanted and a caring family to share it all with. But every Eden has its Pandora's Box. Anne's personal heaven is marred by a malevolent presence in her head who, if given a choice, would use her to usher in a dark age, ending humanity as she knows it. The only thing holding it at bay is an unpredictable computer implant in her chest that seems to have its own agenda. Two unexpected visitors turn Anne's delicate world upside down in completely different ways — one better than she could have ever hoped, one catastrophically terrible — pitting Anne in a nightmare battle against the very people she holds dearest: her family.
Angels Found
April 19, 2022
Word Count:
12800
Summary: York Winter and his packmates are attacked by a rivaling werewolf pack at a lumberyard. Injured and exhausted, York runs into a part of town he's not familiar with, and when the enemy is closing in, he takes his chances and escapes into a bear-owned bakery. Torbjorn Holt doesn't do people, and he doesn't do wolves no matter what the pull in his heart is trying to tell him. He's learned his lesson and will not have wolves in the bakery, and he'll definitely not mate one. Luckily, York isn't too badly injured, so Torbjorn doesn't feel bad about kicking him out into the rain. York can't believe what's happening. He's finally found his mate, but Torbjorn refuses to let him stay. Torbjorn will never trust a wolf again, and if York doesn't leave soon, he'll knock him out with a rolling pin and dump him in the alley. York has to make Torbjorn understand he means him no harm, but how will he do that when Torbjorn refuses to talk to him?
The Cake Shop
April 9, 2022
Word Count:
7000
Summary: Emma and her Aunt Agathe share a family resemblance - they can both speak to ghosts. But Agathe, rejected by her family and constantly beset by heartache, has spent her whole life fleeing her unusual gift. Emma, however, embraces it. Grave Songs for the Dead is a cycle of three interconnected short stories, gothic with a touch of magic realism, set in the late 19th century.
Grave Songs for the Dead: A Short Story Cycle
April 5, 2022
Word Count:
43000
Summary: Nick Adore has been in hiding for six years. He does his best to pass himself off as human and only wants to be left alone. But one day, he walks in on a robbery. Instead of quietly walking away, he reveals himself as a blood witch, and now the werewolf king demands to see him. Conri Biast is king. He has been the king of Norbridge for eleven years, but someone is trying to take him down. For months, he's known there's a blood witch in his territory who refuses to pay his respects, and that puts him on the top of his list of suspects. But when he goes to confront the witch, things don't turn out the way he'd planned. The witch is his mate. Nick doesn't want to be anywhere near Conri. Being close to kings always ends with him getting hurt, but he finds himself sucked into the power struggle. Conri doesn't know who he can trust, but he knows he needs Nick by his side. Together, they're strong, but are they strong enough to keep the throne?
The Blood Witch
March 26, 2022
Word Count:
148000
Summary: I've confronted the half-blood mercenary who has what I need to find Jael, wherever she may be. Neither of us will leave until we reach a bargain which yields what we most desire. The Dragonchild has brought me into a city he knows to its foundations, where I am at a disadvantage. My devout Deathwalker may be content to wait for the coming war between Manalar and the Ma'ab, secure in his value to a newly revealed influence in the conflict, but my position seems neither secure nor desirable to anyone but me. I must dig deeper into the motives of all involved, including my own, to convince the Guild's leaders to lend me their vast knowledge and far reach within strangely familiar plots. I have to succeed for Jael's sake, for she is my only sister left. In The Guild's Design, outcasts from the Deepearth dare to reveal resolute hopes waiting within quiet hearts. This time and opportunity must not pass them by, lest the promise of war rend their chances for a future beyond the next conflict.
The Guild's Design: Sister Seekers 7
March 17, 2022
Word Count:
74127
Summary: AURA's offices have been quiet since the mage tower incident—as quiet as they can be for an agency dedicated to policing holes in reality—and the department heads have been free to turn their attention back to mundane matters. The return to quiet bureaucracy gives AURA's Director of Research, Kai Hiltas, the time to turn his energy to a new issue—a young drow with unusual and dangerous powers named Ryld. Though his shadows always lurk at the edges of his vision, Ryld does his best to live peacefully and not let them hurt anyone. He has his work, his apartment and a succession of minders assigned by AURA who are, ostensibly, there to keep him safe in his new world and to prevent him from causing any scenes with his shadows. Most of the time, the arrangement works. But one disastrous incident causes Ryld's minder to leave him unattended and lost—the precise thing he was hired to prevent. To replace the faithless minder, Kai suggests Hank, a half-goblin accountant recently in the middle of a string of terrible luck, while Kai works out how best to get Ryld the magical training he so desperately needs. For his part, Hank truly likes Ryld and insists he would be happier working as Ryld's companion rather than as a controlling minder. As Hank and Ryld slowly come to terms with sharing space—and eventually more—Kai's search for a teacher for Ryld takes them out west on the invitation of the Elvenhome's aelfe queen and right into the lap of inter-elven feuds, ancient prejudice, conspiracies and trafficking rings. What should have been a pleasant visit soon turns into more than even forever-scheming Kai can handle.
Ryld's Shadows
March 8, 2022
Word Count:
120000
Summary: A circus takes down a crimeboss on the galaxy's infamous pleasure moon. Hunted by those who want to study his gravity powers, Jes makes his way to the best place for a mixed-species fugitive to blend in: the pleasure moon. Here, everyone just wants to be lost in the party. It doesn't take long for him to catch the attention of the crime boss who owns the resort-casino where he lands a circus job. When the boss gets wind of the bounty on Jes' head, he makes an offer: do anything and everything asked of him, or face vivisection. With no other options, Jes fulfills the requests: espionage, torture, demolition. But when the boss sets the circus up to take the fall for his about-to-get-busted narcotics operation, Jes and his friends decide to bring the mobster down together. And if Jes can also avoid going back to being the prize subject of a scientist who can't wait to dissect him? Even better.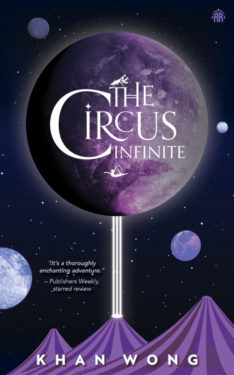 The Circus Infinite
March 8, 2022
Word Count: Information not available
Summary: In this second instalment of the Damien the Devil series, we see Damien has found a new, more permanent home outside the foster system with Pat, Damien's Renfield and caseworker, and his twin brother Matt. He is also enjoying a budding romantic relationship with Brian, another boy from the foster home. But after the two of them are caught kissing, Damien is kicked out on the streets in the middle of the night-only to find himself in a very dangerous situation with a vampire. Brian, feeling guilty about the whole situation, goes looking for Damien the next evening, only to fall victim to the vampire's trap himself. Damien and Pat save Brian, but he's unable to remember what happened that night-until he starts to be plagued with nightmares. Meanwhile, Damien is too afraid to reveal to Brian that he is a vampeal: a half-vampire and half-human. Will they both be able to handle the truth of what each other is hiding?
Shattered Recollection
March 6, 2022
Word Count: Information not available
Summary: It's the year 2100. Nan has had to leave her peaceful home above what used to be the Arctic Circle for something extraordinarily old-fashioned: a physical meeting with someone in, of all places, a city. If she doesn't contract a fatal disease first, she might choke to death on Manhattan's Rococo holography. And why hasn't she heard anything from her best friend, Trix? But things are about to get a whole lot worse than having dinner with the man who hired her to devise a craft, which should get all those annoying aliens off welfare and back to their home planet. Sue Hollister Barr's first publishing credits included articles in The New York Times and Twisted, a somewhat tongue-in-cheek horror novel first published conventionally in 1992 and still selling. "Holly" has also taught creative writing, with the blessings of state certification, and was senior editor for a literary agency for ten years. "Welcome, my dearest dear, to Rococo—a novella with as many plot flourishes as its name suggests. In a richly imagined future, Nan is designing the propulsion system for a vessel with a mysterious itinerary, and she's working for an elusive boss. Her work, she discovers, is of interest to many parties, and she has the dark suspicion that not all that interest is healthy. There is indeed something sinister afoot, and the voice of Nan's grandfather echoes in her mind: 'Only you can overcome this.' Sue Hollister Barr's characters will draw you into this tale, leading you through fantastic settings and swirling twists. But be warned: once may not be enough. Rococo is a story that invites—and rewards—re-reading." Amanda Coffin, Editor
Rococo
March 6, 2022
Word Count: Information not available
Summary: A promise made in fire and ice. A promise kept in death and stone. A truth in three, arise the trinity. Home to Gidhera. Here Ascara must prove herself through combat and the strength of her heart and soul. These tests of fire are nothing when compared to the danger she has yet to face. Ancient foes, asleep for generations, rise up from the sea and swarm across the land like a blight of fang and claw. These dark creatures are different now. They have evolved into something bigger, stronger, and more resilient. They bring with them magic of their own. These new powers could render the whole of Gidhera defenseless. Guns and cannons are no match for these dark powers of the deep. To save her people, the clan and her home, Ascara needs a tower and the full power of fire, and three. Without them will bring the destruction of her clan, and all that she holds dear. Join Magda, Lucinda, and Ascara as they face their biggest and most deadly challenges yet.
A Touch of Fire
March 1, 2022
Word Count:
50000
Summary: Fourteen-year-old Samantha spends her days exploring the shallow reef behind her island home. With her world locked in a battle against rising seas, scientists deploy genetically modified corals to rebuild reefs and protect the coastline. No one expects the reefs to be a hotbed of evolution, but they are. When an octopus flows off a rock in her lagoon, Samantha is startled. When he purposefully arranges pieces of coral on the sand, trying to communicate, she is shocked. How she responds may determine the fate of life on Earth. The year is 2045, and fourteen-year-old Samantha lives in a world where ocean levels are rising, destroying coastal cities and swallowing islands. Millions of displaced people are homeless. The planet is in a climate tailspin that threatens civilization. Researchers deployed genetically modified corals that can grow in warmer waters. They aimed to sequester carbon dioxide and stabilize the climate. The successful project produced an extensive barrier reef system along the coasts of Georgia and Florida. Samantha lives on a research island off the coast of Georgia with her scientist parents. She becomes obsessed with the ocean, spending all her time exploring the reef. One day, she encounters an octopus attempting to communicate with her. The story dives deep into an exploration of species' intelligence and the quest to save the planet.
Charlie's Story
March 1, 2022
Word Count:
94560
Summary: Leah Corybn was a regular mail carrier who thought she had been bitten by a dog, until the next full moon revealed that she had become a werewolf. After months of hiding her secret in the city of London, she is about to learn she is not alone. As she attempts to navigate a world she never knew existed, can she find her place among the wolves of Londinium, or will she fail to prove herself in time?
Orphan's Cry
February 26, 2022