about limFic
We're an inclusive library of spec fic titles (fantasy, sci fi, paranormal and horror). Use the book search, our filter search, or the menu links. Join our weekly newsletter list, and we'll give you four free ebooks (and you can sign up for more each month via the newsletter). You'll be able to add books to your TBR list and "favorite" authors. Questions? Email scott@limfic.com.
Using this Site
Authors: Join Us
our blog
New "unprecedented" animations of the Earth show how the planet's surface has shifted and changed over the past 100 million...
Read More
new from limfic authors
Check out our "coming soon" titles here too.

Word Count:

93000
Summary: To resuscitate his fading celebrity, tech CEO Stephen Lucas would sell his soul for one more hit. When the subspace network for his holographic gaming empire crashes, his hardware guru makes a discovery proving that Einstein was right once again—information can be sent into the past. They accidently created a simple time machine. In a culture built on instant gratification, Lucas is sure he's stumbled upon the next big thing,  the game-changer that will make Wall Street give him the accolades he craves—a device that makes instant delivery possible. Want a pizza now? Send your order back in time 30 minutes. Forgot to make reservations at that chichi french restaurant two weeks ago? No worries now you can make purchases of anything in the past and have it appear when you want it—now. So, buy last weeks PowerBall ticket. Invest in that stock you wish you bought last year. Share a FaceTime call with a loved one that passed away last month. Finally time really is on your side. A time machine for the rest of us. But when he rushes into beta testing, he learns that the stuff dreams are made of can quickly become the stuff of nightmares. It turns out Move Fast and Break Things is terrible policy when developing a time machine.
The Dent in the Universe
Word Count:

111,172
Summary: Two sisters born in the Red Desert, young Daughters of an ancient Queen. One seizes the delights of the present. The other sees and despairs for their future. Innathi and Ishuna, the heirs of the Dark Elf Queen of V'Gedra, travel the sand dunes with their entourage. In need of water, the sisters enter the sacred canyons of Koorul, where they interrupt a mystic rite of passage for the Human son of a Sorcerer-King. Negotiations fare well between the two desert peoples until powerful magic blends with the discoveries of youth which get quickly out of control. Incomprehensible joy crashes into a dark dread which cannot be named, and a schism begins between the sisters. Diplomacy is critical to avoid unnecessary conflict, yet the Queen's daughters do not agree on the goal. Each has her version of the events at Koorul, and each is certain of the outcome should Innathi pursue the wild magic of the Zauyrian son. A close alliance with a Sorcerer-King could bring pleasure, prosperity, and new life thriving in the Desert, or it might corrupt a delicate balance to bring down the realms and all they had ever known. This second volume of Tales of Miurag is a standalone novel which can be read on its own. Dramatic events and mature themes weave into broad history and lore headed toward a cataclysm which will change the entire world. The Desert is also Etaski's ultimate villains' origin, featuring several antagonists introduced in the Sister Seekers series. This story takes place approximately 3500 years before No Demons But Us, where hints of these events past echo forward and impact future generations.
The Desert: Tales of Miurag 2
Word Count: Information not available
Summary: Forty years after landing on Lida, the colony still isn't finished. Agetha has survived many more battles than she anticipated when she first landed on her new home planet. She's older and wiser, has gained family and lost loved ones. And yet her reward for four decades of service is to be pushed to the colony's outer edges with the other aging Generationals. But that was only the beginning of her adventure. The biomass has spent years studying the intruders who landed on its surface, carving a new home from its very essence. Never satisfied in its attempt to communicate with this new and invasive species, finally it has found a way to express its intentions. The colonists may never be the same. Discover the fate of the colony in the second book of The Biomass Conflux trilogy!
To a Fungus Unknown
Word Count: Information not available
Summary: Third of the Vyrdigaan Prophecies, telling the back-story of Edeeshah Modjian. Born into Varagan society where females are prohibited from learning and practising sorcery, Edeeshah faces two tough choices — keep her nascent powers a secret or go to mainland Varathusia and find someone to teach her. Neither of these appeals to her and she chafes against the restrictions imposed upon her. When a third option is presented to her, she embarks on a path which will bring about a dramatic transformation. Follow her journey as she learns important lessons and deals with many challenging situations. Read less
The Forbidden Sorceress
Word Count:

92000
Summary: WELCOME TO THE ROOTS OF LOVE! Thirteen authors, fourteen stories, and lots of HEA/HFN - what more could you ask for? We went out and found the best romantic origin stories on the market today and collected them in one volume. Whether you want fantasy, urban, paranormal, contemporary, classical, or sci-fi, it's here. Straight, sapphic, gay, polyamory, we have the flavors to satisfy. Want to know more? A sci-fi short from noted sapphic author Lila Gwynn that begins at the end of the world C.R. Clark brings you a curse that might turn into a blessing AC Adams tells the tale of a djinn who is looking for the wish that will free her from bondage Award-winning author David Green takes you on a quest for love and revenge Can romance bloom in spin class? Nat Paga's going to show you how Gods and goddesses and humans, oh my! Courtesy of Lou Grimes It might be the future, but Adam Gaffen's characters still grapple with the forbidden attraction between a student and their professor A workplace romance heats up when the boss gets involved in Madilynn Dale's contribution There's love to be found in Dani Hermit & Curtis Star's Omegaverse, if you know where to look AC is back with a story in her award-winning Kalili's Temptation universe A modern retelling on the Romeo and Juliet origin story gets the full, lyrical Rose Sinclair treatment Jump into the hopepunk future of O.E. Tearmann and see what true friends do for each other Valkyries and shifters are mortal enemies, but do they have to be? Find out in Poppy Minnix's tale What could possibly happen when a fae starts reading tea leaves for humans? Sienna Swift has your answer So sit back, relax, and enjoy this journey into all the ways love can begin in the most unlikely circumstances!
Roots of Love
Word Count:

36000
Summary: Jerrith is running. Kissed by an elf, he can't remain in his hometown of Althos any more. Not that he wanted to stay. Caspian still hasn't figured out why he kissed Jerrith, but he's running too. Since he was exiled from the Autumn Lands, his past has been hazy, and his future uncertain. But when a stray memory brings things into focus, the two decide to run toward something together. What they uncover will change how they see the world, and themselves, forever.
The Autumn Lands
Word Count:

53,000
Summary: "Orcs are the answer but what is the question?" Elias is a priest at the Temple of the Divine Sibyl. When he becomes lost in the woods after his brother's hunting party abandons him, it's just his luck that he'd stumble upon an angry orc caught in a trap. Unable to stomach the suffering of others, Elias throws self-preservation to the wind and frees the orc. Then Gurrkk—that's a name?—ends up leading him to safety. Gurrkk finds himself rather smitten by the sweet, awkward human. He's always been fascinated with his people's sworn enemy, and now he has a life debt to fulfill to maintain his honor. Hiding an orc among the temple's crypts wouldn't have been Elias's first choice but Gurrkk is stubborn about leaving. As they learn each other's languages and spend more time together, Elias realizes they've become friends… and maybe more. And when the dying sibyl gives her last prophecy, Elias knows it wasn't chance that brought them together, it was the gods. But why? This is a sweet, ace romance, so no sexy times, but plenty of snuggles and cuddles!
A Priest, a Plague, and a Prophecy
Word Count:

137000
Summary: Have you ever made a ship's AI proud? Really, truly proud? Captain Alastri has. She's a child of Doro, a frontier world governed by a temperamental AI that represents the thoughts and feelings of all its citizens. Never heard of it? Well, it did get destroyed, which is where her ship's AI steps in, to regale us with how Alastri's past led directly to this catastrophe. When Alastri was 17, she witnessed a failed mediation between the ever-wronged citizen Ceres and Doro's governing AI. That day didn't just reveal a range of competing philosophies. It also led to treason, the loss of her ship, and the destruction of her home 25 years on. Connecting the dots from that day is the only way Alastri can hope to prevent further disaster for her system. And yes, this she does, most splendidly—at least, if you can believe a ship's ridiculously proud AI. Inspired by The Brothers Karamazov, a.k.a. "Dostoevsky in Space"!
Children of Doro
Word Count: Information not available
Summary: Language is no longer learned, it is streamed to neural implants regulated by lang-laws. Those who cannot afford monthly Language Streaming services are feral, living at the fringes of society. Big tech corporations control language, the world's most valuable commodity. But when a massive cyberattack causes a global language outage, catastrophe looms. Europol detective Emyr Morgan is assigned to the case. Suspect number one is Professor Ebba Black, the last native speaker of language in the automated world, and leader of the Babel cyberterrorist organization. But Emyr soon learns that in a world of corporate power, where they who control language control everything, all is not as it seems. After all, if the mysterious Ebba Black is to blame, why is the Russian Federation being framed for an outage it claims to have no responsibility for? And why is Ebba now targeted for assassination? As he and Ebba collide, each with their divergent agendas and value systems, Emyr faces an existential dilemma between loyalty and betrayal, when everything he once believed in is called into question. To prevent the imminent collapse of civilization, and a deadly war between the great federations, he must figure out friend from foe, as his life may very well depend on it. And with the odds stacked against him, he must find a way to stop the Babel Apocalypse.
The Babel Apocalypse
Word Count: Information not available
Summary: The realm of Maldhonia was happy and prosperous, until strangers fell from the sky She'd given her life for power and a fresh start, but Calianthema had found a new trap—caught in a love spell with a dangerous nemesis. And this wasn't the worst of her problems. RIVER'S ROAR is a standalone MAGE ERA prequel to the WOODPELL SERIES and one of the TALES OF ARDONNA. Content Advisory: Adult themes and situations
River's Roar
Word Count:

40000
Summary: Just because you're alone, doesn't mean someone doesn't know your business… Lucas, the closeted son of a preacher who just graduated from Florida Atlantic University, returns home and is forced to make a life-changing decision––can he live a lie and marry his lifelong BFF, who his overbearing parents have been plotting to matchmake him with for years? Or, will he stay in Florida and start a new, more open life that he knows they will never approve of? Tyler, a talented artist on the edge of seventeen, is about to finish high school, and is looking forward to becoming a proper adult and fully exploring his sexuality. However, he soon discovers there's a kink in his plans––his father has decided to rent out the studio apartment he's been living in, putting an end to the independence he's enjoyed until now. Lucas answers an advertisement for the apartment, and sparks fly from the very first moment the boys meet––though both are reluctant to explore things further, since it wasn't what either of them had planned for their futures. But sometimes life isn't that simple, and doesn't always go exactly as planned…
The Curious Thing About The Apartment Vent
Word Count:

77000
Summary: Let your imagination bloom with these mind-opening tales Featuring stories by Veronica L. Asay, Warren Benedetto, Jason P. Burnham, Michael D. Burnside, Laura J. Campbell, Arasibo Campeche, Jay Caselberg, Philip Brian Hall, Tom Howard, Tim Kane, Benjamin C. Kinney, Stephen McQuiggan, Mike Morgan, Sam Muller, Jason Restrick, and Elyse Russell.
Dragon Gems (Spring 2023)
Word Count:

108000
Summary: All legends spring from a seed of truth. Humble Kai aspires to become more than the petite, inconsequential young woman her community sees. Persistence pays off when the village holy leaders reveal a prophecy—Kai might actualize her dream of being a hero if she completes three seemingly impossible tasks. Princess Solveig, descendant of the famous shieldmaiden Sigrid the Valiant, believes she was born to accomplish great things, but her poor eyesight, weak constitution, and lack of physical expertise hold her back. Convinced she can never realize her ambitions, Solveig settles for living vicariously through her warrior girlfriend. The appearance of a dangerous jötunn wreaking havoc in the kingdom brings the two would-be champions together. Solveig feels both threatened and skeptical when Kai arrives in her father's great hall with a "magic" sword, claiming she's there to save the day after more promising protectors have failed. With many lives at stake, will rivalry push Solveig and Kai apart, or will they inspire each other to realize the greatness both women desire to achieve—and to survive the coming battle? Gear up for action and the dramatic storytelling of Edale Lane in this hero's journey sapphic Viking historical romance. If you like to root for an underdog, experience epic world building, and enjoy women with swords, you'll love Legacy of the Valiant, the second book in the Tales from Norvegr series. Buy your copy today!
Legacy of the Valiant
Word Count:

72000
Summary: Twenty years before Simon found Paul, a decade before Aaron joined the Minneapolis West pack, there were other gay wolves living hidden lives. Sawyer Holt thought he was dead at the age of sixteen when his brother Leon caught him kissing a human man. Dragged up in front of his Alpha, he could only hope for a painless end, especially when Rick Brown stared at him with an icy gaze and said to Leon, "I'll take care of it." Except what Rick gave Sawyer wasn't death, but a new concealed life. In Minot, North Dakota, Sawyer has spent fourteen years isolated among humans, carving out a future for himself. Until a messenger arrives from Rick, saying that Leon has discovered the ruse, and it's time to run again. Sawyer's furious about losing his hard-won life, but intrigued by the young man carrying the message. James Ferguson doesn't appreciate being sent from his home and pack in Virginia to run errands for the Chicago Alpha, but as Twelfth out of twelve adult wolves, he's in no position to complain. He figures he'll deliver the message and package, and hurry home for Thanksgiving. But a snowstorm, and the huge, muscular, confusing werewolf who rescues him, upend his plans. Soon, James's whole world changes, and the only future he may have depends on whether he and Sawyer can survive being hunted, together. Unseen Past is a prequel novel set in the world of the Hidden Wolves, twenty years before Book 1.
Unseen Past
Word Count:

66,545
Summary: Krish Butala, a werewolf, last of his line, teams up with his best friend Tyler Turner, a witch, and their good friend Matthew Williams, a tribrid. To protect themselves and everyone they know from the rising tensions amongst the various supes factions, they concoct a way to stop the impending war before it kicks off. The nagging ethical dilemma that plagues them is that if they proceed with their plan, they will betray everyone they know.
The Hallowed Bloodline: Battlelines
Word Count:

138,300
Summary: Four silver foxes from Earth discover that true love and second chances are not just for the young. Fly with Me - Let the good times roll! That's Ava Martin's retirement plan at least, until gray aliens abduct her from the middle of the Nevada desert. In her hair rollers no less! Talk about a rude awakening for this UFO skeptic. Above the Storm - It all started with a dare. Robyn Martin Donahue's bestie says the Silverstar Agency can hook her up with an off worlder who will love and respect her, not try to rule her. As if. Wing and a Prayer - Happily ever after didn't work out. If Meryl Faulkner learned anything from her divorce, it's that she's not defined by any man. Especially not that annoying, self-serving…sexy winged alien who's divebombed into her orderly life. Trial by Fire - True love only happens once in a lifetime, right? Silverstar agent Nixy Vogel should be furious at the (smoking hot) alien trying to put the agency out of business. Instead, her shuttered heart burns for him. Welcome to the Silverstar Mates series, featuring intergalactic love matches for those over fifty.  Please note: This is a boxed set of books 1-4 of the Silverstar Mates series. Before you purchase this boxed set, please check your ereader to make sure you don't already own these titles individually.
Silverstar Mates Boxed Set
Word Count: Information not available
Summary: Before Ardulum, there was the Mercy's Pledge. One year after saving the Neek homeworld and redefining the people's religion, the crew of the Scarlet Lucidity returns to the Charted Systems for a much-needed break. For Nicholas and Yorden, the Systems will always be home, but for Emn and Atalant, too many memories compound with Emn's strange new illness to provide much relaxation. Tales from Ardulum continues the journey of Atalant, Emn, Yorden, Nicholas, and Salice as they try to define their place in a galaxy that no longer needs them while battling the artifacts of Ardulan colonization. Other stories include Yorden's acquisition of the Mercy's Pledge (and his grudge against the galaxy), Atalant's exile from her homeworld, Ekimet and Savath's romance, and many others.
Tales From Ardulum
Word Count:

70000
Summary: What secrets lie beneath the streets of Paris? When a malfunctioning automaton runs full force into their locomotive on the new Paris-Orléans railway, Jacqueline Duval and her bohemian twin sister Angélique Laforge become embroiled in a mystery deeply rooted in their tragic past. A polytech and famed engineering prodigy, Jacqueline is fascinated by the metal man, even more so when she discovers that it is powered not by steam, but by the supernatural. Her investigation puts the sisters on a path both dangerous and mysterious as they must foil a plot to employ the dead to power a mechanical army aimed at international conquest. Aid comes from unexpected sources as the twins rush to avert this engineered war, but will they be in time?
Esprit de Corpse
Word Count:

12000
Summary: If The Little Mermaid were set in the twenty-second century... In the aftermath of climate change, humans have abandoned the flooded coasts. Underwater, people of another kind struggle to rehabilitate the polluted seas. After one rescues a human engineer, she realizes he might hold the key. If she can learn how to interact with the world like a human, if she can understand them, if she can become enough like them, maybe they will help. Maybe he will help. But to reach him, she may need to sacrifice who she is...
Voice of the Sea
Word Count:

45000
Summary: These three tales tell the story of Tharassas before the Tharassas Cycle, including the origin of the hencha queens, the ce'faine, and the colonization of the Highlands, essential companions for the four novels that make up the cycle: The Fallen Angel Charlie Fah, Cha'Fah to most of the world, has never fit in with the other citizens of Gully Town, thanks to his darker skin that sets him apart. But one day, an Angel arrives on a supply run from Earth, and what happens next sets Charlie on a new path that will turn his life upside down. The Last Run Sera is the last runner from Earth, bringing badly needed supplies to the Tharassas Colony across a twenty-five year gulf between the planets. Jas works on a hencha farm to make ends meet, harvesting berries from the semi-sentient plants. Neither one that knows their lives—and worlds—are about to change forever. The Emp Test Jey awakens to find himself in the care of a handsome stranger—a cheff from one of the mountain tribes. Afraid for his life, Jey has no choice but to let the man take care of him and his broken leg. Avain is on his Aud'ling—the coming-of-age test that requires him to spend a couple months away from his own people. The two of them will have to come to an understanding if they're going to help one another. The Last Run and The Emp Test have been published before in previous stand-alone editions, but The Fallen Angel is a new story written exclusively for this collection.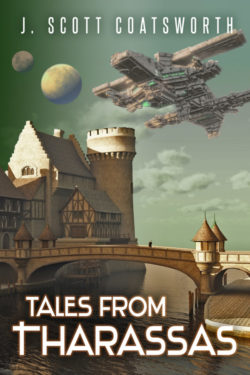 Tales From Tharassas