Sci fi stories that involve hopeful visions of the future, often including alternative sources of energy and ecologically friendly practices. Return to general Sci Fi
Note: these books are currently sorted by release date, with newest first.
Word Count:

96000
Summary: Fourteen Ways to Change the Planet Income inequality is worse than it was in the Roaring Twenties. Corporations are moving fast and breaking things, and the social contract seems to be falling apart, aided by social media disruption and division on steroids. There has to be a better way. We asked fourteen sci-fi writers to come up with innovative ways the world could work better. Universal basic income, smaller communities, AI voting, and learning to live in harmony with nature are just a few of the ideas explored inside these pages. So buckle up and settle in for a look at the world of the future. The world's not going to transform itself.
Transform the World
Word Count:

12000
Summary: If The Little Mermaid were set in the twenty-second century... In the aftermath of climate change, humans have abandoned the flooded coasts. Underwater, people of another kind struggle to rehabilitate the polluted seas. After one rescues a human engineer, she realizes he might hold the key. If she can learn how to interact with the world like a human, if she can understand them, if she can become enough like them, maybe they will help. Maybe he will help. But to reach him, she may need to sacrifice who she is...
Voice of the Sea
Word Count:

130000
Summary: Life after the Crash. Over a century after the end of the Earth, life goes on in Redemption, the sole remaining Lunar colony, and possibly the last outpost of humankind in the Solar System. But with an existential threat burrowing its way into the Moon's core, humanity must recolonize the homeworld. Twenty brave dropnauts set off on a mission to explore the empty planet. Four of them—Rai, Hera, Ghost and Tien—have trained for two-and-a-half years for the Return. They're bound for Martinez Base, just outside the Old Earth city of San Francisco. But what awaits them there will turn their assumptions upside down—and in the process, either save or destroy what's left of humanity.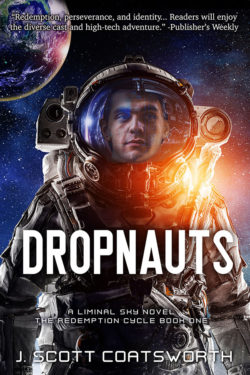 Dropnauts
Word Count:

100400
Summary: Climate change is no longer a vague future threat. Forests are burning, currents are shifting, and massive storms dump staggering amounts of water in less than 24 hours Sometimes it's hard to look ahead and see a hopeful future. We asked sci-fi writers to send us stories about ways to save the world from climate change.  From the myriad of stories we received, we chose the twenty most amazing (and hopefully prescient) tales. Dive in and find out how we might mitigate climate change via solar mirrors, carbon capture, genetic manipulation, and acts of change both large and small. The future's not going to fix itself.
Save the World
Word Count:

100212
Summary: The America of our near-future is divided across socio-economic and technological-philosophical lines. The Traditionalists eschew any and all post-human technologies in favor of tangible materials. They uphold strict hierarchical structures based on religion, family, and leadership. They long for the return of the global markets wiped out by a world-shaking disaster called The Great Tide. The Interconnected stand in stark opposition to their ways, living without property, family, or religion, and modifying their bodies with the help of new and invasive technologies. They speak to each other wordlessly, employing a technological telepathy they call 'thexting' to communicate mind to mind, and embrace the gifting economy of Merit to maintain their post-scarcity lifestyles. Marto, the traveling Interconnected historian, has exiled himself to protect the ones he loves from his dark secret. In his absence, Helen, a runaway Traditionalist aristocrat, struggles to find her place among the Interconnected, unwilling to return to her cruel family. Reyleena, the former head of security in the Interconnected town of Reverside, has returned to a life of quiet solitude, broken occasionally by the impositions of The Other, an omnipresent AI, who will not leave her alone. Meanwhile, Barnabas, the Traditionalist leader of New Atlantic, fights to return to his township in the wake of an attack. Nora, his sister, remains in Reverside and must come to terms with her new life in captivity.
The Wakeful Wanderer's Guide
Word Count:

85000
Summary: ALSO AVAILABLE FROM INGRAM FOR BOOKSTORES We're a world beset by crises. Climate change, income inequality, racism, pandemics, an almost unmanageable tangle of issues. Sometimes it's hard to look ahead and see a hopeful future. We asked sci-fi writers to send us stories about ways to fix what's wrong with the world. From the sixty-five stories we received, we chose twelve most amazing (and hopefully prescient) tales. Dive in and find out how we might mitigate climate change, make war obsolete, switch to alternative forms of energy, and restructure the very foundations of our society, The future's not going to fix itself.
Fix the World Anthology
Word Count:

83000
Summary: By the end of the 21st century, the world had become a harsh place. After decades of natural and man-made catastrophes, nations fell, populations shifted, and seventy percent of the continents became uninhabitable without protective suits. Technological advancement strode forward faster than ever and it was the only thing that kept human society steady through it all. No one could have predicted the discovery of the Dream Walkers. They were people born with the ability to leave their bodies at will, unseen by the waking world. Having the potential to become ultimate spies meant the remaining government regimes wanted to study and control them. The North American government, under the leadership of General Rennet, demanded that all Dream Walkers join the military program. For any that refused to comply, they were hunted down and either brainwashed or killed. The very first Dream Walker discovered was a five year old girl named Julia. And when the soldiers came for her at the age of twenty, she was already hidden away. A decade later found Julia living a new life under the government's radar. As a secure tech courier in the capital city of Chicago, she does her job and the rest of her time avoids other people as much as she is able. The moment she agrees to help another fugitive Walker is when everything changes. Now the government wants them both and they'll stop at nothing to get what they want.
Waking the Dreamer
Word Count:

90696
Summary: Marto Boxter is an optimistic journalist with a head full of implants. When we meet him, he is planning a ride into the interconnected tribes of the Northeast from his town of Reverside-on-Hudson. He plans to document his ride by posting his thoughts in real-time to his post-human followers. Before he can leave on his tour however, a runaway named Helen arrives with secret information that throws Marto's placid world into turmoil. Meanwhile, Barnabas Yoniver IV, the leader of a Luddite town to the south launches a plot to disrupt the life of all upgraded humans and bring them back to the traditional economy of markets and governments. Aware of Yoniver's plans, rival Luddite families scheme to prevent Barnabas from grabbing too much power for himself.
The Wakeful Wanderer's Guide
Word Count: Information not available
Summary: Memories of another life and lover guide her, but are they even hers? She is a Bearer—keeper of past lifetimes and gifted with strange talents. Ember must find her answers away from safe Longquan Village, snared instead in the sensuality and dangers of The City. Hidden among spider farmers and slaves, prostitutes and weavers, a nest of people like her are waiting. A powerful man outside The City raises his forces, determined to hunt down the 'demons' who could taint his followers. Threatened from without and within, can the Bearers even trust each other? Powers will rise and alliances will be forged in a dark new world. The Memory Bearers are coming. This book includes violent and mature content. Reader discretion is advised.
After the Garden