Sci fi stories with a lot of the plot that takes place in a virtual world. Return to general Sci Fi
Note: these books are currently sorted by release date, with newest first.
Word Count:

38000
Summary: RISE (noun / verb) Eight definitions to inspire writers around the world, and an unlimited number of possible stories to tell: 1) An upward slope or movement 2) A beginning or origin 3) An increase in amount or number 4) An angry reaction 5) To take up arms 6) To return from death 7) To become heartened or elated 8) To exert oneself to meet a challenge Rise features 300-word speculative flash fiction stories from across the rainbow spectrum, from the minds of the writers of Queer Sci Fi.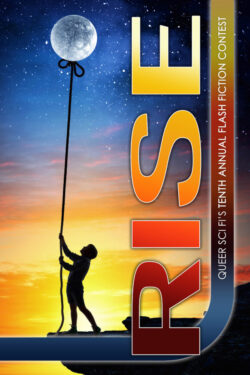 Rise
Word Count:

130000
Summary: Life after the Crash. Over a century after the end of the Earth, life goes on in Redemption, the sole remaining Lunar colony, and possibly the last outpost of humankind in the Solar System. But with an existential threat burrowing its way into the Moon's core, humanity must recolonize the homeworld. Twenty brave dropnauts set off on a mission to explore the empty planet. Four of them—Rai, Hera, Ghost and Tien—have trained for two-and-a-half years for the Return. They're bound for Martinez Base, just outside the Old Earth city of San Francisco. But what awaits them there will turn their assumptions upside down—and in the process, either save or destroy what's left of humanity.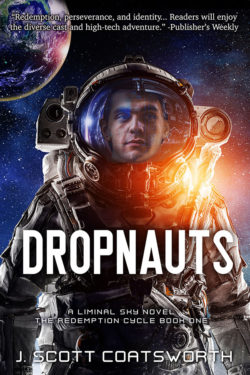 Dropnauts
Word Count:

45000
Summary: Tangents & Tachyons is Scott's second anthology - six sci fi and sci-fantasy shorts that run the gamut from time travel to hopepunk and retro spec fic: Eventide: Tanner Black awakes to find himself in his own study, staring out the window at the end of the Universe. But who brought him there, and why? Chinatown: Deryn lives in an old San Francisco department store with his girlfriend Gracie, and scrapes by with his talent as a dreamcaster for the Chinese overlords. But what if a dream could change the world? Across the Transom: What if someone or something took over your body on an urgent mission to save your world? Pareidolia: Simon's not like other college kids. His mind can rearrange random patterns to reveal the images lurking inside. But where did his strange gift come from? And what if there are others like him out there too? Lamplighter: Fen has a crush on his friend Lewin, who's in a competing guild. But when the world goes dark, only a little illumination can save it. And only Fen, Lewin and their friend Alissa can light the spark. A Liminal Sky short. Prolepsis: Sean is the closeted twenty-five-year-old editor of an 80's sci-fi 'zine called Prolepsis. When an unabashedly queer story arrives from a mysterious writer, it blows open Sean's closet door, and offers him the chance to change the world - and the future. Plus two flash fiction stories – The System and The Frog Prince, never before published. This is the first time all of these stories have all been collected in one place.
Tangents & Tachyons
Word Count: Information not available
Summary: Their connection was immediate. Was it destined or pre-programmed? Kenner Ford is trying not to panic. After his beautiful girlfriend suddenly disappeared from Beijing, he hops on a ballistic rocket to New York to begin a global search. And after a whirlwind romance filled with passionate sex and unsurpassed creativity, he's distraught to think she's gone forever. When warnings about Chinese intrusions get a cyberwarfare guru killed, Kenner and his missing lover become embroiled in a worldwide conflict. And after he learns they've both been surveilled for years by ambitious AIs, the troubled man flees from a deadly assassin while terrified for his woman's life… Can he reunite with his dream girl before they're permanently deleted? Control Theory is a thrilling science fiction romance. If you like compelling visions of the future, the evolution of advanced technology, and a sexy love story, then you'll adore Timothy Bult's futuristic roller coaster.
Control Theory
Word Count:

270000
Summary: Liminal Sky chronicles humankind's first journey to the stars. The first three books - the Ariadne Cycle - cover the creation and launch of Ariadne (aka Forever) as she was grown from seed on an asteroid and then launched across the interstellar void. The books are told in epic fashion, with each broken into three parts that span generations. THE STARK DIVIDE Some stories are epic. The Earth is in a state of collapse, with wars breaking out over resources and an environment pushed to the edge by human greed. Three living generation ships have been built with a combination of genetic mastery, artificial intelligence, technology, and raw materials harvested from the asteroid belt. This is the story of one of them—43 Ariadne, or Forever, as her inhabitants call her—a living world that carries the remaining hopes of humanity, and the three generations of scientists, engineers, and explorers working to colonize her. From her humble beginnings as a seedling saved from disaster to the start of her journey across the void of space toward a new home for the human race, The Stark Divide tells the tales of the world, the people who made her, and the few who will become something altogether beyond human. Humankind has just taken its first step toward the stars. THE RISING TIDE The Earth is dead. Five years after the Collapse, the remnants of humanity travel through the stars inside Forever: a living, ever-evolving, self-contained generation ship. When Eddy Tremaine and Andrissa "Andy" Hammond find a hidden world-within-a-world under the mountains, the discovery triggers a chain of events that could fundamentally alter or extinguish life as they know it, culminate in the takeover of the world mind, and end free will for humankind. Eddy, Andy, and a handful of other unlikely heroes must find the courage and ingenuity to stand against the rising tide. Otherwise they might be living through the end days of human history. THE SHORELESS SEA Rise of the Inthworld. The fight for the future isn't over yet. It could lead to a new beginning, or it might spell the end for the last vestiges of humankind. The generation ship Forever has left Earth behind, but a piece of the old civilization lives on in the Inthworld—a virtual realm that retains memories of Earth's technological wonders and vices. Lilith leads the uprising, and if she sets its inhabitants free, they could destroy Forever. But during the ship's long voyage, humanity has evolved. Liminals with the ability to connect with the world mind and the Inthworld provide a glimmer of hope as they face not only Lilith's minions, but the mistrust of their own kind as homotypicals fear what they can't understand. The invasion must be stopped, the Inthworld healed, sothe people of Forever can let go of their past and embrace their future.
Liminal Sky: Ariadne Cycle Complete Box Set
Word Count:

120,000
Summary: In Zero-Day Rising, the third book of the BetterWorld trilogy, Kiyoko resolves to free her sister and bring down President Rand and MediaCorp. However, MediaCorp unleashes its ultimate plan: direct mind control with cerebral implants. Can Kiyoko and Waylee's team stop them? Can they penetrate MediaCorp's networks and end the company's grip over humanity? All while eluding the biggest manhunt in history, in a country where everyone and everything is under surveillance?
Zero-Day Rising
Word Count: Information not available
Summary: Twenty stories of fantasy, science fiction, pirates, horror, spies, and kindergarten noir. From the space-based lothario to the diminutive thief each looking for their next score, and from the jilted romantic traveling through time to the kingdom refugee whose day never ends, there's something for everyone In A Flash!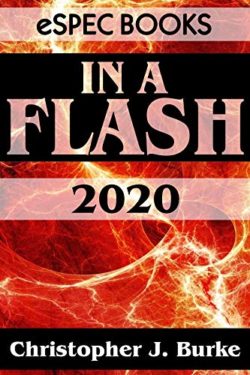 In A Flash 2020
Word Count:

141000
Summary: The starstream is beautiful. But beauty turns deadly when an ancient AI bent on destruction uses it to travel uptime, to our near-future. The Mindaru are dead. Or so exiled-Earthman John Bandicut and his alien companions believe, when they return to Shipworld after saving the Orion Nebula and countless inhabited worlds. But now another horde from this ancient and malicious AI colony is swarming toward the present from its birthplace deep in the past. Their opening: a temporal disturbance in the starstream, a hyperspatial thoroughfare used by myriad civilizations. The disturbance emanates from the planetary defenses of nearby Karellia, whose people know nothing of the starstream or the galaxy-threatening Mindaru. Only Bandicut and his friends have the knowledge and experience to act. But several of Bandicut's company have gone missing. Bandicut and Li-Jared must team with the pandimensional Ruall and her gokat—the oddest aliens Bandicut has met since the shadow-people—and journey to Karellia to find a way to cut off the timestream. Meanwhile, on Shipworld, the "missing" Ik meets another human of Earth—a former lover of Bandicut's—and embarks with her on a perilous mission far back into deep time, seeking a way to stop the Mindaru at their source. The Chaos Chronicles returns at last in The Reefs of Time, part one of a heartstopping, two-part adventure. Concluded in Crucible of Time—from Nebula-nominated Jeffrey A. Carver! PRAISE FOR THE REEFS OF TIME / CRUCIBLE OF TIME: "Classic science fiction with engaging characters and richly imagined worlds!" --Greg Bear; author of The Unfinished Land and The War Dogs Trilogy "Jeffrey A. Carver's remarkable long-awaited duology The Reefs of Time / Crucible of Time is a welcome addition to The Chaos Chronicles, certifying his continuing mastery of action and adventure at the boundaries of space opera and hard SF." --Steve Miller, co-author of The Liaden Universe "Rich, dignified prose wedded to excellent and imaginative storytelling on the grandest scale. If you've grown weary of the hasty, hyperkinetic stories and styles that typify so many other independently-published novels, come home to Jeffrey Carver's timeless and triumphant The Reefs of Time." --Charles E. Gannon, author of the Caine Riordan world "Mind-blowing in its complexity... I settled in to enjoy a wild ride." --Ann Tonsor Zeddies, author of Riders of Leviathan and Steel Helix "Underpins its stunning science fiction and character-driven narrative with a strong theme of 'coming home'... As narratives intertwine at separate ends of the timescale, Carver's talent for weaving incredible technology and worldbuilding with meaningful character moments is a standout." --Terence MacManus, Aurealis Magazine PRAISE FOR THE CHAOS CHRONICLES: "Remarkably expansive vision." --Analog "Masterfully captures the joy of exploration." -- Publishers Weekly "Master craftsman of compelling hard science fiction." -- Booklist One of the best SF novels of the year -- Science Fiction Chronicle "A dazzling, thrilling, innovative space opera." --Kirkus "Fertile imagination and... a host of engagingly sympathetic characters." --Library Journal
The Reefs of Time
Word Count: Information not available
Summary: Welcome to Zeta City, where the whole world goes to die. Here, the Node System uploads the minds of the dying so they can spend eternity in a digital Promised Land. But, this cyber heaven is causing hell on earth for the living because the System forces them to earn Points to buy data in the afterlife. Camille is a salty mercenary out to hoard as many Points as possible by exploiting the dying with illegal technology. She's on the hunt for Toy, a rebel leader who uploaded lethal technology to her own brain in an attempt to wipe out everyone's Node Points. Camille goes to increasingly dangerous lengths in pursuit of Toy. She soon finds that the Node is full of warm reunions with loved ones and otherworldly creations. It's also full of lies.
Forever People