Paranormal fiction featuring people who have the ability to shift into other forms, usually animals. Return to general Paranormal
Note: these books are currently sorted by release date, with newest first.
Word Count:

38000
Summary: RISE (noun / verb) Eight definitions to inspire writers around the world, and an unlimited number of possible stories to tell: 1) An upward slope or movement 2) A beginning or origin 3) An increase in amount or number 4) An angry reaction 5) To take up arms 6) To return from death 7) To become heartened or elated 8) To exert oneself to meet a challenge Rise features 300-word speculative flash fiction stories from across the rainbow spectrum, from the minds of the writers of Queer Sci Fi.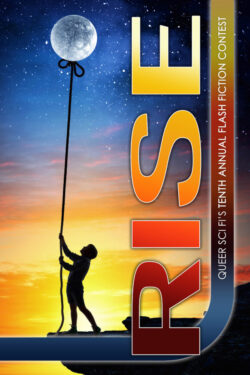 Rise
Word Count:

40000
Summary: We interrupt our regularly scheduled program to take a side trip down two branching paths. First, we'll follow Matt and Xander as they take a surprise honeymoon to Hawaii in The Honeymooners. It's not all private beaches and swimming with the fish, though. Truths from Xander's past are revealed that give Matt new insight into his mate. Just as they get comfortable, the unforeseen appearance of a new enemy cuts their trip short. Next, we slide over to find out what some mischievous foxes have been doing behind the scenes since they arrived in France. Akira and Koji set their sights on a pair of twin hunky dragons in 2+2=Love. ​​​​​​​ It's not easy being twin dragons when your other half has been in your head since conception. It's certainly not easy finding love, but Halvar and Herleif have hope when a pair of foxes cyberstalk their way into their lives. Intermission contains two short stories that occur during the events at the end of First Strike and through Dragon's Hoard. While these stories do not fit into the overall story arc, some bits and pieces may find importance later on down the road. So take a break from the action and breathe in some light-hearted fun and romance. Dragon War Chronicles is a continuous series. It must be read in order.
Intermission
Word Count:

72000
Summary: Twenty years before Simon found Paul, a decade before Aaron joined the Minneapolis West pack, there were other gay wolves living hidden lives. Sawyer Holt thought he was dead at the age of sixteen when his brother Leon caught him kissing a human man. Dragged up in front of his Alpha, he could only hope for a painless end, especially when Rick Brown stared at him with an icy gaze and said to Leon, "I'll take care of it." Except what Rick gave Sawyer wasn't death, but a new concealed life. In Minot, North Dakota, Sawyer has spent fourteen years isolated among humans, carving out a future for himself. Until a messenger arrives from Rick, saying that Leon has discovered the ruse, and it's time to run again. Sawyer's furious about losing his hard-won life, but intrigued by the young man carrying the message. James Ferguson doesn't appreciate being sent from his home and pack in Virginia to run errands for the Chicago Alpha, but as Twelfth out of twelve adult wolves, he's in no position to complain. He figures he'll deliver the message and package, and hurry home for Thanksgiving. But a snowstorm, and the huge, muscular, confusing werewolf who rescues him, upend his plans. Soon, James's whole world changes, and the only future he may have depends on whether he and Sawyer can survive being hunted, together. Unseen Past is a prequel novel set in the world of the Hidden Wolves, twenty years before Book 1.
Unseen Past
Word Count:

66,545
Summary: Krish Butala, a werewolf, last of his line, teams up with his best friend Tyler Turner, a witch, and their good friend Matthew Williams, a tribrid. To protect themselves and everyone they know from the rising tensions amongst the various supes factions, they concoct a way to stop the impending war before it kicks off. The nagging ethical dilemma that plagues them is that if they proceed with their plan, they will betray everyone they know.
The Hallowed Bloodline: Battlelines
Word Count:

45000
Summary: IMAGINE BEING the only un-magical kid at Hogwarts. That's how sixteen-year-old orphan Jaden Raines feels as he enters Azunya High. He struggles to fit in, but he's really a fish out of water. The magical isle of Azunya, where paranormal policing agency B.O.O. is headquartered, is shocking to Jaden after having lived his entire life in the American Midwest. Back there, his classmates were freaks, geeks and gangstas. Here, his classmates are genies, witches, healers… A whole pantheon of beings and monsters. And worse yet, he'll have to read The Old Man and the Sea. Again. Jaden might be the new kid in town, but he's still a teen. It's love at first sight with handsome skater-boy Stiltz. They have three things in common: neither is able to use magic, they're both petrified of water, and, lucky for Jaden, they're both gay. They should bond, but their relationship's stormy from the start. To try to fit in, Jaden hides his powerless state, accidentally creating the myth that he's the most powerful being of them all. But when the entire school demands a demonstration, what's Jaden to do? New lies and cruel deceptions leave Jaden and Stiltz stranded at sea in the middle of a deadly tropical storm. In order to survive, the boys must spill their secrets. It's sink or swim for our heroes. Only the truth can set them free. And keep them alive.
Mysterical (Tales of B.O.O. Book 3)
Word Count: Information not available
Summary: What happens when a Highland witch falls for the Loch Ness Monster? When Cam Walker, the last remaining Witch of the Highlands, heads to Loch Ness to investigate a potentially dangerous monster, the last thing he expects is to wind up working with that monster… let alone be attracted to him. But the friendly, cheerful Lachlan is hard to resist, and turns out to be a powerful ally in the hunt for the real monster behind the killings around Loch Ness… M/M paranormal romance with a sweet relationship and medium spice. This novella is the first in a trilogy following the same characters: it has a HFN conclusion and NO cliff-hanger!
Finding Nessie
Word Count:

50000
Summary: A magical bookshop holds the keys. When Mason Chynoweth inherits an old house in small-town New Zealand, he hopes to discover what happened to his great-great uncle Lewis after he returned from the war in 1945. Mason's first encounter with the property is thankfully reassuring—his sensitive psychic powers aren't triggered and he has a calm sense of coming home. Elijah Whitaker arrives in Kedgetown for an extended visit with his aunts. He's quickly drawn to Mason and offers to help him try to find some answers in the dusty old house. It soon becomes clear that Mason is keeping secrets, but Elijah has a few secrets of his own. Like his closely guarded knowledge of the hidden supernatural world, and the fact that many of the townspeople are psi and supernaturals. What is the connection between the house and Postscript, the town's enigmatic bookshop? Mason's glimpses of the past give some clues, but not enough to make sense of the puzzle. When a hidden journal comes to light, the true story of Lewis's journey is revealed, and his path and Mason and Elijah's begin to intertwine.
Postscript
Word Count:

63000
Summary: Xander is many things, but he isn't a vampire… yet. For now, being a vampire's daytime assistant has its perks. Hanging out with vampires is just one of them. The downsides? Well, for one, Xander and his friends getting kidnapped by a group of armed mages. They want a book they think Xander's boss has in his possession, and refusing them means torture followed by a slow death. Being a normal human among supernaturals, at the mercy of those stronger, has never frustrated Xander so much. But as the friends struggle to keep themselves alive, Xander might have a bigger advantage than anyone realizes.
Vampire's Grimoire
Word Count:

114000
Summary: A Slow Burn Meet Cute! Baker. Wizard. God of Space and Time. Cupcake enthusiast. How long will it take to fan the flames and enrage this gentle phoenix? Start counting. What's a wounded and lonely little cinnamon roll to do? Stripped of his psychic powers, Calico Winghorse flees his homeworld and travels to 19th century Earth via his inter-dimensional portal. As a mixed-blood phoenix trapped in human form, he opens a bakery in the San Francisco Bay Area and quietly nurses his wounds. But the unique method of his arrival draws the unwanted attention of Infinity Corporation. Representing this angelic-run company is Agustin Chavez de la Cruz, the Demon Lord of California. Even though Agustin is IC's heir, he finds himself demoted from his duties to concentrate on his new assignment: take absolute control of Calico's portal. But Calico refuses to sell at any price. He is also very busy ensuring that the good people of the city are getting their fill of baked goods. Before Agustin can formulate a more gracious avenue of acquiring the gateway, the demanding head of IC interferes, further complicating matters. So as negotiations stumble along, Calico and Agustin come to realize they both want more than a stuffy business arrangement. However, due to Calico's injuries, the portal remains vulnerable to the darker forces that want it at any cost. Agustin will have to push both his angelic heritage, as well as his own psychic powers to the very limits to heal this sweet baker, who is also the portal world's God of Space and Time. The Demon Lord of California is the first book of an LGBTQ+ paranormal-fantasy series. You won't want to miss a first love found, hidden worlds, and a recovering workaholic grasping at his second chance. All centered around the control of an otherworldly portal. So curl up with your favorite beverage, and hang out with Cal and Gus for a while. You'll be happy you did!
The Demon Lord of California
Word Count:

443
Summary: Dive into this collected edition of the first three volumes of The Darkly Enchanted Romance series. Sweet and sultry historical romances with just the right amount of spookiness! ~ THE HARVEST MOON In the shadows of late autumn, Malcolm comes across a quaint village tucked away in the forest. It seems the perfect spot for a weary traveller to lay his head, and maybe find a little company. But there is dark magic afoot, and lots of local gossip swirls around the seductive titian-haired weaver, Daniel. All Malcolm sought was a night's pleasure. He never suspected he would have to worry about losing his life. Or his heart. THE GHOST OF HILLCOMB HALL On a stormy night, landscape designer Jonas arrives at the cheerless and fog enswathed Hillcomb Hall. He finds an odd trio of ladies in residence and an eerie portrait of the hauntingly attractive portrait of a stately ancestor, which constantly seems to watch his every move. His nights are filled with weird dreams and otherworldly visitations. Is the manor house truly haunted? Or is it all just a trick of the mind, a sinister game being played by the inhabitants of Hillcomb Hall? MANCHESTER LAKE Monty, along with his best friend Bishop, discovers a mystical selkie in Manchester Lake who transforms into a gorgeous man of his dreams. Together they adventure through a tastefully debauched house party, an Edwardian novelty called a "night club," and a macabre Parisian cabaret. As their journey unfolds, they come face-to-face with ghoulish agents of the occult as well as startling discoveries - including Monty's realization that he is falling for the beautiful creature from the lake. Can he really be in love so soon, or is there a past connection? And what does it all have to do with his past trip to Paris? Before their adventure ends long-hidden secrets will erupt in a storm of magic and passion!
The Darkly Enchanted Omnibus
Word Count:

8000
Summary: Halloween is supposed to be a night for safe scares and harmless tricks, not terror ... or romance. College student Colin agrees to take his little cousin trick-or-treating, anticipating nothing worse than having to shepherd a bunch of sugar-crazed third-graders and a poorly-trained puppy. When the kids run ahead to peek into the local supposedly-haunted house, it seems like a harmless bit of mischief until the puppy crawls through a basement window and is lost. Colin promises to get her back. The place may be dark and creepy, but it can't really be haunted. When the house turns out to be occupied by an attractive man who is willing to let him in, it seems like a lucky break ... at first. Secrets. Sometimes Cat feels like he has nothing but secrets. No family, no freedom, not even a real name. Colin seems nice, but Cat doesn't owe him anything, not when the risk of punishment for helping a stranger is so high. But he's looking for a puppy, and Cat has a soft spot for dogs. And possibly also a soft spot for kind boys with soft lips. But the apparently simple task of finding a missing pet won't be as easy as it sounds, because the house isn't what it seems ... and neither is Cat. Could Colin possibly still want Cat if he learns the truth? They won't find out unless they manage to escape the darkness of the house.
Tricks with Cats and Dogs
Word Count:

105,192
Summary: NEIMUS GRUNDLY TAKES the reigns and becomes the new alpha of an elite order of werewolves. His first day on the job isn't going so well. He has to deal with his hybrid wolf problem, the werecats, angry witches, and the moral decline amongst his subordinates. Oliver Grimes, one of his wolves, has discovered a way to gift magic. After bestowing himself with powers, Oliver can now create hybrid werewolves with a single bite, putting the pedigree of the pack in jeopardy. Thereby forcing Neimus to call upon the pack physician, who has been separated from the pack for 950 years, to help rid them of hybrid werewolves. In conjunction, Neimus has to walk a fine line with Phelan, the alpha of the werecats, with whom they are on the verge of war. The werecats attacks are more frequent and deadly, but Neimus fears the growing threat of the witches the most. He is thrust into uncharted territory. He must find a way to safely get his pack through these trying times. A challenge he isn't sure he can manage.
The Hallowed Bloodline: Resurgence
Word Count:

75000
Summary: The neon lights of Las Vegas mask the horrors hiding in the shadows. Horrors like my ancient vampiric maker, the Goddess Tawaret. Tawaret promises me power in exchange for helping her. She wants to be worshiped again, and has me gathering vampire followers. My boyfriend, Jack, tries to warn me about her, but I don't listen. Too late, I realize my mistake in accepting. Now there is no escape. After the slaughter she left behind in Portland, no one wants to risk her wrath. With Jack suddenly abandoning me, no one will come to my rescue. I'd rather die than be bound to her for eternity. It just might come to that.
Goddess of the Ancients
Word Count:

75000
Summary: Sleepwalking may be the death of me… again. I thought things would get better now that I no longer had assassins after my head. Although it's fun eating people who misgender me, I'm just so thirsty all the time. And until I improve, I'm barred from seeing Jack, my were-jackal boyfriend. My babysitter, I mean 'vampire mentor,' isn't much help either. As if things weren't bad enough, the amulet that started this mess is whispering to me. Calling me somewhere. I think it might be my mysterious maker. Judging by the trail of bodies they're leaving across the globe, I don't want to know what will happen if I can't keep resisting.
Bloodline of the Ancients
Word Count:

73000
Summary: Vampires and werewolves live long lives. The Sleepless City saga might have ended but the story continues… Someone is hunting supernaturals.  Vampire Simon Hawthorne and his human partner Ben Leyton's plans for a peaceful holiday with family are hijacked by the New Zealand Supernatural Council. Tensions are on the rise in Wellington. Supernatural councillors are disappearing. Werewolves are suspicious of anyone human or vampire. If they don't work together, their enemy has already won. And no one with a connection to the supernatural world is safe.
Double Exposure
Word Count:

64,178
Summary: It is said that long ago Herne, the god of the Hunt, could use his Horn to make wolves obey his commands. A legend that Amy Oakley, Alpha of the Howlers pack, learned as a child and stopped believing in long before her first change beneath the full moon. After spending three years fighting for her lovers and packmates' right to live among the werewolves of Londinium, all she wants is a chance to breathe, go back to running her pub, and never see the manipulative Marcel Charron again. As an ancient prophecy begins to unfold, can Amy and the Howlers find the Horn of Herne and keep it out of Marcel's hands, or will his web of schemes and plots spell doom for their pack and the rest of London's werewolves?
Herald's Call
Word Count:

75000
Summary: Waking up undead is just the start of my bad night. This night is going from bad to worse. My roommate is dead. My sexy neighbor, who I've never worked up the guts to talk to before, is standing in my living room. I have a gold amulet I just stole from the museum hidden in my pocket. Oh, and I'm dead... or undead? All the myths about vampires, were-wolves, and the like? Turns out, all true. My sexy neighbor claims I'm a vampire now. I don't quite believe him, but then again, he turned into a coyote in front of me. Jackal, whatever. Plus, you know, my fangs. Oh, did I mention my sexy neighbor is an ex-cop? And his cop buddies just knocked down my door. I'm pretty sure this night can't get any worse…
Ritual of the Ancients
Word Count:

62,900
Summary: A werewolf and seven vampires are all that stand between the world and complete annihilation. When Kai Richter and Ori Bier met, sparks flew. Then a train blew up. Tracking an organism deadly to not only humans, but vampires and werewolves alike, brings Kai and Ori into the Vampire Guard. Decades later, they, along with Operative Team Jack Rabbit, come face to face with the horrors that same virus produces. Dead bodies are coming back to life, and rational people are becoming violent and brutal killers. A massacre is taking place nearly a mile under the Atlantic Ocean. Two teams of The Vampire Guard are in the thick of it, fighting to survive.
Endosymbiont
Word Count:

48821
Summary: More than fifty years before Leah Corbyn became a werewolf, Amélie Orne was cast out of werewolf society, manipulated into taking the blame for crimes she did not commit. After living for so long on the run as a Feral wolf, she found unexpected comfort and companionship from Leah and her lover Amy Oakley. As they grow closer, can she dare to hope for a real future together with them after a lifetime of betrayal and misery? Amélie has allies to stand with her now, but it will mean uncovering secrets long buried, and reopening dangerous old wounds...
Outcast's Song
Word Count:

94560
Summary: Leah Corybn was a regular mail carrier who thought she had been bitten by a dog, until the next full moon revealed that she had become a werewolf. After months of hiding her secret in the city of London, she is about to learn she is not alone. As she attempts to navigate a world she never knew existed, can she find her place among the wolves of Londinium, or will she fail to prove herself in time?
Orphan's Cry