Sci fi stories that involve short- or long-term changes to the human genus. See also mutants. Return to general Sci Fi
Note: these books are currently sorted by release date, with newest first.
Word Count: Information not available
Summary: Language is no longer learned, it is streamed to neural implants regulated by lang-laws. Those who cannot afford monthly Language Streaming services are feral, living at the fringes of society. Big tech corporations control language, the world's most valuable commodity. But when a massive cyberattack causes a global language outage, catastrophe looms. Europol detective Emyr Morgan is assigned to the case. Suspect number one is Professor Ebba Black, the last native speaker of language in the automated world, and leader of the Babel cyberterrorist organization. But Emyr soon learns that in a world of corporate power, where they who control language control everything, all is not as it seems. After all, if the mysterious Ebba Black is to blame, why is the Russian Federation being framed for an outage it claims to have no responsibility for? And why is Ebba now targeted for assassination? As he and Ebba collide, each with their divergent agendas and value systems, Emyr faces an existential dilemma between loyalty and betrayal, when everything he once believed in is called into question. To prevent the imminent collapse of civilization, and a deadly war between the great federations, he must figure out friend from foe, as his life may very well depend on it. And with the odds stacked against him, he must find a way to stop the Babel Apocalypse.
The Babel Apocalypse
Word Count:

50,000
Summary: J. Manfred Weichsel's versatility, unique style, and refusal to be bound by genre conventions have made him a force to be reckoned with in the world of speculative fiction. Now, Weichsel invites you to strip down and expose yourself to his raw and unfiltered imagination with Warrior Soul & Other Stories. Weichsel's stories peel away the veneer of societal norms and delve deep into the human psyche, exposing the rawest and most vulnerable parts of our existence. Through his boundary-shattering tales of science fiction, adventure, horror, and humor, Weichsel fearlessly explores the fringes of what is possible in fiction, revealing the naked truth of our humanity. From the mind-bending science fiction of "Warrior Soul", to the fantastical realm of "The Rainbow-Colored Rock Hopper", from the light comedy of "Queen of the House", to the darkest depths of horror of "Complicit in Their Bondage", these twelve tales will leave you feeling exposed and vulnerable in the best possible way. The bold and daring themes that run throughout Weichsel's work strip away all pretense and artifice to reveal the unvarnished truth of the human experience. So if you're ready to shed your inhibitions and explore the depths of what's possible in fiction, then get your copy of Warrior Soul & Other Stories now. It's time to embrace your innermost desires and take the plunge into the raw, unbridled world of J. Manfred Weichsel.
Warrior Soul & Other Stories
Word Count:

72,000
Summary: Cybercommand has a field agent newly licensed to kill. And his name is Yuwono. Eric Yuwono. Eric travels to the remote paradise of Hosh, where someone is peddling stolen resurrection technology not ready for general use. Posing as a smuggler and with the aid of a sexy AI named Effie, he'll penetrate the organization and discover a connection back to Juno, the shadowy operation undermining the Compact. To bring them down, he'll need the help of the Children of Amargosa and their mentor, Suicide. But if he's not careful, his newfound amortality might be cut short.
Another Way to Die
Word Count:

155000
Summary: Eighteen years after the Chromodec Uprising in Children of the Stars, the world is a very different place. Kaelen Ra-Evon lands on Earth, a planet where aliens exist and refugees are fast-tracked to citizenship in many countries. Her tale encompasses the age-old notions of loss, love, and found family. Kaelen tries to navigate her new life on Earth, as well as a romance with genius CEO, Lea Lockheed-Tuck, all while honoring her family's legacy as the last of her house. She's wary of the Chromodec Office of Restraint and Protection, a US agency tasked with policing people of power regardless of their race or planet of origin. In an attempt to protect the woman she loves, Kaelen becomes a vigilante: Scion. She won't let laws or the CORP stop her from doing what's right.
The Last Scion of Ra
Word Count:

100,000
Summary: Lida was their last chance for an uncolonized planet. But a world-spanning fungus had colonized it first. Agetha and her husband have spent their whole lives in the fleet's zero-G. Now all is turmoil as the fleet lands, discovering they are surrounded by a single fungal biomass spanning the entire planet. To build a new home, the fleet must confront a dangerous organism, and Agetha must decide if she can raise a family in this inhospitable landscape. Jane Brighton holds tenuous command over the colony and its administrators. She and the other gene-modded leaders emerged from their four-hundred-year suspended animation to find a crew much different from the one that departed Old Earth. Jane must direct the colony's fragile growth and defend it against being overrun by the fast-growing biomass. But there is something none of the colonists know. The massive organism that spans the planet is not simply a fungal mass, nor even a chimerical combination of species that once roamed the planet. The biomass has desires and goals, and one is to know these strange beings carving out a home in its midst. Download today to read of the colony's fate in Of Mycelium and Men! Genres: Space Opera / Science Fiction / Colonization / Alien Contact / LGBT / Non Binary / Trans Market: Adult
Of Mycelium and Men
Word Count:

95000
Summary: Feared by her own kind. Hunted by extraterrestrial forces. Can one super soldier find her place among the stars? Lieutenant Tabitha Chiu is plagued by doubt and conflict. Still heartbroken over the loss of her AI companion and marooned on a faraway moon, the space marine and her ragtag team of super-powered civilians stand as the last line of defense against alien hunters. But when her powers pick up whispered threats of approaching invaders, she's horrified to discover her own people have betrayed her squad. Barely escaping assassination, Tabitha and her fellow psionics flee the hateful moon to the sanctuary of a single surviving combat ship where she hopes to reunite with her AI friend. But when her newly resurrected acquaintance hijacks the craft, the nonbinary fighter is torn between protecting those she loves best and saving humanity from annihilation. Can this conflicted officer and her misfit allies defeat a formidable enemy intent on driving them to extinction? Amp Squad is the electrifying second book in the Ship Whisperer military science fiction series. If you like strong LGBTQ+ characters, unusual weaponry, and fearsome space battles, then you'll love this pulse-pounding story. Buy Amp Squad to launch into a gut-wrenching thrill ride today!
Amp Squad
Word Count:

110000
Summary: Mistakes were made. The future is uncertain. And Time doesn't care. As the story ends, we'll finally learn how it started. The world is breaking apart. Only the combined willpower of Hades and Hel can save it. But Love has other plans. Meanwhile, the gods need to deal with the outcomes of their choices; everyone else needs to survive them. And Psyche must finally face her greatest foe. Can free will cheat fate, or is fate the consequence of free will?
Anamnesis
Word Count:

105000
Summary: RETURN TO THE MEAN STREETS OF AUTUMN Valerius Bakhoum is dead and buried. Too bad he's still flat broke and behind on the rent. Unsure what to do with himself—and of who he is—Valerius resumes his career as a detective by taking up the oldest case in his files: where do the children go? Throughout his own youth on the streets of Autumn, last of the Great Flying Cities, Valerius knew his fellow runaways disappeared from back alleys and other hiding places more than anyone realized. Street kids even had a myth to explain it: the Gotchas, who steal urchins away in the night. With nothing but time on his hands, Valerius dives in head-first to settle the question once and for all and runs smack into a more pressing mystery: who killed one of Valerius' former lovers? And do they know Valerius is still alive? Stalk the shadows of Autumn's hidden places by Valerius Bakhoum's side as he shines a light on secrets both sacred and profane, ones with shockingly personal connections to who he was—and who he might become. New Life in Autumn is the sequel to the Manly Wade Wellman Award-winning A Fall in Autumn.
New Life in Autumn
Word Count:

174000
Summary: In a race against time to save David from near-certain death as he confronts his mystical fate, his partners Bryan and Brennan are plunged into a new world of mystery and intrigue among London's supernatural factions. Faced with new threats to their relationship greater than any they've known, the three men must confront what it means to love someone unconditionally. Aided by a rogue anti-corporatist werewolf and Bryan's own strong-willed daughter, Leap takes readers on an unparalleled journey across two continents to uncover technology giants' sinister plots to harness the supernatural to transform the world for their own gain. Ancient prophecies, mythical beings, ethical quandaries, and the seedy underbelly of a technological corporatocracy all converge in the third book in Lilith Frost's breakout Hard Way Home series. Can love overcome any obstacle when they come from another world? Leap continues to blend the best of science fiction and fantasy while introducing unique themes that make it a must-read for fans across genres of LGBTQ romance, urban fantasy, and dystopian drama.
Leap
Word Count:

83,000
Summary: Life on Amargosa was supposed to be quiet for Cui Yun, better known by her call sign Suicide. But when a baby is dropped on her doorstep, the mother's disappearance leads her across the galaxy to a world of Neanderthals, a colony devoted to Marilyn Monroe as a goddess, and a planet still in a post-apocalypse and rife with monster plants. She and her protege will find themselves above the galactic plain facing down an enemy that wants control of human evolution itself. Suicide Run marks the return of one of TS Hottle's most popular characters. Find out where she came from, how she became a pilot, and why her call sign is 'Suicide".
Suicide Run
Word Count:

41000
Summary: The dream of a mad scientist has evolved into a nightmare! Jennifer will do anything to be famous. She thinks she's gotten her big break after a night at the club lands her in bed with a producer, and the next morning he offers her a jungle adventure show. But instead, she and her two friends are unwittingly trafficked to the Congo for a sinister purpose. A cult lives in the jungle that worships the dark legacy of Ilya Ivanovich Ivanov as they work to accomplish his insane life's goal. Will Jennifer escape the jungle compound, or will she fulfill their twisted vision of humanity's future and become a broodmare to make an inhuman monster?
Jungle Jitters
Word Count:

100000
Summary: The Nephilim loom over Niflheim. Gods, Dharkan and mortals fight amongst themselves in their shadow. And Time is on no one's side. The gods are outmatched, their talents useless against the Nephilim's technology. Desperate, they turn on each other. New alliances form and fall apart, for there can be no peace when survival is at stake. Psyche, torn between a goddess's duty and a mortal's hate, sets off on her own to learn the truth behind her fate, unaware of the danger following her. Meanwhile, Chronos' own agenda involves a power so dangerous and unpredictable it's been long forsaken by both the gods and the Nephilim. Will it be worth the risk?
Nephilim's Hex
Word Count:

85000
Summary: ALSO AVAILABLE FROM INGRAM FOR BOOKSTORES We're a world beset by crises. Climate change, income inequality, racism, pandemics, an almost unmanageable tangle of issues. Sometimes it's hard to look ahead and see a hopeful future. We asked sci-fi writers to send us stories about ways to fix what's wrong with the world. From the sixty-five stories we received, we chose twelve most amazing (and hopefully prescient) tales. Dive in and find out how we might mitigate climate change, make war obsolete, switch to alternative forms of energy, and restructure the very foundations of our society, The future's not going to fix itself.
Fix the World Anthology
Word Count: Information not available
Summary: "Everything I knew about the Were was wrong" A Were of no fixed form, a Random, able to Turn into any warm-blooded creature it sees... A young Random whose failure to Turn forces him into taking his destiny into his own hands and becoming full Lycan in the name of pride and fury, learning things he never thought were possible... A true Shifter, the wild card, Turning into anything he chooses at will... First Jazz Marsh Turns into something unprecedented, throwing her family and the Were authorities into a spin. Then her brother Mal, frustrated beyond reason by his own delayed Turn, takes matters into his own hands and chooses his own destiny, inflitrating the shadowy Lycan clan in order to help expiate his perceived guilt in his older sister's death. He's helped by his friend, Chalky, a true Shifter who is capable of Turning into anything he pleases unconstrained by the rules of Were kind. Together, they work to turn back a shattering tragedy, solve a conspiracy-shrouded mystery rooted in their own kind, and work to preserve their own existence against a rising tide of superstition and hatred. All they wanted to do, in the end, was save a life. Instead... they started a war.
TheWere Chronicles omnibus
Word Count:

106,000
Summary: In the early 21st century, Rowan is fighting a secret war against alien pirates bent on subjugating all of mankind. At least, that's what she thinks. In reality, it's a thousand years later, Earth has long been part of an interstellar and interspecies republic, and she's a character on Angel Black, an e-entertainment that allows viewers a complete sensory experience through her perspective. Who needs actors when you can clone famous performers and splice in some alien DNA? Since studio clones have no rights, their lives and experiences can be tailor-made for the program. It's just too bad the clones don't know that. Ryan Chandler was a decorated war hero until he was cloned to save his life. His career options died with his original body and the best job he can get is a technician on Angel Black. He's planning to escape to a newly colonized system when Rowan is scheduled to be killed off. With help from unexpected allies, Ryan stages Rowan's rescue, but getting her off the set is only the beginning. To succeed, they must evade a manhunt supported by the state that fears Rowan's liberation might be the triggering event of a clone rights movement that could cost the establishment billions and shake the foundations of human society. Can two clones find their freedom in a society that treats them as second-class citizens?
Cloning Freedom
Word Count:

13000
Summary: Poems written by Cyborgs in the future, melding sci-fi and poetry, human and machine. The Cyborg Anthology takes place in a future where there was a thriving world of Robots and Cyborgs living peacefully beside Humans, but a disaster destroyed all Robot and most Cyborg life. The book is organized like a typical anthology of literature, split into sections that include a biography of each poet and a sample of their poetry. It covers early Cyborg poetry, political, celebrity, and pop culture poets, and ends with the next generation of Cyborg poets. The narrative takes place in the time after a cataclysmic event, and the collection wrestles with this loss. Through the lives of the poets, the book chronicles the history of personhood for technological beings, their struggle for liberation, and demonstrates different ways a person can be Cyborg. The poems and biographies together tell the story of a complex and enthralling world-to-come, exploring topics that are important in the future, and also urgent right now. "With mordant wit and a playful satiric touch, these Cyborg poems showcase a dazzling range of poetic forms and ideas: imaginative and charmingly subversive. Move over Norton Anthology of Poetry, there's a new force in town, and they are a delight." —Renée Sarojini Saklikar, author of Listening to the Bees and Children of Air India "The premise of this collection alone is fabulous. The poems are potent and powerful. With echoes of Le Guin, Brunner and Monáe, Lindsay B-e's debut is layered and smart, provocative, and deeply satisfying. I was moved and fascinated. Speculative poetry at its best." —Hiromi Goto, author of Chorus of Mushrooms and Darkest Light
The Cyborg Anthology
Word Count:

99,800
Summary: The Storm has arrived. For Davra Andraste, redemption comes as she accompanies the resistance commander to confront the human warlord fighting against both sides. And the newest overlord on Amargosa. For an ambitious politician, control of human evolution is almost in his grasp. Only a very old foe threatens to undo his plans. For Laral Farad, it is his family's last hope to tame the "rogue colony" called Cyal, which humans call Amargosa. For JT Austin, it's a now or never moment to prove himself as he trains to liberate his adopted homeworld. For Amargosa, it's a chance to end a year-long nightmare. The Amargosa Trilogy comes to a thrilling conclusion!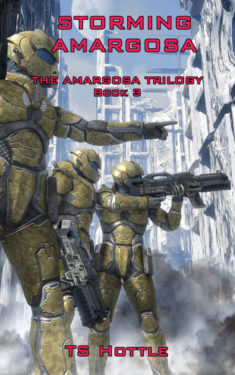 Storming Amargosa (The Amargosa Trilogy Book 3)
Word Count:

119900
Summary: The year is 2156. The moon colonies watch in fear as an asteroid, far larger than the one that wiped out the dinosaurs, plummets towards the Earth. The collision leaves the planet blackened and lifeless. But is the Earth as dead as it appears?
Splinters
Word Count:

101000
Summary: What happens when a woman loses her memory but gains a conscience? Dr. Alexandra Turing is a roboticist whose intellect is unrivaled in the field of artificial intelligence. While science has always come easy, Alexandra struggles to understand emotional cues and responses. Driven by the legacy of her late great-uncle, she dedicates her life to the Synthetica project at her father's company, Organic Advancement Solutions (OAS).​ Her life is rebooted when she wakes from a coma, six months after being struck by a car. Traumatic brain injury altered Alex's senses, her memory, and her personality. Despite the changes, she feels reborn as she navigates her way back into her old life. Part of her new journey includes dating the alluring Doctor of Veterinary Medicine, Emily St. John. Emily is enamored with the hyper-intelligent scientist, but there are things about Alex and OAS that don't add up. With Emily's prompting, Alex undergoes testing that leaves her with more questions than answers. What she discovers changes more than her life, it will change the world around her.
Remember Me, Synthetica
Word Count: Information not available
Summary: The enemy is defeated. The gods strike a truce. And the Dharkan strike against the gods. Victory has cost both gods and mortals dearly. The veil between life and death in Niflheim is thinner than ever. Try as they might, the gods are powerless against the influence of Time, and their past mistakes threaten not only their future but their very existence. Now the fate of eternity rests in the unlikely alliance between the goddess of the soul and a soulless Dharkan, as they must work together to achieve peace between the living and the dead in Aegea. And although their goals may seem similar, the motivations behind them couldn't be more at odds with each other. Meanwhile, a greater enemy approaches. Or maybe it's already here...
The Dharkan