These are stories that will scare you and keep you from sleeping, if they are done right. It was a dark and stormy night… You can also check out these subcategories:
angels & devils | comedy | fairy tale/folklore | ghosts & haunted houses | gothic | litrpg | lovecraftian/cthulhu | man-made horrors | monsters | mythic | noir | occult | post-apocalyptic | psychic talents | psychological | shifters | splatterpunk | vampires | weird horror | werewolves | witches | zombies
Note: these books are currently sorted by release date, with newest first.
Word Count: Information not available
Summary: Judy Garland is Not a Sunrise is E.F. Schraeder's new collection of poems featuring themes of addiction and creativity, inspired in part by the life and music of Amy Winehouse. "Lyrical and melancholy . . . An unsettling and compelling offering from an exceptional voice in horror poetry," writes Lee Murray, USA Today Bestselling author and double Bram Stoker Award® winner. In Judy Garland is Not a Sunrise, Schraeder "discusses how fans oftentimes marry suffering to the creation of art, all while commenting on mental health, the body, and how the heart processes pain, overstimulation, and the need to constantly produce and survive. A must-read for poets and artists alike," writes Bram Stoker Award® winner Stephanie M. Wyotovich. Cleveland poet Danne Borsenik writes, "E . F. Schraeder coaxes Amy Winehouse's life from somber shadows into a powerful klieg spotlight, with insightful poems that are both dissection and homage." Set for release in February 2023, Judy Garland is Not a Sunrise is Schraeder's third poetry chapbook. To read more advance praise, order a copy, or find  additional information about the collection visit the publisher, Finishing Line Press.
Judy Garland is Not a Sunrise
Word Count: Information not available
Summary: Terrified, desperate, and rebellious—before 1973, those were routine reactions for anyone trapped and in trouble. Access to reproductive health care has been chipped away for decades until a single decision once again mired a new generation in historic trauma and modern repression. The voices of In Trouble explore the fantastic and ordinary ways lives are overturned by unplanned or unexpected arrivals. This collection aims forward, delivering stories of radical agency and fierce self-direction, challenging the world of legally imposed vulnerability, exploited futures, and oppressive structures that have become so painfully real. In Trouble is a vivid examination of power and self-determination.
In Trouble
Word Count:

44,000
Summary: He only comes out in the dead of night, whistling a haunting tune. No one has seen him. When you hear him, it's already too late. As a horror writer, Mason Murdock scares people for a living. Now the tables have turned. The killer leaves gruesome, bloody clues on his victim's bodies to let the world—and Mason—know who will be next. And no one is safe.
The Whistler
Word Count:

78740
Summary: Dare to explore the darkest tales where sunlight never touches. Etaski's dark fantasy epic, Sister Seekers, begins underground with its denizens living and dying in eternal night. A novice Red Sister leads us through much of the series, but her Elven ancestors have their own stories to share. Tales of Miurag: The Deepearth is a same-world anthology exploring critical moments in the history for the Dark Elves of Sivaraus. This collection contains explicit and sometimes grim content, though we are never lacking all hope. Stories included in this collection: House Aurenthin - a novella on the dramatic origins of the lowest-ranking noble house in Sivaraus. Auranka the Keeper - a chilling horror tale on the monstrous Mistress of the Driders. Rohenvi - the tragic romance in the early reign of the Matron of the Twelfth House. Gaelan - a "dark slice of life," how future Red Sisters sometimes make connections long before their trials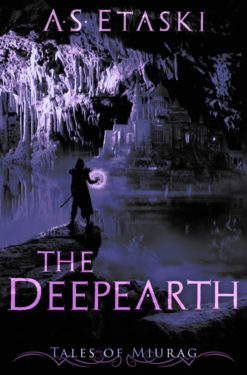 The Deepearth: Tales of Miurag 1
Word Count:

33000
Summary: Clarity (noun) Four definitions to inspire writers around the world and an unlimited number of possible stories to tell: 1) Coherent and intelligible 2) Transparent or pure 3) Attaining certainty about something 4) Easy to see or hear Clarity features 300-word speculative flash fiction stories from across the rainbow spectrum, from the minds of the writers of Queer Sci Fi.
Clarity
Word Count:

91000
Summary: She barely survived the last round. As the Red Dog Gang closes in on her Family, can she survive the next? After the devastating events of our last chapter, all private eye and mafia wife Jacqueline Spadros wants is to get her life back. Then a missing person she thought she'd never track down falls into her lap. Jacqui is thrown into a series of events which not only puts her and everyone around her into danger, but changes her life forever. Warning: on-screen murder, major consent issues, smoking, language, infidelity, betrayal, description of injury, gore, on-screen suicide, child injury This is chapter 9 of a 13-part serial novel. Please read these books in order: * The Jacq of Spades * The Queen of Diamonds * The Ace of Clubs * The King of Hearts * The Ten of Spades * The Five of Diamonds * The Two of Hearts * The Three of Spades * The Knave of Hearts <-- you are here Book 10 coming October 2023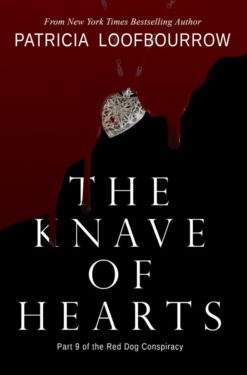 The Knave of Hearts
Word Count:

103,000
Summary: Humans are no longer alone; they have been joined by Arcanes, Lycans, and Vampires. It's been over a hundred years since the Earth went through The Shift. Where once almost eight billion humans lived, the population now holds at four billion. But that wasn't the only change. No one anticipated the branching of human DNA to produce new species of humans. Arcanes, Lycans, and Vampires are hidden throughout the genome, awaiting puberty before they manifest distinctly unhuman abilities. Finally, the new species of man were welcomed. No longer studied or treated as outcasts by most. People accepted these new humans and they integrated into society, albeit not easily. This allowed the UN Government to focus on colonizing space, in order to secure a future for all. Risks remain however, permitting a vampire to feed from you can cause shared memories. Tobin Corsian took such a risk. He resides in a newly reopened district of San Jose, California, where his family's old home stood. He lives there with his friend Mikel, a Lycan, and his dog Begger. Instead of making his mandatory monthly blood donation at the government blood bank for the vampire community, Tobin decides, with the help of his therapist, to visit Biter, a vampire spa. The spa allows vampires to feed from humans directly while providing spa and sexual services, granting the donor a three-month reprieve from their required donations. Tobin's encounter at Biter opens a window to his past and an experience he had as a child on the moon. Questions abound as he tries to unravel his past and make sense of his life.
Volaria
Word Count:

5200
Summary: There's something in the dark … but is Lem's imagination worse than reality? Out in the vast emptiness of the galaxy, anything can happen. It's a fact that Lem and her trusty companion Spock know all too well. Sometimes, the things lurking in the darkness are all in your head. Then again, maybe there really is something out there. With her talking dog and an infuriatingly literal AI by her side, Lem must rely on nothing but her strength and wits to help her.  As a humorous homage to Arthur C Clarke's classic A Walk in the Dark, this short adventure is a not-actually-scary sci-fi horror story that's perfect for fans of Martha Wells and John Scalzi. 
Jurassic Dark
Word Count:

45000
Summary: A mordant, smirking collection; rife with life in a grim future Florida, notions of Christianity and its cousin Satanism—spies, mercenaries, magic, asteroid-belt drillers, and above all else, a universe bent forever by the powers of pleasure and pain.
Forsaken, Fantastic!
Word Count:

299
Summary: This action filled, edge of your seat dystopian adventure is set in the near future, when a space probe is returning to Earth from the Cares 1 Asteroid with geological and biological samples frozen in ice for billions of years. It's big news, the discovery of ancient organisms from an extra-terrestrial body. After the samples arrive at Interplan Astro-Research facility in the quiet city of Worcester Massachusetts, with the world's media gathered, eager to hear official announcement that the samples are indeed biological, thus discovering evidence of complex life beyond our planet. Not everyone's excited or happy about having alien lifeforms coming to Earth, and one group of terrorists have planted a thermobaric bomb in an elevator shaft of the facility. The bomb detonates and the facility explodes, killing hundreds of people, workers, protestors, scientists and TV crews, but far from destroying the samples, the explosion has released them from their level one quarantine and unleashes a deadly parasite that quickly infects the citizens of Worcester with infestations of strand red worms that infest the living. Despite efforts to contain the "Cares Pestis" AKA the "MR. Ripple" it spreads fast and becomes through the USA and beyond, causing a complete breakdown of society. But then comes something else, something far more menacing that threatens the very existence of human life on earth, and for Colonel Troy Glass and his fiancé Yvette, a deadly struggle for survival begins as they head west, to a secret government facility known as Haven. On their way, they pick up an eclectic group of fellow survivors, who together, battle against all the odds, both human and alien…
Mr. Ripple
Word Count:

99000
Summary: Gavin Booker, a school librarian at Cooper Road Elementary, Raleigh, Northern Carolina, leads an orderly, normal life. Work, jogging, friends from work, his son every other weekend. Gavin is also a secret. He is a hybrid, or part-fairy, and in the Columbian Empire, hybrids are under an automatic death sentence. Magic is illegal. So is loving another man, another capital crime. Fairies are locked away in ghettoes, magical beasts, such as gryphons, unicorns, and pegasi are kept in zoos. The others, the tree and water spirits, the talking beasts, fauns, and the rest, are in hiding. This is the world in which Gavin grew up. He survived, thanks to his mother. He can never forget he is different: ministers preach against people like him constantly; hating the other is a part of every school's curriculum. But now, things are changing fast, and apparently, for the worst. Earthquakes, volcanoes, killer storms are all frequent occurrences. The medicine Gavin takes to suppress his body's glowing, isn't working. The spells cast by his doctor, a witch, are losing their power. If anyone finds out what Gavin is, he is dead. Under threat, the Empire always goes after its marginalized people. Can Gavin survive the coming catastrophe? Will he ever recover from losing the boys he loved? Can he find the fairy man who has haunted his dreams all his life before it is too late? Can his scarred heart ever heal?
In Light's Shadow
Word Count:

115000
Summary: Frontiers have always attracted the Other - where they find that the Other is always already there. These 22 stories explore what happens when queer characters encounter weirdness on the edge of the worlds they know. Authors include: Julie Bozza, J.A. Bryson, Dannye Chase, S.E. Denton, Miguel Flores, Adele Gardner, Roy Gray, KC Grifant, Peter Hackney, Bryn Hammond, Narrelle M Harris, Justin Warren Jackson, Toshiya Kamei, Catherine Lundoff, Bunny McFadden, Angus McIntyre, Atlin Merrick, Eleanor Musgrove, Jennifer Lee Rossman, Lauren Scharhag, Sara L. Uckelman, and Dawn Vogel.
Queer Weird West Tales
Word Count:

11500
Summary: A dark fairy tale in a modern Welsh setting. The lives of a diver and a reclusive mermaid collide. Will one be the death of the other? When Erin comes to the aid of a sea creature caught in fishing nets, she's shocked to discover she's rescued an injured mermaid. Though it quickly disappears, Erin is determined to find the creature again. A twist of circumstance finds her trapped in the mermaid's lair, wrestling with her own conscience and the instinct to survive... This is a standalone novelette of about 11,500 words, and is the third installment in the Dark Folklore series.
Across Screaming Seas
Word Count:

110000
Summary: Mistakes were made. The future is uncertain. And Time doesn't care. As the story ends, we'll finally learn how it started. The world is breaking apart. Only the combined willpower of Hades and Hel can save it. But Love has other plans. Meanwhile, the gods need to deal with the outcomes of their choices; everyone else needs to survive them. And Psyche must finally face her greatest foe. Can free will cheat fate, or is fate the consequence of free will?
Anamnesis
Word Count: Information not available
Summary: There are creatures lurking in our world. Obscure creatures long relegated to myth and legend. They have been sighted by a lucky-or unlucky-few, some have even been photographed, but their existence remains unproven and unrecognized by the scientific community. These creatures, long thought gone, have somehow survived; creatures from our nightmares haunting the dark places. They swim in our lakes and bays, they soar the night skies, they hunt in the woods. Some are from our past, and some from other worlds, and others that have always been with us-watching us, fearing us, hunting us. These are the cryptids, and Systema Paradoxa tells their tales. *** Life and Death and Family Secrets... Sheridan Cascaden faces more than memories when she receives a call in the darkest hours summoning her home. Sent away five years prior to safeguard her from the evil that claimed her mother, Sheridan hasn't been back since. She returns to find her home in a disturbing state and her father straddling the Veil, with no explanation of what happened. Not only must she deal with her own demons, but she will have to delve into his if she is to unlock the mystery and save Papa's life. But where lies the line between truth and madness among the shifting shadows? And can Sheridan navigate it before it's too late... for both of them?
The Play of Light
Word Count:

70000
Summary: Misty Blake is a first-generation college student from rural Alabama…and this is her diary. Upon arrival at the University of Montevallo, she's greeted by the quaint, small-town charm, including the historic, pastel colored Jeffcoat house situated at the edge of town. But the picturesque setting soon becomes the landscape for something darker as Misty spirals into emotional and psychological turmoil. On her own for the first time, Misty must navigate school and new relationships, including her burgeoning queer identity, in a place where a beautiful veneer can be hiding something gruesome. A dead pig in an overgrown garden. A missing person. Is it all in her head or could something supernatural be afoot? This thrilling Southern Gothic from the author of the Hard Way Home series is told through the diary entries of a sarcastic and witty narrator, creating a page-turner full of dark humor, early 2000s nostalgia, and lush depictions of a natural world that doesn't always seem to follow the laws of nature.
Pastel Gothic
Word Count:

36,000
Summary: It is Ancient Greece, when heroes were forever 'accidentally' killing their own fathers and marrying their own mothers. So what's a young prince supposed to do when he falls in love with the wrong woman? Dare he trust his heart or will the Fates interfere? King Oeneus of Calydon has just been given the secret of wine by the god Dionysus. Unable to hold his liquor, vomit-bespattered Oeneus drunkenly forgets to honor the goddess Artemis at the harvest festival. Oh dear, bad mistake. These gods are larger than life, and bigger in emotions too. In revenge for this insult, the angry, man-hating Artemis sends a gigantic and crazed wild boar to ravage the land. With its burning breath and tusks longer than a brave man's spear, nothing can stop this monstrous beast. What can the befuddled King Oeneus do to save his kingdom? Send out a message to the greatest heroes of the age, that's what. Soon, a party of mighty mythical heroes, led by Oeneus's son, Prince Meleager, is on the trail of the fearsome monster - but one of these heroes is a heroine! Atalanta the Indomitable is a huntress to match Artemis herself, and quickly wins the heart of Meleager. Will one of the men make the kill, or will they be humiliated when the prize goes to a woman? Will Prince Meleager woo and win Atalanta, or will the cruel gods intervene as usual? Who will die and who will survive in this tale of great loves and even greater lusts in the ancient world? A rip-roaring tale of jealousy, foul play, a family at war with itself, and a battle of the sexes - all in Weichsel's unique, no-holds-barred, ribald style.
The Calydonian Boar Hunt
Word Count:

105000
Summary: A girl detective. A boy genius. A warrior princess. A young magician. Four young people with extraordinary gifts. For years, they solved mysteries, caught crooks, and slayed monsters. They were secret heroes, keeping an idyllic small town in the middle of America safe from the things that lurked in the dark. Then, the year of their high school graduation, the darkness came for them. During what the media called "New Year's Evil," a demonic force rose to turn their hometown into a literal Hell on Earth. They gathered to stop it. They fought. And they won. The rest of the world never discovered the truth behind the disaster. For 20 years, the four tried living like normal people. Now their past is coming back to haunt them. The darkness is gathering once more. They're summoned back to their hometown to face it, along with everything else they left behind. Last time, they saved the world. This time, they'll have to do something much harder. They'll have to save each other. For fans of Stephen King, Neil Gaiman, and Victoria Schwab, REUNION is the story of what happens when the good guys grow up.
Reunion
Word Count:

11000
Summary: A dark fairy tale in a modern Polish setting. A grandmother cares for an ailing dragon... but her compassion puts her own grandchildren in danger. This is a standalone short story of about 11,000 words, and is the second installment in the Dark Folklore series.
Within Trembling Caverns
Word Count:

64,178
Summary: It is said that long ago Herne, the god of the Hunt, could use his Horn to make wolves obey his commands. A legend that Amy Oakley, Alpha of the Howlers pack, learned as a child and stopped believing in long before her first change beneath the full moon. After spending three years fighting for her lovers and packmates' right to live among the werewolves of Londinium, all she wants is a chance to breathe, go back to running her pub, and never see the manipulative Marcel Charron again. As an ancient prophecy begins to unfold, can Amy and the Howlers find the Horn of Herne and keep it out of Marcel's hands, or will his web of schemes and plots spell doom for their pack and the rest of London's werewolves?
Herald's Call