These are stories that will scare you and keep you from sleeping, if they are done right. It was a dark and stormy night… You can also check out these subcategories:
angels & devils | comedy | fairy tale/folklore | ghosts & haunted houses | gothic | litrpg | lovecraftian/cthulhu | man-made horrors | monsters | mythic | noir | occult | post-apocalyptic | psychic talents | psychological | shifters | splatterpunk | vampires | weird horror | werewolves | witches | zombies
Note: these books are currently sorted by release date, with newest first.
Word Count: Information not available
Summary: Shiver during the long nights with these dark tales Featuring stories by Brett Thomas Abrahamsen, Mike Adamson, Christopher Bond, John M. Campbell, Arasibo Campeche, Brandon Case, Elizabeth Cobbe, Ryan Cole, Sarina Dorie, Monica Joyce Evans, P.G. Galalis, Kara L. Hartz, Brian Hugenbruch, Andrew Rucker Jones, Andrew Kozma, Steven P. Mathes, Jen Mierisch, Iseult Murphy, Ira Nayman, Tarver Nova, Frank J. Oreto, Anthony Regolino, and Lauren Reynolds
Dragon Gems (Fall 2023)
Word Count: Information not available
Summary: Don't look. It isn't there. On the day Eli almost drowned in Coup d'Oeil Lake, a boy pulled him to shore and took him to a carnival. Nobody saw the boy or the carnival—not the lights, not the crowds, not the rides. So Eli kept quiet and ignored what he'd seen. He's good at ignoring things now… Except for the shadows. Those he can't ignore. One step from homelessness and flirting with assault and battery every time somebody pisses him off makes the caretaker gig on out-of-the-way Greenwood Glen a safe place for Wade to cool his jets for a while. All he has to do is take care of a ramshackle house nobody lives in. Easy peasy. At first. The house was quiet until the prickly Elijah Gray returned home with his fluffy cat and woke something up. Something dark and mysterious… and deadly. The Extraordinary Locket of Elijah Gray is part of the multi-author Carnival of Mysteries Series. Each book stands alone, but each one includes at least one visit to Errante Ame's Carnival of Mysteries, a magical, multiverse traveling show full of unusual acts, games, and rides. The Carnival changes to suit the world it's on, so each visit is unique and special. This book contains a lonely artist who sees ghosts, a fuzzy black cat, a disgruntled caretaker, and a guaranteed HEA. NOTE: Expect some dark "horror" scenes, but Gus the cat will be living a very long and very happy life.
The Extraordinary Locket of Elijah Gray
Word Count: Information not available
Summary: A careful study on estrangement and loss, The Price of a Small Hot Fire excavates the archetypal horrors of monstrous motherhood, from abandonment and unsteady reconciliation to the grave. Experimental and intimate, E.F. Schraeder's collection gives voice to a semi-autobiographical examination of a griefscape from a queer lens.
The Price of a Small Hot Fire
Word Count:

40,000
Summary: A century ago, one Priestess left for the surface world. She vanished. This is her story. Irrwaer is an acolyte serving the Priestesses yet lacks the consuming urges which drive their ambitions. She would rather stay small, quiet, and avoid the bottomless appetites of her matriarchy but understands passively hoping leads to a short, miserable life. Or worse: a long one. In the Sanctuary of the Spider Queen, the only way to keep any choice for herself is to gain power over others without becoming addicted to them. As the healer works among meek males, rowdy Red Sisters, and the sinister sons of demons, she asks a troubling question. In a place where power passes through daughters, why are the Priestesses only competing for sons? Even asking this question is dangerous. Sooner or later, everyone disturbs the Queen's web. In "Sons to Keep," Etaski introduces the political sphere of Sivaraus through the eyes of the least ambitious. These events occur one hundred years before the birth of the protagonist Sirana in Sister Seekers #1: No Demons But Us. Their effects still ripple out from the center of a vast, interconnected story.
Sons to Keep: Sister Seekers Prequel
Word Count:

93000
Summary: To resuscitate his fading celebrity, tech CEO Stephen Lucas would sell his soul for one more hit. When the subspace network for his holographic gaming empire crashes, his hardware guru makes a discovery proving that Einstein was right once again—information can be sent into the past. They accidently created a simple time machine. In a culture built on instant gratification, Lucas is sure he's stumbled upon the next big thing,  the game-changer that will make Wall Street give him the accolades he craves—a device that makes instant delivery possible. Want a pizza now? Send your order back in time 30 minutes. Forgot to make reservations at that chichi french restaurant two weeks ago? No worries now you can make purchases of anything in the past and have it appear when you want it—now. So, buy last weeks PowerBall ticket. Invest in that stock you wish you bought last year. Share a FaceTime call with a loved one that passed away last month. Finally time really is on your side. A time machine for the rest of us. But when he rushes into beta testing, he learns that the stuff dreams are made of can quickly become the stuff of nightmares. It turns out Move Fast and Break Things is terrible policy when developing a time machine.
The Dent in the Universe
Word Count:

111,172
Summary: Two sisters born in the Red Desert, young Daughters of an ancient Queen. One seizes the delights of the present. The other sees and despairs for their future. Innathi and Ishuna, the heirs of the Dark Elf Queen of V'Gedra, travel the sand dunes with their entourage. In need of water, the sisters enter the sacred canyons of Koorul, where they interrupt a mystic rite of passage for the Human son of a Sorcerer-King. Negotiations fare well between the two desert peoples until powerful magic blends with the discoveries of youth which get quickly out of control. Incomprehensible joy crashes into a dark dread which cannot be named, and a schism begins between the sisters. Diplomacy is critical to avoid unnecessary conflict, yet the Queen's daughters do not agree on the goal. Each has her version of the events at Koorul, and each is certain of the outcome should Innathi pursue the wild magic of the Zauyrian son. A close alliance with a Sorcerer-King could bring pleasure, prosperity, and new life thriving in the Desert, or it might corrupt a delicate balance to bring down the realms and all they had ever known. This second volume of Tales of Miurag is a standalone novel which can be read on its own. Dramatic events and mature themes weave into broad history and lore headed toward a cataclysm which will change the entire world. The Desert is also Etaski's ultimate villains' origin, featuring several antagonists introduced in the Sister Seekers series. This story takes place approximately 3500 years before No Demons But Us, where hints of these events past echo forward and impact future generations.
The Desert: Tales of Miurag 2
Word Count: Information not available
Summary: Everyone knows the woman who escapes a massacre is a final girl, but who is the final boy? What Happened Was Impossible follows the life of Ida Wright, a man who knows how to capitalize on his childhood tragedies . . . even when he caused them.
What Happened Was Impossible
Word Count: Information not available
Summary: Four tales of terror. Haunting dolls live upstairs in The Doll Lady.  A psychotic serial killer is obsessed with Lady Gaga and lets the world know with each murder in Gaga for Murder. A Stranger's Rope is a modern-day nod to Hitchcock's Rope and Strangers on a Train. Insected features a 90-year-old woman as the main character in a sci-fi thriller with deadly insects from another world.
Word Count:

50,000
Summary: J. Manfred Weichsel's versatility, unique style, and refusal to be bound by genre conventions have made him a force to be reckoned with in the world of speculative fiction. Now, Weichsel invites you to strip down and expose yourself to his raw and unfiltered imagination with Warrior Soul & Other Stories. Weichsel's stories peel away the veneer of societal norms and delve deep into the human psyche, exposing the rawest and most vulnerable parts of our existence. Through his boundary-shattering tales of science fiction, adventure, horror, and humor, Weichsel fearlessly explores the fringes of what is possible in fiction, revealing the naked truth of our humanity. From the mind-bending science fiction of "Warrior Soul", to the fantastical realm of "The Rainbow-Colored Rock Hopper", from the light comedy of "Queen of the House", to the darkest depths of horror of "Complicit in Their Bondage", these twelve tales will leave you feeling exposed and vulnerable in the best possible way. The bold and daring themes that run throughout Weichsel's work strip away all pretense and artifice to reveal the unvarnished truth of the human experience. So if you're ready to shed your inhibitions and explore the depths of what's possible in fiction, then get your copy of Warrior Soul & Other Stories now. It's time to embrace your innermost desires and take the plunge into the raw, unbridled world of J. Manfred Weichsel.
Warrior Soul & Other Stories
Word Count:

83000
Summary: A hook-up gone bad can be purrder. Fresh from a breakup, deeply closeted freshman Zach jumps at the chance to housesit his family home and enjoy a long, horny summer free of both his ex and his religious parents. But when an old enemy turned hot hook-up falls to his death, Zach turns to the only true friend he's ever known-his cat, Grace Jones. With the dead man's phone and a knack for texting, she promises Zach help, for a price that will satisfy both their appetites. Does it matter if Grace Jones' powers draw on something far more ancient and sinister than a cell phone? "Get laid, Zachary. Get laid." Each new hook-up brings Zach darkly humorous discoveries about life, love, sex, and his own desires. But Zach knows it's only a matter of time before someone discovers his secret. Can he rely on his feline protector, or is he trapped in a hungry devil's bargain?
My Cat's Guide to Online Dating
Word Count:

386,840
Summary: When sisterhood by blood is pure misery, can sisterhood by trial be any different? My sister deserved to die, but I didn't kill her. If I take the blame, I'm next on the sacrificial altar. The Red Sisters know this. Now they're watching me. I'm about to find out why. ~~~ In their underground city, only the cunning and the bold thrive. Sirana Thalluensareci refuses to be cowed. Banished from everything she knew after surviving an assassination attempt, the abused dark elf finds delight in the sensual thrills of the court's explicit intimacies. But she's taken off-guard when one of the realm's most powerful organizations steps out of the shadows to abduct her to their lair. Relying on her wits and nerve to thread her way through a controlling sisterhood, Sirana navigates passionate encounters, sharp-edged battles, and a series of initiation rituals where failure means a painful death. Even as the independent warrior-in-training discovers a taste for hidden pleasures, old scars threaten her ability to survive on the danger-strewn path when the Red Sisters' competitors, the Daughters of Braqth, turn their eyes toward her. As everyone around her pushes her to the edge, can she keep her balance and avoid falling into the spider's trap? If you crave found family, nuanced characters, bold and steamy scenes with touches of survival horror, then you'll love A.S. Etaski's Machiavellian matriarchy. Begin the intense first trilogy of the Sister Seekers series today!
Sister Seekers Bundle Vol. 1
Word Count:

39200
Summary: Years ago, all she wanted was to leave. Now, a web of secrets might ensnare her forever. When Iris Grey returns to her hometown of Ilmoure years after a bitter parting, she hopes for reconciliation in the face of a tragedy. Instead, she arrives to a town changed for the worse, a cold welcome from people she once loved, and a family that seems to be keeping secrets from her at every turn. When those secrets become too heavy to ignore, Iris starts to dig deeper. What she finds leads her to question her very perception of reality. Faced with old wounds and new revelations, Iris finds herself mired in a plot that threatens to swallow herself, the town, and the people she once loved.
Dark Heart of Ilmoure
Word Count:

69,153
Summary: Krish Butala believed himself to be the typical college student until his latent werewolf abilities unexpectedly manifested. This came as a big surprise since he was bitten by Josef Cartwright nearly two years ago, and nothing has happened to him in all that time. Krish has to learn how to navigate through his new life without a pack. After accidentally killing a fellow college student, Krish has to figure out how to cover up the murder. He is grateful for all the help Tyler Turner, his roommate has given him, but he isn't entirely sure he can trust Tyler, seeing that he is a witch. Tyler's brother Derek and the rest of the witch community don't trust Krish, and they're keeping a close eye on him, which makes being a nascent werewolf that much harder. Krish is plagued with haunting, vividly sexual dreams of Josef, his progenitor, which leaves him questioning his decision to leave him. Krish is surprised to find help in the most unlikely of places. An elder werewolf named Luther from another pack. Luther helps Krish and promises to protect him. But at what cost? Krish has to figure out who he can trust and find his path on his own. The Omega is an exciting M/M erotic thriller about werewolves, witches, and other supes.
The Hallowed Bloodline: The Omega
Word Count:

11500
Summary: A dark fairy tale in a modern Greek setting. Hiding in the mountains, a harpy and her adopted daughter struggle to survive. Iphis has always known that survival comes hand in hand with loneliness, but when she catches feelings for a girl in the nearby town, her heart yearns for a different kind of future. When she's suddenly attacked by a group of enraged harpies, things only become more complicated... and dangerous.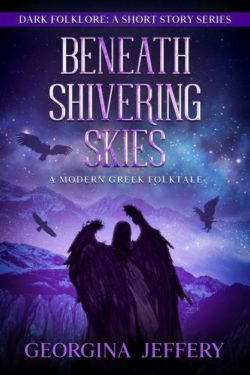 Beneath Shivering Skies
Word Count:

44,000
Summary: He only comes out in the dead of night, whistling a haunting tune. No one has seen him. When you hear him, it's already too late. As a horror writer, Mason Murdock scares people for a living. Now the tables have turned. The killer leaves gruesome, bloody clues on his victim's bodies to let the world—and Mason—know who will be next. And no one is safe.
The Whistler
Word Count:

443
Summary: Dive into this collected edition of the first three volumes of The Darkly Enchanted Romance series. Sweet and sultry historical romances with just the right amount of spookiness! ~ THE HARVEST MOON In the shadows of late autumn, Malcolm comes across a quaint village tucked away in the forest. It seems the perfect spot for a weary traveller to lay his head, and maybe find a little company. But there is dark magic afoot, and lots of local gossip swirls around the seductive titian-haired weaver, Daniel. All Malcolm sought was a night's pleasure. He never suspected he would have to worry about losing his life. Or his heart. THE GHOST OF HILLCOMB HALL On a stormy night, landscape designer Jonas arrives at the cheerless and fog enswathed Hillcomb Hall. He finds an odd trio of ladies in residence and an eerie portrait of the hauntingly attractive portrait of a stately ancestor, which constantly seems to watch his every move. His nights are filled with weird dreams and otherworldly visitations. Is the manor house truly haunted? Or is it all just a trick of the mind, a sinister game being played by the inhabitants of Hillcomb Hall? MANCHESTER LAKE Monty, along with his best friend Bishop, discovers a mystical selkie in Manchester Lake who transforms into a gorgeous man of his dreams. Together they adventure through a tastefully debauched house party, an Edwardian novelty called a "night club," and a macabre Parisian cabaret. As their journey unfolds, they come face-to-face with ghoulish agents of the occult as well as startling discoveries - including Monty's realization that he is falling for the beautiful creature from the lake. Can he really be in love so soon, or is there a past connection? And what does it all have to do with his past trip to Paris? Before their adventure ends long-hidden secrets will erupt in a storm of magic and passion!
The Darkly Enchanted Omnibus
Word Count:

78740
Summary: Dare to explore the darkest tales where sunlight never touches. Etaski's dark fantasy epic, Sister Seekers, begins underground with its denizens living and dying in eternal night. A novice Red Sister leads us through much of the series, but her Elven ancestors have their own stories to share. Tales of Miurag: The Deepearth is a same-world anthology exploring critical moments in the history for the Dark Elves of Sivaraus. This collection contains explicit and sometimes grim content, though we are never lacking all hope. Stories included in this collection: House Aurenthin - a novella on the dramatic origins of the lowest-ranking noble house in Sivaraus. Auranka the Keeper - a chilling horror tale on the monstrous Mistress of the Driders. Rohenvi - the tragic romance in the early reign of the Matron of the Twelfth House. Gaelan - a "dark slice of life," how future Red Sisters sometimes make connections long before their trials Sister Seekers is dark epic fantasy for adults with an ever-broadening scope. The saga genre-hops a bit so things never get stale. Found Family is a core theme throughout. Perfect for fans of entwined plots, challenging themes, immersive worldbuilding, and elements of erotic horror. Sexuality and inner conflict play into character growth with nuanced intrigue, intense action, and fantastical magic.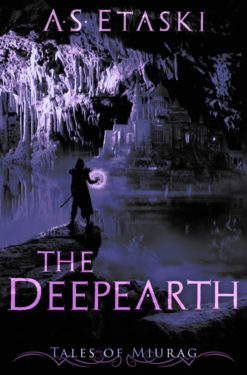 The Deepearth: Tales of Miurag 1
Word Count:

33000
Summary: Clarity (noun) Four definitions to inspire writers around the world and an unlimited number of possible stories to tell: 1) Coherent and intelligible 2) Transparent or pure 3) Attaining certainty about something 4) Easy to see or hear Clarity features 300-word speculative flash fiction stories from across the rainbow spectrum, from the minds of the writers of Queer Sci Fi.
Clarity
Word Count:

91000
Summary: She barely survived the last round. As the Red Dog Gang closes in on her Family, can she survive the next? After the devastating events of our last chapter, all private eye and mafia wife Jacqueline Spadros wants is to get her life back. Then a missing person she thought she'd never track down falls into her lap. Jacqui is thrown into a series of events which not only puts her and everyone around her into danger, but changes her life forever. Warning: on-screen murder, major consent issues, smoking, language, infidelity, betrayal, description of injury, gore, on-screen suicide, child injury This is chapter 9 of a 13-part serial novel. Please read these books in order: * The Jacq of Spades * The Queen of Diamonds * The Ace of Clubs * The King of Hearts * The Ten of Spades * The Five of Diamonds * The Two of Hearts * The Three of Spades * The Knave of Hearts <-- you are here Book 10 coming October 2023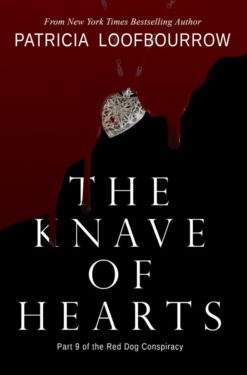 The Knave of Hearts
Word Count:

103,000
Summary: Humans are no longer alone; they have been joined by Arcanes, Lycans, and Vampires. It's been over a hundred years since the Earth went through The Shift. Where once almost eight billion humans lived, the population now holds at four billion. But that wasn't the only change. No one anticipated the branching of human DNA to produce new species of humans. Arcanes, Lycans, and Vampires are hidden throughout the genome, awaiting puberty before they manifest distinctly unhuman abilities. Finally, the new species of man were welcomed. No longer studied or treated as outcasts by most. People accepted these new humans and they integrated into society, albeit not easily. This allowed the UN Government to focus on colonizing space, in order to secure a future for all. Risks remain however, permitting a vampire to feed from you can cause shared memories. Tobin Corsian took such a risk. He resides in a newly reopened district of San Jose, California, where his family's old home stood. He lives there with his friend Mikel, a Lycan, and his dog Begger. Instead of making his mandatory monthly blood donation at the government blood bank for the vampire community, Tobin decides, with the help of his therapist, to visit Biter, a vampire spa. The spa allows vampires to feed from humans directly while providing spa and sexual services, granting the donor a three-month reprieve from their required donations. Tobin's encounter at Biter opens a window to his past and an experience he had as a child on the moon. Questions abound as he tries to unravel his past and make sense of his life.
Volaria