Sci fi stories best described as "spies in space." Return to general Sci Fi
Note: these books are currently sorted by release date, with newest first.
Word Count:

38000
Summary: RISE (noun / verb) Eight definitions to inspire writers around the world, and an unlimited number of possible stories to tell: 1) An upward slope or movement 2) A beginning or origin 3) An increase in amount or number 4) An angry reaction 5) To take up arms 6) To return from death 7) To become heartened or elated 8) To exert oneself to meet a challenge Rise features 300-word speculative flash fiction stories from across the rainbow spectrum, from the minds of the writers of Queer Sci Fi.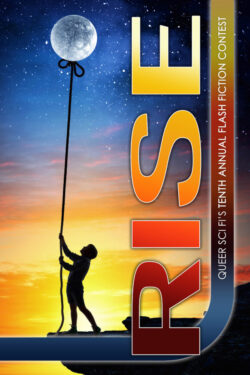 Rise
Word Count: Information not available
Summary: Language is no longer learned, it is streamed to neural implants regulated by lang-laws. Those who cannot afford monthly Language Streaming services are feral, living at the fringes of society. Big tech corporations control language, the world's most valuable commodity. But when a massive cyberattack causes a global language outage, catastrophe looms. Europol detective Emyr Morgan is assigned to the case. Suspect number one is Professor Ebba Black, the last native speaker of language in the automated world, and leader of the Babel cyberterrorist organization. But Emyr soon learns that in a world of corporate power, where they who control language control everything, all is not as it seems. After all, if the mysterious Ebba Black is to blame, why is the Russian Federation being framed for an outage it claims to have no responsibility for? And why is Ebba now targeted for assassination? As he and Ebba collide, each with their divergent agendas and value systems, Emyr faces an existential dilemma between loyalty and betrayal, when everything he once believed in is called into question. To prevent the imminent collapse of civilization, and a deadly war between the great federations, he must figure out friend from foe, as his life may very well depend on it. And with the odds stacked against him, he must find a way to stop the Babel Apocalypse.
The Babel Apocalypse
Word Count:

170000
Summary: In the not so distant future…  Kiah Hasan, a young, talented computer scientist haunted by her war-torn past, is reaching for something just past the edge of theoretical possibility. Her best friend, physicist Nigel Evans, is obsessed with pushing the boundaries of space travel. And Captain Josh Walker? He's just out here for the adventure – and Kiah. Together with the crew of Trinity Station, they head toward the Kuiper Belt and disappear just as simmering political tension on Earth erupts into outright war. A hundred years later… Admiral Darren Winters leads a mission to the Kuiper Belt to find out what happened to Trinity Station. To his, and Earth's, surprise, not only have the Trinity Station scientists survived, but have reached levels of advanced technology due to the success of Dr. Hasan's AGI experiments. After shaky negotiations with Earth that ends with the birth of the new nation of Survey, Admiral Winters is offered a new position with the AI ship Musashi. His first mission is to figure out what happened to the youngest AI, Loki, whose first crew was killed in a tragic accident. With psychologist Dr. Alex Campos, they uncover a secret that could endanger the newly formed Survey nation and its AIs. Can Darren and Alex find Loki before it's too late?
Survey
Word Count:

140000
Summary: Jack Kirby just wants peace. Deeply scarred from a failed mission and struggling with the loss of his lover, Jack takes a job  as a Religious Program Specialist on a remote PreCol station. There, he finds what he never expected: a family. Marsha, a complicated woman with a deep connection to the spiritual world. Jenny, a cheerful ensign with a dangerous past. Mark, driven to demolish the atavistic cult he was born into. Can Jack protect them all as they become entangled in an espionage game with galactic stakes?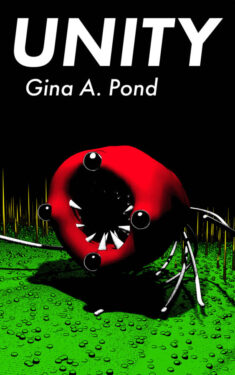 Unity
Word Count:

150000
Summary: Jenny needs time to heal – but she's not going to get it.  After her near destruction on New Harmony, Jenny Fraiser retreats to Musashi. She submerges herself in training and meditation, trying to find her balance again. Once more, she is unexpectedly catapulted to the front lines of a war of hatred – one she is uniquely qualified to win, with some help. As a deep-cover espionage specialist, Lulu uses her sociopathic tendencies for the greater good, but she never expects love, connection – or loss. Jenny, Lulu and the others are just pawns in a galactic game, which twists and changes in response to their every move. They need to track down the seemingly omniscient game master – before its seemingly innocuous task destroys two civilisations.
Colony
Word Count:

284
Summary: Dalí Tamareia has the terrorist Skadi in their sights – but bringing her in may cost them everything. Dalí's role as an undercover operative is compromised, putting a target on their back and threatening the close-knit team aboard Thunder Child. A new lead on Miriam Skadi's activities forces them back to Luna, where they must confront everything they tried to run from…including their changed relationship with Rion Sumner, who insists on backing up Dalí for this investigation. But Dalí is not the only one searching for Skadi. An alien presence hunts the terrorist as well, taking over Sumner's body to ensure Dalí's cooperation. With their team on the other side of the solar system Dalí must depend on this questionable ally to complete the mission, which takes a deadly turn when an old nemesis resurfaces. If there is any chance for a future with Sumner and their chosen family, Dalí must exorcise the demons haunting them, or they will burn in the heart of a star.
Third Front
Word Count:

62,900
Summary: A werewolf and seven vampires are all that stand between the world and complete annihilation. When Kai Richter and Ori Bier met, sparks flew. Then a train blew up. Tracking an organism deadly to not only humans, but vampires and werewolves alike, brings Kai and Ori into the Vampire Guard. Decades later, they, along with Operative Team Jack Rabbit, come face to face with the horrors that same virus produces. Dead bodies are coming back to life, and rational people are becoming violent and brutal killers. A massacre is taking place nearly a mile under the Atlantic Ocean. Two teams of The Vampire Guard are in the thick of it, fighting to survive.
Endosymbiont
Word Count:

72000
Summary: Vampires and werewolves live long lives. The Sleepless City saga might have ended but the story continues… Welcome to the Vampire Guard, where legend and myth meet science and technology.   Vampires make the best spies. Throw a smart-mouthed werewolf in with three vampires, mix well, and The Vampire Guard's newest team is bound to become one of their greatest assets. Super spies with a full range of skills. Warrior, hacker, thief, and scientist.  They get in, do the job and get out before the bad guys ever know what hit them. Forge, Blair, Declan, and Lucas are thrust into the world of high-tech spies and top-secret espionage conspiracies. Recruited into the world's most elite and secret organization with one singular mission. Protect those who can't defend themselves from ruin. Life becomes complicated when an impending Presidential visit to their town, Boggslake, throws them headlong into the world of the vampires and werewolves of the Vampire Guard. Very quickly they uncover and confront a werewolf terrorist organization known as the Qiguan. Together they must thwart an assassination attempt on the open waters of Lake Superior while tracking a previously unknown biological weapon controlled by the Qiguan—a weapon which may very well mean death for one of them.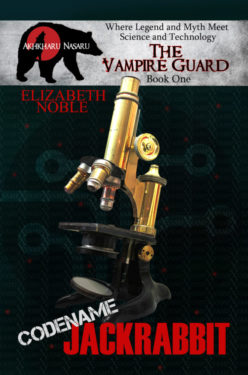 Code Name Jack Rabbit
Word Count:

454
Summary: For 60 years, the "Founders" have been secretly infiltrating every aspect of the American government, law enforcement, military and judiciary, influencing government policy and biding their time for the day they can seize power, in the chaos that has followed the Covid Pandemic, the Founders believe that day has come... A titanic power struggle is taking place between the western democracies; China and Russia and a new Cold War with hotspots of proxy-wars, such as the American led Anglo-American-French coalition in Iran, where British SAS Colonel Elizabeth Brooks commands an elite unit of Anglo-American Special Forces. Following a mission behind enemy lines, Elizabeth's brother-in-law, John Crane of "Crane Technologies" shows up in Iran. Crane Tech has developed a cloaking device, but the secret's out, the Founders know about it and they want it desperately and will stop at nothing to get it. Fearing he will be murdered, John needs a contingency plan. Elizabeth and her team are that plan… FBI Special Agent Dexter Quills is in Virginia hunting a vicious serial killer, the "Three-Sixty Strangler" when he receives a call that will change his life forever when he's ordered to the Crane Mansion, where the entire family with the exception of John's youngest son Adam (Elizabeth Brooks's biological son) have been murdered by Founder terrorists who want the "Perseus II" cloaking device in order to detonate a nuclear weapon over Washington DC to wipe out the Government. Fate bring Elizabeth and Dexter together and the fate of millions of Americans and the free world itself is in their hands, in a violent race against time to prevent the greatest tragedy in American history…
Twisted Maze
Word Count:

93000
Summary: A militia officer on the hunt for a murderer. A scientist with the key to humanity's future. A girl locked in a glass tank. One seeking justice. One seeking fame. One seeking answers. With the galaxy on the brink of war, time is not on their side. Join them in their battle for survival.
The Parallels
Word Count:

284
Summary: Third-gender operative Dalí Tamareia thought their life as an ambassador ended when they joined a galactic intelligence agency. When they're yanked out of the field and tapped to negotiate the surrender of deadly bio-engineered warriors who crashed into hostile territory, Dalí is thrust headfirst back into the tumultuous world of galactic diplomacy. Dalí has faced Shontavians before, but not like these. The stranded mercenaries are highly intelligent and have an agenda of their own. Dalí can't afford to be distracted from the negotiations by their own demons or the presence of a charming diplomat with a mysterious past. As a brewing civil war threatens to derail the entire mission, Dali must use all their skills to bring this dangerous situation to a peaceful end—but the Shontavians may not be the biggest monsters at the table. Someone is determined to see Dalí and their team dead before they discover the brutal truth hidden in the wreckage.
Peacemaker