Sci fi stories that feature mechanical life. Return to general Sci Fi
Note: these books are currently sorted by release date, with newest first.
Word Count:

38000
Summary: RISE (noun / verb) Eight definitions to inspire writers around the world, and an unlimited number of possible stories to tell: 1) An upward slope or movement 2) A beginning or origin 3) An increase in amount or number 4) An angry reaction 5) To take up arms 6) To return from death 7) To become heartened or elated 8) To exert oneself to meet a challenge Rise features 300-word speculative flash fiction stories from across the rainbow spectrum, from the minds of the writers of Queer Sci Fi.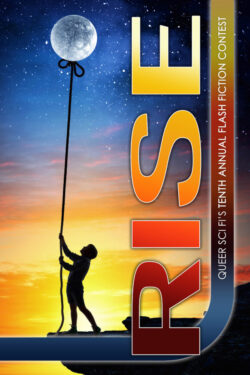 Rise
Word Count:

29600
Summary: When Peace-in-the-Sky awakens as a captive with a young girl by her side, she only understands one thing: she must escape the tribe who captured her. A brutal head injury makes the past a swirling fog, so she is reliant on the girl—her precocious daughter Anissa—to guide them. She must return Anissa to the Tribes-under-the-Dome to keep her safe from warring and vicious tribes inhabiting the wasted landscape. Every group they shelter with along the way sees something different when they look at Peace-in-the-Sky—a god, a savior, a valuable commodity, a volatile danger. She doesn't know herself, but soon realizes she can protect Anissa with the scorching power of the pillars-of-flame. Only her tender love for Anissa and her mission to return the girl home to the Tribes-under-the-Dome matter. As her body grows weaker, not even the inexorable unraveling mystery of who, or what, Peace-in-the-Sky really is can deflect her from the task. Find out what happens in Peace In The Sky by Caye Marsh!
Peace in the Sky
Word Count:

119000
Summary: A single father fights to retain control as he shares his body and mind with an evolving AI. It's been nine years since the government banned all technology. So, when Joel Lodowick, a young transgender father struggling to support his five-year-old daughter, has an old bionic upload itself into his head, he is faced with a decision: Go to the cops and risk prosecution? Or use the robot's skills to turn his life around? Scared of losing his daughter, Joel chooses the latter. Heightened intelligence and physical enhancements quickly land him a better job and a brighter future. But things take a sinister turn when Joel realizes his uninvited companion has an agenda of its own, which may or may not include leaving him in control. Unable to approach the government who covered up the truth about AI sentience, Joel finds himself on the run. With his daughter's life on the line and his own body turning against him, he must find a way to convince the bionic in his head to value his human life before he loses the chance forever. Find out what happens in My Heart is Human by Reese Hogan!
My Heart Is Human
Word Count:

117000
Summary: You can choose your friends, but you can't choose your family… Quirk and Moth have avoided killing each other long enough to solve another case. They decide on a local job next, and take up the search for a missing scientist. How could Quirk know this new mystery put them on a headlong collision course with his troubled past, a plethora of personal issues, and a hoard of genetic hybrid creatures with an appetite for anything that moves? When their client dies in mysterious circumstances, law enforcement pursues the dysfunctional duo all the way to a research lab in frozen Yellowknife. Can Quirk and Moth find the scientist before they are banged up for murder, or has she already been eaten? Is it coincidence Quirk's father-in-law bought the company? Can they expose the shadow from Quirk's past and clear their names? Quirk and Moth need time, but it's fast running out, and the bodies are piling up. Find out what happens in The Carborundum Conundrum!
The Carborundum Conundrum
Word Count: Information not available
Summary: Teens and their giant robots search for a new home for mankind, but the planet they discover belongs to the dragons. Two hundred years after the Climate Wars left Earth uninhabitable, Johari and his giant robot companion lead a squad of scouts on a quest for a new Goldilocks planet to settle the remnants of the human race. When one of the scouts and his bot go down in a hostile wilderness, Johari's fight to save them reveals complex behavior in the dragon-like dominant species. The scout team fragments as Johari strives to rescue his friends and discover the truth about the aliens. If he's right, mankind will lose its best hope for a home — or sacrifice its own humanity.
A Wreck of Dragons
Word Count:

67000
Summary: Androids & Aliens is Scott's third short story collection - eight sci fi and sci-fantasy shorts that run the gamut from cyborgs to (comedic) alien invasions: Rise: The rise in sea levels caused by climate change swallowed Venice beneath the lagoon half a century ago. But what if we could bring it back? Ping: I was a real estate agent by day, and a museum curator in the evening at a sci-fi museum. What I saw one night changed everything. What the Rain Brings: Miriam struggles to make a living in post-climate-change Vancouver. But her friend Catalina has it even worse in the Arizona desert. So Miri hatches a plan. High Seven: Zan dreams of making full reals - immersive live virtual reality skins - but his low score may doom him to a life of cheap coding. Full Real: Dek's given up his life of spying for the city. But one more case awaits him. Will he regret it more if he takes it, or turns it down? Shit City: The Bay Area is being walloped by a hurricane, and seventeen-year-old Jason Vasquez has been relocated to a refugee city in the Nevada Desert. Will it be temporary shelter, or change his life? Firedrake: Kerry has always wondered about his deadly powers. But a mysterious bunch of violet roses starts him on the path to discovery - even if he's not sure he's going to like what he finds. The Last Human Heart: I'm one of the Remainers, the few cyborg humans still living on this busted planet. But if my still-human heart finally gives out, I may not live to find out the truth about who I am. This is the first time all of these stories have all been collected in one place, and the first publication of the Pacific Climate Tryptich - What the Rain Brings, High Seven, and Full Real - in any form.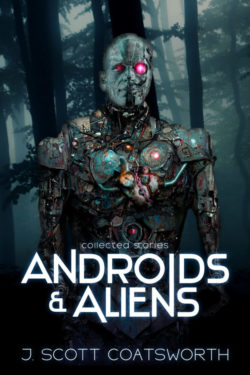 Androids & Aliens
Word Count:

81,000
Summary: Explore the birth of a new world! Journey through time and space to the intricate biosphere of Juno, where three species have been birthed by the gods. First the Kuhifadi, inheritors of sun magic, able to do great deeds with magic stored in their bodies. Second the fearsome Uchafumlaji, technological savants who live in the depths of the ground. Third the weird Ngisikaa, a species uplifted from animals through communal memories. Small decisions and single individuals will affect the tide of history. Learn of the first Ngisikaa to meet death, whether a Kuhifadi will make the sacrifice to become a mage, and if an Uchafumlaji can build a bridge to the past. These stories and more will create The World of Juno! With content by: Nick Bright and Brent Lambert, C.J. Hosack, Nate Battalion, Daniel Eavenson, Malcolm F. Cross, Katie Cordy, William C. Tracy, N.L. Bates, Reese Hogan, Cedan Bourne, Robin C.M. Duncan, and X.M. Moon Genres: Science Fiction / Fantasy / Adventure / LGBT and Non Binary Market: Adult
The World of Juno
Word Count:

33000
Summary: Clarity (noun) Four definitions to inspire writers around the world and an unlimited number of possible stories to tell: 1) Coherent and intelligible 2) Transparent or pure 3) Attaining certainty about something 4) Easy to see or hear Clarity features 300-word speculative flash fiction stories from across the rainbow spectrum, from the minds of the writers of Queer Sci Fi.
Clarity
Word Count:

100000
Summary: They say, "Never work with androids or children." Quirk had one job to do, deliver papers to a Milan mafia boss, before leaving Earth for his home in the asteroids. But that was before being tailed, poisoned—oh, yes—and hijacked into raising foulmouthed fourteen-year-old convent girl Angelika Moratti, aka Moth, who'd rather see him asphyxiate in space. Fleeing assassins, Quirk, Moth and her syRen® android S-0778 ride the space elevator to the Moon, where Quirk hires on to hunt an ex-terra-former who somehow used an android to murder his doctor. But which android of the two hundred under Lunaville's dome? The trail of bodies grows, time is running out; the only way they can save the dome and the two thousand souls beneath it is to solve The Mandroid Murders. Genres: Science Fiction / Thriller / Mystery / Adventure / LGBT and Non Binary Market: Adult
The Mandroid Murders
Word Count:

130000
Summary: Life after the Crash. Over a century after the end of the Earth, life goes on in Redemption, the sole remaining Lunar colony, and possibly the last outpost of humankind in the Solar System. But with an existential threat burrowing its way into the Moon's core, humanity must recolonize the homeworld. Twenty brave dropnauts set off on a mission to explore the empty planet. Four of them—Rai, Hera, Ghost and Tien—have trained for two-and-a-half years for the Return. They're bound for Martinez Base, just outside the Old Earth city of San Francisco. But what awaits them there will turn their assumptions upside down—and in the process, either save or destroy what's left of humanity.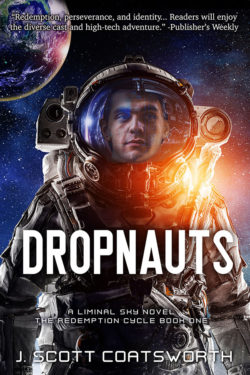 Dropnauts
Word Count:

105000
Summary: RETURN TO THE MEAN STREETS OF AUTUMN Valerius Bakhoum is dead and buried. Too bad he's still flat broke and behind on the rent. Unsure what to do with himself—and of who he is—Valerius resumes his career as a detective by taking up the oldest case in his files: where do the children go? Throughout his own youth on the streets of Autumn, last of the Great Flying Cities, Valerius knew his fellow runaways disappeared from back alleys and other hiding places more than anyone realized. Street kids even had a myth to explain it: the Gotchas, who steal urchins away in the night. With nothing but time on his hands, Valerius dives in head-first to settle the question once and for all and runs smack into a more pressing mystery: who killed one of Valerius' former lovers? And do they know Valerius is still alive? Stalk the shadows of Autumn's hidden places by Valerius Bakhoum's side as he shines a light on secrets both sacred and profane, ones with shockingly personal connections to who he was—and who he might become. New Life in Autumn is the sequel to the Manly Wade Wellman Award-winning A Fall in Autumn.
New Life in Autumn
Word Count: Information not available
Summary: Seasoned, strange, and dangerously clever Some invitations are impossible to refuse. When Ajay and Kylie are invited to a dinner party hosted by one of the wealthiest women around, Ajay sees it as an opportunity to dig into her past. He needs to find what shady business she's been up to and how dangerous she really is. Never mind that she's Kylie's grandmother. What starts out as a dinner party turns quickly to trouble when a guest is murdered. Was the killer the billionaire socialite, the odd chef, or one of the other guests? Ajay needs to cut through the complex connections between the reluctant guests, because one of them is a killer–but they aren't the only one. Too old to learn decent manners? Maybe. Too old to solve a murder? Not this grandfather.
Grandfather-Guardian
Word Count:

107000
Summary: An ancient evil in Anne's head aims to ruin her tranquil life and end humanity. It must be Tuesday. A house of her own with a white picket fence, complete with a loving partner, Anne Perrin finally has the life of her dreams — including the job she always wanted and a caring family to share it all with. But every Eden has its Pandora's Box. Anne's personal heaven is marred by a malevolent presence in her head who, if given a choice, would use her to usher in a dark age, ending humanity as she knows it. The only thing holding it at bay is an unpredictable computer implant in her chest that seems to have its own agenda. Two unexpected visitors turn Anne's delicate world upside down in completely different ways — one better than she could have ever hoped, one catastrophically terrible — pitting Anne in a nightmare battle against the very people she holds dearest: her family.
Angels Found
Word Count: Information not available
Summary: Our visions of the future - whether dark or hopeful, thrilling or mundane - have always challenged us to examine our world. How can we improve? What challenges will we face? Are we even ready? Top Science Fiction authors, collectively holding 25 Hugo, Nebula, Locus, and Sturgeon awards (a few for Vital stories!), employ the power of engaging fiction to explore these questions and today's most critical issues in medicine. But Vital doesn't stop at speculation. Proceeds will be donated to the COVID-19 Solidarity Response Fund for the World Health Organization, the global guardian of public health, coordinating the worldwide pandemic response. Read on to build a better future of Healthcare! Featuring stories by Paolo Bacigalupi, David Brin, Tananarive Due, Sally Wiener Grotta, Congyun ("Mu Ming") Gu, James Patrick Kelly, Justin C. Key, Seanan McGuire, Annalee Newitz, Julie Nováková, Lola Robles, Eric Schwitzgebel, Alex Shvartsman, Caroline M. Yoachim Edited by RM Ambrose
Vital: The Future of Healthcare
RM Ambrose , Paolo Bacigalupi , David Brin , Tanan...
Word Count: Information not available
Summary: It's the find of a lifetime – an ancient alien spaceship hanging in a forgotten corner of space. For Song this could change everything. She's got as many problems with her finances as she does in her marriage, but maybe at last her passion for wreck-diving will pay off. One piece of unknown tech could set her whole crew up for life. The ship conforms to nothing in their records and dwarfs the largest human vessels. Battle-scarred and old before humanity ever reached the stars, it's a mausoleum of an unknown, long-dead species. And it's just winked at her.
Falling Dark
Word Count: Information not available
Summary: The Fantastical Romances You've Been Craving Hugo Finalist Janice L. Newman presents a touching trio of romances in a speculative vein. From the edge of space, to the shadows of the paranormal, to the marvels of the mystic: At First Contact: A germaphobe and an android are assigned a mission to survey a planet together. Will they discover new life or a new love? Ghosted: Leo is searching for the soul that used to haunt his grandmother's house. Did Will ghost him? A Touch of Magic: What if love could alter the fabric of existence? A fraught romance between two teachers just might be helped along by a touch of magic.
At First Contact
Word Count:

90000
Summary: Charlie's life force is fading. His only hope is an aged martial arts master in the remote reaches of China who, as far as Cappa can tell, doesn't like him very much. While Charlie and Cappa are away from Z-Tech, William has been raising an empire of his own — one determined to crush any who interfere with his plans for world domination. Worse, he's sided with the only other organization who had almost succeeded in erasing Z-Tech from the global market, pitting Anne and her friends in a desperate struggle for survival. The enemy has the advantage of numbers, but Z-Tech has Zima — a one-person army in her own right. Only time will tell if she's enough to offset the overwhelming forces set against Z-Tech, and if San Francisco will survive their battle.
Angels Fall
Word Count:

132,000
Summary: Rules were made to be broken. From terraformed outposts to magical realms, journey to worlds where deadly plants, rampant biodiversity, or failed colonies have created irresistible opportunities for those brave enough to seize them. New worlds, found family, mystical secrets, and deadly science weave together in this lesbian-centric anthology focusing on a very different kind of first time—a first encounter with a world, or being, entirely unlike our own. If you like diverse stories with lesbian heroines practicing science, magic, and seduction, buy Distant Gardens today!
Distant Gardens
N.L. Bates , Sara Codair , Robin C.M. Duncan , Wil...
Word Count:

101000
Summary: A vampire hunter has his sights on Anne Perrin, threatening to unleash the very evil she and her friends are fighting to contain. Robbing Anne of her pulse hasn't stopped her from living un-life to its fullest: she's balancing two relationships, has returned to her waitress job, and is trying her best to not eat her customers. But Calum sees through her disguise, and no amount of charm can dissuade him from eradicating Anne and everyone like her from the face of the Earth. While Charlie is out of the country seeking help from the one person who might be able to save his life, Anne is abducted, leaving the rest of the Z-Tech crew with the desperate task of finding her before the vampire hunters finish her off — or a grief-stricken Zima destroys the city looking for her lost love. But Anne's abduction could be just the first part of a larger, darker plan that may unwittingly unleash the very plague Calum seeks to prevent.
Angels Lost
Word Count:

20000
Summary: An Artificial Superintelligence bent on destroying humanity. A mech warrior determined to stop it. No one is safe. Not before, not now, not ever. Jedidiah Martin survived the AI apocalypse that almost destroyed America. He was there when they took down Isaac, the superintelligence responsible for nearly ending humanity. But is Isaac dead for good? From the ashes, a new threat has emerged. The people from a neighboring town are missing, as is Jedidiah's nephew, Blake. All hell is about to break loose. With his band of mechanized warriors, Jedidiah sets out to find answers. But the questions keep coming: Is Isaac back from the grave? What does he want with Blake? Will he try to finish humanity for good this time?
Gods of War