Fantasy stories that take place in a world where magic is prevalent and modern technology doesn't exist. Return to general Fantasy
Note: these books are currently sorted by release date, with newest first.
Word Count:

38000
Summary: RISE (noun / verb) Eight definitions to inspire writers around the world, and an unlimited number of possible stories to tell: 1) An upward slope or movement 2) A beginning or origin 3) An increase in amount or number 4) An angry reaction 5) To take up arms 6) To return from death 7) To become heartened or elated 8) To exert oneself to meet a challenge Rise features 300-word speculative flash fiction stories from across the rainbow spectrum, from the minds of the writers of Queer Sci Fi.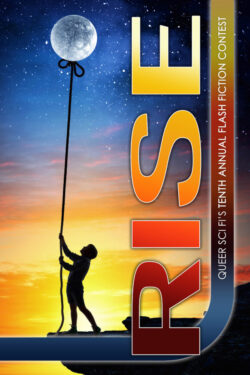 Rise
Word Count:

99000
Summary: Look to the skies! Brave adventurers face new relationships and adversity in all sizes, from steampunk dirigibles to harpies, giant bees to garden gnomes, and winged dinosaurs to sky pirates. Isolated mountain peaks, clifftop cities, and battles in the sky abound in this sapphic anthology focused on overcoming challenges awaiting in the clouds. If you like diverse stories with lesbian and sapphic-centric heroines enjoying the thrill of adventure high in the air, buy Lofty Mountains today! With stories by: Seanan McGuire, Rosiee Thor, Rebecca Kim Wells, Maya Gittelman, Carmen Loup, Sara Codair, William C. Tracy, N.L. Bates, L.R. Gould, Robin C.M. Duncan, and J.S. Fields
Lofty Mountains
Word Count: Information not available
Summary: The world is wide and full of wonders Fleeing her country in order to save it, Princess Jade of Sharren discovers a greater threat. SONG OF JADE: RED WOLF is a standalone DRAGON AGE prequel to the WOODSPELL SERIES and one of the TALES OF ARDONNA. Content Advisory: Contains adult themes and situations and spoilers for River's Roar
Song of Jade: Red Wolf
Word Count: Information not available
Summary: The realm of Maldhonia was happy and prosperous, until strangers fell from the sky She'd given her life for power and a fresh start, but Calianthema had found a new trap—caught in a love spell with a dangerous nemesis. And this wasn't the worst of her problems. RIVER'S ROAR is a standalone MAGE ERA prequel to the WOODPELL SERIES and one of the TALES OF ARDONNA. Content Advisory: Adult themes and situations
River's Roar
Word Count:

45000
Summary: IMAGINE BEING the only un-magical kid at Hogwarts. That's how sixteen-year-old orphan Jaden Raines feels as he enters Azunya High. He struggles to fit in, but he's really a fish out of water. The magical isle of Azunya, where paranormal policing agency B.O.O. is headquartered, is shocking to Jaden after having lived his entire life in the American Midwest. Back there, his classmates were freaks, geeks and gangstas. Here, his classmates are genies, witches, healers… A whole pantheon of beings and monsters. And worse yet, he'll have to read The Old Man and the Sea. Again. Jaden might be the new kid in town, but he's still a teen. It's love at first sight with handsome skater-boy Stiltz. They have three things in common: neither is able to use magic, they're both petrified of water, and, lucky for Jaden, they're both gay. They should bond, but their relationship's stormy from the start. To try to fit in, Jaden hides his powerless state, accidentally creating the myth that he's the most powerful being of them all. But when the entire school demands a demonstration, what's Jaden to do? New lies and cruel deceptions leave Jaden and Stiltz stranded at sea in the middle of a deadly tropical storm. In order to survive, the boys must spill their secrets. It's sink or swim for our heroes. Only the truth can set them free. And keep them alive.
Mysterical (Tales of B.O.O. Book 3)
Word Count:

33000
Summary: Clarity (noun) Four definitions to inspire writers around the world and an unlimited number of possible stories to tell: 1) Coherent and intelligible 2) Transparent or pure 3) Attaining certainty about something 4) Easy to see or hear Clarity features 300-word speculative flash fiction stories from across the rainbow spectrum, from the minds of the writers of Queer Sci Fi.
Clarity
Word Count:

174300
Summary: My sister is in grave danger, captive in the city of Witch Hunters. As Manalar prepares for war, her only chance lies with infiltrators from Augran. I shall join them. The prosperous port of Augran thrives in diverse trade with the Dwarven Clans. The Bishops of Manalar have withdrawn defiantly into the Temple of the Sun, scorning their past allies. The Ma'ab Empire has sent their dark army out of the Far North, seeking not riches but a small, well-protected spring high upon a mountain. The sacred pool of Manalar is said to bless all mages who control it. On the fringe, there's Gavin and me. Each dedicated to our purpose, we garner allies from Augran and the Clans of Taiding willing to see them through. My Dragonblood bodyguard, Mourn, reinforces our strengths as we expect others like us to jump out of hiding and into the fray. I failed one sister. I will not fail another. Sirana's desperate search upon the Surface reaches its culmination in Battle for Manalar, where foes and allies unite and clash in this transformative event driven by opportunity, righteousness, and reprisal. Sister Seekers is dark epic fantasy for adults with an ever-broadening scope. The saga genre-hops a bit so things never get stale. Found Family is a core theme throughout. Perfect for fans of entwined plots, challenging themes, immersive worldbuilding, and elements of erotic horror. Sexuality and inner conflict play into character growth with nuanced intrigue, intense action, and fantastical magic.
Battle for Manalar: Sister Seekers 8
Word Count:

29722
Summary: Adam Drowen… Azreal, the Onyx Knight… His journey has been long and arduous. He gained power in death, lost his mentor, found truth in a dream, got lost in a fantasy, embraced his rage, challenged The Fates, offered compassion, crossed the line, hunted a monster, and realized that Darkness was enveloping his soul. A Warrior's life is not for everyone. Adventure, excitement, glory; these are not what a true Warrior desires. A Knighthood does not grant privilege, offer fame, or promise riches. It can be a hard life, full of painful choices. It is a life of service, not reward. It is a never-ending journey in search of knowledge and beauty. The Way of the Warrior is the perpetual pursuit of perfection that none will ever attain. Why would anyone choose such a life? Not everybody can; but if you wish to learn what drives someone on this ceaseless quest, then pay attention; for I am the One Arm Bandit and I have stories to tell... Now, for the first time, ShyMuse Publishing presents the tales of Azreal, the Onyx Knight; collected in a single anthology. All ten short stories chronicling Azreal's journey from a young Sapphire Knight to a cold-blooded killer and finally to a contemplative, stoic guardian, are now gathered together in one volume. In addition to the Best Selling Way of the Warrior short story series, this book contains never before seen artwork and concept designs. Visit us at www.ShyMusePub.com
Way of the Warrior: The Azreal Chronicles
Word Count:

36,000
Summary: King Oeneus has just been given the secret of wine by the god Dionysus. Unable to hold his liquor, the drunken monarch forgets to honor Artemis at the harvest festival. In revenge, the angry goddess sends a crazed wild boar to ravage the kingdom with burning breath and razor-sharp tusks. Nothing can stop it. The befuddled king, desperate to save his land, calls upon the greatest heroes of Greece to hunt the beast. Meleager, the king's son, reluctantly finds himself leading a group of men he doesn't respect or trust. Soon the party of mighty mythical heroes is on the trail of the fearsome monster - but one of them is a heroine! Atalanta is a huntress to match Artemis herself, and quickly wins the heart of Meleager, despite the objections of the others. Will one of the men make the kill, or will they be humiliated when the prize goes to a woman? Will Prince Meleager woo and win Atalanta, or will the gods intervene? Who will die and who will survive in this tale of loves and even greater lusts in ancient Greece? A rip-roaring tale of jealousy and foul play, a family at war with itself and a battle of the sexes - told in Weichsel's unique, no-holds-barred style. A pulse-pounding adventure that will appeal to fans of fantasy and horror, a wild ride through the weirder corners of Greek mythology. Strap on your sandals, grab your spear, and get ready to hunt the wildest boar of them all.
The Calydonian Boar Hunt
Word Count:

165000
Summary: British superheroes, melodramatic Mages, snarky secret agents, one hell of a found family, and a whole load of weird people. Also, there's a duck. This is the painfully bizarre origin story of Rexley Nova. When Rex was four years old, he became one of the world's first superhumans. When Rex turns twenty, he feels the drive to use his scientifically given abilities to protect the world. He leaves home to become a member of the Secret Superhero Security team, alongside three of his friends and Danger City's own superhero, Polaris. Rex fights murderous Mages, evil organisations, criminal mafias, his agency appointed psychiatrist, his own anxious brain, and the most frightening of all, his attraction to a certain blue-eyed superhero.
Novas Got Nerve
Word Count:

105000
Summary: A girl detective. A boy genius. A warrior princess. A young magician. Four young people with extraordinary gifts. For years, they solved mysteries, caught crooks, and slayed monsters. They were secret heroes, keeping an idyllic small town in the middle of America safe from the things that lurked in the dark. Then, the year of their high school graduation, the darkness came for them. During what the media called "New Year's Evil," a demonic force rose to turn their hometown into a literal Hell on Earth. They gathered to stop it. They fought. And they won. The rest of the world never discovered the truth behind the disaster. For 20 years, the four tried living like normal people. Now their past is coming back to haunt them. The darkness is gathering once more. They're summoned back to their hometown to face it, along with everything else they left behind. Last time, they saved the world. This time, they'll have to do something much harder. They'll have to save each other. For fans of Stephen King, Neil Gaiman, and Victoria Schwab, REUNION is the story of what happens when the good guys grow up.
Reunion
Word Count:

94000
Summary: With Ruben missing and no sign of their enemy, Donovan races to uncover the mysteries of blood magic and train a new generation in New Seeking. Away from the familiar halls of the Order, he trains with Annette to develop the skills to lie and secret his true self amongst the nobility and whatever spies may skulk in their midst. Donovan encounters changed relationships, rediscovered and more complex than he ever wished, and he longs for Whitman's good humor, which is in short supply. Whitman himself struggles to unearth and connect his own threads of insight through heartbreak and daunting challenges as he digs through layers and centuries of deception and historical indoctrination. Throughout all, Ruben drowns in fear and danger, managing breaths of revelation and enlightenment that threaten to unravel everything he once understood to be true. He is determined to be of use to his friends when they come for him before his resolve trickles away, taught and taunted by the Smiling Man whose knowledge appears to stretch for generations.
Hunter
Word Count: Information not available
Summary: For three years, Jeth and Kodie and their soldiers have guarded a hostile mountain pass against the invading Dathians in a war that has waged for decades. Jeth has the blood of giants running through his veins, and it has caused bigotry and death to dog his steps his entire life. After a childhood tragedy shatters his world, it takes the courage and loyalty of his best friend, Kodie, to protect him from himself. Jeth knows he's a danger to everyone around him and joins the army to control and focus the black rage inherited from his bestial bloodline. Kodie follows his friend into the army, determined to stay close to the one he loves most. He has never revealed his deeper feelings for Jeth, and is ignorant of Jeth's own feelings. Their bond is too precious for either of them to risk rejection. Yet they might have to take the chance when Kodie's life is threatened, and their enemy forges an alliance with a giant clan. Jeth must call upon his darker heritage to brave the hostile environment to make an alliance of his own—with a giant clan that knows more about him than he does himself. Also available in "Guardians of a Giant's Treasure" anthology
A Giant's Friend
Word Count:

100000
Summary: Donovan would prefer to die in his bed but circumstances might force him to do otherwise. When he is tasked with Retrieving a young child thought to be a magus, the most powerful magic user in any generation, he is thrown headfirst into a world of intrigue and deception where any move he makes could be the one that shifts his people into a position of bloodshed and failure. There is a war brewing, a war centuries old, between the Hunters, blood mages and child-snatchers, and the born mages, people of the Order, the school of magic and scholarly pursuit. Donovan must learn who to trust and how to endure suffering as he finds more and more about the nature of this endless war and what it means to be a fighter.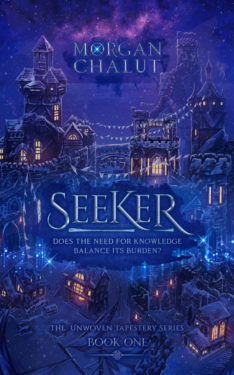 Seeker
Word Count:

222000
Summary: Two people find themselves in a quandary: Aderri, a powerful dragon shifter with some light defensive magic, and Ellys, a half-elven swordswoman for hire, one of the best across the six nations. When Aderri gets news that she must come home for the naming ceremony of a new hatchling, she's forced to hire Ellys and her telepathic steed, Roccotári, to see her safely there. Of course, things are never as simple as they seem. Not only do they have to traverse the land between two kingdoms on the brink of war, but Aderri's Clan expects her to return with a romantic interest. So, for the added promise of triple Ellys's normal fee, the half-elf agrees to pretend to be Aderri's suitor. Ellys and Aderri have to convince a Clan full of magical mixed-shifters for a week that creatures of differing elements can burn with the flames of love, without actually lying. A situation made even more difficult by a matchmaking mare, steamy baths, and an innkeeper with mischief on the mind. Caught between the weight of the past and expectations of the future, they must find their true destiny within the heat of fire.
Elemental Attraction
Word Count:

36000
Summary: INK (NOUN) Five definitions to inspire writers around the world and an unlimited number of possible stories to tell: 1) A colored fluid used for writing 2) The action of signing a deal 3) A black liquid ejected by squid 4) Publicity in the written media 5) A slang word for tattoos Ink features 300-word speculative flash fiction stories from across the rainbow spectrum, from the minds of the writers of Queer Sci Fi.
Ink
Word Count:

88,500
Summary: When secrets and lies threaten the throne, can a fierce champion tame her passion in time to stop a cruel enemy's ruthless march? Viking Warrior Princess Lena craves revenge. Hunting a killer after her husband is brutally slain, she discovers a shadowy traitor is at play behind the scenes, working to disrupt the balance of power. Placing her need for vengeance on hold when the king falls gravely ill, Lena leads an expedition to locate a fabled healer across a treacherous sea. Caitlin had been snatched from her home in Eire and sold into slavery. She prayed for a means of escape, and in storms Lena to her rescue. She is grateful, but realizes her feelings for Lena run far deeper. Mighty warrior Gunnar is loyal to the core. But when his lord orders him to sabotage the princess's royal mission, he's plagued by doubt, uncertain he's fighting for the right side. Beset by a plethora of dangers and delays, Lena battles foes on every front, even within her own heart as her love for Caitlin grows. Gunnar must choose between honor and fealty, but in the end, will a traitor's blade end all their lives? Viking Quest is a breathtaking historical fantasy novel. If you like principled characters, battles of conscience, and tender F/F romance, then you'll love Edale Lane's action-packed epic. Buy Viking Quest to destroy a fearsome foe today!
Viking Quest
Word Count:

111,000
Summary:
New York: two years after the Third World War. Humanity is rebuilding its cities brick by brick; the damage done to the people, however, is a lot harder to repair.
Dan Hardacre is one of those people. An aspiring stage actor and experienced draft-dodger, Dan struggles to find his place within the Utopic rebuild of New York City. When he's not caught up with the duties of work, Dan lives a quiet life in mourning for his mother, Dyani, who went missing when he was a teenager.
One night, Dan experiences a vivid, terrifying nightmare that puts him right on the front lines of the war for which he dodged the draft; it ends with him facing Death itself in the form of a metallic, faceless humanoid creature that calls itself the Valkyrie. To investigate the reason behind his haunting experience, Dan seeks out a meeting with his estranged father, who reveals the startling truth about Dan's dream: it wasn't a dream.
With this newfound knowledge and the powers it brings, Dan makes it his mission to return to the scene of his nightmare. However, he soon comes to know that confronting the Valkyrie not only endangers him but the war-withstanding world he leaves behind.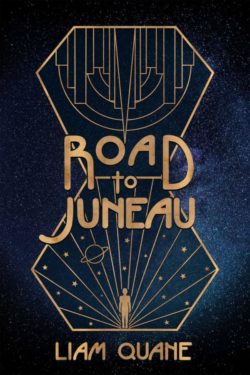 ROAD TO JUNEAU
Word Count:

270000
Summary: Oberon is unique among the Common Worlds - a half-world with a strange past and an uncertain future. Jameson Havercamp and Xander Kinnson are thrust into the middle of a world-ending event and have to scramble to save the world - and themselves. Along the way, they peel back the layers of the onion to discover secrets wrapped in secrets that will eventually take them to where it all started - and may provide the key to saving Oberon and everyone on it. SKYTHANE Jameson Havercamp, a psych from a conservative religious colony, has come to Oberon—unique among the Common Worlds—in search of a rare substance called pith. He's guided through the wilds on his quest by Xander Kinnson, a handsome, cocky skythane with a troubled past. Neither knows that Oberon is facing imminent destruction. Even as the world starts to fall apart around them, they have no idea what's coming—or the bond that will develop between them as they race to avert a cataclysm. Together, they will journey to uncover the secrets of this strange and singular world, even as it takes them beyond the bounds of reality itself to discover what truly binds them. LANDER The world needs saving, again. Xander and Jameson thought they'd fulfilled their destiny when they brought the worlds of Oberon and Titania back together, but their short-lived moment of triumph is over. Reunification has thrown the world into chaos. A great storm ravaged Xander's kingdom of Gaelan, leaving the winged skythane people struggling to survive. Their old enemy, Obercorp, is biding its time, waiting to strike. And to the north, a dangerous new adversary gathers strength, while an unexpected ally awaits them. In the midst of it all, Xander's ex Alix returns, and Xander and Jameson discover that their love for each other may have been drug-induced. Are they truly destined for each other, or is what they feel artificial? And can they face an even greater challenge when their world needs them most? ITHANI Time is running out. After saving the world twice, Xander, Jameson and friends plunge headlong into a new crisis. The ithani―the aliens who broke the world―have reawakened from their hundred millennia-long slumber. When Xander and Jameson disappear in a flash, an already fractured world is thrown into chaos. The ithani plans, laid a hundred thousand years before, are finally coming to pass, and they threaten all life on Erro. Venin and Alix go on a desperate search for their missing and find more than they bargained for. And Quince, Robin and Jessa discover a secret as old as the skythane themselves. Will alien technology, unexpected help from the distant past, destiny and some good old-fashioned firepower be enough to defeat an enemy with the ability to split a world? The final battle of the epic science fiction adventure that began in Skythane will decide the fate of lander and skythane alike. And in the north, the ithani rise….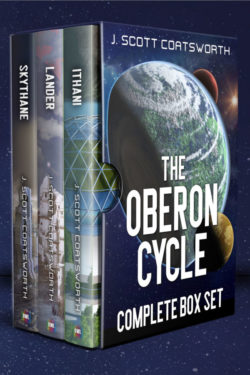 Liminal Sky: Oberon Cycle Complete Box Set
Word Count:

132,000
Summary: The valley of the River Wystan is isolated from the rest of the world. Many years before it had been united under the Lord of Cold Spring, who had suppressed the practice of magic. But when he died, his son wasn't strong enough to hold the other lords' loyalty. Now Lord Garrick, the new Lord of Cold Spring, means to resume his grandfather's role of overlord for the whole valley. Young Richart Tallengen, newly minted Lord of Esterby, tries to fight off Lord Garrick's men, but he's captured and carried to Cold Spring Castle. When his sister Maura comes to Cold Spring to see her brother, she catches Lord Garrick's eye. Lord Garrick is as attracted by her courage and her brains as much as by her looks, but he is very surprised to discover that there is more to Maura than meets the eye. She has magical abilities, even though she doesn't know it.
Hidden Magic