Paranormal fiction including hauntings and spiritual beings impinging upon Earth's mortal plane. Return to general Paranormal
Note: these books are currently sorted by release date, with newest first.
Word Count:

38000
Summary: RISE (noun / verb) Eight definitions to inspire writers around the world, and an unlimited number of possible stories to tell: 1) An upward slope or movement 2) A beginning or origin 3) An increase in amount or number 4) An angry reaction 5) To take up arms 6) To return from death 7) To become heartened or elated 8) To exert oneself to meet a challenge Rise features 300-word speculative flash fiction stories from across the rainbow spectrum, from the minds of the writers of Queer Sci Fi.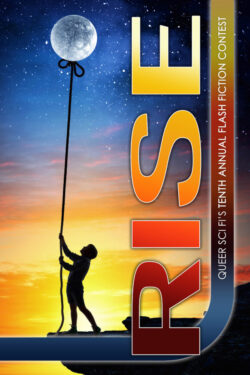 Rise
Word Count:

50800
Summary: Never look a mannequin in the eyes! Edi has collected antiques and ghost stories for as long as they can remember. Some old objects buzz with history, and when Edi touches them, they see fragments of the item's story. But are the visions real? Edi desperately wants to believe in the supernatural until a mysterious ghost transforms their mom into a mannequin. Helped by Delilah, a thirteen-year-old psychic, Edi researches local hauntings to untangle how and why their mom became a mannequin. When Edi finally employs their ability to see an artifact's history, they learn the terrifying truth. The ghost that turned Edi's mom into a mannequin wants to resurrect herself, and she doesn't care how many people she murders in the process. If Edi doesn't put her spirit to rest by the end of the summer solstice, dozens of people will be forever mannequinized, including Edi and Delilah's moms. Find out what happens in Junk Junction by Sara Codair!
Junk Junction
Word Count:

90000
Summary: Alan I haven't been out with a guy in the last two years. Partly because I'm a gay elementary-school teacher in a fairly small, conservative town. Partly because I'm a sorcerer, and dating ordinary humans only leads to trouble. Sleeping with one though? That's doable, so when my birdbrained familiar Sunny lines up a tall, muscular firefighter for me, I'm not going to say no. Just once, though. Maybe twice. I don't need more trouble in my life. Jason I don't regret moving back to my hometown and my big family. Well, not much. I'm not out to them, and I miss the anonymity of the big city, but I like the local fire house and the slower-paced life. Still, when I see my niece's teacher, Mr. Hiranchai, in gray sweatpants talking to a mini-parrot on his shoulder, something inside me (or maybe something in front of me) perks up and says "I want that one." I can't have an actual boyfriend, but I sure wouldn't mind getting laid, and Alan's slim, dark-haired, smart-assed style rings all my bells. It's no surprise we turn out to be great together, even if my job and his responsibilities make it hard to find time. It is a surprise when I realize I want more than just an occasional night. But some weird fires out in the brush keep us firefighters hopping, and when this strange carnival comes to town and lands me with a pair of magical doll shoes, life gets truly confusing. There's more to Alan than he's telling me, and I'm getting a bad, bad feeling about all this. Magic Burning is a story in the Necromancer universe, 60 years after Marked by Death, and is part of the multi-author Carnival of Mysteries Series. Each book stands alone, but each one includes at least one visit to Errante Ame's Carnival of Mysteries, a magical, multiverse traveling show full of unusual acts, games, and rides. The Carnival changes to suit the world it's on, so each visit is unique and special. This book contains a snarky, matchmaking bird, a lonely young teacher, and a gay firefighter finally coming out to his large family.
Magic Burning
Word Count: Information not available
Summary: Do you think ghosts haunt only houses? As a repo man, Mel just pulled off the smoothest take of his life. Kate, a college student, was undecided on which major to pursue. All of their plans went out the window the night Mel found Kate in the back of a '74 Nova. When Mel becomes a suspect in Kate's murder, he must leave his life behind and make a new start in Sacramento, where he and Kate meet other people with supernatural gifts. But not everything is sunshine and roses in California. Awakening to power comes at a cost, and all ghosts eventually become monsters. Can Mel trust these new friends in Sacramento? Can he help Kate find some peace without landing himself in jail? The fateful night Mel slipped behind the wheel of an old Chevy, it wasn't just the car that became repossessed.
The Repossessed Ghost
Word Count: Information not available
Summary: A boy is in danger when he stumbles upon a crime committed by two prominent men of his town, but finds an unusual ally in the form of a castle ghost. Twelve-year-old Haycorn may know all about ghosts of Ohio, but even he is stunned when he and his friend Budge encounter a ghost in a castle. The boys witness a clandestine meeting there between two men involving a kick-back scheme, putting their lives, and that of Haycorn's mother, in jeopardy. But the ghost may have other plans for all of them.
Haycorn Smith and the Castle Ghost
Word Count:

50000
Summary: A magical bookshop holds the keys. When Mason Chynoweth inherits an old house in small-town New Zealand, he hopes to discover what happened to his great-great uncle Lewis after he returned from the war in 1945. Mason's first encounter with the property is thankfully reassuring—his sensitive psychic powers aren't triggered and he has a calm sense of coming home. Elijah Whitaker arrives in Kedgetown for an extended visit with his aunts. He's quickly drawn to Mason and offers to help him try to find some answers in the dusty old house. It soon becomes clear that Mason is keeping secrets, but Elijah has a few secrets of his own. Like his closely guarded knowledge of the hidden supernatural world, and the fact that many of the townspeople are psi and supernaturals. What is the connection between the house and Postscript, the town's enigmatic bookshop? Mason's glimpses of the past give some clues, but not enough to make sense of the puzzle. When a hidden journal comes to light, the true story of Lewis's journey is revealed, and his path and Mason and Elijah's begin to intertwine.
Postscript
Word Count:

99600
Summary: After her adventures in Time Portals of Norwich, Cassie Fox makes a promise to both her grandfather and her best friend, Georgia, never to time travel again. So, how did she end up in the deep past with her recent memories wiped, and her time travelling abilities gone? Is she being punished? Did she press the big red button? Will she ever see her grandfather and friends again? And what has Robert Kett and his rebellion got to do with it all? Of more immediate concern, though, are the pains in her stomach.
Time's Revenge
Word Count:

97000
Summary: The seas spell freedom. Pirates and kraken, boats and submarines, deadly sirens, mermaids, and the women who face them all. These are our heroes. High seas adventure, fantasy, and magic weave together in this sapphic anthology focusing on the joy of the unbounded oceans. If you like diverse stories with lesbian and sapphic heroines exploring oceans, battling sea monsters, and seducing pirates, buy Farther Reefs today! With stories by: Sarah Day and Tim Pratt, Kim Pritekel, Kyoko M. Sara Codair, William C. Tracy, N.L. Bates, Robin C.M. Duncan, Vanessa Ricci-Thode, Margaret Adelle, and J.S. Fields Genres: Science Fiction / Fantasy / Adventure / Lesbian / LGBT and Non Binary Market: Adult
Farther Reefs
Word Count:

33000
Summary: Clarity (noun) Four definitions to inspire writers around the world and an unlimited number of possible stories to tell: 1) Coherent and intelligible 2) Transparent or pure 3) Attaining certainty about something 4) Easy to see or hear Clarity features 300-word speculative flash fiction stories from across the rainbow spectrum, from the minds of the writers of Queer Sci Fi.
Clarity
Word Count: Information not available
Summary: In the fourth and final installment for the series, Alex faces his most difficult case yet: the school bully. For two years, Kyle had no qualms making Alex's life even more complicated than it already was. Choosing to single him out for his psychic abilities, the angry teen took every chance to undermine Alex's well-being. But When Kyle is unexpectedly murdered, his ghost seeks out Alex for the very power he'd been stigmatized for. Despite their fraught history, Alex must set aside old wounds to help a soul in need. Searching for the killer, Alex uncovers why Kyle had victimized him so intensely, and it's not what he ever could have expected.  The truth, it turns out, will set them both free.
Alex McKenna & Death Is Not The Beginning
Word Count:

74000
Summary: Sometimes you have to fight fire with fire. Darien's ready for a quiet life— back to studying, sleeping with his ridiculously appealing necromancer, playing magical Fetch with his dog-familar. But breaking the demon portals was only a temporary solution, when there are sorcerers out there rebuilding them. Much as he'd like to shove the rest of the job on someone else, Darien's not willing to see his world burn. Silas is ready to turn the whole hunting-dark-sorcerers mess over to the Guild. Except he doesn't trust his council members as far as he can throw them, the sorcerer Chicago has sent sets his teeth on edge, and if they get it wrong, Darien's life is at risk. So with Grim at his side, and Pip encouraging Darien, they, Jasper, and Magda will take on one more hunt to find and stop the portal-builders.
Consumed by Fire
Word Count:

73000
Summary: Vampires and werewolves live long lives. The Sleepless City saga might have ended but the story continues… Someone is hunting supernaturals.  Vampire Simon Hawthorne and his human partner Ben Leyton's plans for a peaceful holiday with family are hijacked by the New Zealand Supernatural Council. Tensions are on the rise in Wellington. Supernatural councillors are disappearing. Werewolves are suspicious of anyone human or vampire. If they don't work together, their enemy has already won. And no one with a connection to the supernatural world is safe.
Double Exposure
Word Count:

7000
Summary: Emma and her Aunt Agathe share a family resemblance - they can both speak to ghosts. But Agathe, rejected by her family and constantly beset by heartache, has spent her whole life fleeing her unusual gift. Emma, however, embraces it. Grave Songs for the Dead is a cycle of three interconnected short stories, gothic with a touch of magic realism, set in the late 19th century.
Grave Songs for the Dead: A Short Story Cycle
Word Count:

68000
Summary: They'll take a leap into the unknown to protect the world. There's something seriously wrong with Earth's magic. A demon has appeared unsummoned out of thin air, familiars can't return Home, and as Grim points out, rats smell like summer in the middle of winter. Grim and Pip can deal with rats; Silas can banish one wayward demon. But soon there are other demons, more each day, and Silas's old mansion is full of mysteries. He and Darien will need their familiars, their friends, plus a whole lot of luck, as they search beyond Earth for the forces that have changed their world. And to have any chance of getting safely home, Silas will have to confront a past he's avoided for ten long years.
Beset by Demons
Word Count:

98000
Summary: The Big Cinch embeds readers in a magic-laced St. Louis, once known as Mound City, home of the indigenous Americans' Mississippian ancestors. Little evidence of their civilization survives in 1924, apart from the popular Piasa monster image, invoked to sell plows as well as ornament civic pageants. Sean Joye, a recent Irish immigrant, tried to avoid fae attention and ignore his magical abilities since childhood. A young veteran of 1922's Irish Civil War, he aims to atone for his assassin past and make a clean life in America.  Sean helps a wealthy, powerful, magic-dabbling family—founders of the most exclusive club in town, the Piasa Lodge--with a discreet inquiry or two. Sexually involved with a secretive, high-society flapper, he falls hard for her fiancé, a Great War flying ace with a few secrets of his own. But Sean asks the wrong questions about a kidnapped toddler and missing Native American artifacts and becomes a suspect in his lover's bludgeoning and a tycoon's murder. Can he master the paranormal abilities he's rejected for so long in time to protect the innocent and save his own skin?
The Big Cinch
Word Count: Information not available
Summary: For a minute, everything in Alex McKenna's life was perfect. He only had one year left of high school, his girlfriend Margaret was the love of his life, and he couldn't ask for a more supportive family. His psychic powers were growing and he was learning more and more about his family's abilities as Strega witches. Things were good. Until the night it all fell to pieces. As Margaret lies in the hospital after a serious car accident, her disembodied spirit searches for a way back to the living. Alex is desperate to save her and the victims of his next case: an ominous being haunting the hospital and stealing the souls of infants and the elderly, sending them straight to Hell.
Alex McKenna and A Winter's Night
Word Count:

4576
Summary: Sometimes, we get second chances -- at love, to make things right, to say good-bye the way it should have been said. Darian promised his dying husband Randy he would go through with the plan to teach summer school in Bath, England. Randy insisted; it was always Darian's dream to live in England, go, do it. But once there, in Tintagel, on a street in Coverack, a small Cornish seaside village, Darian sees Randy. Grief can make us see things, right? So Darian tells himself, until the man whom he buried, whose ashes he carried with him to England, sits down beside him on a bench in front of Bath Abbey, with screaming seagulls nearby. It seems the dead can come back. But why and how? Has Randy come to take Darian with him? Or is something else going?
Seagulls
Word Count:

65000
Summary: Witches, ghouls, and mind readers—oh my! Murder and mystery abound in this supernatural novel. Vega Bloodmire has no problem with the label "villainous witch," though she draws the line at being called a self-centered hag. Life isn't easy being twenty-two, drop-dead gorgeous, and the most fashionable witch in all the land—especially while working as an intern teacher at a magical boarding school. Just when Vega thinks she has student teaching figured out, she is framed for murder. Worse yet, she fears she might have revealed her darkest secret—one so awful she will be shunned by Witchkin society even if she can prove her innocence. Vega needs to find the true culprit behind this crime in order to save her reputation—and her life. Enjoy this spin-off series from the world of Womby's School for Wayward Witches. This book starts with Vega Bloodmire's life before working at Womby's when she was a new and inexperienced teacher at Encantado Charter Academy. It is the first book in the series of stand-alone novels. These mysteries are meant to be read in any order. Clean, cozy, no sex or swearing, PG 13—perfectly fine for teens or grandmas who like paranormal mysteries at magical boarding academies.
Too Ghoul for School
Word Count:

36000
Summary: INK (NOUN) Five definitions to inspire writers around the world and an unlimited number of possible stories to tell: 1) A colored fluid used for writing 2) The action of signing a deal 3) A black liquid ejected by squid 4) Publicity in the written media 5) A slang word for tattoos Ink features 300-word speculative flash fiction stories from across the rainbow spectrum, from the minds of the writers of Queer Sci Fi.
Ink
Word Count:

132,000
Summary: Rules were made to be broken. From terraformed outposts to magical realms, journey to worlds where deadly plants, rampant biodiversity, or failed colonies have created irresistible opportunities for those brave enough to seize them. New worlds, found family, mystical secrets, and deadly science weave together in this lesbian-centric anthology focusing on a very different kind of first time—a first encounter with a world, or being, entirely unlike our own. If you like diverse stories with lesbian heroines practicing science, magic, and seduction, buy Distant Gardens today!
Distant Gardens
N.L. Bates , Sara Codair , Robin C.M. Duncan , Wil...