Paranormal fiction including hauntings and spiritual beings impinging upon Earth's mortal plane. Return to general Paranormal
Note: these books are currently sorted by release date, with newest first.
Filter by:
Genres
Fantasy
Fantasy - Alternate History
Fantasy - Comedy
Fantasy - Contemporary
Fantasy - Dark Fantasy
Fantasy - Erotica
Fantasy - Faery & Fae
Fantasy - Fairy Tale / Folklore
Fantasy - Fantasy of Manners
Fantasy - Gothpunk
Fantasy - Heroic
Fantasy - High & Other World
Fantasy - Historical
Fantasy - Hopepunk
Fantasy - Knights & Castles
Fantasy - Latinpunk
Fantasy - LGBTQ+
Fantasy - LitRPG
Fantasy - Low Fantasy
Fantasy - Magical Realism
Fantasy - Mythic
Fantasy - Mythpunk
Fantasy - New Adult
Fantasy - Paranormal
Fantasy - People of Color
Fantasy - Piratepunk
Fantasy - Quiet
Fantasy - Romance
Fantasy - RPG
Fantasy - Slipstream
Fantasy - Steampunk
Fantasy - Sword & Sorcery
Fantasy - Urban & Magical Beings
Fantasy - Weird Fantasy
Fantasy - Young Adult
Fantasy – Gods and Heroes
Horror
Horror - Angels & Devils
Horror - Comedy
Horror - Fairy Tale/Folklore
Horror - Ghosts & Haunted Houses
Horror - Gothic
Horror - LGBTQ+
Horror - LitRPG
Horror - Lovecraftian/Cthulhu
Horror - Man-Made Horrors
Horror - Monsters
Horror - Mythic
Horror - New Adult
Horror - Noir
Horror - Occult
Horror - People of Color
Horror - Post-Apocalyptic
Horror - Psychic Talents
Horror - Psychological
Horror - Shifters
Horror - Splatterpunk
Horror - Vampires
Horror - Weird Horror
Horror - Werewolves
Horror - Witches
Horror - Young Adult
Horror - Zombies
Nonfiction
Nonfiction - Writing Guides
Paranormal
Paranormal - Angels & Devils
Paranormal - Comedy
Paranormal - Dark
Paranormal - Ghosts & Haunted Houses
Paranormal - LGBTQ+
Paranormal - LitRPG
Paranormal - Magical Beings
Paranormal - Monsters
Paranormal - New Adult
Paranormal - People of Color
Paranormal - Psychic Talents
Paranormal - Reincarnation
Paranormal - Romance
Paranormal - Shifters
Paranormal - Vampires
Paranormal - Young Adult
Paranormal - Zombies
Poetry
Sci Fi
Sci Fi - Alien Invasion
Sci Fi - Alien Races
Sci Fi - Aliens
Sci Fi - Alternate / Parallel Reality
Sci Fi - Alternative History
Sci Fi - Apocalyptic Fiction
Sci Fi - Artificial Intelligence
Sci Fi - Biopunk
Sci Fi - Christian
Sci Fi - Climate Fiction (Cli-Fi)
Sci Fi - Clockpunk
Sci Fi - Clones
Sci Fi - Colonization
Sci Fi - Comedy
Sci Fi - Cyberpunk
Sci Fi - Cyberspace
Sci Fi - Decopunk
Sci Fi - Detective
Sci Fi - Dieselpunk
Sci Fi - Distant Planet
Sci Fi - Dying Earth
Sci Fi - Dystopian & Post-Apocalyptic
Sci Fi - First Contact
Sci Fi - Frontier
Sci Fi - Furry
Sci Fi - Galactic Empire
Sci Fi - Generation Ship
Sci Fi - Genetic Manipulation
Sci Fi - Gothpunk
Sci Fi - Greenpunk
Sci Fi - Hard Sci Fi
Sci Fi - Hollow Earth
Sci Fi - Hopepunk
Sci Fi - Human Evolution
Sci Fi - Immortality
Sci Fi - LGBTQ+
Sci Fi - LitRPG
Sci Fi - Lost Worlds
Sci Fi - Military
Sci Fi - Mind Uploads
Sci Fi - Multiverse
Sci Fi - Mutants
Sci Fi - Nanopunk
Sci Fi - Near Future
Sci Fi - New Adult
Sci Fi - Nowpunk
Sci Fi - People of Color
Sci Fi - Piratepunk
Sci Fi - Pulp
Sci Fi - Realistic
Sci Fi - Robots/Androids
Sci Fi - Romance
Sci Fi - RPG
Sci Fi - Science Fantasy
Sci Fi - Singularity
Sci Fi - Slipstream
Sci Fi - Social
Sci Fi - Soft
Sci Fi - Solarpunk
Sci Fi - Space Exploration
Sci Fi - Space Opera
Sci Fi - Space Western
Sci Fi - Spacepunk
Sci Fi - SpyFi
Sci Fi - Steampunk
Sci Fi - Superheroes & Villains
Sci Fi - Terraforming
Sci Fi - Teslapunk
Sci Fi - Theological
Sci Fi - Time Travel
Sci Fi - Transhuman
Sci Fi - Uplift
Sci Fi - Utopian
Sci Fi - Virtual Reality
Sci Fi - Weird Sci Fi
Sci Fi - Young Adult
Tropes
Abandoned Place
AI Uprising
Alien Artifacts
Alien Eggs
Alien Invasion
Alien Ruins
Aliens Among Us
Aliens as God
Aliens in History
Ancient Astronauts
Ancient Weapon
Antihero
Arthurian Legends
Asteroid Miner
Astral Projection
Bad Robot
Band of Brothers/Sisters
Band of Misfits
Bar Tales
Becoming a Monster
Benevolent Aliens
Beyond the Grave Communication
Big Sword
Black and White Morality
Body Modifications
Bodysnatchers
Book of Spells
Born Hero
Burial Ground/Cemetary
Changing Painting
Chosen One
Clones
Conspiracy
Crazy Clairvoyants
Cross-Species Friendships
Cryosleep
Dark Enemy
Dark Lord
Death by Sex
Demonic Possession
Dragonriders
Dying World
Dystopian Governments
Enemy to Ally
Evil Megacorporation
Evolving Powers
Fallen Hero
Farmer to Hero
Farmer to Royalty
Fated Mates
Fellowship
Fetus of Doom
First Contact
Fish Out of Water
Found Family
FTL
Galactic Civilization
Generation Ships
Good Robots
Haunted House
Here Comes the Cavalry
Humanity is Dangerous
Humanity is Good
Humans Evolved From Aliens
Hunted
I Am Your Father
I See Dead People
Immortality
Inaccessible Magic
Interspecies Adoption
Interspecies Romance
Interstellar Travel
Killer Aliens
Library of Secrets
Lost Civilization
Lucky Novice
Mad Scientist
Magic Furniture
Magic Talisman
Magical Disaster
Marooned
Mirror Shows True Self
Modern Human in Fantasy World
Museum/Store of the Unusual
No Cell Coverage
Old Person in the Woods
Oxygen Leak
Parallel Worlds
Past People/Future Tech
Person in Distress
Portals
Possession
Post-Apocalyptic
Powerful Artifact
Prophesy
Pseudo European Society
Psionic Powers
Quest
Redemption Arc
Reluctant Hero
Reluctant Vampires
Robin Hood Legends
Roguish Thief
Secret Heir
Secret Royalty
Secret Society
Sentient AI
Sentient Spaceships
Sex Magic
Singularity
Space Battles
Space Dentistry
Space Detectives
Space is Empty
Space is Full
Space Medicine
Space Pilot
Space Pirates
Space Psychology
Space Smugglers
Superpowers
Sword of Destiny
Time Loop
Time Travel
Training
Ultimate Evil
Undiscovered Planet
Uploaded Consciousness
Vengeful Spirit
Villain to Hero
Waiting/Sleeping Evil
Wise Mentor
Tags
author - american
author - arabian
author - australian
author - belgian
author - british
author - canadian
author - dutch
author - european
author - french
author - italian
author - new zealander
author - saudi arabian
format - anthology
format - audiobook
format - book
format - box set
format - collection
format - free
format - hardcover
format - illustrated novel
format - kindle
format - kindle unlimited
format - large print
format - netgalley
format - novel
format - novel >100K
format - novel <100K
format - novel 40-100K
format - novella 15k-40K
format - novellette <15k
format - omnibus edition
format - paperback
format - payhip
format - planner
format - prequel
format - self published
format - sequel
format - series
format - shared universe
format - short stories
format - short story <15K
identity - aromantic
identity - asexual
identity - bisexual
identity - demisexual
identity - gay
identity - gender fluid
identity - intersex
identity - lesbian
identity - non-binary
identity - pansexual
identity - polyamorous
identity - transgender
potential trigger
potential trigger - abduction-captivity
potential trigger - addiction
potential trigger - avalanche
potential trigger - blood
potential trigger - death
potential trigger - gore
potential trigger - graphic torture
potential trigger - murder
potential trigger - rape
potential trigger - sexual abuse
potential trigger - stalking
potential trigger - suicidal ideation
potential trigger - suicide
potential trigger - torture
potential trigger - traumatic past
potential trigger - violence
what - concept - amnesia
what - concept - curse
what - condition - blindness
what - condition - disability
what - condition - mental illness
what - condition - ptsd
what - element - ferocious poodle
what - holiday - general
what - topic - cartel
what - topic - chinese medicine
what - topic - chinese mythology
what - topic - climate change
what - topic - compassion
what - topic - crime
what - topic - desert survival
what - topic - disaster
what - topic - flying
what - topic - genetic engineering
what - topic - harem
what - topic - haunting
what - topic - japanese mythology
what - topic - learning disabilities
what - topic - legend
what - topic - magic
what - topic - multicultural
what - topic - music
what - topic - natural disaster
what - topic - non-violence
what - topic - politics
what - topic - ransom
what - topic - reincarnation
what - topic - religion
what - topic - revenge
what - topic - science experiment
what - topic - secret
what - topic - secret organization
what - topic - superstition
what - topic - taboo
what - topic - technology
what - topic - terrorism
when - period - 16th century
when - period - 17th century
when - period - 18th century
when - period - 1920s
when - period - 1930s
when - period - 1950s
when - period - 1960s
when - period - 1970s
when - period - 1980s
when - period - 1990s
when - period - 19th century
when - period - 20th century
when - period - ancient greece
when - period - ancient rome
when - period - edwardian
when - period - georgian
when - period - great war
when - period - middle ages
when - period - near future
when - period - prehistoric
when - period - prohibition
when - period - victorian
where - fictional - moon colony
where - general - alternate universe
where - general - carnival
where - general - castle
where - general - cave
where - general - cruise ship
where - general - forest
where - general - military
where - general - mountains
where - general - private school
where - general - rural
where - general - small town
where - general - swamp
where - general - uncharted island
where - general - underground
where - general - underwater
where - Mars
where - non-Earth planet
where - space - international space station
where - space - space station
where - space station
where - spaceship
who - description - alpha male
who - description - alphas and omegas
who - description - tattoos
who - magical humans
who - occupation - apothecary
who - occupation - archaeologist
who - occupation - artist
who - occupation - assassin
who - occupation - astronaut
who - occupation - astronomer
who - occupation - author
who - occupation - baker
who - occupation - barista
who - occupation - bodyguard
who - occupation - botanist
who - occupation - bounty hunter
who - occupation - castle laird
who - occupation - computer programmer
who - occupation - contractor
who - occupation - coroner
who - occupation - cowboys
who - occupation - detective
who - occupation - doctor
who - occupation - engineer
who - occupation - ex-convict
who - occupation - federal agent
who - occupation - guard
who - occupation - hacker
who - occupation - healer
who - occupation - herbalist
who - occupation - historian
who - occupation - horsemaster
who - occupation - innkeeper
who - occupation - inventor
who - occupation - journalist
who - occupation - king
who - occupation - knight
who - occupation - law enforcement
who - occupation - librarian
who - occupation - lord
who - occupation - mage
who - occupation - marine
who - occupation - mechanic
who - occupation - medical
who - occupation - mercenary
who - occupation - military
who - occupation - missionary
who - occupation - motorcycle rider
who - occupation - musician
who - occupation - nurse
who - occupation - pilot
who - occupation - pirate
who - occupation - police
who - occupation - politician
who - occupation - priest
who - occupation - prince
who - occupation - prisoner
who - occupation - professor
who - occupation - psychic
who - occupation - royalty
who - occupation - sailor
who - occupation - scientist
who - occupation - security
who - occupation - serial killer
who - occupation - servant
who - occupation - sex worker
who - occupation - sheriff
who - occupation - soldier
who - occupation - space marines
who - occupation - spaceship captain
who - occupation - spy
who - occupation - starship captain
who - occupation - student
who - occupation - superhero
who - occupation - tattoo artist
who - occupation - teacher
who - occupation - thief
who - occupation - tracker
who - occupation - undercover agent
who - occupation - warrior
who - occupation - writer
who - religion - catholic
who - religion - jewish
who - religion - muslim / islamic
who - religion - pagan
who - religion - shinto
who - sea dragon shifter
who - shifter
who - type - alien
who - type - altered human
who - type - angels
who - type - badass heroine
who - type - bear shifters
who - type - bigfoot
who - type - centaur
who - type - cyborg
who - type - demons
who - type - dragon shifters
who - type - dragons
who - type - elves
who - type - fae
who - type - fox
who - type - ghosts
who - type - god
who - type - griffins
who - type - incubus
who - type - kitsune
who - type - merman
who - type - nekomata
who - type - nephilim
who - type - panther shifters
who - type - reindeer shifters
who - type - robot / cyborg
who - type - sea god
who - type - selkie
who - type - spiders
who - type - spirit
who - type - succubus
who - type - unicorns
who - type - vampires
who - type - vegan
who - type - werecats
who - type - werewolves
who - type - witch
who - type - wizard
who - type - wolf
who - type - yokai
who - type - zombies
who - world defender
Word Count: Information not available
Summary: In the fourth and final installment for the series, Alex faces his most difficult case yet: the school bully. For two years, Kyle had no qualms making Alex's life even more complicated than it already was. Choosing to single him out for his psychic abilities, the angry teen took every chance to undermine Alex's well-being. But When Kyle is unexpectedly murdered, his ghost seeks out Alex for the very power he'd been stigmatized for. Despite their fraught history, Alex must set aside old wounds to help a soul in need. Searching for the killer, Alex uncovers why Kyle had victimized him so intensely, and it's not what he ever could have expected.  The truth, it turns out, will set them both free.
Alex McKenna & Death Is Not The Beginning
September 20, 2022
Word Count:
73000
Summary: Vampires and werewolves live long lives. The Sleepless City saga might have ended but the story continues… Someone is hunting supernaturals.  Vampire Simon Hawthorne and his human partner Ben Leyton's plans for a peaceful holiday with family are hijacked by the New Zealand Supernatural Council. Tensions are on the rise in Wellington. Supernatural councillors are disappearing. Werewolves are suspicious of anyone human or vampire. If they don't work together, their enemy has already won. And no one with a connection to the supernatural world is safe.
Double Exposure
July 11, 2022
Word Count:
7000
Summary: Emma and her Aunt Agathe share a family resemblance - they can both speak to ghosts. But Agathe, rejected by her family and constantly beset by heartache, has spent her whole life fleeing her unusual gift. Emma, however, embraces it. Grave Songs for the Dead is a cycle of three interconnected short stories, gothic with a touch of magic realism, set in the late 19th century.
Grave Songs for the Dead: A Short Story Cycle
April 5, 2022
Word Count:
68000
Summary: They'll take a leap into the unknown to protect the world. There's something seriously wrong with Earth's magic. A demon has appeared unsummoned out of thin air, familiars can't return Home, and as Grim points out, rats smell like summer in the middle of winter. Grim and Pip can deal with rats; Silas can banish one wayward demon. But soon there are other demons, more each day, and Silas's old mansion is full of mysteries. He and Darien will need their familiars, their friends, plus a whole lot of luck, as they search beyond Earth for the forces that have changed their world. And to have any chance of getting safely home, Silas will have to confront a past he's avoided for ten long years.
Beset by Demons
February 22, 2022
Word Count:
98000
Summary: The Big Cinch embeds readers in a magic-laced St. Louis, once known as Mound City, home of the indigenous Americans' Mississippian ancestors. Little evidence of their civilization survives in 1924, apart from the popular Piasa monster image, invoked to sell plows as well as ornament civic pageants. Sean Joye, a recent Irish immigrant, tried to avoid fae attention and ignore his magical abilities since childhood. A young veteran of 1922's Irish Civil War, he aims to atone for his assassin past and make a clean life in America.  Sean helps a wealthy, powerful, magic-dabbling family—founders of the most exclusive club in town, the Piasa Lodge--with a discreet inquiry or two. Sexually involved with a secretive, high-society flapper, he falls hard for her fiancé, a Great War flying ace with a few secrets of his own. But Sean asks the wrong questions about a kidnapped toddler and missing Native American artifacts and becomes a suspect in his lover's bludgeoning and a tycoon's murder. Can he master the paranormal abilities he's rejected for so long in time to protect the innocent and save his own skin?
The Big Cinch
December 31, 2021
Word Count: Information not available
Summary: For a minute, everything in Alex McKenna's life was perfect. He only had one year left of high school, his girlfriend Margaret was the love of his life, and he couldn't ask for a more supportive family. His psychic powers were growing and he was learning more and more about his family's abilities as Strega witches. Things were good. Until the night it all fell to pieces. As Margaret lies in the hospital after a serious car accident, her disembodied spirit searches for a way back to the living. Alex is desperate to save her and the victims of his next case: an ominous being haunting the hospital and stealing the souls of infants and the elderly, sending them straight to Hell.
Alex McKenna and A Winter's Night
December 14, 2021
Word Count:
4576
Summary: Sometimes, we get second chances -- at love, to make things right, to say good-bye the way it should have been said. Darian promised his dying husband Randy he would go through with the plan to teach summer school in Bath, England. Randy insisted; it was always Darian's dream to live in England, go, do it. But once there, in Tintagel, on a street in Coverack, a small Cornish seaside village, Darian sees Randy. Grief can make us see things, right? So Darian tells himself, until the man whom he buried, whose ashes he carried with him to England, sits down beside him on a bench in front of Bath Abbey, with screaming seagulls nearby. It seems the dead can come back. But why and how? Has Randy come to take Darian with him? Or is something else going?
Seagulls
September 4, 2021
Word Count:
36000
Summary: INK (NOUN) Five definitions to inspire writers around the world and an unlimited number of possible stories to tell: 1) A colored fluid used for writing 2) The action of signing a deal 3) A black liquid ejected by squid 4) Publicity in the written media 5) A slang word for tattoos Ink features 300-word speculative flash fiction stories from across the rainbow spectrum, from the minds of the writers of Queer Sci Fi.
Ink
August 10, 2021
Word Count:
54000
Summary: Silas Thornwood's worst nightmare has come to life. Darien's familiar Pip is gravely injured, and Darien and Jasper have been kidnapped. Someone ruthless and violent is holding the man Silas loves prisoner, for purposes he doesn't want to imagine. Silas needs help from his friends to locate and rescue Darien. And when he does, those responsible― whether sorcerer, human, or demon― are going to be truly, utterly sorry…
Trapped by Greed
July 29, 2021
Word Count:
73027
Summary: If blood really is thicker than water, are the ties that bind a found family stronger than the ties of blood? After a decade of homelessness and living off his own wits, Tris has lost all faith in the kindness of strangers. And after years of letting his friends down time after time, Ozzy knows he's the last person anyone should count on. When Tris's search for his lost younger brother lands him in a small town at an overly-friendly Bed and Breakfast, everyone, including the B and B herself, seem to be pushing Tris and Ozzy together. Tris learned a long time ago, under the fists of his manipulative step-father, that family can't be trusted, and love means nothing. Torn between the desire to see Tris thrive in his new home, and the need to protect the very younger brother Tris came looking for, Ozzy has some hard choices ahead. Welcome back to Griffon's Elbow and The Oaks B&B, aka Mildred. She's not the only sentient house in town.
Brother's Keeper
May 31, 2021
Word Count:
68900
Summary: Romance, mystery, and an impossible relationship. Meet David:  Sculptor.  Wealthy.  Introvert.  Suffering from the loss of his wife.  The last thing he needs is to discover that his newly purchased mansion is haunted. Meet Sarrinah:  Born 1882, died 1903.  She was smart, well read, fun.  Too bad she can't rest in peace. Sarrinah and David are both flawed, but just so lovely – if only they can get over the tragedies of their past that are weighing them down… and the fact that one of them is a ghost.
Love Whispers Through the Veil
May 15, 2021
Word Count: Information not available
Summary: Who doesn't crave a little escape? Dreaming of small town life and rural charm, Alex and Rainey find a deal on an old rustic home they can't resist. But soon after Rainey moves, her preoccupation with weird local history and the complications of living alone in the woods take a toll. Alex worries that the long nights and growing isolation are driving her stir crazy. When the Sugar House is damaged and Rainey goes missing, Alex doesn't know where to turn. Was it a storm, vandals, or something worse? What happened at the Sugar House? The only thing worse than wondering is finding out.
Liar: Memoir of a Haunting
February 22, 2021
Word Count: Information not available
Summary: Queer horror ekphrasis. A widowed witch with Schizoaffective Disorder moves from Los Angeles to Reno, Nevada. Watching "American Horror Story," as exposure therapy for PTSD. Identifying and departing from it at key plot moments. No copyright infringement intended. Sequel to Hollywood Hedgewitch.
Grieving Through American Horror Story
January 16, 2021
Word Count:
26085
Summary: Sometimes the unexpected becomes magical. When August Shaw takes an unplanned vacation at the Oaks B & B, he decides on a bold step—to slip into his vintage feminine wardrobe and let himself feel beautiful. He usually plans every detail of his life, but is counting on bestie, Nicole, to boost his courage. When Nicole can't join him, and Jan Koskinen—the man August has crushed on for years—arrives instead, August risks accepting Jan's invitation to join in the Beat the Winter Blues Festival. The spontaneous weekend turns romantic, but August can't help his uncertainties, even as the people at the Oaks—along with a very uncanny house—encourage him to live in the moment. Can August accept the spontaneous whirlwind winter romance… or will his questions leave him standing in the cold?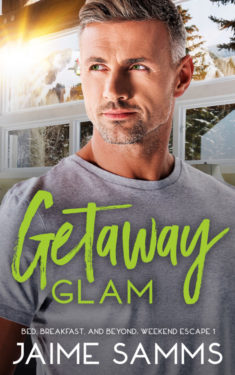 Getaway Glam
January 15, 2021
Word Count:
69861
Summary: A loving boyfriend, generous friendships, and a thriving business—Arnold Kreed should be ecstatic. So why does he feel like he's standing on the edge of an abyss? When Kreed took a chance on a thief—letting Lucky into his world, his life, his heart—he hardly imagined he would find the love and acceptance he didn't dare dream of. Lucky draws people to him, and his extended found family embraces Kreed. Now in an established relationship, despite Kreed's ex causing trouble again, Lucky and Kreed are working toward making a life together. But Kreed is unsettled, unable to find his bliss. He is getting grumpier, and he can feel his people, including his beloved self-aware house, Mildred, pulling away… How can Kreed get back to the joy he so recently found if he has no idea what's wrong?
Innkeeper's Blues
December 27, 2020
Word Count:
23000
Summary: Christmastime brings out memories, and ghosts. Silas tracks down a poltergeist haunting a local tree farm. Darien hopes to convince Silas that despite experiences with demons and hells, Christmas can still be fun. Pip tries to catch his first rat. And Grim watches from a high vantage point and a position of moral superiority—he has holiday memories of his own, but cats know how to keep a secret. - A 23,000 word holiday novella in the Necromancer series.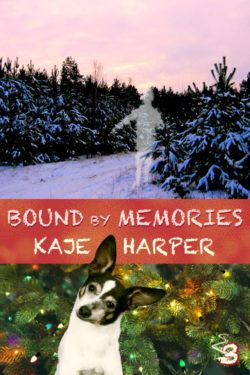 Bound by Memories
December 19, 2020
Word Count:
95000
Summary: When Orion joins an established coven of powerful mages he is unsure how he will fit into the group. The four elemental mages have had centuries to build both their powers and their relationships while Orion is little more than a stranger. As a light mage, Orion has the power to heal, but as he comes to know the other members of the coven, he learns that not all wounds are visible, and healing tortured souls and broken hearts isn't as easy as fixing broken bones. Orion must bring them all together before they tear themselves apart. Only when the coven is strong will they be able to welcome the dark mage who will complete the circle and give them the power to defeat a mage who has waited centuries to exact revenge on the former members of his coven. READER ADVISORY: This story is a ménage and more story with emphasis on the more.
Soul Magic
October 31, 2020
Word Count:
52000
Summary: Detective Thaddeus Ezax is in over his head. He's the only wizard in Rockshade's Paranormal Investigations Department, and it was his name that got him the job. The Ezaxs are known as some of the most powerful wizards in the world, but Thaddeus isn't your average Ezaxs. Is it any wonder his family shuns him? When a kidnapping case is dropped into his lap, Thaddeus must act fast. While most five-year-olds can cast a location spell, Thaddeus can't and is forced to get creative. When he finds himself in possession of a black market werewolf skull with a ghost trapped inside, accidentally releases the spirit, and somehow forms a connection with it, things get even crazier. Sandulf Hunter doesn't remember dying, but he remembers the last thing he saw before everything went black—a wizard. All wizards must die! The only problem is, the wizard standing next to him smells too damned good, so good Sandy thinks he might have to keep him. And since wherever Thaddeus goes, Sandulf finds himself yanked along, he might not have a choice in the matter anyway.
Soul Eater
SALE
October 31, 2020
Word Count: Information not available
Summary: The highly anticipated second installment in the award-winning Alex McKenna Series, this LGBTQ teen paranormal adventure perfect for fans of Aidan Thomas' CEMETERY BOYS and LOST IN THE NEVER WOODS. After surviving a harrowing case, Alex McKenna just wants to rest. Unfortunately, his plans are interrupted by the ghost of seven-year-old Haven, who is lost in an in-between realm. Despite his great-grandmother's warning, Alex crosses the bridge between the living and the dead, which sends him and his girlfriend into the world of the Academy of Souls, a high school for dead teens who are unable to complete their journey. There, Alex meets Ophelia, Haven's teenage sister, who's been searching for her for more than a century. With new companions, Alex must cross the treacherous terrain of the Underworld in-between, to save Haven from the clutches of the Soul Gatherer and reunite the sisters.
Alex McKenna and The Academy of Souls
October 14, 2020
Word Count:
74000
Summary: When a curse comes calling, Dan and Chad confront their greatest challenge yet. Hauntastic Haunts is investigating the historic Ivarsson School. With Halloween right around the corner, the vlog is in peak season. Dan and Chad are eager to explore the decades-long string of strange deaths among the school's young scholars. While they delve into the mystery, both men must come to grips with Chad's newfound talents as a medium. Dan and Chad's efforts to uncover the haunting's truth meet with mixed messages from both the living and the dead. They're left wondering if this month's site is full of tricks, or if there's a treat awaiting discovery. The locals blame a curse for all the misfortune at the one-room schoolhouse, and if the pattern holds, the guys are at risk of becoming the latest victims. Join ghost hunters Dan and Chad on their third hauntastic adventure in this trans M/M paranormal romance.
Dan's Hauntastic Haunts Investigates: Ivarsson School
September 30, 2020