Sci fi stories that involve multiple parallel worlds, often with similar but different timelines. Return to general Sci Fi
Note: these books are currently sorted by release date, with newest first.
Genre: Sci Fi - Multiverse
Word Count:

38000
Summary: RISE (noun / verb) Eight definitions to inspire writers around the world, and an unlimited number of possible stories to tell: 1) An upward slope or movement 2) A beginning or origin 3) An increase in amount or number 4) An angry reaction 5) To take up arms 6) To return from death 7) To become heartened or elated 8) To exert oneself to meet a challenge Rise features 300-word speculative flash fiction stories from across the rainbow spectrum, from the minds of the writers of Queer Sci Fi.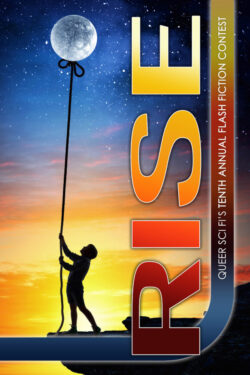 Rise
Word Count: Information not available
Summary: There's a kettle of rotten fish on the fire … and the stink's about to get worse. – Jeskan proverb Once in a generation, the matriarchs of Jeska choose a new king to manage the government and command the Guard — protecting Jeskans from crime, invaders, and insurgency. Corren's been training for that job since he was six, but this is an unsettled time: rumors of strange incursions, grumbling discontent, and increasing brigandry. Corren's own problems are multiplying. His father, a skeptical shaman, has gone missing, His polyamorous foster-brother keeps interfering with his personal and professional business. And the king needs him to track down the conspirators behind a simmering insurrection. When a strange woman turns up wearing a shaman's cape, speaking a weird language, and hiding knowledge that doesn't belong in this world, all his plans will have to change.
Shadows of Insurrection
Word Count:

155000
Summary: Eighteen years after the Chromodec Uprising in Children of the Stars, the world is a very different place. Kaelen Ra-Evon lands on Earth, a planet where aliens exist and refugees are fast-tracked to citizenship in many countries. Her tale encompasses the age-old notions of loss, love, and found family. Kaelen tries to navigate her new life on Earth, as well as a romance with genius CEO, Lea Lockheed-Tuck, all while honoring her family's legacy as the last of her house. She's wary of the Chromodec Office of Restraint and Protection, a US agency tasked with policing people of power regardless of their race or planet of origin. In an attempt to protect the woman she loves, Kaelen becomes a vigilante: Scion. She won't let laws or the CORP stop her from doing what's right.
The Last Scion of Ra
Word Count:

109,000
Summary: Time is running out for planet Earth. An insidious Martian plague has been infecting the planet for over twenty years, and has resisted all human efforts to eradicate it. With all life on Earth facing extinction, the only solution left is to directly access a specific piece of Martian technology. But, according to diaries left behind by Ogilvy the astronomer, the Martians have hidden it at the lake on the moon. In 1945, three rockets converted from Martian cylinders take off on the vital lunar mission, and amongst the crew is Ogilvy's nephew, Jack Stent. Will the astronauts locate the Martian shadow-weapon, thought to hold the desperately needed cure for Marseria? Can it really be used to instigate another timeline on Earth so that mankind can survive? The stakes are high and so is the risk of contact and conflict with Martians. Nearly two hundred years later, at a scientific colony on Mars, a shocking discovery is made about Jack Stent, and Ogilvy's Martian diaries are once again pivotal to human survival and the continuation of life on Earth. Gateway To Mars is the third volume of The Martian Diaries series that continues the classic H.G. Wells Mars novel in a compelling, unmissable action adventure. If you're a fan of The War Of The Worlds you won't want to miss this story of survival, despair and hope, that brings the original tale full circle. Get your copy today! What readers have said: "A really well written, excellent continuation of the story and a truly brilliant tribute to HG Wells! I do recommend!" "An excellent third part to this incredible series!" "Boy this was a good book! I love the writing style... it's very true to the original story."
The Martian Diaries: Vol.3 Gateway To Mars
Word Count:

107000
Summary: As the Oort Federation becomes a major force in the Solar System, Braxton Thorpe passes the Federation chairmanship to former US President John Butler. Thorpe's group offers humanity virtual immortality, but Isidor Orlov and his Udachny Enterprises oppose their every move. While terraforming Mars for more living space, the Mars Reds prove formidable as resisters. If the Asterian starship fighter pilots are released, will they align with Phoenix or Udachny, and who will develop the right FTL technology? In this tense space adventure, Thorpe, his team, and Max the tabby cat travel to Proxima Centauri and beyond to the Aster system, 84 lightyears distant. Will Thorpe bring together humans and Asterians in their quest for intergalactic travel? Will long life prove more than mere humans can handle?
The Oort Federation: To the Stars
Word Count:

132,220
Summary: Bobby Gene is a man who stands out even among his people. Guided by the knowledge of his heritage as a backwoods shaman and more perceptive than many, he's grown to be a valuable asset to those he knows. While he isn't surprised to be the first to know when the woods around him begin to show clues that something isn't right, he doesn't expect just how much these omens and signs will prove to foretell something far more sinister to come. Soon strange dreams and inexplicable encounters have him questioning everything he knows- and then the people who live in his woodland Appalachian community begin to disappear. It's his job to protect and guide the others, what will he do when he's the only thing between them and the end of life as they know it?
Night is Falling
Word Count:

45000
Summary: Tangents & Tachyons is Scott's second anthology - six sci fi and sci-fantasy shorts that run the gamut from time travel to hopepunk and retro spec fic: Eventide: Tanner Black awakes to find himself in his own study, staring out the window at the end of the Universe. But who brought him there, and why? Chinatown: Deryn lives in an old San Francisco department store with his girlfriend Gracie, and scrapes by with his talent as a dreamcaster for the Chinese overlords. But what if a dream could change the world? Across the Transom: What if someone or something took over your body on an urgent mission to save your world? Pareidolia: Simon's not like other college kids. His mind can rearrange random patterns to reveal the images lurking inside. But where did his strange gift come from? And what if there are others like him out there too? Lamplighter: Fen has a crush on his friend Lewin, who's in a competing guild. But when the world goes dark, only a little illumination can save it. And only Fen, Lewin and their friend Alissa can light the spark. A Liminal Sky short. Prolepsis: Sean is the closeted twenty-five-year-old editor of an 80's sci-fi 'zine called Prolepsis. When an unabashedly queer story arrives from a mysterious writer, it blows open Sean's closet door, and offers him the chance to change the world - and the future. Plus two flash fiction stories – The System and The Frog Prince, never before published. This is the first time all of these stories have all been collected in one place.
Tangents & Tachyons
Word Count:

270000
Summary: Oberon is unique among the Common Worlds - a half-world with a strange past and an uncertain future. Jameson Havercamp and Xander Kinnson are thrust into the middle of a world-ending event and have to scramble to save the world - and themselves. Along the way, they peel back the layers of the onion to discover secrets wrapped in secrets that will eventually take them to where it all started - and may provide the key to saving Oberon and everyone on it. SKYTHANE Jameson Havercamp, a psych from a conservative religious colony, has come to Oberon—unique among the Common Worlds—in search of a rare substance called pith. He's guided through the wilds on his quest by Xander Kinnson, a handsome, cocky skythane with a troubled past. Neither knows that Oberon is facing imminent destruction. Even as the world starts to fall apart around them, they have no idea what's coming—or the bond that will develop between them as they race to avert a cataclysm. Together, they will journey to uncover the secrets of this strange and singular world, even as it takes them beyond the bounds of reality itself to discover what truly binds them. LANDER The world needs saving, again. Xander and Jameson thought they'd fulfilled their destiny when they brought the worlds of Oberon and Titania back together, but their short-lived moment of triumph is over. Reunification has thrown the world into chaos. A great storm ravaged Xander's kingdom of Gaelan, leaving the winged skythane people struggling to survive. Their old enemy, Obercorp, is biding its time, waiting to strike. And to the north, a dangerous new adversary gathers strength, while an unexpected ally awaits them. In the midst of it all, Xander's ex Alix returns, and Xander and Jameson discover that their love for each other may have been drug-induced. Are they truly destined for each other, or is what they feel artificial? And can they face an even greater challenge when their world needs them most? ITHANI Time is running out. After saving the world twice, Xander, Jameson and friends plunge headlong into a new crisis. The ithani―the aliens who broke the world―have reawakened from their hundred millennia-long slumber. When Xander and Jameson disappear in a flash, an already fractured world is thrown into chaos. The ithani plans, laid a hundred thousand years before, are finally coming to pass, and they threaten all life on Erro. Venin and Alix go on a desperate search for their missing and find more than they bargained for. And Quince, Robin and Jessa discover a secret as old as the skythane themselves. Will alien technology, unexpected help from the distant past, destiny and some good old-fashioned firepower be enough to defeat an enemy with the ability to split a world? The final battle of the epic science fiction adventure that began in Skythane will decide the fate of lander and skythane alike. And in the north, the ithani rise….
Liminal Sky: Oberon Cycle Complete Box Set
SALE
Word Count:

77000
Summary: There are worlds out there with a past. A past that is only poorly understood. The Song worlds are in that category. What are they? Why are they? What do they tell us about the rest of us? Should we investigate them or should we avoid them? What if our world was visited by the Song? Maybe that is not strong enough. What if ours is the result of a visitation by the Song. More to the point, what if they achieved what they wanted with us? What if it all went wrong? What category does the world of Forest come under? The inhabitants there only number a few thousand and they face numerous perils. Were they ever visited by the Song? Shanlee the story teller has been given the world to investigate. What is she in for? She has other things on her mind. She left the love of her life behind when she took this investigation on. Will she be waiting for her when Shanlee returns home? If she returns home? The people of Forest, the Kekimelu, have been deserted by their spirits but have not lost their beliefs. A young song writer decides he is going to ask the Song's representative on Forest some hard questions. The answers he gets may not be what he hopes for.
Air Song
Word Count:

69504
Summary: The Prince of Shadows, the Jack of Shades or just plain Jack is a naughty boy, a good boy really but naughty all the same. There's nothing he likes better than a wrong to right. Hmm . . . let's start again . . . there's nothing he likes better than a willing man or woman for that matter, willing to get down and dirty with Jack. If he can right a wrong and get laid on the side then Jack is a very happy man. I say man but then do we really know who or what Jack is? Never mind he is still one of the good guys. Jack is a man with many shadows, many inhabitants as it were, and not all of them originating from this world. He has a problem. Part of him or is it one of him needs to go home and sort out things. It's going to be dangerous, it could be a one way trip but, what the heck, there could be a chance of getting it on with . . . . well that's to be seen. Available on Smashwords - free
The Jack of Shades
Word Count:

94000
Summary: Braxton Thorpe has discovered a threat to the entire Solar System, but he has a problem: he's dead. Frozen at death, he awakens to find himself uploaded into an electronic matrix. Exploring beyond the matrix and the larger GlobalNet, he discovers the Oort, a distributed electronic entity older than humanity, with an unnerving secret: aliens wiped out nearly all life on Earth once, and are coming back to do it again. The mathematical entity that is Thorpe has to find a way to convince humans of the threat, and in time to do something about it. But how, and what? If you've read Niven's A World Out of Time or Taylor's We Are Legion, the opening of Icicle will only seem familiar. Buckle up for a wild ride; you ain't seen nothing.
Icicle: A Tensor Matrix
Word Count:

71,661
Summary: A dead-end job, a slob for a boyfriend, and neglectful friends: this is Kat Wallace's life. Ever since her best friend got married, Kat has been struggling to find happiness. All that changes when she meets Melody Adebayo, a field agent with the mysterious transdimensional company Clockwork & Associates. Melody's job is to send the consciousness of others to a scarier dimension in order to make them kinder and more grateful for their lives, which, in theory, will influence them to do good. But when Kat is sent to B-215, she awakes in a world beyond her wildest dreams. She's wealthy, well-liked, and has a successful career. Kat realizes she doesn't need to find happiness in her own world ... she can just steal it from her other self. Because of a certain (ahem) incident, Melody owes a lot of money to her evil ex-girlfriend, and Kat works out a deal with her in order to keep visiting B-215. With each visit, a sinister plot unfolds. Kat discovers her life is at risk, and she isn't alone in this dimension. To eliminate the threat, she must team up with Melody, but can the two uncover the truth before Kat loses her life? More important, will they be able to move on from the mistakes they made in the past and find love with each other?
Duality
Word Count: Information not available
Summary: Being too close to the truth got Jon Xiong's mother killed. While searching for answers, a murderous cult shows up at his door. A secretive organization called the Tuners comes to his aide and teaches him about his rare ability to travel between worlds called tuning. He grapples with his new superpower and is stuck between those who would maintain order in the multiverse and those who would destroy it. Jon must avoid the same gruesome fate as his mom and figure out what happened to his family.
Tuners
Word Count: Information not available
Summary: "It is so packed with action that there was no place where I could say, 'Ok time for bed now. I'll finish it tomorrow.' A must read." ~Amazon Reviewer Fale doesn't know why she has visions of the queen's past life. All she knows is that her magic becomes dangerously faulty every time she sees into the past. Through the visions, the mystery of Effailya's banishment and life of slavery is solved; the reasons of her heated parting with Gryndoll are revealed, as well as who was the queen's secret lover. And how that could possibly relate the Source Wizard to the Queen of Mages, herself. The Source Wizard Gasten sends out his best efforts, but the new queen stays one step ahead of him. He may have found a way to send his spell to her. And if not, he's found the old wizard's journals, which are sure to give her weaknesses. The Final Rescue is a face-paced adventure as the wizards and mages race toward their mutual destruction. A strong female lead not only survives her dystopian society… she solves the mystery of a hidden war, only to cause a new one, then battles both sides to rule it herself. It's a conclusion for fans who fell in love with The Hunger Games, Divergent, and The Reader series. If you're hooked on genre-blending, suspenseful, fantasy romance novels, with adventure, you'll love The Final Rescue!
The Final Rescue
Word Count:

11000
Summary: What if you staged the best haunted house in the history of the holiday, but nobody came? Brady is prepared with mounds of treats, stellar special effects, and an extraordinary welcome for the throngs of trick-or-treaters he expects in his first year at his new place—a gloriously gothic house with the reputation for really being haunted! But the trick's on Brady: Halloween is almost over and not one person has knocked on his door. Once a top Interdimensional Law Enforcement agent, Rej was busted down to Creature Control after a run-in with his arch-nemesis. When he tracks a non-sentient construct across the dimensional barrier, he's sure he's about to confront Gorvenath again. But the person who bursts onto the porch in a swirl of tuxedo coattails is a monster of a very different sort—but is he Gorvenath's accomplice or his victim? Monster Till Midnight is an 11,000-word gay romance featuring a hopeful samhainophile, a suspicious LEO, gratuitous candy corn, and a relationship that threatens to be really, really, really long distance.
Monster Till Midnight
Word Count:

80000
Summary: Cling to the edge of your seat in this high-finance, high-stakes adventure. What do we do with knowledge of the future? Clairvoyant Ariel has been doing her best to ignore it, finding the whole thing a nuisance. But when she comes across people using similar abilities to get extremely rich, her interest is piqued. Then she discovers a second collection of gifted people. Their cause is less about money and more about ensuring the survival of the human race. That doesn't stop them from being as dangerous and crazy as the first group, however. Soon Ariel finds herself the object in a game of tug of war as each faction fights to have her--and her particular talents--on their side. She can't possibly help both groups. Aligning with either could be a terrible idea. But how can she stay out of it when so much is at stake?
Flickers of Fortune
Word Count:

113,100
Summary: Markus a wizard from a parallel Earth travels to our world in a bid to stop a blight that is destroying his own. Here he meets Alcina, a Wiccan Priestess, who is in a custody battle over her son, Tim, against Carl, the boy's sire, who abandoned her when she was pregnant eight years before. Carl has the backing of a dangerous religious cult in his bid to take Tim. Together Markus and Alcina face the forces of intolerance and hate to save a child and a world and thaw two warm harts too long trapped in the ice of betrayal. Meanwhile, Markus' best friend and his ex-fiancée, who is now a vampire, battle the authorities who are likely to hang Markus upon his return because he has done research into forbidden magics.
Worlds Apart
Word Count:

80000
Summary: Uncover the startling truth before time runs out in this complex search for an ancient treasure. Alex is a former basketball player who has always been able to bend time. These days he teaches physics and parents three quirky children alongside his unusual wife. When the administration at his high school wants to resume its connection with organized hate groups, Alex can no longer remain the quiet bystander. He must stand up and fight for what he believes is right. Just when he has his hands full at school, Alex is drawn into a treasure hunt. An old high school rival and a handful of his grad students lost an obsidian box years ago containing partial directions to a big discovery. The box has mysteriously reappeared and Alex's code-cracking skills can help locate hidden relics containing remaining clues to the treasure. But can he do it fast enough to beat another unknown team of treasure seekers? As both of Alex's situations grow more dire, it becomes clear he must tap into the abilities he left behind. Can he manipulate time for the people and causes he cares about most?
Twists of Time
Word Count:

24000
Summary: 1915. Teddy Roosevelt is building an empire. Only Pancho Villa stands in his way. The American Expeditionary Force under the command of General "Black Jack" Pershing has invaded Northern Mexico. Pancho Villa leads his revolutionary army in a desperate raid against the American force only to be outflanked. Just as Pershing's airships prepare to deliver the death blow, Pancho Villa is transported to a parallel Earth where he finds an unexpected ally and the technology that might just turn defeat into victory. Revolution of Air and Rust is a stand-alone novella set in the Empires of Steam and Rust world created by Robert E. Vardeman and Stephen D. Sullivan. A story filled with military action, espionage and gadgetry that's sure to satisfy fans of steampunk and alternate history.
Revolution of Air and Rust