Fantasy is fiction involving the use of magic or magical creatures. You can also check out these subcategories:
alternate fantasy | candlepunk | clockpunk | comedy | contemporary | dark fantasy | faery & fae | fairy tale / folklore | fantasy of manners | gods & heroes | gothpunk | heroic | high & other world | historical | latinpunk | fantasy litrpg | knights & castles | low fantasy | magical realism | mythic | mythpunk | piratepunk | romance | silkpunk | sword & sorcery | urban & magical beings | weird fantasy
Note: these books are currently sorted by release date, with newest first.
Word Count:

67000
Summary: Morgorth and Aishe must contend with a deadly threat that could spell disaster for their world. Payshthas were the first of the Mother's intelligent children. It is rare for true friendship to form between them and another species—which makes Morgorth's bond with Enfernlo unique. And it is due to their friendship that Morgorth doesn't hesitate to answer Enfernlo's plea for help. A thief has stolen something vital from Enfernlo's colony—a stone of power. Their hunt for the stone leads them to a war torn kingdom, and Aishe can hardly stomach what he sees. The devastation urges him to assist however he can, no matter the risk. Meanwhile, Morgorth is faced with reminders of the monster he used to be, and contemplates how far he's come, and yet how far he still has to go. And when his estranged mentor joins them on their search, Morgorth is forced to confront his resentment and sense of betrayal, and use Master Ulezander as a tool to save the payshthas. Forced into a deadly quest where trust is in short supply, and faced with challengers for the stone, Morgorth must put his faith in those he loves and in himself... and become a champion not just of the Mother but for Karishian itself.
Jade: First and Last
Word Count:

89000
Summary: THE POWER TO DESTROY A KINGDOM. THE POWER TO HEAL A HEART. Ari's new powers have awakened, threatening to tear apart a kingdom already on the edge. Sent back to Valon to face her father's—and the people's—judgement, Ari must decide how far she'll go to reclaim her former life, if that's even possible anymore. In the heart of the turmoil, Iata, the reigning ruler, is losing control of his increasingly unstable magics. As his secrets threaten to spill out, his brother's wife, Haneri, draws ever closer—and he's not sure he wants her to stop. At the border to Kidaa Space, Rhys grapples with the ominous and impossible patterns in the Kidaa attacks, and comes face to face with the Kidaa themselves in a harrowing meeting that could change the future of the kingdom. And Dressa, who secretly married an enemy prince, must now face the consequences of that marriage. Because Lesander was activated by her family. And Lesander has a choice: obey her family, or betray her wife. With enemies without and enemies within, can the Truthspoken save their kingdom, or is this kingdom doomed to fall? Court of Magickers collects episodes 94-150 of The Stars and Green Magics, previously published in serial form. Note: This book has main characters who use gender-neutral pronouns (they/them/their, fae/faer/faerself).
Court of Magickers
Word Count:

40000
Summary: We interrupt our regularly scheduled program to take a side trip down two branching paths. First, we'll follow Matt and Xander as they take a surprise honeymoon to Hawaii in The Honeymooners. It's not all private beaches and swimming with the fish, though. Truths from Xander's past are revealed that give Matt new insight into his mate. Just as they get comfortable, the unforeseen appearance of a new enemy cuts their trip short. Next, we slide over to find out what some mischievous foxes have been doing behind the scenes since they arrived in France. Akira and Koji set their sights on a pair of twin hunky dragons in 2+2=Love. ​​​​​​​ It's not easy being twin dragons when your other half has been in your head since conception. It's certainly not easy finding love, but Halvar and Herleif have hope when a pair of foxes cyberstalk their way into their lives. Intermission contains two short stories that occur during the events at the end of First Strike and through Dragon's Hoard. While these stories do not fit into the overall story arc, some bits and pieces may find importance later on down the road. So take a break from the action and breathe in some light-hearted fun and romance. Dragon War Chronicles is a continuous series. It must be read in order.
Intermission
SALE
Word Count:

111,172
Summary: Two sisters born in the Red Desert, young Daughters of an ancient Queen. One seizes the delights of the present. The other sees and despairs for their future. Innathi and Ishuna, the heirs of the Dark Elf Queen of V'Gedra, travel the sand dunes with their entourage. In need of water, the sisters enter the sacred canyons of Koorul, where they interrupt a mystic rite of passage for the Human son of a Sorcerer-King. Negotiations fare well between the two desert peoples until powerful magic blends with the discoveries of youth which get quickly out of control. Incomprehensible joy crashes into a dark dread which cannot be named, and a schism begins between the sisters. Diplomacy is critical to avoid unnecessary conflict, yet the Queen's daughters do not agree on the goal. Each has her version of the events at Koorul, and each is certain of the outcome should Innathi pursue the wild magic of the Zauyrian son. A close alliance with a Sorcerer-King could bring pleasure, prosperity, and new life thriving in the Desert, or it might corrupt a delicate balance to bring down the realms and all they had ever known. This second volume of Tales of Miurag is a standalone novel which can be read on its own. Dramatic events and mature themes weave into broad history and lore headed toward a cataclysm which will change the entire world. The Desert is also Etaski's ultimate villains' origin, featuring several antagonists introduced in the Sister Seekers series. This story takes place approximately 3500 years before No Demons But Us, where hints of these events past echo forward and impact future generations.
The Desert: Tales of Miurag 2
Word Count: Information not available
Summary: Third of the Vyrdigaan Prophecies, telling the back-story of Edeeshah Modjian. Born into Varagan society where females are prohibited from learning and practising sorcery, Edeeshah faces two tough choices — keep her nascent powers a secret or go to mainland Varathusia and find someone to teach her. Neither of these appeals to her and she chafes against the restrictions imposed upon her. When a third option is presented to her, she embarks on a path which will bring about a dramatic transformation. Follow her journey as she learns important lessons and deals with many challenging situations. Read less
The Forbidden Sorceress
Word Count:

92000
Summary: WELCOME TO THE ROOTS OF LOVE! Thirteen authors, fourteen stories, and lots of HEA/HFN - what more could you ask for? We went out and found the best romantic origin stories on the market today and collected them in one volume. Whether you want fantasy, urban, paranormal, contemporary, classical, or sci-fi, it's here. Straight, sapphic, gay, polyamory, we have the flavors to satisfy. Want to know more? A sci-fi short from noted sapphic author Lila Gwynn that begins at the end of the world C.R. Clark brings you a curse that might turn into a blessing AC Adams tells the tale of a djinn who is looking for the wish that will free her from bondage Award-winning author David Green takes you on a quest for love and revenge Can romance bloom in spin class? Nat Paga's going to show you how Gods and goddesses and humans, oh my! Courtesy of Lou Grimes It might be the future, but Adam Gaffen's characters still grapple with the forbidden attraction between a student and their professor A workplace romance heats up when the boss gets involved in Madilynn Dale's contribution There's love to be found in Dani Hermit & Curtis Star's Omegaverse, if you know where to look AC is back with a story in her award-winning Kalili's Temptation universe A modern retelling on the Romeo and Juliet origin story gets the full, lyrical Rose Sinclair treatment Jump into the hopepunk future of O.E. Tearmann and see what true friends do for each other Valkyries and shifters are mortal enemies, but do they have to be? Find out in Poppy Minnix's tale What could possibly happen when a fae starts reading tea leaves for humans? Sienna Swift has your answer So sit back, relax, and enjoy this journey into all the ways love can begin in the most unlikely circumstances!
Roots of Love
Word Count:

36000
Summary: Jerrith is running. Kissed by an elf, he can't remain in his hometown of Althos any more. Not that he wanted to stay. Caspian still hasn't figured out why he kissed Jerrith, but he's running too. Since he was exiled from the Autumn Lands, his past has been hazy, and his future uncertain. But when a stray memory brings things into focus, the two decide to run toward something together. What they uncover will change how they see the world, and themselves, forever.
The Autumn Lands
Word Count:

53,000
Summary: "Orcs are the answer but what is the question?" Elias is a priest at the Temple of the Divine Sibyl. When he becomes lost in the woods after his brother's hunting party abandons him, it's just his luck that he'd stumble upon an angry orc caught in a trap. Unable to stomach the suffering of others, Elias throws self-preservation to the wind and frees the orc. Then Gurrkk—that's a name?—ends up leading him to safety. Gurrkk finds himself rather smitten by the sweet, awkward human. He's always been fascinated with his people's sworn enemy, and now he has a life debt to fulfill to maintain his honor. Hiding an orc among the temple's crypts wouldn't have been Elias's first choice but Gurrkk is stubborn about leaving. As they learn each other's languages and spend more time together, Elias realizes they've become friends… and maybe more. And when the dying sibyl gives her last prophecy, Elias knows it wasn't chance that brought them together, it was the gods. But why? This is a sweet, ace romance, so no sexy times, but plenty of snuggles and cuddles!
A Priest, a Plague, and a Prophecy
Word Count: Information not available
Summary: The realm of Maldhonia was happy and prosperous, until strangers fell from the sky She'd given her life for power and a fresh start, but Calianthema had found a new trap—caught in a love spell with a dangerous nemesis. And this wasn't the worst of her problems. RIVER'S ROAR is a standalone MAGE ERA prequel to the WOODPELL SERIES and one of the TALES OF ARDONNA. Content Advisory: Adult themes and situations
River's Roar
Word Count:

40000
Summary: Just because you're alone, doesn't mean someone doesn't know your business… Lucas, the closeted son of a preacher who just graduated from Florida Atlantic University, returns home and is forced to make a life-changing decision––can he live a lie and marry his lifelong BFF, who his overbearing parents have been plotting to matchmake him with for years? Or, will he stay in Florida and start a new, more open life that he knows they will never approve of? Tyler, a talented artist on the edge of seventeen, is about to finish high school, and is looking forward to becoming a proper adult and fully exploring his sexuality. However, he soon discovers there's a kink in his plans––his father has decided to rent out the studio apartment he's been living in, putting an end to the independence he's enjoyed until now. Lucas answers an advertisement for the apartment, and sparks fly from the very first moment the boys meet––though both are reluctant to explore things further, since it wasn't what either of them had planned for their futures. But sometimes life isn't that simple, and doesn't always go exactly as planned…
The Curious Thing About The Apartment Vent
Word Count:

77000
Summary: Let your imagination bloom with these mind-opening tales Featuring stories by Veronica L. Asay, Warren Benedetto, Jason P. Burnham, Michael D. Burnside, Laura J. Campbell, Arasibo Campeche, Jay Caselberg, Philip Brian Hall, Tom Howard, Tim Kane, Benjamin C. Kinney, Stephen McQuiggan, Mike Morgan, Sam Muller, Jason Restrick, and Elyse Russell.
Dragon Gems (Spring 2023)
Word Count:

108000
Summary: All legends spring from a seed of truth. Humble Kai aspires to become more than the petite, inconsequential young woman her community sees. Persistence pays off when the village holy leaders reveal a prophecy—Kai might actualize her dream of being a hero if she completes three seemingly impossible tasks. Princess Solveig, descendant of the famous shieldmaiden Sigrid the Valiant, believes she was born to accomplish great things, but her poor eyesight, weak constitution, and lack of physical expertise hold her back. Convinced she can never realize her ambitions, Solveig settles for living vicariously through her warrior girlfriend. The appearance of a dangerous jötunn wreaking havoc in the kingdom brings the two would-be champions together. Solveig feels both threatened and skeptical when Kai arrives in her father's great hall with a "magic" sword, claiming she's there to save the day after more promising protectors have failed. With many lives at stake, will rivalry push Solveig and Kai apart, or will they inspire each other to realize the greatness both women desire to achieve—and to survive the coming battle? Gear up for action and the dramatic storytelling of Edale Lane in this hero's journey sapphic Viking historical romance. If you like to root for an underdog, experience epic world building, and enjoy women with swords, you'll love Legacy of the Valiant, the second book in the Tales from Norvegr series. Buy your copy today!
Legacy of the Valiant
Word Count:

66,545
Summary: Krish Butala, a werewolf, last of his line, teams up with his best friend Tyler Turner, a witch, and their good friend Matthew Williams, a tribrid. To protect themselves and everyone they know from the rising tensions amongst the various supes factions, they concoct a way to stop the impending war before it kicks off. The nagging ethical dilemma that plagues them is that if they proceed with their plan, they will betray everyone they know.
The Hallowed Bloodline: Battlelines
Word Count: Information not available
Summary: Before Ardulum, there was the Mercy's Pledge. One year after saving the Neek homeworld and redefining the people's religion, the crew of the Scarlet Lucidity returns to the Charted Systems for a much-needed break. For Nicholas and Yorden, the Systems will always be home, but for Emn and Atalant, too many memories compound with Emn's strange new illness to provide much relaxation. Tales from Ardulum continues the journey of Atalant, Emn, Yorden, Nicholas, and Salice as they try to define their place in a galaxy that no longer needs them while battling the artifacts of Ardulan colonization. Other stories include Yorden's acquisition of the Mercy's Pledge (and his grudge against the galaxy), Atalant's exile from her homeworld, Ekimet and Savath's romance, and many others.
Tales From Ardulum
Word Count:

12000
Summary: If The Little Mermaid were set in the twenty-second century... In the aftermath of climate change, humans have abandoned the flooded coasts. Underwater, people of another kind struggle to rehabilitate the polluted seas. After one rescues a human engineer, she realizes he might hold the key. If she can learn how to interact with the world like a human, if she can understand them, if she can become enough like them, maybe they will help. Maybe he will help. But to reach him, she may need to sacrifice who she is...
Voice of the Sea
Word Count:

45000
Summary: These three tales tell the story of Tharassas before the Tharassas Cycle, including the origin of the hencha queens, the ce'faine, and the colonization of the Highlands, essential companions for the four novels that make up the cycle: The Fallen Angel Charlie Fah, Cha'Fah to most of the world, has never fit in with the other citizens of Gully Town, thanks to his darker skin that sets him apart. But one day, an Angel arrives on a supply run from Earth, and what happens next sets Charlie on a new path that will turn his life upside down. The Last Run Sera is the last runner from Earth, bringing badly needed supplies to the Tharassas Colony across a twenty-five year gulf between the planets. Jas works on a hencha farm to make ends meet, harvesting berries from the semi-sentient plants. Neither one that knows their lives—and worlds—are about to change forever. The Emp Test Jey awakens to find himself in the care of a handsome stranger—a cheff from one of the mountain tribes. Afraid for his life, Jey has no choice but to let the man take care of him and his broken leg. Avain is on his Aud'ling—the coming-of-age test that requires him to spend a couple months away from his own people. The two of them will have to come to an understanding if they're going to help one another. The Last Run and The Emp Test have been published before in previous stand-alone editions, but The Fallen Angel is a new story written exclusively for this collection.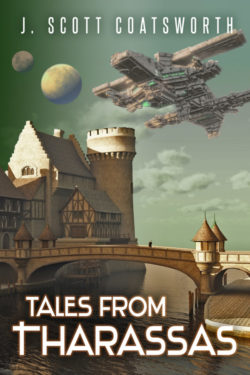 Tales From Tharassas
Word Count:

93700
Summary: Raven's a thief who just swallowed a dragon. A small one, sure, but now his arms are growing scales, the local wildlife is acting up, and his snarky AI familiar is no help whatsoever. Raven's best friend Aik is a guardsman carrying a torch for the thief. A pickpocket and a guard? Never going to happen. And Aik's ex-fiancé Silya, an initiate priestess in a magical crisis, hates Raven with the heat of a thousand suns. This unlikely team must work together to face strange beasts, alien artifacts, and a world-altering threat. If they don't figure out what to do soon, it might just be the end of everything. Things are about to get messy.
The Dragon Eater
SALE
Word Count:

50,000
Summary: J. Manfred Weichsel's versatility, unique style, and refusal to be bound by genre conventions have made him a force to be reckoned with in the world of speculative fiction. Now, Weichsel invites you to strip down and expose yourself to his raw and unfiltered imagination with Warrior Soul & Other Stories. Weichsel's stories peel away the veneer of societal norms and delve deep into the human psyche, exposing the rawest and most vulnerable parts of our existence. Through his boundary-shattering tales of science fiction, adventure, horror, and humor, Weichsel fearlessly explores the fringes of what is possible in fiction, revealing the naked truth of our humanity. From the mind-bending science fiction of "Warrior Soul", to the fantastical realm of "The Rainbow-Colored Rock Hopper", from the light comedy of "Queen of the House", to the darkest depths of horror of "Complicit in Their Bondage", these twelve tales will leave you feeling exposed and vulnerable in the best possible way. The bold and daring themes that run throughout Weichsel's work strip away all pretense and artifice to reveal the unvarnished truth of the human experience. So if you're ready to shed your inhibitions and explore the depths of what's possible in fiction, then get your copy of Warrior Soul & Other Stories now. It's time to embrace your innermost desires and take the plunge into the raw, unbridled world of J. Manfred Weichsel.
Warrior Soul & Other Stories
Word Count:

80000
Summary: Trapped outside the world, unlikely hero Thaddeus Wright must partner with sexy Secret Agent Peter Pan to save a new generation of Lost Boys. THADDEUS WRIGHT would love to forget his childhood. A bi-racial bastard orphaned at four, he was the very definition of sin, according to the strict and disapproving grandparents who raised him. Twenty years later, Thad works with at-risk youth as both coach and counselor. Even after his grandparent's spare-the-rod, spoil-the-child parenting, Thad just wants to help people. But when three young boys he coaches go missing, he's the prime suspect. Especially when he goes missing himself! That's when paranormal policing agency Borderless Observers Org. (B.O.O.) sends in recent recruit Peter Batique on his first solo mission. Peter had another name once, but he's all grown up now and looking to prove himself an adult and a capable agent. However, after a hundred years as an unruly boy in Neverland, growing up holds some pretty unique challenges for Peter. Despite their differences, Thad and Peter must learn to work together to rescue a whole new generation of Lost Boys and take down the black market shadow dealer responsible. Can Thad learn he's worthy of love? Can Peter finally grow up? Can the Lost Boys be found?
Lost Boys 2.0 (BOO #2)
Word Count:

45000
Summary: IMAGINE BEING the only un-magical kid at Hogwarts. That's how sixteen-year-old orphan Jaden Raines feels as he enters Azunya High. He struggles to fit in, but he's really a fish out of water. The magical isle of Azunya, where paranormal policing agency B.O.O. is headquartered, is shocking to Jaden after having lived his entire life in the American Midwest. Back there, his classmates were freaks, geeks and gangstas. Here, his classmates are genies, witches, healers… A whole pantheon of beings and monsters. And worse yet, he'll have to read The Old Man and the Sea. Again. Jaden might be the new kid in town, but he's still a teen. It's love at first sight with handsome skater-boy Stiltz. They have three things in common: neither is able to use magic, they're both petrified of water, and, lucky for Jaden, they're both gay. They should bond, but their relationship's stormy from the start. To try to fit in, Jaden hides his powerless state, accidentally creating the myth that he's the most powerful being of them all. But when the entire school demands a demonstration, what's Jaden to do? New lies and cruel deceptions leave Jaden and Stiltz stranded at sea in the middle of a deadly tropical storm. In order to survive, the boys must spill their secrets. It's sink or swim for our heroes. Only the truth can set them free. And keep them alive.
Mysterical (Tales of B.O.O. Book 3)