Sci fi stories where barren worlds or worlds otherwise unsuitable for human life are transformed to be able support it. Return to general Sci Fi
Note: these books are currently sorted by release date, with newest first.
Word Count:

38000
Summary: RISE (noun / verb) Eight definitions to inspire writers around the world, and an unlimited number of possible stories to tell: 1) An upward slope or movement 2) A beginning or origin 3) An increase in amount or number 4) An angry reaction 5) To take up arms 6) To return from death 7) To become heartened or elated 8) To exert oneself to meet a challenge Rise features 300-word speculative flash fiction stories from across the rainbow spectrum, from the minds of the writers of Queer Sci Fi.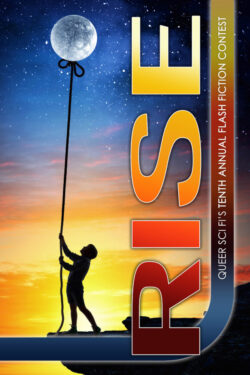 Rise
Word Count:

96,000
Summary: A guard and a thief. What could go wrong? Aik has fallen hopelessly in love with his best friend. But Raven's a thief, which makes things … complicated. Oh, and Raven has just been kidnapped by a dragon. Now Aik is off on a quest of his own, to hunt down the foul beast and make them give back his … friend? Lover? Soulmate? The whole not-knowing thing just makes everything harder. Meanwhile, the world of Tharassas is falling apart, besieged by earthquakes, floods, and strange creatures no one has ever seen before. Aik's ex, Silya has gone back to Gullton to try to save her people as the Hencha Queen, and Aik's stuck in a caravan with her mother and a damnable magical gauntlet that won't let him be. He has to find Raven, before it's too late. Things were messy before … but now they're much, much worse.
The Gauntlet Runner
Word Count: Information not available
Summary: Forty years after landing on Lida, the colony still isn't finished. Agetha has survived many more battles than she anticipated when she first landed on her new home planet. She's older and wiser, has gained family and lost loved ones. And yet her reward for four decades of service is to be pushed to the colony's outer edges with the other aging Generationals. But that was only the beginning of her adventure. The biomass has spent years studying the intruders who landed on its surface, carving a new home from its very essence. Never satisfied in its attempt to communicate with this new and invasive species, finally it has found a way to express its intentions. The colonists may never be the same. Discover the fate of the colony in the second book of The Biomass Conflux trilogy!
To a Fungus Unknown
Word Count:

100,000
Summary: Lida was their last chance for an uncolonized planet. But a world-spanning fungus had colonized it first. Agetha and her husband have spent their whole lives in the fleet's zero-G. Now all is turmoil as the fleet lands, discovering they are surrounded by a single fungal biomass spanning the entire planet. To build a new home, the fleet must confront a dangerous organism, and Agetha must decide if she can raise a family in this inhospitable landscape. Jane Brighton holds tenuous command over the colony and its administrators. She and the other gene-modded leaders emerged from their four-hundred-year suspended animation to find a crew much different from the one that departed Old Earth. Jane must direct the colony's fragile growth and defend it against being overrun by the fast-growing biomass. But there is something none of the colonists know. The massive organism that spans the planet is not simply a fungal mass, nor even a chimerical combination of species that once roamed the planet. The biomass has desires and goals, and one is to know these strange beings carving out a home in its midst. Download today to read of the colony's fate in Of Mycelium and Men! Genres: Space Opera / Science Fiction / Colonization / Alien Contact / LGBT / Non Binary / Trans Market: Adult
Of Mycelium and Men
Word Count:

107000
Summary: As the Oort Federation becomes a major force in the Solar System, Braxton Thorpe passes the Federation chairmanship to former US President John Butler. Thorpe's group offers humanity virtual immortality, but Isidor Orlov and his Udachny Enterprises oppose their every move. While terraforming Mars for more living space, the Mars Reds prove formidable as resisters. If the Asterian starship fighter pilots are released, will they align with Phoenix or Udachny, and who will develop the right FTL technology? In this tense space adventure, Thorpe, his team, and Max the tabby cat travel to Proxima Centauri and beyond to the Aster system, 84 lightyears distant. Will Thorpe bring together humans and Asterians in their quest for intergalactic travel? Will long life prove more than mere humans can handle?
The Oort Federation: To the Stars
Word Count:

132,000
Summary: Rules were made to be broken. From terraformed outposts to magical realms, journey to worlds where deadly plants, rampant biodiversity, or failed colonies have created irresistible opportunities for those brave enough to seize them. New worlds, found family, mystical secrets, and deadly science weave together in this lesbian-centric anthology focusing on a very different kind of first time—a first encounter with a world, or being, entirely unlike our own. If you like diverse stories with lesbian heroines practicing science, magic, and seduction, buy Distant Gardens today!
Distant Gardens
N.L. Bates , Sara Codair , Robin C.M. Duncan , Wil...
Word Count: Information not available
Summary: An intriguing collection of short stories, from Space Opera to harder sf. Life can be hard when your papers suddenly aren't valid anymore and you are forced to leave your home for another planet. How do you cope? Friendly aliens come in all shapes, as do the ones you don't want in your mind. You will find some futuristic social science and a speculative one thrown in for good measure. The characters are younger and some are older, some are strange and some perhaps, are more familiar. This collection of short stories reveals capable humans, intriguing aliens, and new areas of trade.
The Mars Vintage and other stories
Word Count:

106,000
Summary: In the early 21st century, Rowan is fighting a secret war against alien pirates bent on subjugating all of mankind. At least, that's what she thinks. In reality, it's a thousand years later, Earth has long been part of an interstellar and interspecies republic, and she's a character on Angel Black, an e-entertainment that allows viewers a complete sensory experience through her perspective. Who needs actors when you can clone famous performers and splice in some alien DNA? Since studio clones have no rights, their lives and experiences can be tailor-made for the program. It's just too bad the clones don't know that. Ryan Chandler was a decorated war hero until he was cloned to save his life. His career options died with his original body and the best job he can get is a technician on Angel Black. He's planning to escape to a newly colonized system when Rowan is scheduled to be killed off. With help from unexpected allies, Ryan stages Rowan's rescue, but getting her off the set is only the beginning. To succeed, they must evade a manhunt supported by the state that fears Rowan's liberation might be the triggering event of a clone rights movement that could cost the establishment billions and shake the foundations of human society. Can two clones find their freedom in a society that treats them as second-class citizens?
Cloning Freedom
Word Count:

94000
Summary: Braxton Thorpe has discovered a threat to the entire Solar System, but he has a problem: he's dead. Frozen at death, he awakens to find himself uploaded into an electronic matrix. Exploring beyond the matrix and the larger GlobalNet, he discovers the Oort, a distributed electronic entity older than humanity, with an unnerving secret: aliens wiped out nearly all life on Earth once, and are coming back to do it again. The mathematical entity that is Thorpe has to find a way to convince humans of the threat, and in time to do something about it. But how, and what? If you've read Niven's A World Out of Time or Taylor's We Are Legion, the opening of Icicle will only seem familiar. Buckle up for a wild ride; you ain't seen nothing.
Icicle: A Tensor Matrix
Word Count:

161800
Summary: Following the dramatic events in The Starchild Compact, the starship Starchild departs on a 185-year interstellar journey. Meanwhile, the Iapetus Federation in cooperation with the Founders, descendants of the people who originally constructed Iapetus, expands to include the Mirs Complex at L-4, the Lunar Complex, a new habitat being constructed at L-5, the growing Mars settlements, and several asteroids including Daphne and Ceres. On Earth, America turns away from its world leadership position to focus on internal matters and the idea of an all-inclusive, multicultural society. Saeed Esmail, the stowaway Jihadist who played a significant role in The Starchild Compact, becomes the guiding prophet of a new form of Islam that quickly dominates the vanquished Persian Caliphate territories, and threatens the rest of the planet. Aided by Founder Asshur, the besieged Israelis reluctantly forge a new homeland on Mars, while the United States balkanizes into a half-dozen smaller units dominated by the Lone Star Conservancy under the leadership of Texan Sam Houston, who had earlier established the Lone Star Settlement on Mars. Science does not stand still. Founder researchers develop a longevity treatment that has the potential to extend human life indefinitely. The Starchild Institute, headed by former U.S. President Marc Bowles, develops advanced spacecraft, and a new form of transportation based on artificial wormholes. As the global Jihad on Earth heats up, most of the planet falls under the domination of Saeed Esmail, with only the Lone Star Conservancy, Columbia Freehold, Australia, and New Zealand left as independent territories. The Institute opens evacuation portals between Earth and Iapetus to rescue as many people as possible. While Earth sinks into medieval barbarism, the focus of human activity shifts from Earth to the Iapetus Federation as humans settle virtually every potentially habitable spot in the Solar System and begin planning for expansion into the rest of the Galaxy.
The Iapetus Federation: Exodus From Earth
Word Count:

366200
Summary: This is a Kindle book and Audible book of all three volumes in the set.      The Starchild Trilogy begins with building a Space Launch Loop enabling massive movement off Earth and subsequent settlement of Cislunar-Space, Mars, and beyond.      Slingshot is the story of the struggle behind constructing the largest machine ever built stretching between Baker and Jarvis Islands in the Equatorial Pacific, and how the men and women behind Slingshot overcome the project's physical, economic, and human obstacles.      In The Starchild Compact, a team exploring Saturn's moon Iapetus discovers it to be a derelict starship, and meets the Founders, remnants of an ancient, advanced race, the Ectarians, that arrived in the Solar System 150,000 years ago. Together, they create the Starchild Institute governed by a document they call the Starchild Compact to further develop and introduce Ectarian technology to the Solar System. Using Ectarian technology, they develop near lightspeed spacecraft, artificial wormholes, FTL starships, and human longevity.      As human colonies expand into the Solar System, they form a governing coalition: The Iapetus Federation. While a united Islam pursues a global Jihad that rages across the planet putting millions to the sword, the Federation enables an exodus from Earth using artificial wormholes. From hand-to-hand combat in the oceans, to battles on Earth's surface, to the challenge of living off-Earth and reaching for the stars, our heroes fight to survive and to expand humankind to the far reaches of the universe.
The Starchild Trilogy
Word Count:

144000
Summary: Risa Black will decide the fate of an entire planet. After all, an angel told her so. Orphaned young, she grows up among the resistance, fighting to give the people of Mars command of their own destiny. Two governments from Earth vie for control of the Red Planet. She wants them gone, regardless of how many explosives it takes. To the outside world, she's an emotionless, broken marionette. Inside, her father's fiery end haunts her every waking moment. She never cared for destiny or politics, until the angel Raziel focused her anger. Both friend and foe alike believe her grip on sanity tenuous, but she knows he is real, and pities those who will never feel his divine presence. Whenever her adrenaline wears off, guilt at what her bombs did cuts deep, as does the apathy of the citizens she fights to liberate. The pain worsens after unexpected love cracks open her armored heart, causing her to question the role she plays in the bloody conflict. Torn between duty and desire, she learns change never comes without loss. Even to the Hand of Raziel.
The Hand of Raziel
Word Count:

131000
Summary: Are we the children of starchildren? The Starchild Compact is an adventure of heroic proportions, commencing on a planet 500 lightyears distant, arriving here just a few years from now, and ending up in the far distant expanses of the Universe. Is Saturn's moon Iapetus an artifact? To find out, Jon Stock takes his international exploration team on a 1.4 billion km journey to Saturn, but will Jihadist stowaway Saeed Ismail succeed in sabotaging the mission? On Iapetus, Jon Stock and his team meet the Founders. Where are they from? How did they get here? How will they impact Earth and the Solar System? Will the Founder's presence signal the end of humanity, or will it pave the way for a joint push to the distant reaches of the Galaxy?  The Starchild Compact is hard SciFi reminiscent of Arthur C. Clarke or James P. Hogan, with a geopolitical twist worthy of Tom Clancy or Clive Cussler.
The Starchild Compact: A Novel of Interplanetary Exploration
Word Count:

71000
Summary: The thrilling Voidstrider Saga continues... Shan Taishan dedicated his life to protecting Mars as an Officer of the Fleet. But now an enemy no one can see has come to the Red Planet, and it's up to Shan to save his sister and his homeworld - or see Mars fall forever! Prominent Martians have gone missing - only to turn up again days later, seemingly changed. Government leaders forward policies they'd never have supported before, and the Fleet itself seems riddled with traitors. There's a conspiracy at work, one which threatens to turn Mars into a brutal dictatorship. With his friends gone off to Eros - glittering asteroid city of sin - in search of the enigmatic Djinn, it's up to Shan alone to unravel the mystery and save his world. And when he learns the truth at last, Shan Taishan will be forced to make a terrible sacrifice -- or see his world lost forever!
An Officer of the Fleet
Word Count: Information not available
Summary: Eclectic, imaginative, and unexpected, Community of Magic Pens features forty genre-spanning flash and short stories--including fantasy, humor, science fiction, romance, historical fiction, satire, and mystery--bringing together a rich group of diverse voices from a wide range of backgrounds and intersections. Fountain pens, markers and ink, charcoals, spy pens, a braille writer, a printing press, virtual reality, and a supernatural pizza: whether revealing unspoken truths, fighting injustice, or finding friendship and love, our pens have power. Join us as a recent graduate of superhero school struggles to understand her gift, a disabled android interviews for a job, a queen's conscripted artist must pull reality from illustrations on parchment, and a grandmother's secret room is…better kept a secret. Tales of struggle and triumph, compassion and hope: Community of Magic Pens is a celebration of our shared story.
Community of Magic Pens